Reader Question from Molly in Dallas, TX:  Do you have any tips for last minute frequent flyers from Dallas (DFW) to Cabo San Lucas (SJD). Direct Flights Only. Dates of Travel are 1/2/2013 to 1/5/2013. Need to Fly American. I have plenty of American Airlines and American Express points. 
DFW to SJD Flights in the New Year
Thanks for the question Molly. You are my first reader question, so hopefully I can give you some useful information. I appreciate the amount of specific information that you have provided, since it really helps to narrow down options. When choosing an award, you can often get caught in a mode of analysis paralysis, looking over hundreds of options and not knowing where to pull the trigger.
You don't have that problem here, because we need to fit into very specific dates on very specific airlines using very specific parameters. That can be a good thing, as long as there is availability in the window you are seeking.
I must also say that I do not fly American Airlines often, and I admittedly don't read as much about the programs as I should, but I don't see this being a problem.  I do know that other airlines have higher flight prices and/or blackouts from before Christmas through the first week of January, so there might be some difficulty booking.
The first place I go is to Expert Flyer to check and see what types of seats are available across all classes of travel on American.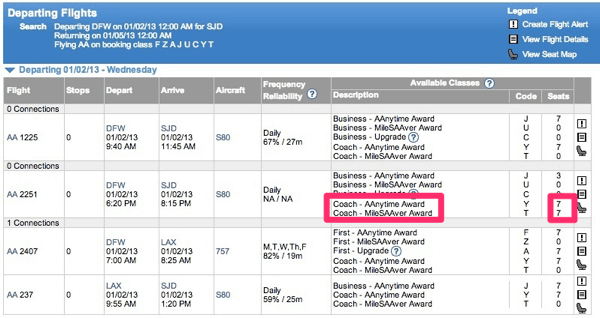 Fortunately, it appears that there are options available that meet your criteria for the flight out on 1/2/2013. In fact, there appear to be 7 seats available at the MileSAAver award level on AA 2251 leaving at 6:20 PM. While this may not be an ideal departure time for you, it's the only direct flight with that low level of award. The 9:40 AM flight has award availability, but not at the lowest level.
According to the AA Mileage chart, this one way ticket should cost you 17,500 miles per ticket issued.

The Return Flight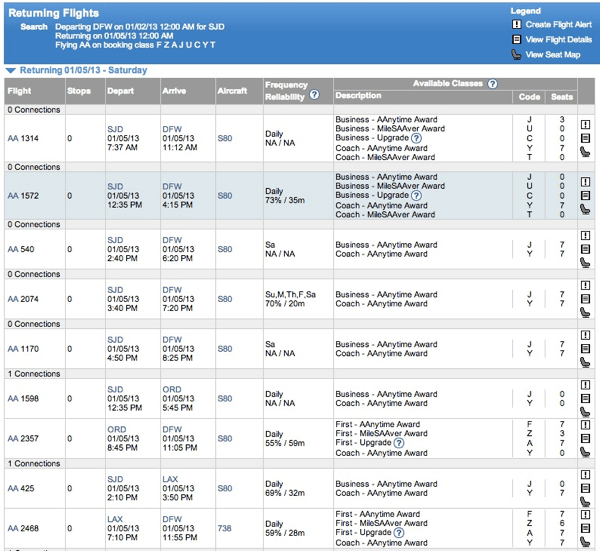 Where you run into an issue is with the return flight. For 1/5/2013, there is no availability for direct flights at the MileSAAver level. In fact, you can't reach this level on indirect flights either. Even worse, there's no saver business or first class awards, so you will have to pay full price for that day.
This means that you are faced with two options. 1) Pay 35,000 for a one way coach ticket on 1/5 or 2) adjust your dates for a cheaper return flight.
Unfortunately, 1/4 returns don't look much better:

And 1/6 offers no luck either:

You would have to wait until 1/8 in order to get a saver level coach ticket, but since that will add 3 nights of lodging + probably needing to take time off of work, this probably will not work.

To hit your schedule, you are faced with spending 52,500 miles per ticket or going with market rates of $738 per ticket:

Using your miles gives you a redemption value of $1.4 cents a mile. Better than nothing, but still not a great value. I will almost always pay cash if anything is less than $2 cents a mile.
Should you go miles or pay for it?
It really all comes down to future travel plans and how many miles you have. If cash is more important than miles, then use miles. If you want to save the miles for an international trip in the next 12 months, then save the miles and pay cash.
I wish I had a better answer, but seats on flights to vacation destinations tend to fill up quickly, and with a finite number of seats available on these flights and a high number of leisure travelers around the new year, it's difficult to get seats at the cheapest levels.
Hope this helps and keep the questions coming!