Hotel programs often partner with other loyalty programs to bring enhanced value to their members.  Some programs offer better partnership with stronger reciprocal benefits than others.  This is especially true of smaller programs such as Hyatt Gold Passport and their partnership with MGM's Mlife.  In fact, you can earn Instant Mlife Gold status really easily.
Las Vegas is called the "9th island" in Hawaii because local people LOVE to travel there.  I actually know people that go to Vegas at least two to three time a year; no small feat when you have to travel over 2,000 miles to get there.  So it's kind of surprising to me that many in Hawaii don't know how easy it is to get instant Mlife Gold status.  Heck, I've never been to Vegas (shocking, I know) and I have Mlife Gold status.  So how do you do it?  Simple.
First, if you're not already a member, signup for Hyatt Gold Passport.  Gold Passport has three tiers: Member, Platinum, and Diamond.  Each of these tiers translate to a tier in Mlife, with Member giving you Mlife Sapphire, Platinum gets you Mlife Gold, and Diamond gets you Mlife Platinum.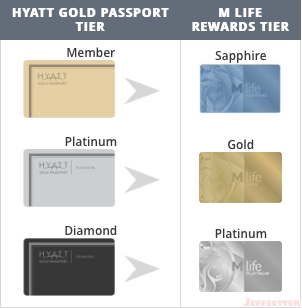 Once you're a Gold Passport member, visit chase.com and apply for The Hyatt Credit Card.  With this card you'll receive 2 free nights at any Hyatt in the world after spending $1,000 within 90 days of account opening, 3x points on all Hyatt spend; 2x points on restaurants, airline tickets and car rentals; and 1x points on all other spend.  The card also gets you automatic Hyatt Gold Passport Platinum status for as long as you have the card.  Of Gold Passport Platinum equals Mlife Gold, so as long as you have the Hyatt Credit Card you'll have both Gold Passport Platinum and Mlife Gold statuses.  The card does carry a $75 annual fee, but that's offset by a category 1-4 free night certificate every year.
Your Gold Passport Platinum doesn't automatically match to Mlife Gold, though.  You used to be able to simply login to you Gold Passport account and link it to your Mlife account, but now Hyatt says you need to call.  So once you have your Gold Passport Platinum status and your Mlife account, simply call Hyatt at (800) 323-7249 and provide both your Gold Passport and Mlife account numbers to have your accounts linked.  And that's it!