Last month we introduced a new feature on this site to receive email blog post updates from Jeffsetter every time we post something new. We called it the Jeffletter and around 50 people signed up for the newsletter right away. Since then, the letter has started to grow modestly and we hope that it continues to grow at a healthy pace moving forward. We are considering adding more of a prompt for people to sign up when visiting the site, but haven't worked up the nerve to do that yet.


Before reaching critical mass with the Jeffletter, we want to make sure that we are sending it out at a pace that everyone finds agreeable. That means that we don't send out these emails too often or not often enough.
When we first started the newsletter, we thought that sending it daily would be the best idea – because then visitors will never miss the most recent posts as soon as they come out, especially posts with time-sensitive deals or promotions. With our email provider, we have the option of sending emails on a daily or weekly basis and sending them weekly seemed like too far in between emails.
Then I went on vacation and received a ton of annoying email marketing messages in my inbox that were completely unnecessary. I started to wonder if perhaps the Jeffletter is coming out too often and annoying those who signed up. While only one person has unsubscribed so far, we want to make sure we are hitting the mark with email communications.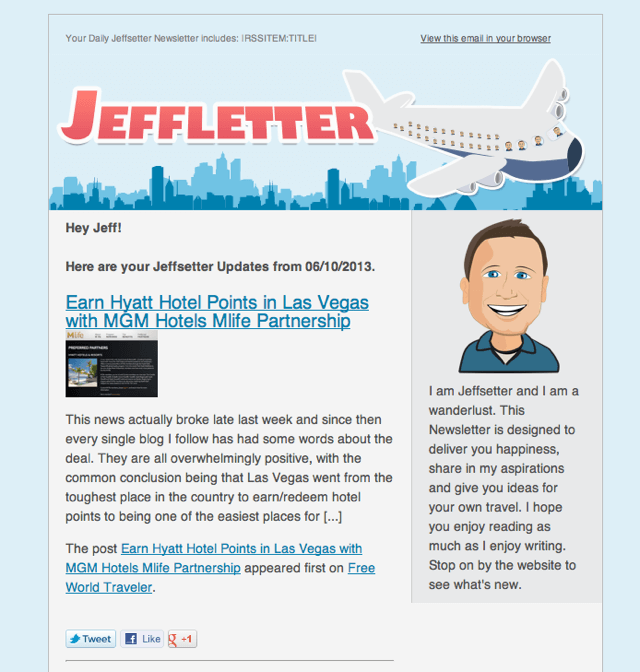 That's why this week's poll is asking you, the subscriber or potential subscriber, how often you would like to receive blog updates via email. After thinking long and hard, here are the options we have come up with:
Send emails daily, as soon as something new is posted (this does not necessarily mean every day an email will be received, but emails may be sent 5 days a week in some cases)

Send two emails a week, on Tuesday and Friday. Similar to the daily emails, but less frequent. These emails may feature several posts within the body of the email.
Send a weekly email. This email will be sent once a week (probably Friday, Saturday or Sunday) and feature all posts from the previous week in a single email.
Send a monthly email. Once a month, you get everything from Jeffsetter for the month past. Some things may be extremely out of date, but the amount of email will go down.
We are interested in hearing your opinion. My biggest struggle is with the timeliness of certain posts that I make and being sure that I am not emailing stories about deals that have already expired. I can see this happening if I switch to a weekly or monthly format.