It's that time again, time to register for the next quarter's Chase Freedom bonus categories. And this coming quarter you can explore more with the Chase Freedom Q3 2019 bonus categories.
For Q2 2019, Chase gave us decent Freedom bonus categories, which included grocery stores and home improvement stores. For the third quarter of this year, though, they're doing something rather unusual. Chase is repeating a bonus category from earlier this year.
Chase Freedom Q3 2019 Bonus Categories
For our third round of Chase Freedom bonus categories this year, Chase is giving us gas stations again and select streaming services. Alrighty then.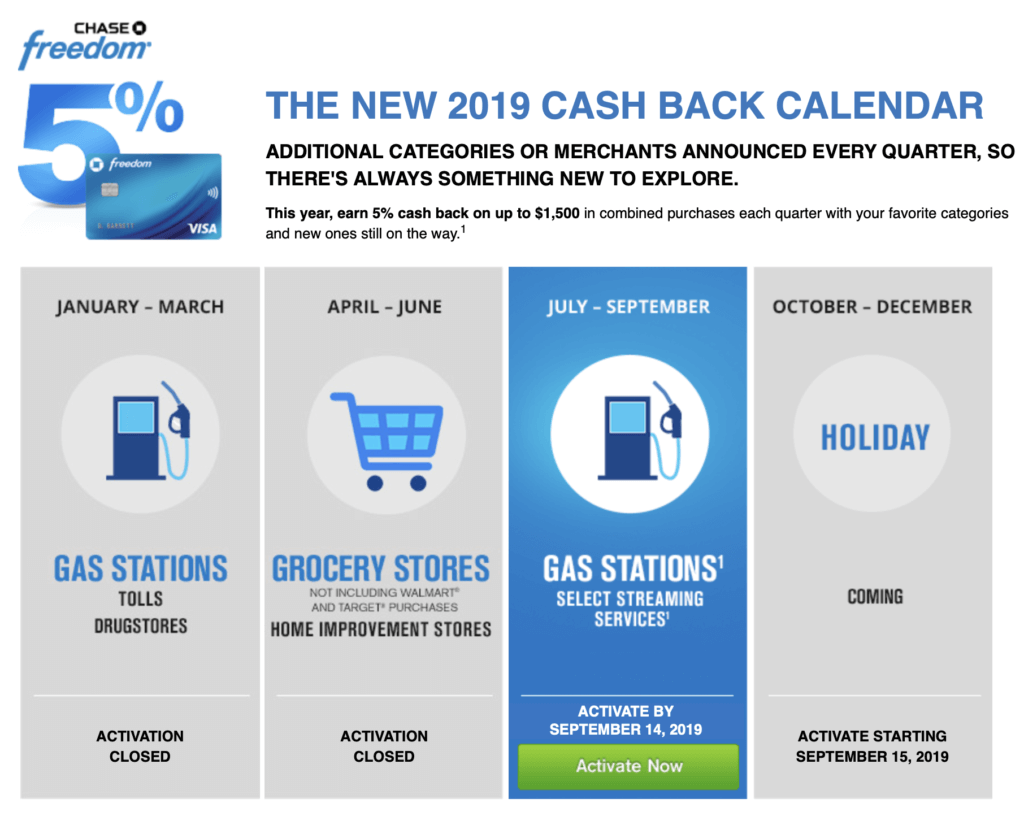 We know what constitutes a gas station (remember, no grocery store, wholesale club, etc. locations). But what qualifies for streaming services? According to the Chase Freedom FAQ, qualifying services include:
Netflix
Hulu
Sling
Vudu
Fubo TV
Apple Music
SiriusXM
Pandora
Spotify
How to Utilize the Q3 2019 Categories
It's always nice to see the gas station category in there. It's easy to max out the $1,500 limit at gas stations since you can buy gift cards in addition to fuel. The streaming services, though, are a bit of a head-scratcher from a consumer standpoint. Charges for these categories, after all, aren't all that much, but that's not really the point.
As far as the streaming services go, Chase is hoping to obtain some set it and forget it spend. That way, they guarantee activity and interchange income if cardholders don't switch the spend to another card after the quarter ends. But, you and I know better, right?
Explore More with the Chase Freedom Q3 2019 Bonus Categories, Final Thoughts
I appreciate that Chase brought back the gas station category for the summer season. It's a popular time to do road trips and is when gas is at its most expensive. So, now's the time to get out and explore, whether you're driving around your home state or taking a road trip.
As far as the streaming service category goes, it's a big 'ol *meh* to me. I probably will switch my Netflix billing to the Chase Freedom for Q3 2019, but I'll change it back later. It doesn't provide much in the way of earning potential, but every little bit counts, right?
To register for the Chase Freedom Q3 2019 bonus categories, visit chase.com/freedom-credit-cards/calednar.