While I no longer have this card, so many people in Hawaii do, that I think it's still worthwhile for me to do a Hawaiian Airlines World Elite MC 2023 review, especially in light of the new features the card picked up not long ago.
Despite their ever-crumbling reliability, many in Hawaii remain blindly loyal to our hometown airlines. As such, their co-brand credit card is one of – if not the most – popular credit cards in the state! And that's too bad, as I think there are other, better options out there. But with the changes that have been made to the card over the years, I do think it's worth while for fiercely loyal Hawaiian customers to have. So let's discuss in my Hawaiian Airlines World Elite MC 2023 review.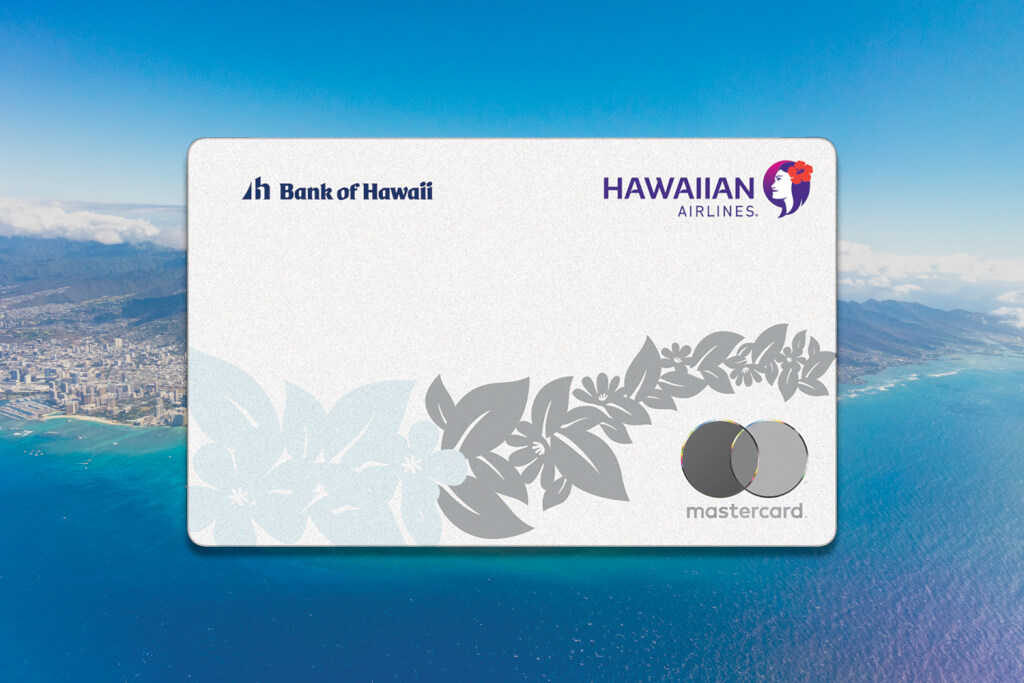 Hawaiian Airlines World Elite MC 2023 Review
As you'll recall, last year, Barclays increased the Hawaiian Airlines World Elite MC's annual fee to $99. With that increase, though, came an enhancement to the cards benefits. Those benefits now include:
One-time 50% companion discount for a roundtrip flight between Hawaii and North America
Two free checked bags for the primary cardholder
$100 annual companion discount for flights between Hawaii and North America
3x miles on Hawaiian Air purchases
2x miles on gas, dining, and grocery purchases
1x miles on all other purchases
In-flight purchase credits for Pualani Elites of up to $10 per day with a $100 annual limit
Discounted award travel on Hawaiian
No foreign transaction fee
Transfer miles to friends and family with no fees
If you're someone that travels frequently on Hawaiian with a companion, it's extremely easy to get your annual fee back just by flying. After all, the $100 annual companion discount already more than covers your annual fee. That said, using it requires you to actually fly Hawaiian, which can be quite expensive, especially on their more popular routes.
Of course, the checked bag fee credits make it easy to earn your annual fee back, too. Inter-island, bag fees run $15 for inter-island flights and $30 for North American flights. That means you can earn your annual fee back with just one roundtrip flight if you check two bags, and two roundtrip inter-island flights with two-checked bags. It's worth reminding, though, that all passengers get two free checked bags on Southwest.
Then there are the mile earnings. I'm lazy, so let's talk about some easy figures. For example, according to the MIT Cost of Living Calculator, two adults living in Honolulu can expect to spend just under $8,600 per year on groceries. That equates to roughly 17,200 HawaiianMiles per year. Tack on another 4,800 miles if you spend $50 per week on gas. We're up to 22,000 miles on groceries and gas alone, which has a cash value of roughly $440 at $0.02/mile. That more than makes up for the card's annual fee.
Hawaiian Airlines World Elite MC Alternatives
Now, I'd be remiss if I didn't briefly touch on alternatives to this card in my Hawaiian Airlines World Elite MC 2023 review. After all, you don't have to use this card to earn HawaiianMiles. For example, American Express membership Rewards points transfer 1:1 to HawaiianMiles. Then, take the Amex EveryDay Preferred card. It has a $100 annual fee, earns 3x points on up to $6,000 in spending at supermarkets annually, 2x points on gas, and a 50% bonus when you exceed 30 transactions per billing cycle.
Let's assume that you do make 30 transactions (no minimum) per month. That means, you'll earn 30,900 HawaiianMiles from grocery purchase alone, and another 7,200 miles on gas. That's 38,100 HawaiianMiles just on two categories per year, placing you just 2,000 miles away from a non-discounted roundtrip award ticket between Hawaii and the West Coast.
There's also a free EveryDay card, but you only get 2x points on groceries and a 20% bonus on points when you make 20 transactions per cycle. That means you'll get 19,200 miles per year on groceries with this card and another 2,880 miles on gas, which still slightly edges out the Hawaiian Airlines World Elite MC's earnings on these two categories alone.
Of course, there are other options, such as the $250/year Amex Gold card that earns 4x miles on groceries and dining, the $150/year Amex Green that earns 3x points on travel/transit/dining, or other airline cards or transferable points earning cards that transfer to other airlines. So, yeah, it's worth doing your homework and at least considering your options.
Final Thoughts
For those that are loyal to the Airline, especially those that often travel with a companion, this Hawaiian Airlines World Elite MC 2023 review makes it really easy to see why the card might be so appealing to them. However, I implore you to, again, consider your options. Even if you decided the card is for you, it might make sense to carry an Amex EveryDay card, even the free version. If you can swing the 20 transactions per month, you can earn HawaiianMiles at a much higher rate that their own card.
But at the end of the day, while this card isn't for me, as I rarely fly Hawaiian, it is a no-brainer for those that fly with them at least somewhat regularly and do so with a companion – or for others that travel with the regularly and have to check two or more bags.