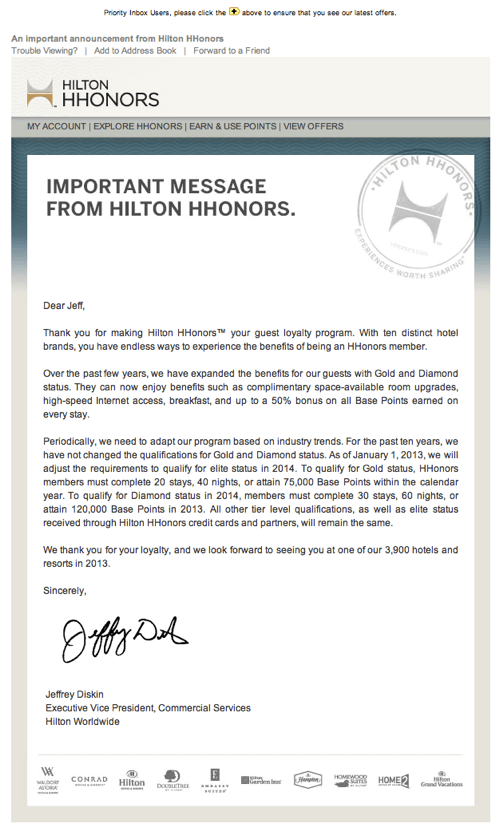 I really want to have this post title say
Hilton Increases Stay Requirement to Make Gold and Platinum. Drats! Says the One Guy that actually achieves Hilton Status through staying at their hotels
That's really how I feel about this announcement from Hilton, since I have been a Gold member for years and don't remember an actual time where I made the status on hotel stays.
That is because it's so easy to earn status elsewhere. You can earn it automatically by having their Citi Hilton Reserve credit card. You can earn Diamond status with the Hilton American Express Surpass Card. You can earn silver or gold status through countless promotions throughout the year. In fact, my wife is a Gold Hilton member and has never stayed at one of their hotels!
To put it simply, Hilton status is not very hard to get. That is, unless you are trying to reach that level on number of nights you stay in their hotels. Then it's actually quite difficult. And now they are making it even more difficult to achieve.
What is the reasoning behind this change? It really doesn't make any sense at the surface. Why point people in the direction of using a credit card with a ~$100 annual fee to achieve their status when they can direct people to staying at their hotel for $5,000 or more in revenue over the course of a year?
Maybe it has to do with profits? I am guessing that the co-branded credit card business is very profitable to hotel companies and airlines, or else they wouldn't be pushing them so hard. In fact, you could probably say that co-branded credit cards are the single most profitable part of their businesses!
How can that be, you ask? It all comes down to inventory and risk. There is almost no risk involved with putting your name on a credit card, and there is no inventory to manage, either. All of this is done by the credit card companies. Take these two items out of the equation and they likely achieve a huge profit relative to number of resources put in place.
With hotel stays, there is an abundance of inventory that must be consumed at an acceptable rate in order to turn a profit. Since most hotels are not owned by a corporate entity, but rather by franchisees who are licensing the rights to the hotel name, the profitability of a stay largely affects the bottom line of the franchisee and not the corporation.
So when someone stays at a Hilton, I am guessing that Hilton corporate receives very little, if any, contribution toward their profit margins. They have already made their money through franchising fees and rights. (This is all speculation, since I have not worked for a major hotel company).
As a result, Hilton is using their marketing power to impact the highly profitable areas of their business, while moving away from the areas where they can see less profitability as a result of their marketing.
This is my theory as to why Hilton made this change, and why you may be seeing more changes of this nature in the future.
Note: I do not achieve affiliate credit if you signup for the above cards because the affiliate programs won't accept me into their program. Boo.