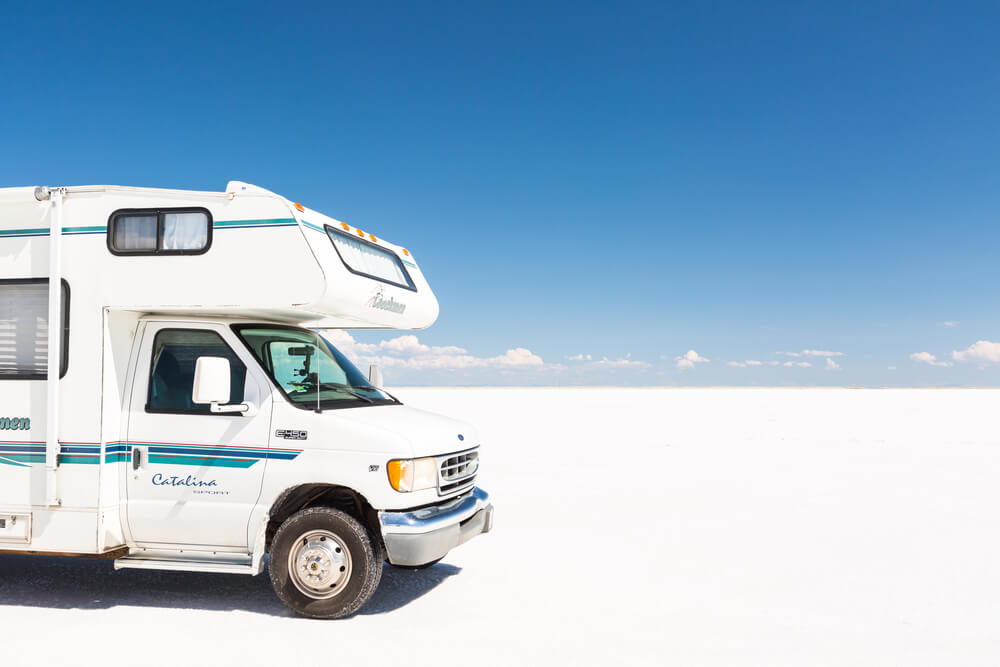 All of our reviews are based on exhaustive research, industry experience and whenever possible, hands-on testing. When you make a purchase using one of our chosen links we'll a small percentage of the proceeds. This supports the site and keeps Jeffsetter running. You can read more here.
Often when we think of RV maintenance we think of making sure the rig is in the best shape possible for camping. That the slides are in order, the appliances work, the RV is able to be level, and that the tanks, water system, and electricity all work. What is easy to overlook, however, is maintenance while driving.
No, not just making sure the tires have air in them or that the brakes work, but protection for your RV itself. Your rig's front cap is the main part of your RV being exposed to the elements when driving. Dirt, debris, bugs and more can all leave the front of your RV looking completely worn down.
So, how can you protect your rig's front cap?
There are a few different options out there to protect the front of your RV. Spray on shields and motorhome bras can all be applied to the front cap and provide different features depending on what you're looking for.
Let's explore each of these options in-depth.
Different Options For Front Cap Protection
It's important to have a good idea of each option before deciding on the best one for your rig.
Spray On Shields
Spray on shields are offered by many manufacturers as a convenient form of protection. Many other protective options require a lot of assembly and disassembly, over and over again as you transition between driving, storage, and camping. They feature a blend of protective materials that is then applied to your RV via a spray gun. It is very important to allow it to dry properly after, this process can take minutes or days depending on the specific product you choose.
Pros And Cons
Once applied, spray-on shields offer great protection from nearly anything your RV may encounter on the road. The higher-end options have a tensile strength of 3000 pounds per square inch (PSI). Tensile strength is the maximum amount of stress an item can withstand before breaking.
To put this in perspective, concrete has a tensile rating of around 3,500 PSI. Some spray-on shields offer a protective layer for your RV that is nearly as strong as concrete while being far more flexible and lightweight. You'll never have to worry about bugs of debris affecting the front of your rig with that level of protection.
Spray on shields are great if you prefer to have a one-and-done operation and not have to worry about your RV's front cap later. It may limit your rig's aesthetic value a bit depending on the type you choose. However, if convenience is more important to you, this becomes menial.
Pricing
However, convenience comes at a price, as spray-on shields are typically a more expensive option. They can range from $1000 to nearly $4000. The stronger the material, the higher the price becomes.
Due to the quality of the spray-on shields, this will typically be a one-time investment. Very rarely would you need to replace it or even repair it. Unless you are in an accident, your spray-on shield should last you for as long as you have your rig.
Motorhome Bras
Motorhome bras are pretty much what you think they are. Usually made from vinyl or other softer materials, motorhome bras are a protective covering that can be applied to your rig and taken off whenever you wish. They lose some of the convenience factors of spray-on shields as you'll have to remove them and reapply them for various reasons over time. However, this also allows for more freedom in choosing when and when not to have a protective layer on your rig.
Pros And Cons
Motorhome bras are normally customized to the specific dimensions of your rig. They take into account the brand, model, make, size and even year it was manufactured so it can fit perfectly. Because of this, attaching and taking off the bra is very easy.
As long as you have a portable ladder to reach it effectively, you'll be able to assemble it in under 10 minutes. While motorhome bras offer protection for your rig's front cap, it obviously does not have a tensile rating near that of concrete. However, an added benefit of them is that they offer more than just physical protection, but environmental as well. Motorhome bras are great for protecting the front of your rig from the sun's UV rays. If you frequently travel in the summer, this can be a great option for you.
It's important to consider that if applied incorrectly, motorhome bras can harm your engine. This is because it may block the air intake vents at the front of your RV. This can then lead to a decrease in your engine's power and performance. In some cases, it can even be enough to cause it to overheat and blow out.
Additionally, you never want to leave the bra on for a very long time. If you are not driving, it is best to take it off. Otherwise, it can damage the paint on your RV, or even cause trap dirt and debris onto the front cap. Over time, this can scratch or dent the front of your RV.
Something that is easy to overlook with motorhome bras is their use as an accessory. They offer a lot of freedom in terms of designing the front of your RV and increasing its aesthetic value. While this is obviously very subjective, you can experiment with different designs and colors that suit your rig best. This is something that you can't really do with the spray-on options. After all, the materials motorhome bras are made from offer more creative freedom.
Pricing
Pricing-wise, motorhome bras are far more affordable than their spray-on counterparts. With most ranging from $500 to 1000. Some can even be found cheaper than this depending on age, whether or not it has been used before, or sales. This makes it a far easier investment to make for those who prefer it over the spray-on shields.
Closing Thoughts
Whether you are looking for convenience, affordability, aesthetics, or maximum protection, there is an option for you. Your RV's front cap may not seem super important, but if it becomes dirty, damaged and worn down, you'll wish you had protected it. Think of it as the face of your RV, the first impression it makes to you and others. Wouldn't you want it to be protected and clean? It's always a good idea, whether a spray-on shield or a motorhome bra, to invest in protecting the front of your RV.