I received the following email from Chase last night and I can't say I am surprised.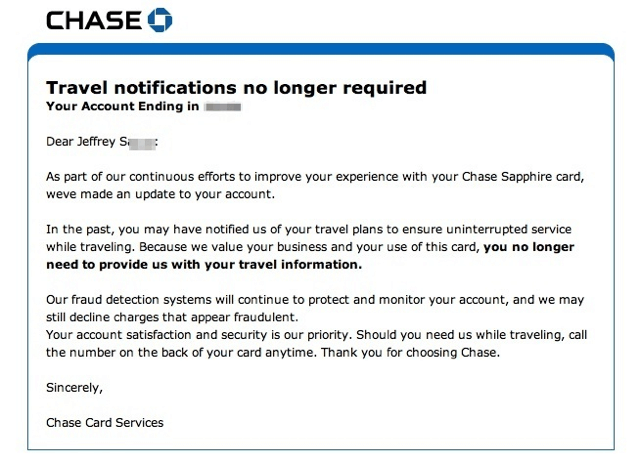 Chase no longer requires me to check in with them when I want to use their Sapphire Preferred credit card while traveling internationally. Their fraud detection systems and knowledge of my whereabouts appear to be so strong that they must already know where I am when it comes to international credit card use.
International Credit Card Use Goes Mainstream?
I wasn't surprised at this development because I am either lazy or forgetful. The truth is that I have not called a credit card company about my international travels in a few years, and I have not run into a problem with making foreign transactions using a credit card. In fact, I would venture to say that most credit card issuers have a similar type of fraud protection in place.
My wife, on the other hand, had several of her cards declined during our recent trip to Tahiti, even though she let Wells Fargo know in advance that she would be gone. Does this simply mean that Chase's fraud prevention department is just that good?
Airline Credit Cards Know Where I am Going
I have always assumed that with the Delta Skymiles credit cards I carry, they knew that I was traveling by looking up my itinerary. With a clear association with my destination and tickets I book, that should be easy to figure out.
Hotel Credit Cards Know Where I am Staying
The same goes for hotel branded credit cards, which I often use while staying at Hyatts, HIltons and Starwood properties.
How Does Chase Know Where I am?
But how does Chase know where I am? How can their fraud detection systems be so smart? Here are a few theories I have on the matter.
1) They Know My Travel Schedule
While I'm not sure how Chase would gain hold of this information, it could be that they are receiving a feed of my whereabouts through a data alliance with the major travel booking engines. While this is disturbing to think about, this information provided may not necessarily be personally identifiable information (PII). It might be a flag set to true or false that I am out of country.
2) They are Spying on me as Part of the PRISM Program
This is obviously a joke, but what if the PRISM program worked both ways? What if the government was feeding data about me to Chase in order to minimize fraud? What if this data feed saved America trillions of dollars a year through fraud prevention? That would make me a patriot for leaving the country so often and being a champion of fraud prevention.
3) They have Adjusted to my Lifestyle
Maybe they simply realize that I have left the country many times in recent years and have never once filed a fraud complaint. They may realize that this is just part of my lifestyle at this point.
4) Their No Foreign Transaction Fees Benefit
The Chase Sapphire Preferred card does not require me to pay a foreign transaction fee whenever using the card abroad. Perhaps they think that because I signed up for a card with this benefit that I am more likely to travel abroad?
Maybe It's Something Else?
Likely, none of my theories are true. But how would they know?
Let me know if you have any conspiracy theories, insider information or general thoughts on the topic.