For nearly 35 years Kilauea on Hawaii Island has seen near-constant volcanic activity. However, with a climactic eruption in 2018, that came to an end – until now. After two years of silence, Kilauea awakens from its slumber.
2018 brought about one of these the most dramatic eruptive phases at Kilauea in the 20th century. New fissures opening in the Leilani Estates subdivision resulted in the loss of about 700 homes and added acres of new land to the Big Island. Concurrently, Kilauea's long-active Pu'u O'o vent drained and collapsed, while Kilauea's Halemaumau summit caldera saw a complete transformation after a series of explosive events. These explosions heavily damaged the Hawaii Volcanoes National Park, including the Chain of Craters Road, numerous hiking trails, and the Volcano Observatory.
Then, everything went silent.
In fact, volcanologists declared Kilauea's decades-long eruptions over on December 5, 2018. Since then, Halemaumau Crater began filling with water leading to concerns over increased violence when the volcano began erupting again.
2020 Eruption
Luckily, fears over explosive eruptions didn't materialize. Instead, Kilauea began erupting somewhat quietly at its summit caldera around 9:30 pm HST on Sunday, December 20. The eruption was preceded by a magnitude 4.4 earthquake along with numerous smaller ones. Then, three new issues along the crater's lower walls opened. The lava from these fissures then flowed into the crater floor, evaporating the lake and sending massive plumes of steam high into the air.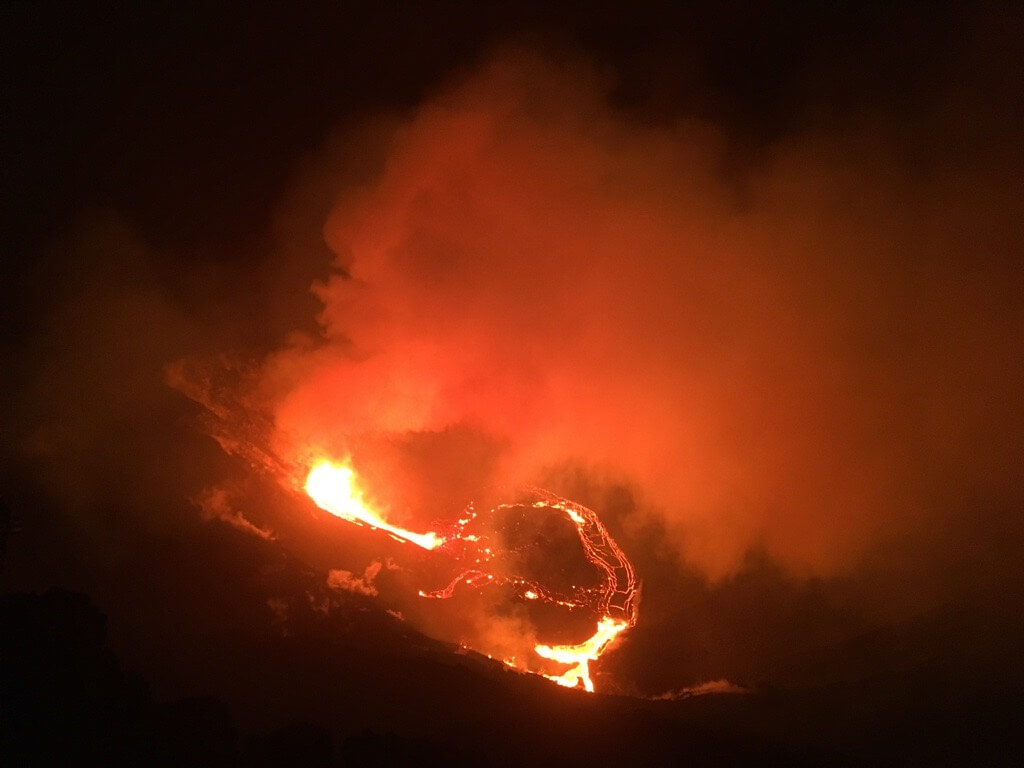 Surprise!
In recent weeks, volcanologists said Kilauea was showing signs of increased activity. And while scientists at the Hawaiian Volcano Observatory predicted a new eruption would begin soon, they didn't expect one to begin this soon. In fact, they were expecting to raise the advisory level yesterday, but Madame Pele beat them to the punch.
So, what tipped volcanologists off? Well, the usual stuff really. Earthquake swarms and ground deformation levels have been higher than normal background levels since the last eruption ended in 2018. In fact, earlier this month, uplift suggested the formation of a small dike intrusion of magma under the southeast portion part of Kilauea's caldera. How much magma was in that dike? Somewhere around 0.5 million cubic meters.
Things began picking up more on December 17, with increased seismic activity. Whereas usually, we'd see several events per week, scientists reported about a dozen in the past few days. What's more, scientists say signs of increased magma movement were present recently too. Then, of course, on December 20, an earthquake swarm of a magnitude 4.4 hit the volcano, along with increased ground deformation. Shortly following this, scientists saw a glow emanating from Kilauea's summit caldera, and we know the rest.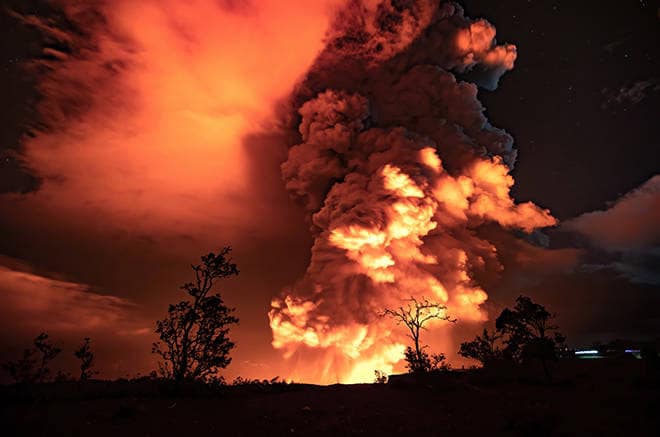 What to Expect
Unlike Kilauea's 2018 episode, officials don't expect this eruption to threaten any communities – at least for now. As of 6 am on Tuesday, 12/21, officials said the eruption had stabilized at the summit caldera. What's more, the USGS downgraded the eruptions threat level to a watch. The reason for this being that, for now, all of the volcano's eruptive activity is being contained within the summit caldera. No lava is currently leaving the lake – it's only feeding a growing lake of lava in the bottom.
How to View the Eruption
Want to see the eruption yourself? You're in luck! Not only is the eruption occurring at the easy-to-access summit caldera, but Hawaii Volcanoes National Park is open 24/7. That said, Park Officials warn that traffic getting into and out of the park is heavy. What's more, parking is limited and difficult to find. So, obviously, if you plan on heading over to the park, please be patient
Access aside, it's important to reiterate that masks are required within the park. Officials would also like to remind park-goers to maintain proper social distancing of six feet or more.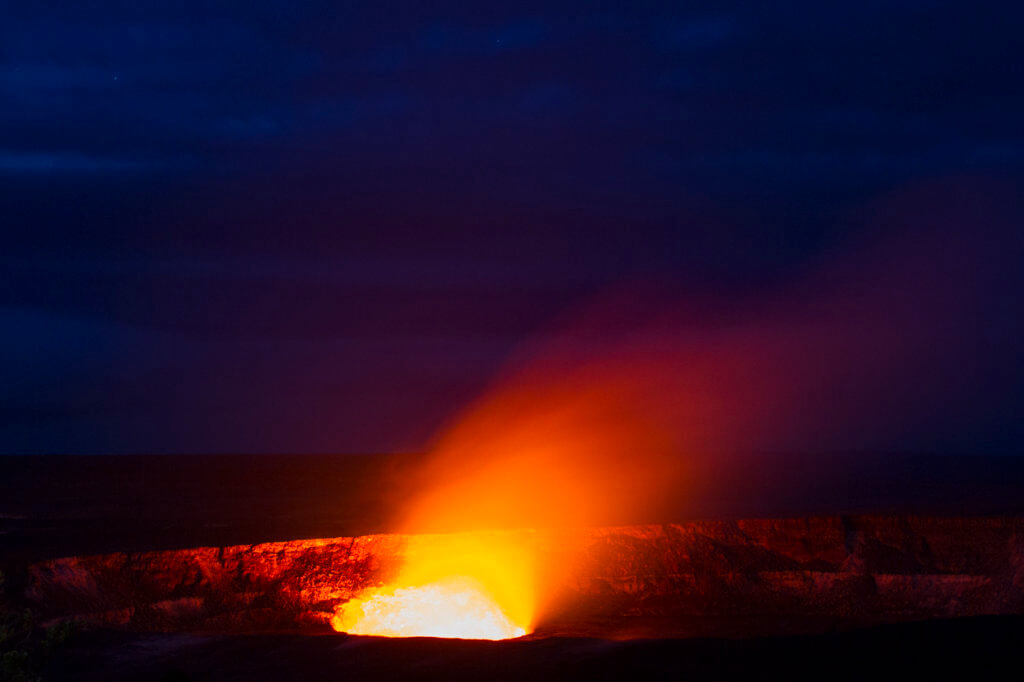 However, COVID precautions aside, there are other things visitors must be aware of. With an active eruption, Kilauea is once again spewing tons of hazardous volcanic gases. These gases are particularly dangerous for people with respiratory issues, young children, infants, and pregnant women. What's more, volcanic eruptions, by their very nature, are unpredictable. The course of the eruption can quickly, and violently, change. So, be aware of your surroundings and be prepared to act quickly. Finally, Kilauea's summit is about 4,000 feet above sea level. Combine that with the winter months and Halemaumau Crater can get COLD. In fact, officials recommend wearing long pants and packing a heavy jacket – especially if you visit at night.
Kilauea Awakens from its Slumber, Final Thoughts
I, for one, am happy to see Kilauea erupting once again. When its decades-long eruption ended, some scientists theorized that we may not see another eruption for years or maybe even centuries. After all, Kilauea has not always been continuously erupting, though it seems like that to me. Too bad it's happening during these unusual and unfortunate times – especially since traveling isn't the best idea right now. As such, I hope the eruption lasts for a long time. However, volcanoes are predictably unpredictable. So, we'll simply have to wait and see.