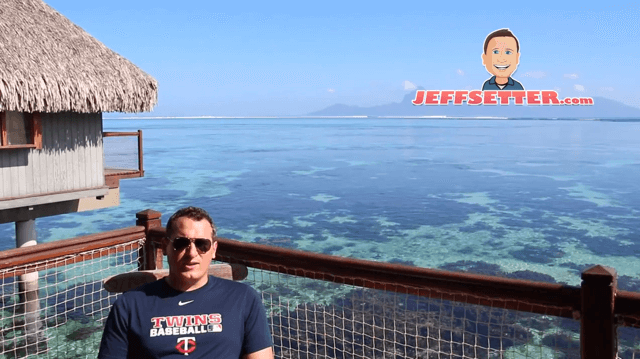 Welcome to another edition of the Jeffsetter video series. While I'm still working on producing my full trip report from my June trip to Tahiti and the Cook Islands, I have managed to produce several videos that I shot while I was on these islands. Today's video is a video review of my experience at the Le Meridien Tahiti.
While this is the first video review that I am releasing on the site, it's actually the second time I reviewed a hotel while on the trip. I must say that it was really easy for me to give video reviews on camera, but it's hard to edit them for a few reasons. First of all, it's difficult because I reviewed the Le Meridien Tahiti before I stayed at a much nicer overwater bungalow at the Hilton Moorea Lagoon Resort and Spa. As a result, my review is much more positive than it would have been if this stay were to occur after my visit to the Hilton. The second thing is that you need to film the review before you pack up your belongings and check out. If the checkout process goes poorly, then your review does not reflect that experience at all.
With that said, I love how this video turned out. It might be a little long at 5 minutes, but I think it covers the hotel well and wouldn't trim a thing. I really did enjoy this hotel, I was blown away to be staying at my first overwater bungalow and I was just downright happy to be on camera. That's the essence of what was captured in this review and I hope you enjoy it. I also hope the video streams nicely for you in High Definition. It was shot in 1080p and I have optimized the videos to stream via YouTube. In fact, it looks so clear on my machine that the screen shot above was taken from the video that was streaming on YouTube. So clear!
Enough about the making of the video. See for yourself!
Full Transcript of Video, Le Meridien Tahiti Hotel Review
Hello – it's me, the Jeffsetter and I'm here to give you a review of the Le Meridien in Tahiti.
It's June of 2013 and I have been staying at the Le Meridien, this is my second stay and my second room at the resort.
The first night was in a pretty standard room for the resort. A nice room, but it was what I would call very standard. This room is actually an overwater bungalow, which is a much nicer experience.
Now I am going to review the hotel from both perspectives and give you a low down on both the standard room and the overwater bungalow.
The first night was in a standard room and we were using a points redemption from Starwood Preferred Guest. And the room was very nice. The one thing that was a pretty standard Le Meridien configuration if you have stayed at a Le Meridien before. Nice pillow top mattress, toiletries and things like that.
The one thing that we thought was lacking was that the bathroom wasn't very clean and looked out of date. Other than that, everything else like the shower and toilet was good in that room.
The restaurant where we had breakfast had a nice spread – you could choose between a standard continental breakfast, ordering from the menu, or ordering the American breakfast, which featured hot items like omelets. We found the buffet to be very good.
Other things that we noticed here was that the main restaurant on the beach was very nice. Had traditional french cuisine with a lot of island flare to it. Including things like fish and sashimi/tuna. Those were great.
The pool area was very nice as well. The pool itself is a hybrid of a standard pool with a sand beach leading up to the pool. So when you go into the pool itself it feels like going into the ocean or a lake, which is a nice feature.
There was a lot of places to sit around and enjoy the sun around the pool and you can rent towels from a beach house.
Now the coolest part about the hotel for us is that there is a set of around 10-12 overwater bungalows that are located on the beach area right by the hotel.
We are staying in one right now and I'm actually shooting this video from our overwater bungalow. As you can see, the views are incredible. We are located on top of a coral patch and there are fish behind us, underneath us. Fish swimming around and all kinds of people doing water activities behind us. In fact, you may see some water activities make it into this video.
In the background, you can see a view of the island of Moorea, which is a mountainous island that we will be staying at later in our trip.
The overwater bungalow itself is very nice. There is a four post bed with a net around it. It looks romantic, like a honeymoon couple would be using.
The floors are nicely finished wood, but some of the tile is a little bit out of date. Another thing that we noticed, and this is probably inevitable, but the doors have trouble shutting. This must be due to the expanding and contracting of the wood that makes not everything completely level.
But we will endure those minor annoyances for what has turned out to be a great stay and a really good experience. I can't wait to come back and stay in an overwater bungalow.
If you have the opportunity to stay in a standard room or an overwater bungalow, you obviously will want to choose the Bungalow. It's a much more spacious experience and just the effect of being on the water is absolutely amazing. You can hear the sounds on the water and wake up to the sounds of fish. Actually, there are not a lot of bugs on the water either, at least to our experience.
Now I understand that not everyone has that choice, though, so you may need to spend some more money to upgrade your room, or even know your points and miles… but if you do have that opportunity I highly recommend it.
We would recommend staying at the Le Meridien again. It's close to the airport. Pretty easy ride to get to PPT airport to this property and we have enjoyed it.
Hopefully you enjoy our review of the Le Meridien Tahiti. It's been a good experience. Good food, good accommodations, nice bed to stay in. Great toiletries and things like that. Nothing to really complain about. The pool is nice and everything here has been good.
Thank you, that's the Jeffsetter review of the Le Meridien Tahiti.