Last week MGM Resorts International announced that they'd be changing up their M Life loyalty program. The program's new name and perks are heralded as a positive change. Yet, we know that's not true as MGM rebrands and devalues their loyalty program all at once.
At the end of the month, M Life is changing its name to MGM Rewards. With that change, MGM Resorts International promises a bevy of new features. And while some of those new features sound great, the overall net change is an extremely negative one. Let's discuss.
MGM Rebrands and Devalues Their Loyalty Program
As far as new benefits go, MGM says the new rewards program adds:
Complimentary tickets to MGM concerts for Pearl and above
Rewards Points and Slot Dollars no longer expire for Pearl and above
Resort fees are being waived* for all Gold and above members
Exclusive appreciation events and experiences for Gold and above
Tier Advancement Celebration Dinners** – $100 for Gold, $200 for Platinum, and $500 for Noir
Tier Achievement Air Travel Credits available once per year – $600 for Platinum and $1,200 for Noir
Advance suite upgrades for up to three nights for Platinum and above
4 p.m. late check-out (based on availability) for Platinum and above
If some of these benefits sound familiar to you, it's because they are. Waived resort fees and celebration dinners are already features of Caesar Rewards. Oh and the change to MGM Rewards seems to copy Caesar's naming nomenclature too.
*Resort fees are only waived if your stay is booked directly with MGM. Unfortunately, Amex FHR bookings do not qualify.
**It's worth noting that the Achievement Dinner is not available to those that get status through matching – unlike Caesars. Whats' more, these new benefits are on top of existing M Life elite benefits.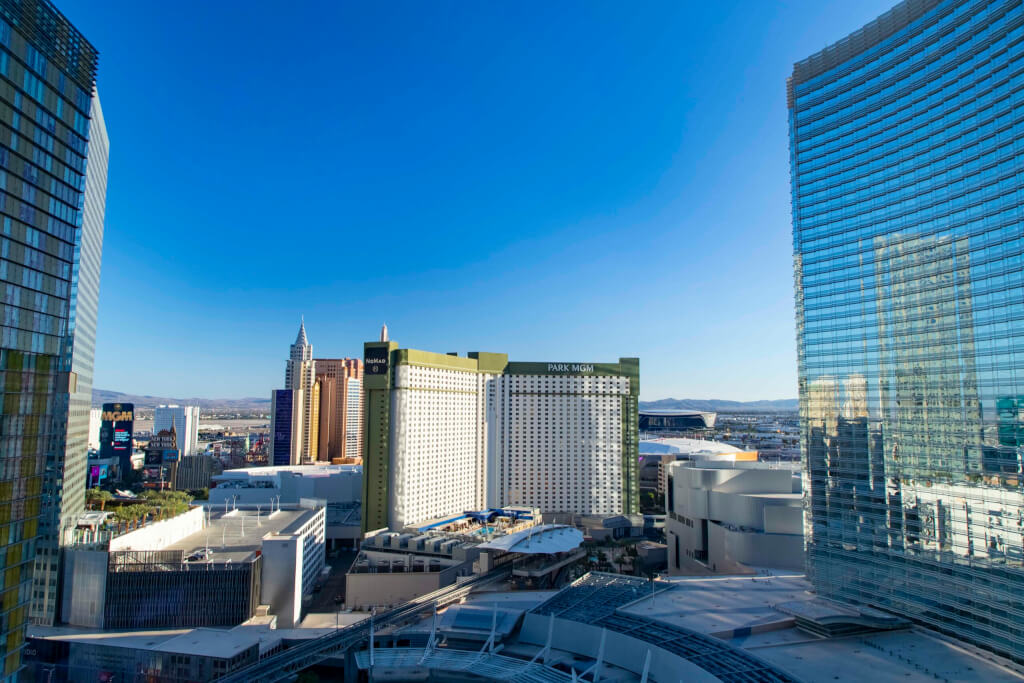 Status Qualifications
Not a lot is changing when it comes to qualifying for status. In fact, we're seeing the requirements change for just one level- Pearl.
Pearl: earn 20,000 Tier Credits in a calendar year (down from 25,000)
Gold: earn 75,000 Tier Credits in a calendar year
Platinum: earn 200,000 Tier Credits in a calendar year
On the surface, these changes sound pretty good so far, right. But here's the thing, MGM is massively changing HOW you earn credits, making earning status wildly more difficult.
Earning Tier Credits
At the moment, M Life members earn 25 Tier Credits per $1 spent on non-gaming purchases, such as restaurants, hotel stays, etc. in Las Vegas. The earning rate is much lower at non-Vegas properties and is currently at 8 Credits per $1. What's more, you can earn Tier Credits for playing, though the rates vary wildly by what you're playing. That said, you currently earn now based on the type of game and bet amount.
As of February 1, 2022, you'll earn 4 Tier Credits per $1 spent on non-gaming purchases across the board. What's more, they're changing the way you earn from playing too. Though no specifics were given yet, slots, video poker, and video lottery will earn based on length of play, average bet, and game type. These are hugely negative changes that'll make it far more difficult to earn status. For example, you could earn Gold status by spending $3,000 a year on non-gaming activities. Moving forward, though, that shoots up to $18,750 annually. Ouch.
To help soften the sting of the new earning rates a little, MGM is offering double Tier Credits between February 1, 2022, and April 30, 2022. But that's still just 8 Tier Credits per $1 spent – less than half what you earn today.
MGM Rewards Points
With the new program, Express Comps are going away. Replacing it are MGM Rewards Points. These new points will be earned for virtually all spending you do with MGM, inclusive of hotel stays, restaurants, spas, and select gaming. The points can then be redeemed for hotel stays, food, beverage, etnertainment, and more.
It's worth noting that PointPlay is becoming Slot Dollars and will function in much the same way moving forward, and will be earned in addition to MGM Rewards Points when playing slots.
MGM Rewards Versus Caesars Rewards
MGM isn't really saying how MGM Rewards points redemptions work quite yet. So, for the purposes of this comparison, I'm going to focus the Tier Credits side of things for now.
As mentioned earlier, all non-gaming spend at MGM properties in the U.S. will earn 4 Tier Credits per $1 spent going forward. At Caesars, you earn 1 Tier Credit per $1 spent on non-gaming purchases. That sounds like a massive difference, but the difference here really is in Caesar's favor.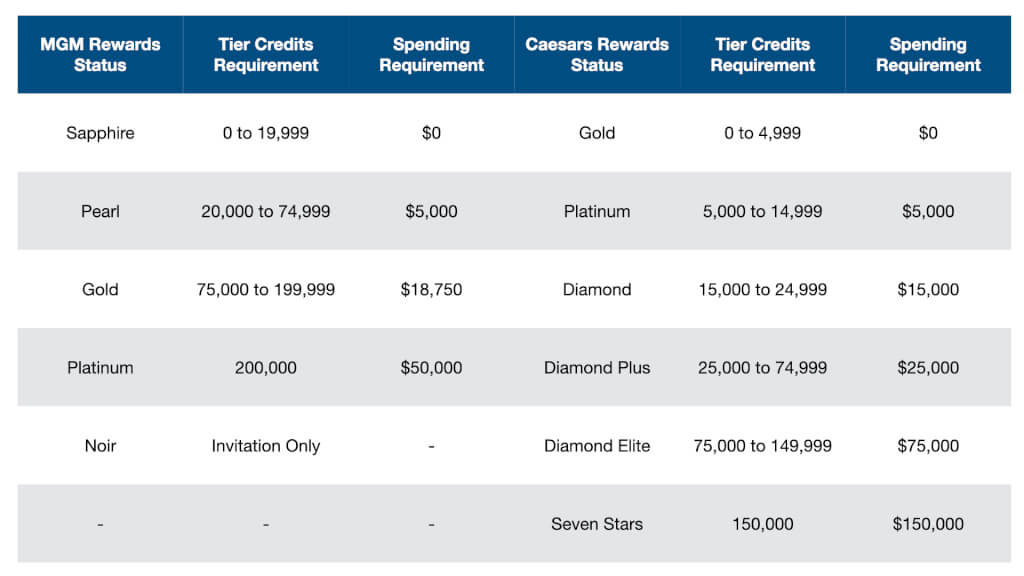 As you can see, the base elite levels of the two programs have similar spending requirements, though they begin diverging pretty steeply from there. In fact, MGM Rewards Platinum ends up costing double that of Caesars Rewards Diamond Plus. Sure, MGM Platinum's get late check-out, suite upgrades, a free cruise, and they get $100 more for their celebration dinner. But is it really worth the extra spend? Methinks not.
Status Match
Of course, you don't have to spend to get MGM Rewards status. Status matching will remain a feature of the new program, which means you can match World of Hyatt Globalist and Explorist to MGM Rewards Gold. Alternatively, you can match Caesars Diamond and Diamond Plus to MGM Gold, or Diamond Elite and Seven Stars to Platinum.
Final Thoughts
Yes, MGM Rewards offers better benefits than M Life Rewards. That, however, is only half the story. Unfortunately, MGM is massively devaluing the program, making it more difficult to qualify for Gold and Platinum status. Thankfully, we can continue to match statuses over, giving us access to the resort fee waivers and free parking. However, remember that those of us that match will not be able to use the celebration dinner benefit.
I hope that Caesars Rewards doesn't follow MGM's lead and implement similar restrictions.