The United Airlines 747 farewell flight to Hawaii sold out QUICK.  But you still have a chance to score tickets with the MileagePlus Exclusives 747 Farewell.
So here's the good news: United is giving away two pairs of tickets for their 747 Farwell flight.  However, the tickets are up for bid on United's MileagePlus Exclusives site.  And, as you may imagine, you need to have MileagePlus miles to bid.  A LOT of MileagePlus miles.
MileagePlus Exclusives 747 Farewell
The pairs of tickets available come in two similar but different packages.  With both packages, the winning bidder will receive:
Economy class seats for two to SFO on November 6, 2017, from anywhere in the U.S. Mainland + Alaska
One night at the San Fransisco Airport Marriott Waterfront, Burlingame (11/6-11/7)
Two economy class seats from SFO to HNL on the 747 Farewell flight
$100 gift card towards ground transportation
Two nights stay at the Ritz-Carlton Residence Waikiki (11/7-11/9)
Economy class seats for two back to your originating airport in the U.S. Mainland + Alaska
Commemorative piece of a Boeing 747 aircraft delivered to your home
The "premium" package differs from the standard by one detail: you get to board first.
Value
When I checked last night (HST), the "premium" package's current bid was at 231,000 miles, while the standard package's bid was at 201,000 miles.  Lucky values United Miles at 1.4 cents/mile, so the cash value of these bids was at $3,234 and $2,814 respectively.  That sounds like a lot, which it is.  But the two nights at the Ritz-Carlon Residence Waikiki inclusive of taxes and fees (assuming base room) prices out at $1,296.09 on those dates.  Other flights from SFO to HNL on the same day are pricing as $538.40 for two.  The San Fransisco Airport Marriott Waterfront is pricing at $817.98 for that single night. 
At this point, the two hotel stays, the SFO-HNL flight, and the gift card would cost approximately $2,652.47 if you were to buy them on your own.  And that's still not counting the return flight, the flight to SFO and the 747 piece.  That last thing, the 747 piece intrigues me because United could simply buy something from Boeing's catalog (unlikely) or simply give you a keychain.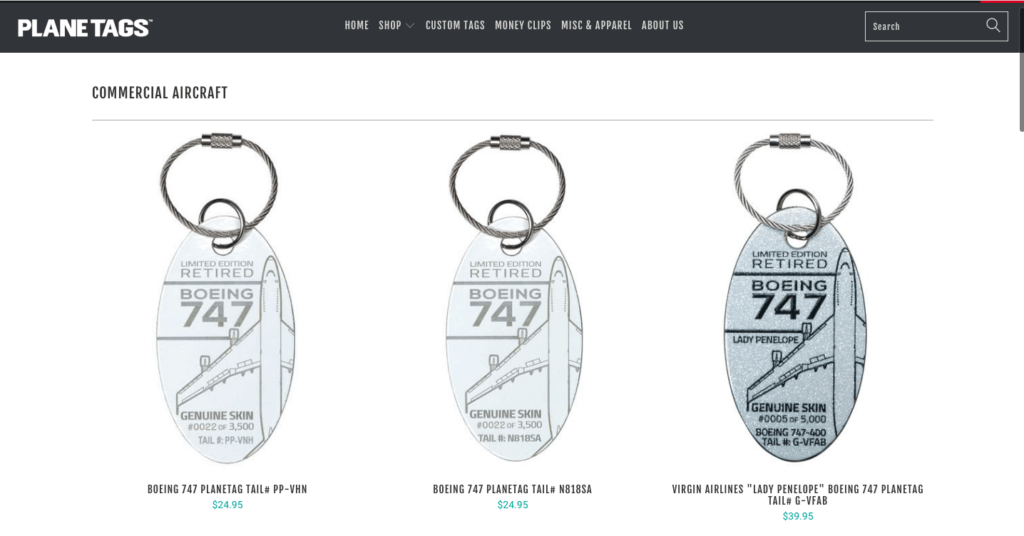 Admittedly, the Plane Tags keychains are pretty damn cool.  It is also the most likely options because it is the cheapest and easiest to ship.  Would it be cool if United purchased items from Boeing Store?  Yup, but reality says it isn't practical to do this.  But who knows?
MileagePlus Exclusives 747 Farewell Final Thoughts
I've you've got United MileagePlus miles to burn and want to be on this flight, I'd say go for it and enter.  200,000+ points are A LOT, but not bad considering the value you'd be getting out of it.  That being said, the contest ends on October 17, 2017, so there's still plenty of time left to bid.  And I'd fully expect the bids to keep increasing through this date.  So if you really want one of these packages, place your bids and keep an eye on it.