What do you do when you get back from vacation?  Go straight back to work, right?  We did exactly that, but I scheduled in some R&R pretty soon after.  Our New York trip was physically demanding so a spa day made sense.  And on this occasion I decided to give the Moana Lani Spa a try.
Why the Moana Lani Spa?
Mrs. Island Miler and I enjoy getting couple's massages.  So far, our favorite has been Laniwai at Disney's Aulani.  Admittedly, though, we haven't been to many different spas.  And while I would have liked to go to Laniwai, it is a bit more than most in Waikiki.  Especially since we could two 75 minute massages at the Moana Lani Spa for about the same price of two 50 minute massages at Laniwai.  At the time, they were even running a promotion that included a complimentary upgrade to an oceanfront couples suite.
Pre-Treatment
The day of our treatment we arrived at the spa a little over an hour early.  Located on the second floor of the Moana Surfrider, the Moana Lani spa is split between a gift shop and the spa.  To check-in, you go to the smaller darker side, which is the spa.  There we filled out the standard forms and were lead to our separate locker rooms.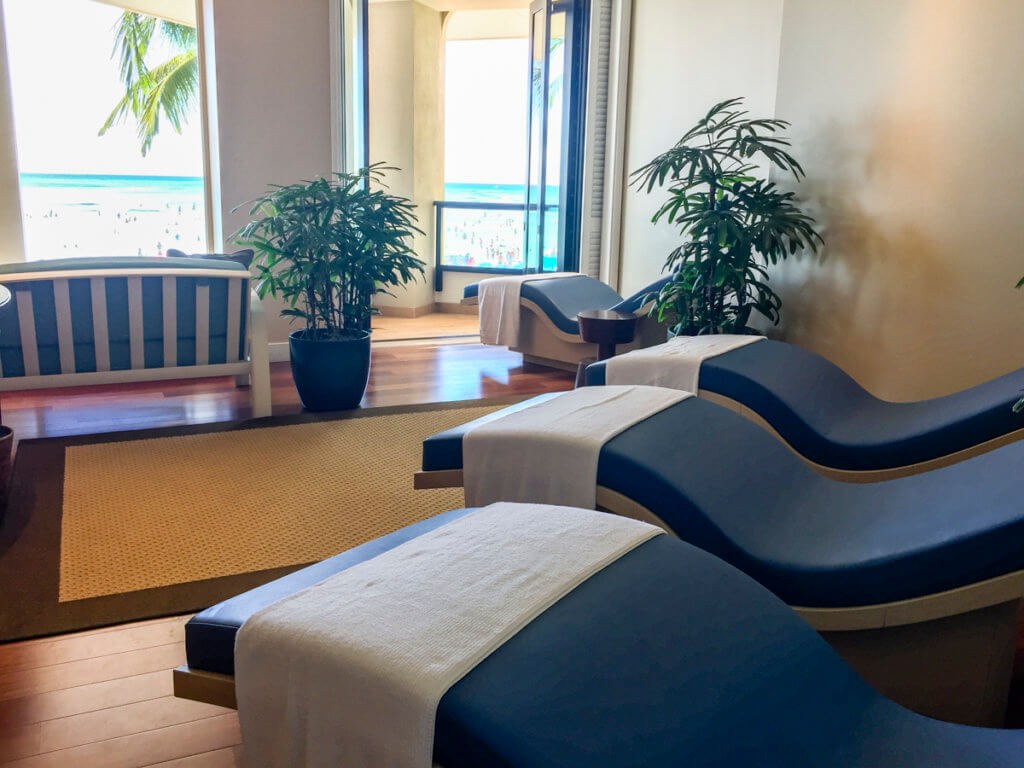 Unlike Laniwai, the Moana Lani Spa doesn't have any co-ed facilities.  The available facilities are pretty limited too, with just some relaxation areas, a whirlpool, and a sauna.  I wasn't interested of any of this, so after I changed I just relaxed on the zero gravity chairs overlooking Waikiki beach.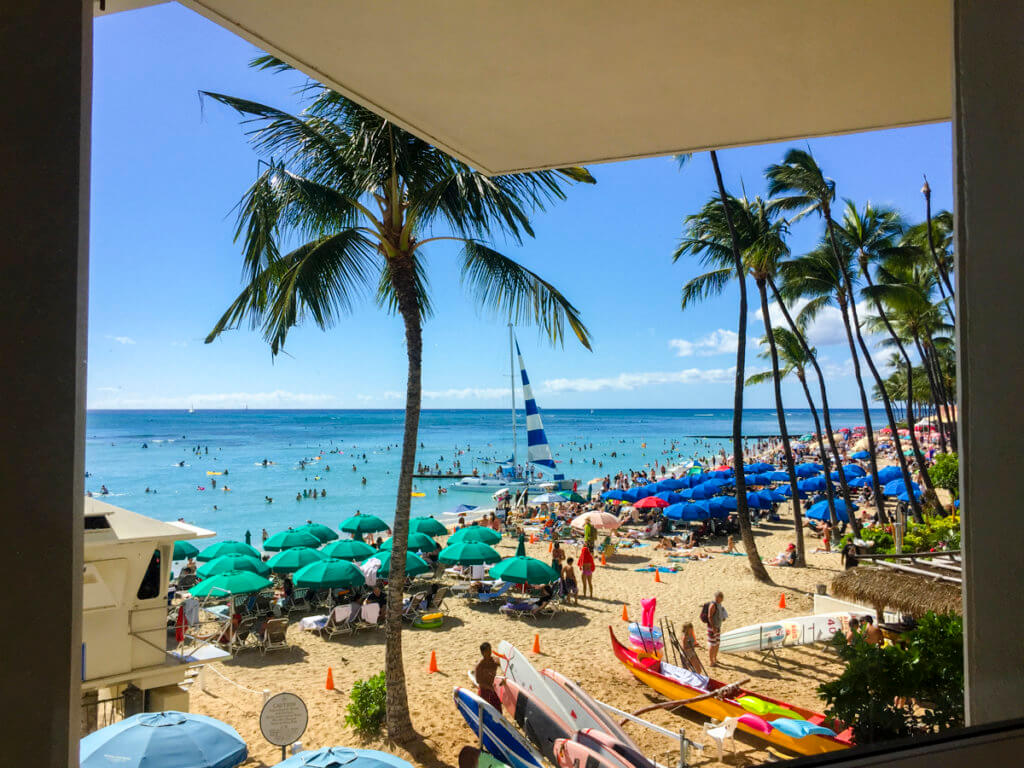 Treatment
As I've said earlier, the deal we got included an oceanfront couple's suite.  So when it was time for our treatments, our therapists came to get us, and lead us to the suite.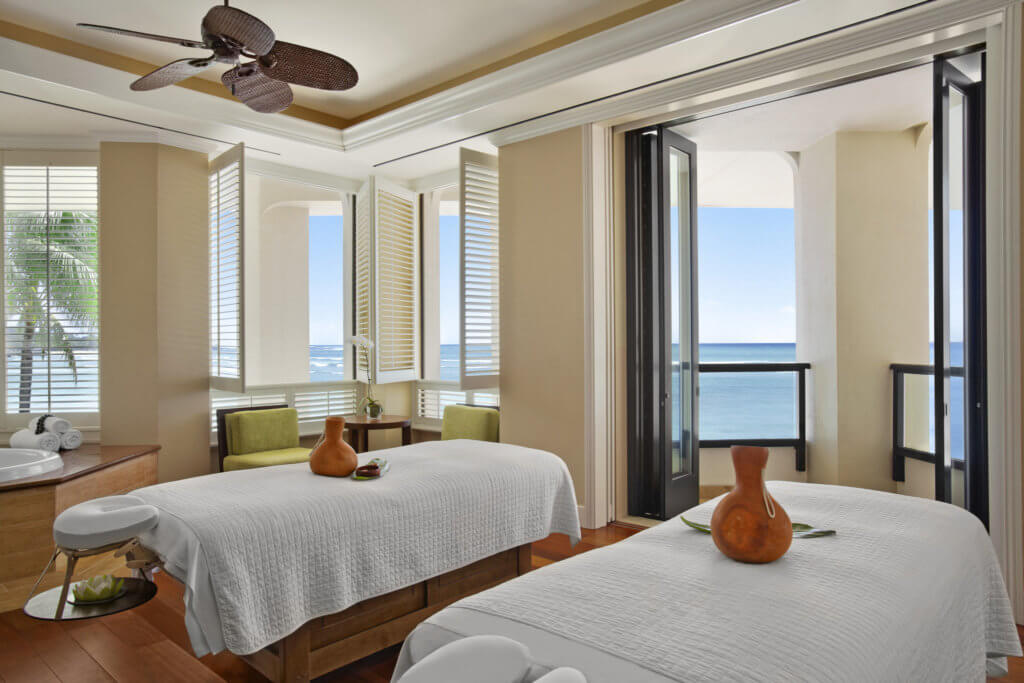 The oceanfront is a really nice place to be.  The room is air-conditioned, but they also open it up to the beach, so you get the sounds of the waves gently breaking on shore.  After a few, brief questions about our preferences, it was time to begin.  Our therapists on that day were great.  They found our trouble spots without asking and worked them well.  The 75 minute time was also much better than the 50 minute times we've had previously.  But, as always, the treatment feels like it ends too soon.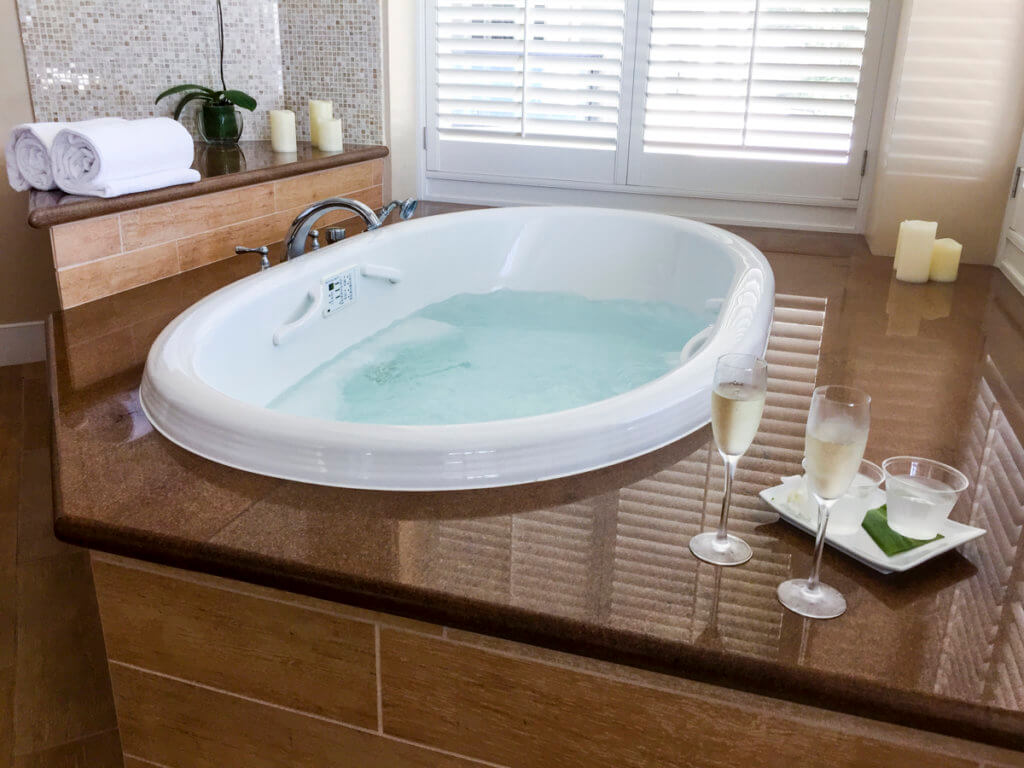 But the experience wasn't over quite yet.  Our special package also included a complimentary champagne toast and whirlpool bath.  This was nice, but not really our thing.  It was a little too hot and we always get paranoid about knowing when our time is up, so after a few minutes, we left.
Post Treatment
After finishing up, we headed back to the locker rooms to shower and change back into our regular clothes.  Once back in the spa lobby, I went to settle our bill.  Unfortunately, at the time of booking, I wasn't told that we couldn't use our Moana Lani Spa membership ($20) in combination with the Couple's Suite package.  Instead, they charged me AND Mrs. Island Miler membership fees, the massage therapies (minus 20% for club discount), and the $75 oceanfront suite fee.  In the end, this experience ended up costing a bit more than I had anticipated.  And when I questioned the person handling our transaction, she was really curt and borderline rude.  Not a nice end to our experience.
Final Thoughts
I did call the spa again a few days later to clarify, and you do need to have club membership for both guests if you're purchasing a couple's treatment.  And couple's treatments are only available in the oceanfront suite.  So while we did enjoy our experience at the Moana Lani Spa, I don't think I'll be returning.  Yes, I earned additional points by charging the treatments to my Marriott Rewards Visa, but the fact that you have to pay an extra $75 for couple's treatments is a little absurd, in my opinion.  And really, that's a deal breaker for me.  Even with our current Moana Lani Spa membership still active, I think we'll checkout a different spa next time we decide to treat ourselves.
Oh, and even though they have you signup for SPG when you join the club if you aren't already a member, you can't earn points on spa treatments.  Weird.