When in Hawaii, eating a malasada is one of the things you just have to do.  Or so says many of the travel guides and blogs.  And most visitors to the islands will instinctively head over to Leonards.  But there are many other options and varieties to explore, such as ice cream stuffed malasadas.
Admittedly, I'm not a big fan of Pipeline Bakery's malasadas.  It's not that they're bad, but they're nothing special either.  But at least they aren't like Leonard's malasadas, which have to be eaten hot.  If not, they start getting hard and nasty, primarily because they're one of the greasier versions out there.  After all, malasadas are balls of dough that are deep-fried and rolled in sugar.  And if you're not going to eat your malasadas right away, one of my favorite places to go is Champion's, though the bakery's future appears to be bleak.  However, Pipeline now has a new type of malasada you have to eat immediately that I've fallen for.  It's called the Malamode®.
Malamode
If you think the name sounds like malasada and ala mode, you'd be right.  The Malamode is fried ice cream meets malasadas.
To be honest, I'm not sure how they make these things.  But I think Pipeline Bakeshop takes a rock solid puck of ice cream, wrap it in malasadas dough, and throw it into the fryer.  Then, of course, the Malamode is rolled in sugar and served immediately.
When these things first came out, I hear there was only one flavor: Malafrozada.  That's a malasadas base ice cream with bits of malasadas and sugar.  But, now, there are other flavors to choose from, including:
She's So Strawberry: strawberry ice cream
Chocolate Money: deep, rich chocolate
Avery's Chocolate Avalanche: chocolate, marshmallows, coffee
Molly Madness: cookies and cream
Haupia Heaven: haupia (coconut)
You can even choose you different sugars to roll your Malamode in, including plain, cocoa, cinnamon, and li hing.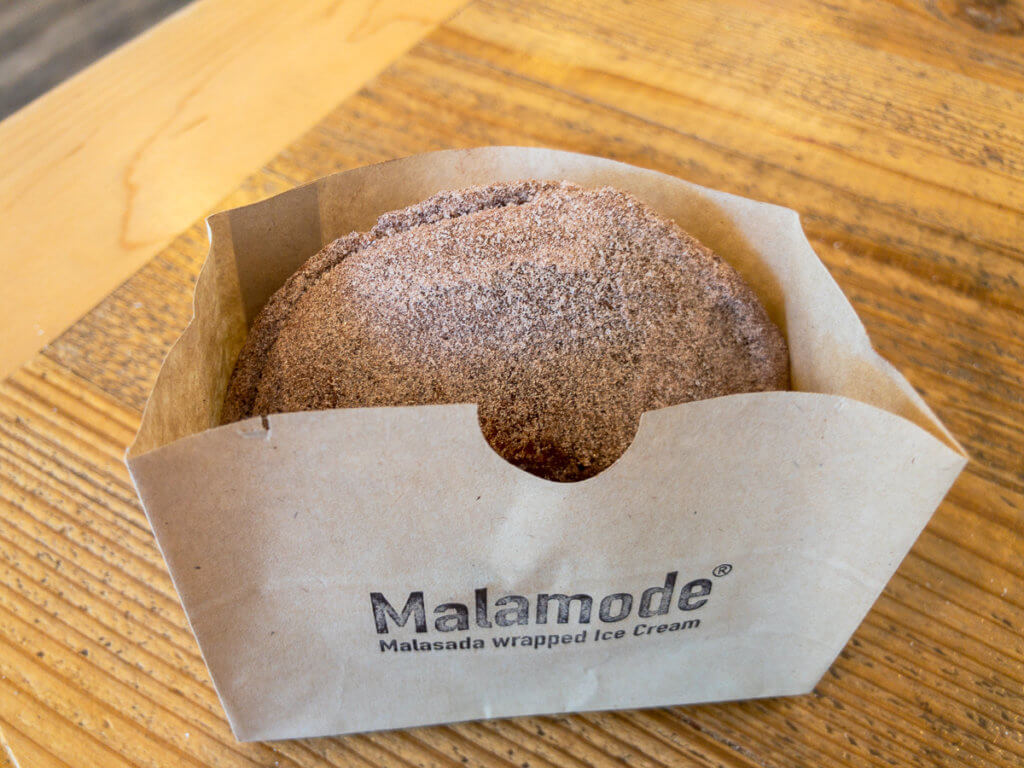 My Order
When I went to Pipeline Bakeshop to give the Malamode a try, I opted for the Molly Madness rolled in cocoa sugar.  The cocoa sugar made it taste a little like Cocoa Puffs.  As for the malasadas portion, it was a little crispy on the outside with the typically fluffy but dense interior.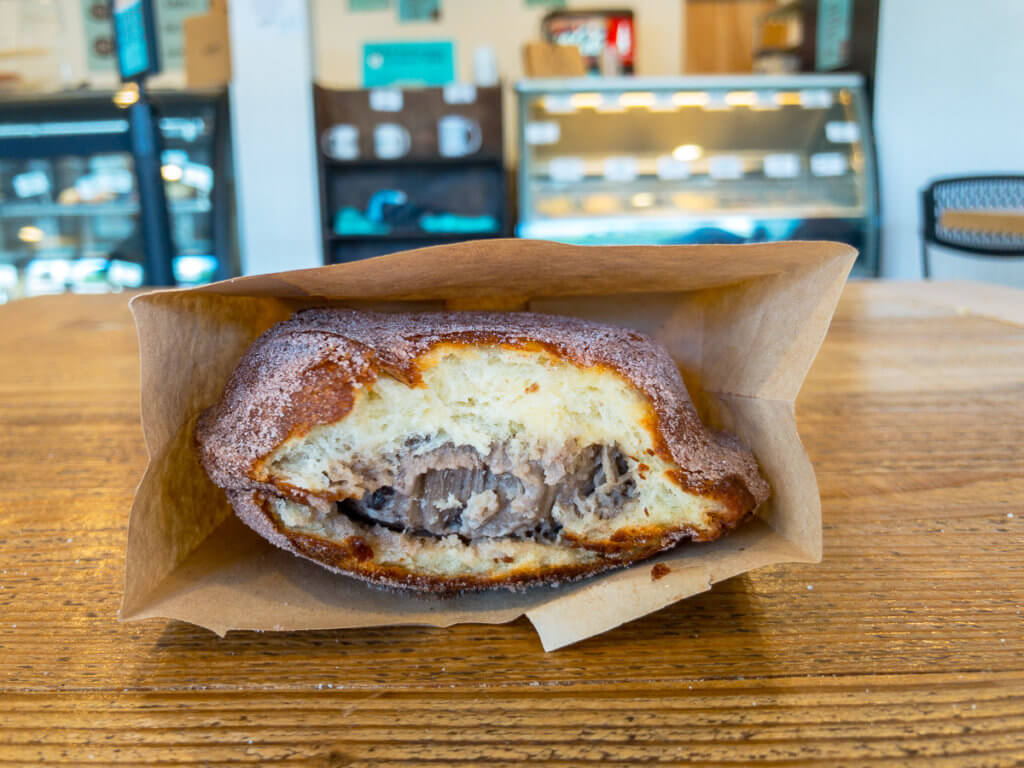 The ice cream, though, was still quite hard and slightly icy.  But no matter, it was still plenty tasty.
Ice Cream Stuffed Malasadas, Final Thoughts
Admittedly, my first experience with Pipeline Bakeshop wasn't so good.  But, I can now say that I'm happy I gave them a second chance.  The Malamode is a nice treat, especially with the weather we've been having lately.  It's warm and comforting, but cold and creamy all at the same time.  And it's definitely better than malasadas filled with custard cream, which are pretty good too.
But I do wish the ice cream weren't so icy, and I'd prefer to have it a little melty over being rock solid.  However, I realize the logistical challenges in making this treat, so I'm fine with it the way it is too.  Oh, and can we have a plain vanilla version as well?  Sounds boring, but I think vanilla ice cream would compliment the malasadas nicely!