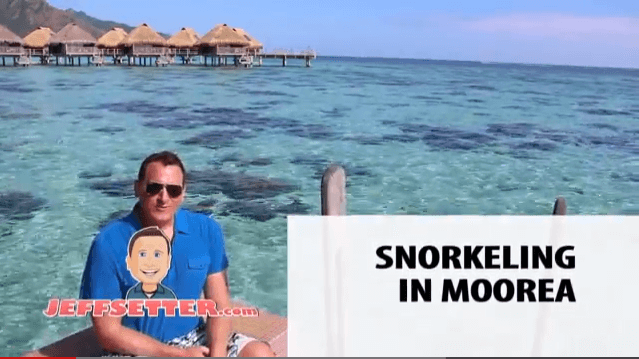 While it took me longer than expected to start pulling together and editing the videos I shot during our trip to the Cook Islands and French Polynesia in June, I am now starting to produce and edit the videos taken during that time and will be releasing them over the next several weeks. Each video ranges from 1 to 5 minutes long and covers a variety of topics from my trip.
With 5 videos "in the can" (meaning completed) I am confident that I will be able to release one video per week for the next 2-3 months. While they will not be in chronological order of when the events happened on the trip, they will represent many of the great sights and sounds that I saw in both locations. I am hoping that you can watch a video and immediately know what it's like to experience these islands in a way that my words and photos don't do justice.
The first video is actually one of the last topics I covered on the island – my experience snorkeling in Moorea in and around my overwater bungalow at the Hilton Moorea. In this video I talk about my experience snorkeling while also overlaying photos I took using my camera with an underwater housing. I used the "Ken Burns effect" with the photos to bring some life to the still photos. The biggest issue I have with the video is that I interviewed myself before I saw several Octopus in the water the last two days of our trip, so I didn't mention them at all on camera. I do show some pictures in the video, though.
Enough talk, here is the video!
If you want to see these videos before anyone else, please do subscribe to my YouTube Channel!
Here is a transcript for the video, Snorkeling in Moorea.
Hey it's me Jeff. Just wanted to talk to you a little about my experience snorkeling on the island of Moorea. I am sitting here at the edge of my bungalow on the swimming platform, at the Hilton in Moorea. It's been a great experience snorkeling. Basically, you just jump off the platform, put on your equipment and you're ready to go.
While I've been here, I have been snorkeling quite a bit; every day at least once a day. I see all kinds of fish. Lots of colorful fish and things you don't see every day. I have seen a flounder, a puffer fish and many other beautiful, vibrant colored fishes. I actually ran into a school of fish on one of my snorkeling expeditions and that was really cool.
Another thing that is in the water that I haven't really touched is reef sharks. Now they do seem a little scary at first, but I have been assured that they are not harmful at all; they are harmless. I am sure they are just as afraid of us as we are of them.
Other than that it's been a great experience so far. The water is clear. Lots of coral all over the place. It's been a great experience and you can't beat the ability to just jump off a platform and be snorkeling. It's definitely my favorite part of the island experience so far.