Terminal changes are coming to HNL in June.  So here's what you need to know.
Beginning on June 1st, the Daniel K. Inouye International Airport (HNL) will begin using new terminal names, gate numbers, and baggage claim names.  Also changing is the name of the commuter terminal, which currently serves a single airline.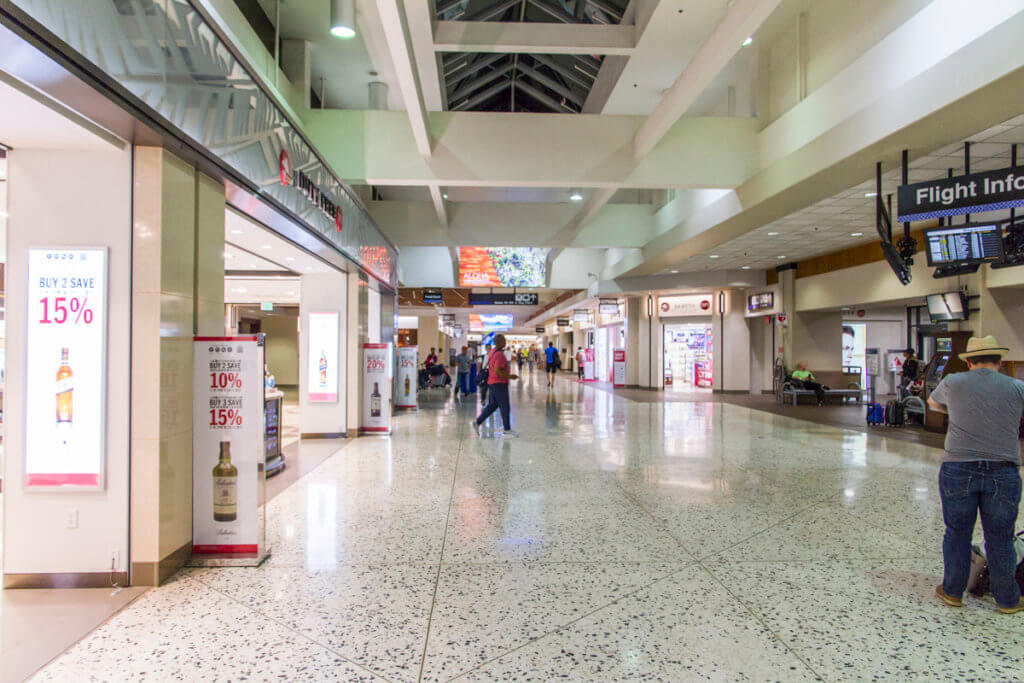 Renumbering + Renaming
Currently, the terminals at HNL have descriptive names:
Diamond Head Concourse
Central Concourse
Ewa Concourse
Inter-Island Terminal
Commuter Terminal
But beginning on June 1, 2018, the Inter-Island Terminal will become Terminal 1; the Diamond Head, Central, and Ewa Concourses will become Terminal 2; and the Commuter Terminal will become Terminal 3.  Further, the gates in Terminal one will become A and B gates, including gates A1 to A20 and B1 to B5.  Likewise, Terminal 2 will include gates C1 to C9,  D1 to D2, E1 to E10, F1 to F2, and G1 to G10.  And, finally, Terminal 3 will have a single gate named H1.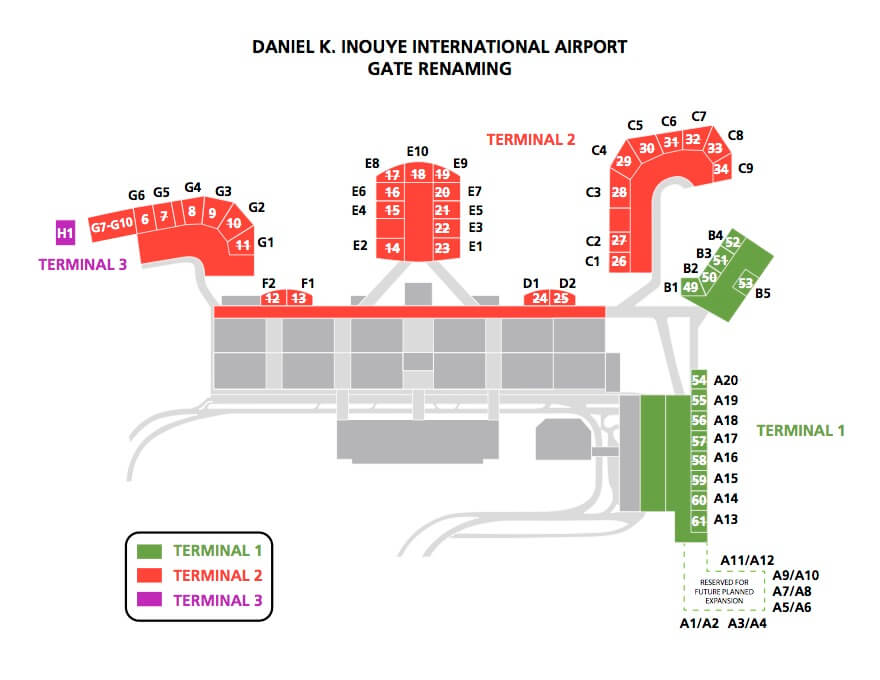 On the arrival side of things, Baggage Claims range from claims B through H.  However, beginning June 1, each carousel will carry a numeric name.  Terminal 1 will have claims 1 through 15, while Terminal 2 will house claims 16 through 31.  This should make your respective carousels easier to find, and should also make picking people up at the airport easier to do too.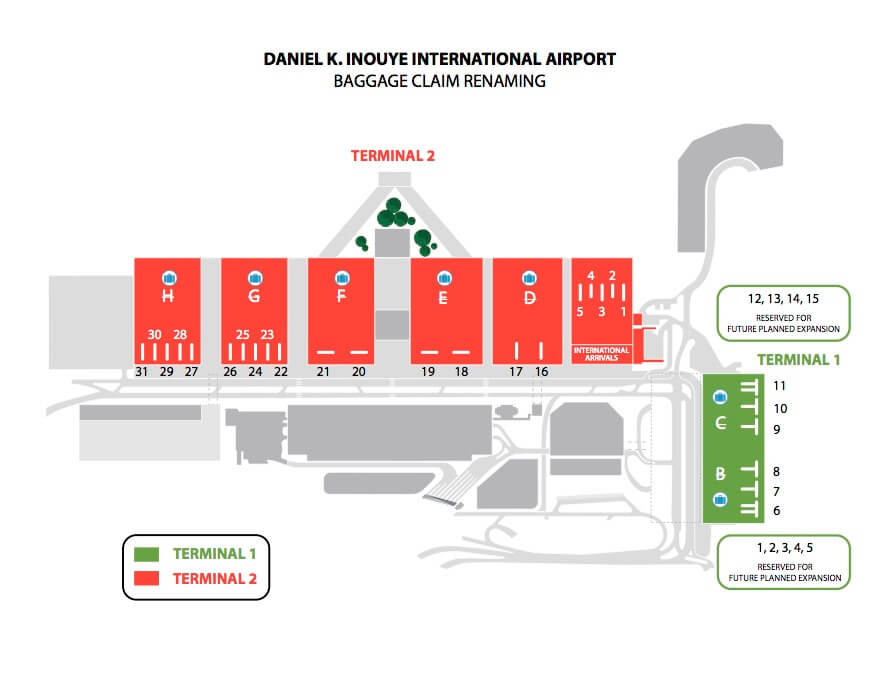 Commuter Terminal Move
In addition to the renaming campaign, the Commuter Terminal, now known as Terminal 3, has moved to the other end of the airport.  With only a single gate serving Mokulele Airlines, Terminal 3 is now between the Delta Cargo and United Cargo facilities.  Located at 3073 Aolele St., Terminal 3 has 42 parking stalls, for which passengers will need to prepay for when checking-in for their flight.
If you haven't already guessed, Terminal 3 is quite far from the other ones.  And, no, there's no way to walk to the other terminals from here, nor is there an air-side connection to the others.  Your only option for connecting to other flights is the Wiki-Wiki Shuttle bus.  This free service will complete one round every 20 minutes, so plan accordingly if you are connecting to or from a Mokulele Air flight.  Or, you know, just use Ohana by Hawaiian instead (if you can), as they fly out of Terminal 1 with the rest of Hawaiian's inter-island flights.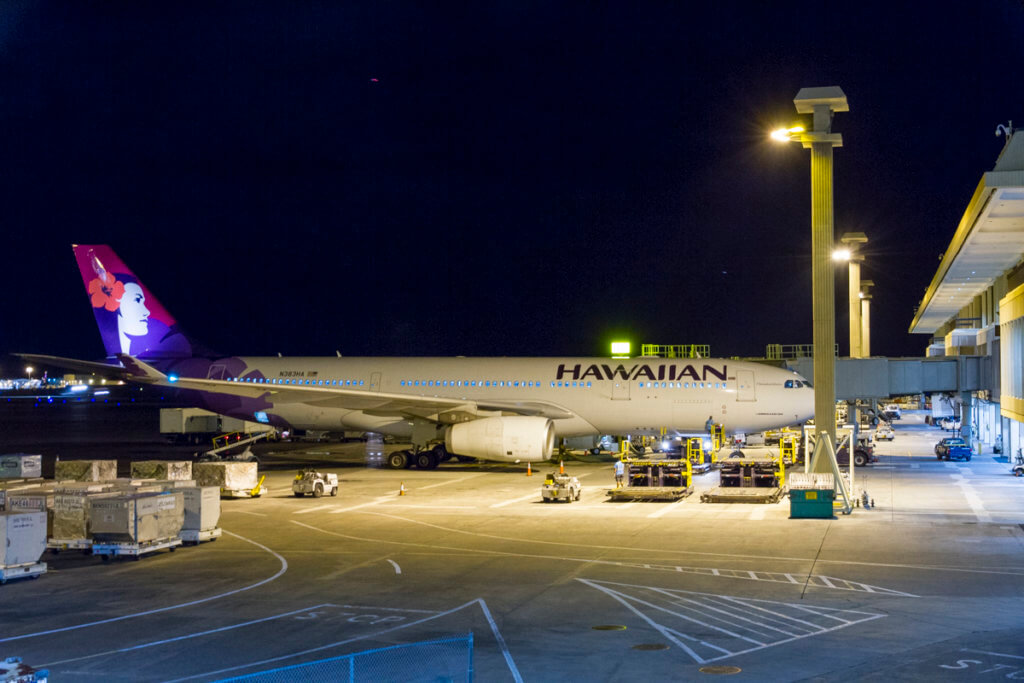 Terminal Changes are Coming to HNL, Final Thoughts
The Daniel K. Inouye International Airport could really use updates to its terminal, gate, and baggage claim names.  However, I don't think this scheme the Hawaii Department of Transportation came up with is going to work.  In fact, I think they've made things more confusing.  After all, why on earth would you have A and B gates in Terminal 1?  Why not match the terminal and gate names?  So the concourse housing A gates would be Terminal A, while the concourse housing G gates would be Terminal G.  Makes more sense, right?
Even the whole Terminal 3 situation makes little sense.  It's so far from the other terminals; were there no better options?  And even if there weren't any, why not develop a more efficient way to connect them?  Couldn't there be and air-side connection shuttle buses traversing the ramp?
Of course, this is Hawaii, so… This is what we've got.  Oh, and while temporary signs will be up on June 1, but changing the permanent signs won't be fully replaced until Summer of 2019 or later.