Before COVID shut the world down, All Nippon Airways (ANA) was getting ready to fully deploy their small fleet of Airbus A380s. However, we all know what happened, which caused air travel to completely stop. Now, over three years later, the third ANA Flying Honu is entering service between Tokyo and Honolulu soon.
In what seems like eons ago, ANA took over deliveries for free of the former Skymark Airlines' Airbus A380s. Fast-forward a bit, and ANA began deploying the aircraft between Tokyo Narita and Honolulu – first with the Blue Honu (JA381A, named Lani) in May 2019, followed by the Emerald Green one (JA382A, named Kai). However, just as the third and final jet, JA383A, named Ka La, rolled off the production line in Toulouse, travel came to a halt. This resulted in the delayed delivery of the aircraft. Even after it was delivered to ANA, the aircraft continued to sit as Japan's travel restrictions continued to constrain demand. But that's all set to change soon.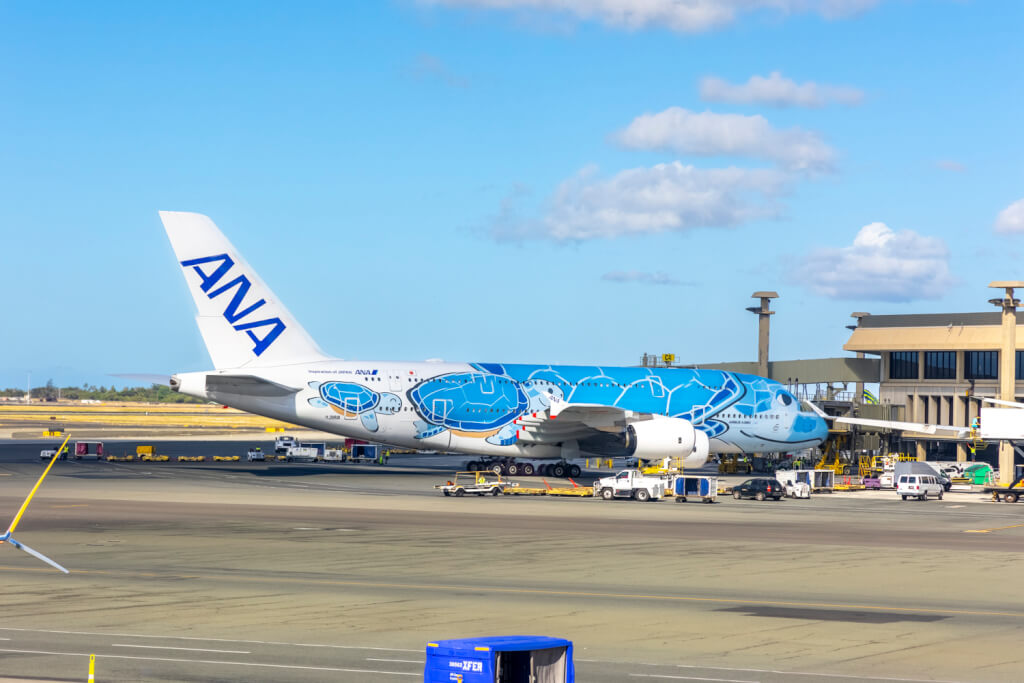 Third ANA Flying Honu is Entering Service
Beginning on December 6, 2023, ANA will finally reach its originally planned A380 deployment schedule of two flights per day for 14 flights per week. This is something that was supposed to happen around mid-2020, but for obvious reasons, it didn't. It's also something that wasn't possible with only two A380s in service, but, of course, that's about to change.
Since the third ANA Flying Honu is entering service, ANA can finally realize its original schedule. But with the full A380 schedule comes a huge increase in capacity. With 10 flights per week, the A380 provides 4,800 seats. Going up to twice-daily flights pushes that capacity to 6,720 seats per week. As a comparison, ANA is currently operating their 77W with 250 seats on the route, which means a weekly capacity of 5,800, which means they're putting over 900 additional seats per week into the market.
That doesn't sound like a lot, but Japanese arrivals haven't recovered yet. You see, August has the highest number of average daily arrivals since the pandemic shut down travel. While daily arrivals fluctuated quite a bit, August's Japan arrivals averaged 3,200 people per day. Pre-pandemic, daily arrivals were often around 5,500 per day. Just from Japan.
Final Thoughts
After a three-year delay, the third ANA Flying Honu is entering service – finally. While Lani and Kai are now regular fixtures here in Honolulu, it'll be great to finally see Ka La, even if I'm not necessarily a fan of the Sunset color scheme. Do I think it's a bit too soon to be bumping capacity? Probably. While Japanese arrivals are far better than they were just a few months ago, they're still nearly 50% lower than 2019 numbers.