Heads up!  A tropical storm has formed in the East Pacific and could be heading towards Hawaii.
The Central Pacific Hurricane Season kicked off on June 1st and runs through November 30.  Climatologists believe this season will be yet another busy season like the past few have been.  However, nearly a month and a half in, there has yet to be a storm that approached the islands.  That could change soon, though.
Tropical Storm Fernanda
As of yesterday, Tropical Storm Fernanda remained in the East Pacific near Baja California.  It doesn't pose an immediate threat to Hawaii at the moment, but early computer models show the storm tracking towards the islands.  It's speed at 5 a.m. HST was 10mph heading west, though that it's expected to speed up over the next few days.  The storm is also expected to strengthen to a category 3 hurricane over the next few days, and currently has maximum sustained winds of 40mph and extend 35 miles out from the storm's center.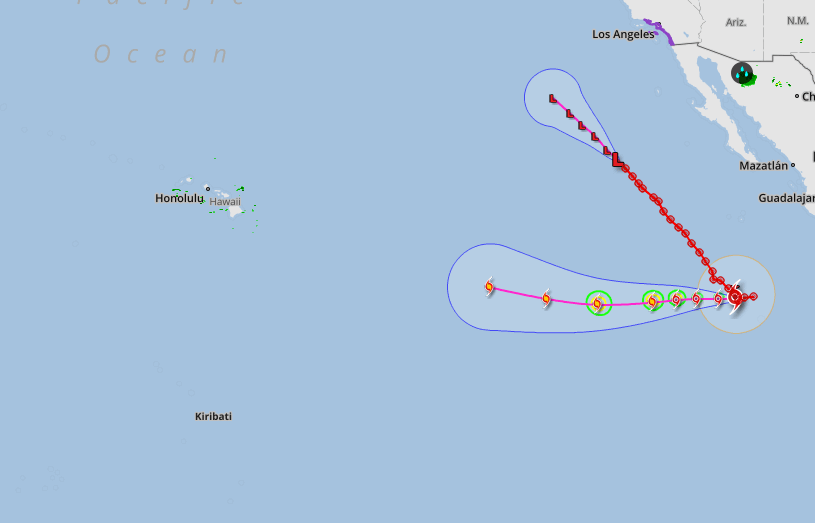 Like I said earlier, though, the storm is much too far to draw any conclusions on.  Storms heading towards the islands often change course or fizzle out as they make their approach.  But it is worth making a note of the system and tracking it, especially if you have plans to travel to Hawaii soon.  Current estimates place the storm in our vicinity around July 24.
What You Need to Know – Traveling
Should the storm approach the islands, be sure to get in touch with your airline.  Chances are, they'll allow changes free of charge due to the incoming system.  Hawaiian has certainly done this the past few times Hawaii had a tropical storm or hurricane barreling towards it.  You'll probably want to do the same with your hotel reservations too.  No info has been given regarding hotels allowing changes past the cancellation date (3 days for Marriott), but it's worth a shot.  Chances are, they should let you make a change free of charge.
But if your airline and/or hotel wants to play hardball with changes, then its time you review your credit card coverages.  If you've booked your tickets or stay with a good travel card, like the Chase Sapphire Reserve, chances are you have trip interruption and cancellation insurance.  This will help you recoup any loses you incur depending on the program rules.
What You Need to Know – On Island
If you're already on-island, the best thing to do will depend on the situation at hand.  Is the storm still a few days away?  Enjoy your time outdoors while you can.  Once the storm begins its approach, however, outer weather bands may create some nasty rains and winds.  At that point, its best to stay indoors and hunker down.  Even if the weather looks decent outside, it can shift quickly as the storm approaches.  And areas, such as hiking trails, can get particularly dangerous, as many of them are in flash flood prone areas.
If you're staying at a hotel, do heed any announcements made by the staff.  And while you should be ok as is, it may be a good idea to get yourself a stash of bottled water and what not to have on hand just in case.  If, however, you're staying in an Airbnb or vacation rental, you may want to consult the Red Cross's preparedness guide.  And pay particularly close attention to all news outlets, especially for evacuation notices in your area.
Tropical Storm Fernanda Final Thoughts
As I've said a couple times now in this post, it's still too early to tell if Fernanda will be a threat to the islands.  We're just under a week and a half from seeing any potential effects from the storm, so we'll just have to wait and see.  It wouldn't hurt, though, to review your travel plans and coverages now.  That way, if the storm does impact Hawaii, you'll have all the info you need to make changes to your plans and/or file claims.  Oh, and be sure keep yourself update with  the NOAA Central Pacific Hurricane Center's site, Hawaii News Now, and this blog.