The wait is finally over.  Hurricane Lane impacts Hawaii as it makes its way past the islands.
Update
As of 11:00 pm HST last night, Hurricane Lane was making its way past the Big Island of Hawaii.  Now a Category 3 storm, it's outer bands brought heavy rains, strong winds, and storm surges to the Big Island and Maui.  Meanwhile, on Oahu, the initial effects of Lane could be felt beginning on Thursday afternoon.  In fact, as I write this post, strong gusts outside our home can be heard roaring through the trees.  And we've already had intermittent power failures, despite the worst winds not yet arriving.  However,  at this time, no rain is falling, though that's due to change shortly.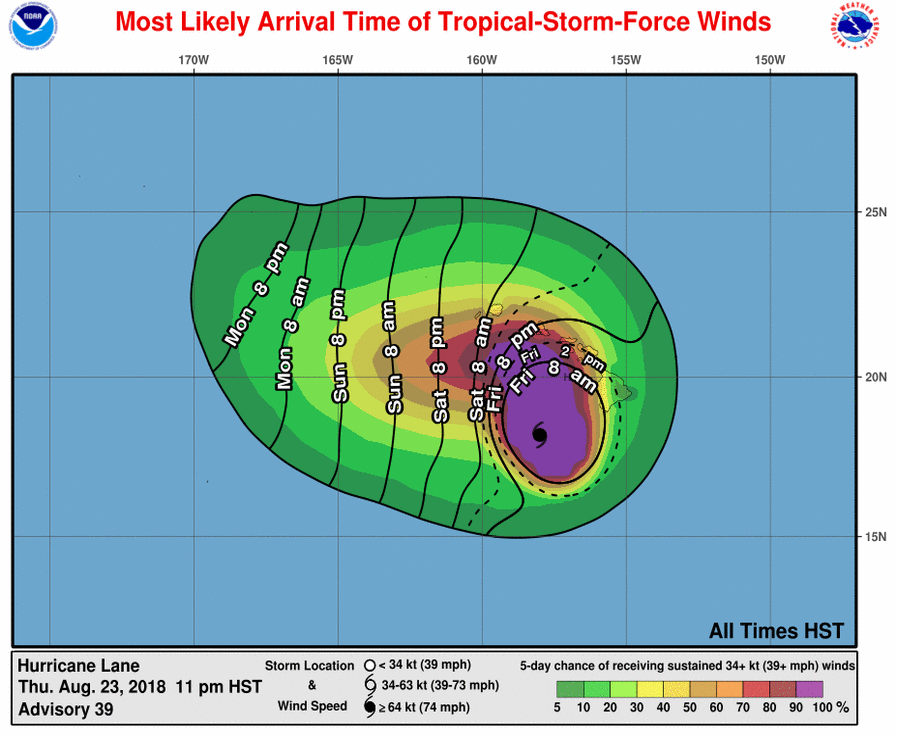 The most recent forecasts from the Central Pacific Hurricane Center shows Lane slowing further to 6 mph, making its trek past the islands longer.  Further, it is now expected to remain a hurricane until it passes the entire island chain.  And while Oahu was no longer in the "cone of uncertainty" earlier in the day, it is once again within the cone.  This shows just how difficult it is to forecast the path of the storm and its impacts, and why it's important to prepare for any potential threats.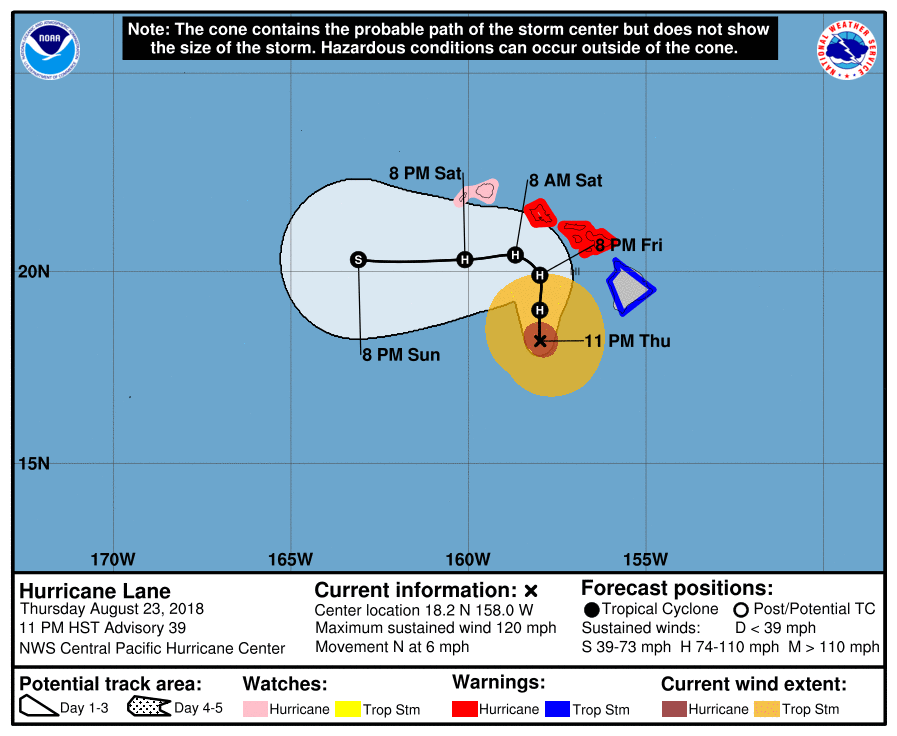 But even if the storm doesn't directly impact the islands, we will undoubtedly feel its effects, as already have been.  While things are getting hairy on Oahu now, tropical storm-force winds should reach the island sometime on Friday.  Heavy rains will accompany those rains along with the chance of tornadoes or waterspouts, which is RARE for us.
Travel Updates
As the situation continues to be a dynamic one, it's important to seek updates from your travel providers.  Each airline will make their own calls on service, with many already offering free changes.  As far as cancellations are concerned, thus far only United and Hawaiian have announced any.  Particularly, United is canceling all flights into Maui, while Hawaiian is canceling all Ohana by Hawaiian flights to the island for Friday.  Currently, no other flights are affected, though this could change at any time.
Further, the State of Hawaii says the airports will remain open no matter what unless conducting operations are no longer possible (runway damage).  In fact, Kahului Airport loss power on Thursday, but remained open on backup generators.
And for those already here in Hawaii, it goes without saying that you should stay indoors.  Hotels are experts at handling these types of incidents, and many may even have activities for you to enjoy.  And it's not like there's anything to do right now anyway.  All public beaches, parks, National Parks, visitor attractions, etc. are closed until further notice.  So, again, just stay inside.
Hurricane Lanes Impacts Hawaii, Final Thoughts
Look, I get it.  It sucks going to a dream destination like Hawaii, only to have your plans ruined by a storm.  But, hurricanes and even tropical storms are life-threatening events.  So please, heed all warnings and stay safe.  It's going to be a rough weekend ahead, even for us locals.  Beleive me when I say the last thing we want to do is be cooped up inside.  Especially if there isn't going to be any power.  But it is what it is, and it's always better to be safe than sorry.
And, again, for those of you that aren't yet here or am experiencing flight delays or cancellations, you need to review your credit card coverages.  Many cards, like the Chase Sapphire Reserve, have protections that'll help you out.  Especially if you get stranded during a connection or trying to leave the islands.
As always, it's a good idea to check for regular updates with media outlets such as Hawaii News Now, the Honolulu Star-Advertiser, or directly with the Central Pacific Hurricane Center.