In 2012, the State of Hawaii sought to combat Waikiki Beach's erosion with a sand replenishment project. Nine years later, most of that sand is already gone. So the Waikiki sand replenishment round 2 begins to restore the beach once again.
Waikiki has long had an erosion problem. Ever since the 1800s, several bad decisions culminated in the situation we have today. Waikiki Beach, as it stands, is basically a human-made beach. Sure, there was a beautiful, broad, natural beach there centuries ago. But, thanks to reef destruction, sea wall construction, and dredging used to fill in the wetlands that once made up Waikiki, sand can no longer stay in the area on its own. That is why around a decade ago, the beach nearly vanished entirely.
To combat the erosion, the state undertook a sand replenishment project back in 2012. What's more, they completed two structural projects that they hope will slow the erosion. However, since the 2012 replenishment, an estimated 20,000 cubic-feet of sand vanished once again. So, it's time to do another round of sand replenishment.
What to Expect
The project, which began on Monday, February 1, is scheduled to take three to four months to finish. And, yes, this does mean beach closures and other disruptions over the next three to four months. The most disruption will occur in the Kuhio Beach area of Waikiki Beach, which will act as an equipment statement area. What's more, the area will also serve as a receiving point and dewatering area for and pumped up from 2,000 feet off-shore. Sporadic impacts will occur from the Kuhio Beach area all the way to the Royal Hawaiin groin as crews work to replenish sand in these areas. This work will take place daily between 8 am and 5 pm.
In case you're wondering where I'm talking about, the area work is taking place in extend nearly the entire length of Waikiki's main drag along Kalakaua Avenue. That means the beach fronting the Royal Hawaiian through to the beach across from the Waikiki Beach Marriott, the Aston Waikiki Beach, and Park Shore Waikiki Beach is the entire worksite. So if you want to stay at a hotel near the beach that isn't impacted, then you'll need to stay at the Hilton Hawaiian Village. Or the Hale Koa if you have Department of Defense privileges.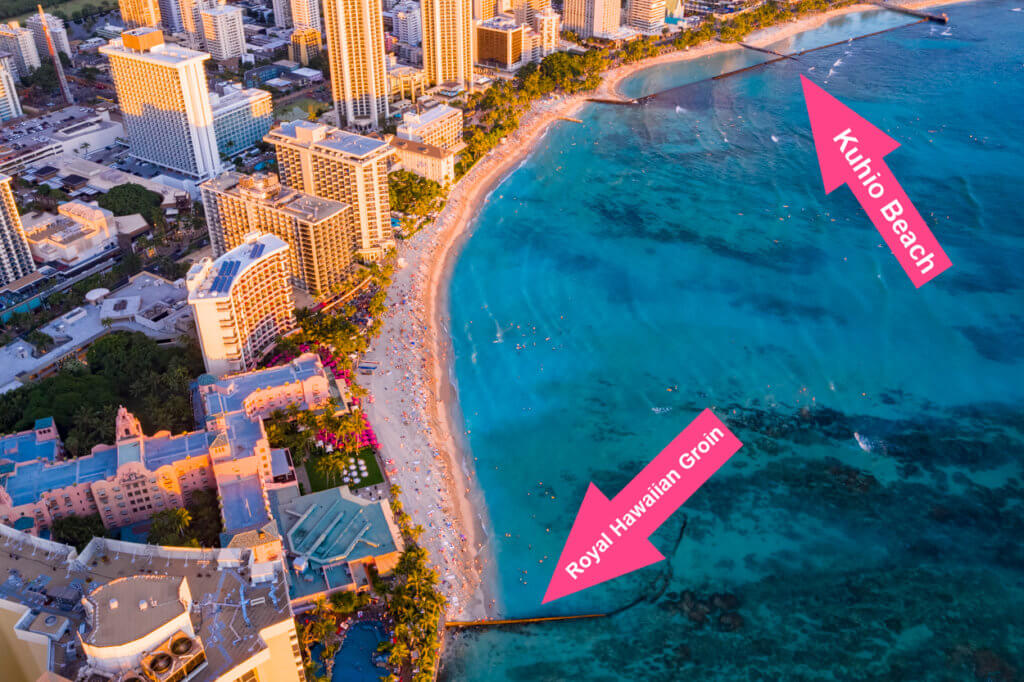 Oh and, the Royal Hawaiian groin doesn't look like that anymore. It was completely rebuilt last year as part of ongoing erosion mitigation efforts. In fact, here's what the partially completed groin looks like.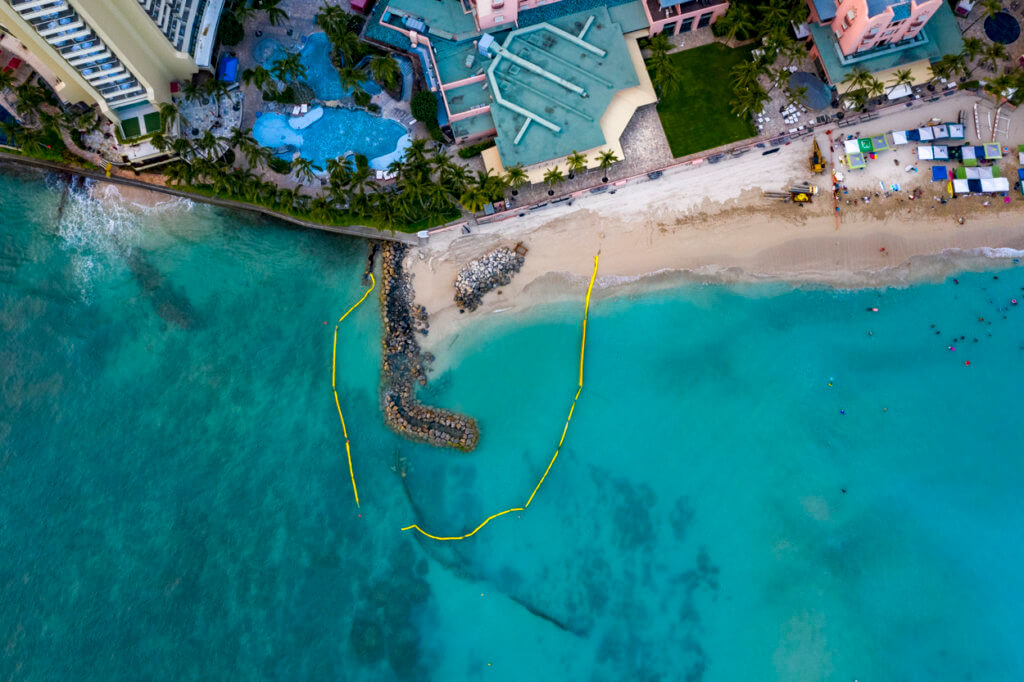 Waikiki Sand Replenishment Round 2 Begins, Final Thoughts
Earlier studies estimated that sand replenishment would need to occur every five to nine years. However, with the new Kuhio Beach and Royal Hawaiian groins now in place, I'm hoping the sand will stick around a little longer. I just wish that, you know, they did this last year soon after finishing the Royal Hawaiian groin. At that point, most hotels were still closed, and visitor arrivals were dismal. But, with most hotels open now, Waikiki is noticeably busier. Either way, though, it's a project that needs to get done. And better now than when travel returns to normal.