Tropical Storm Darby was the first topical cyclone of any type to directly impact Oahu in over a decade.  It's been just one of many, however, that have impacted the Hawaiian Islands in recent years.  The chaos that ensued, though, and questions that arose from friends that didn't grow up here got me thinking.  A great blog post to write would be what to do during a tropical cyclone.  This is especially true going forward as events like this continue to become more common.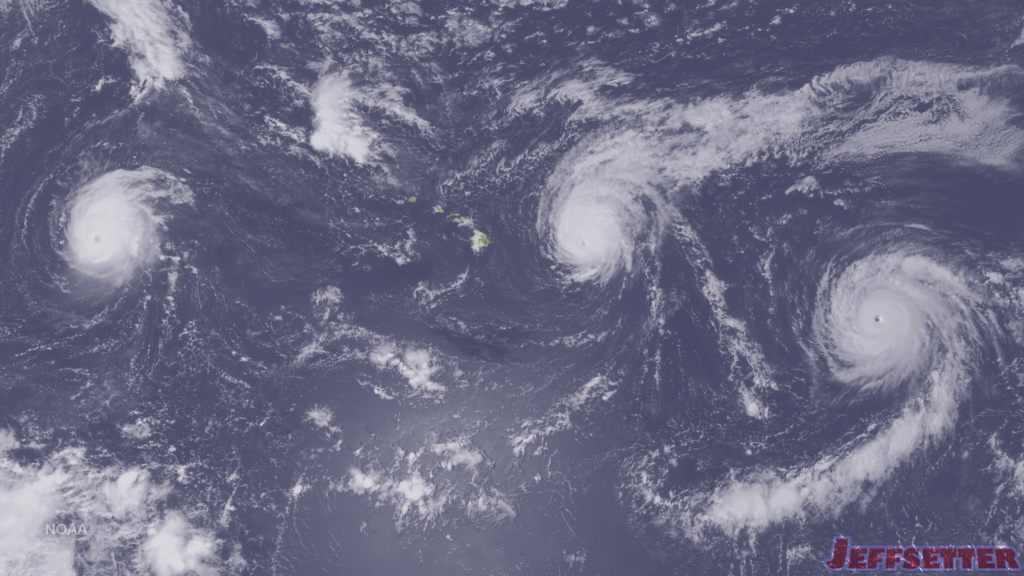 Take a look at that hauntingly beautiful satellite image.  Those were just three of the many storms that impacted the Hawaiian Islands in 2015.  Two of them, Julio and Iselle directly impacted Hawaii island and Maui.  And while each island handles adverse weather different, what you should do and shouldn't do remains the same.  Heck, preparations for the storms differ too depending whether you're a resident/staying in a vacation rental, or if you're staying in a hotel.
Be Informed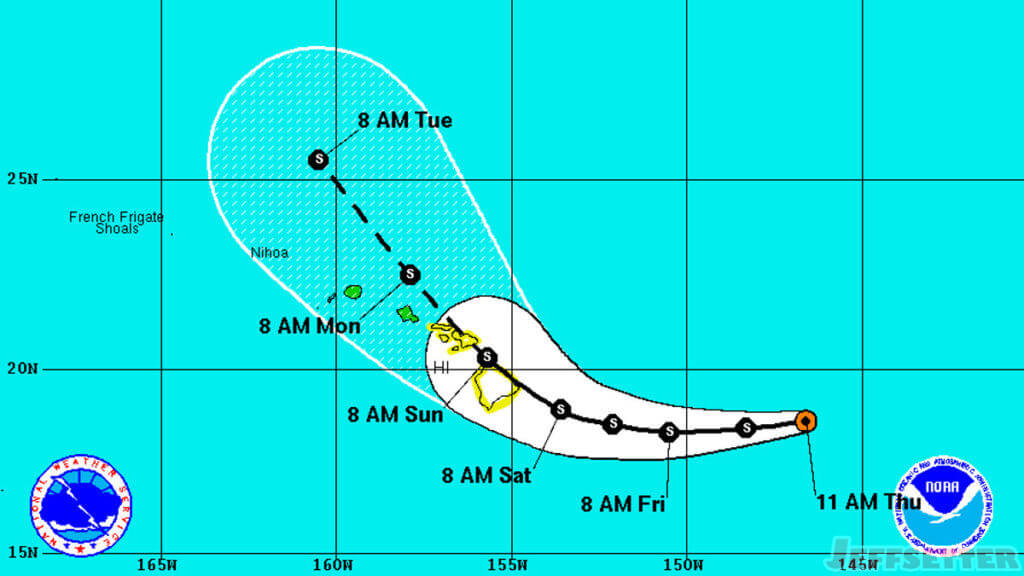 One thing everyone should do, especially if storms are in the forecast, is to keep track of the weather.  The above graphic shows the potential track of Tropical Storm Darby as of Thursday, July 21.  These forecasts have a habit of changing often, so it's good to check back at least once or twice a day.  The National Weather Service usually provides updates at 5am, 11am, and another sometime in the afternoon during these types of events.  The Weather Channel's app is great for this, as is Hawaii News Now's app.
Know the Lingo 
A Tropical Cyclone (tropical storm, hurricane) watch means that tropical cyclone conditions are expected within the next 48 hours.  A tropical cyclone warning means that tropical cyclone conditions will be present within the next 46 hours.  The storm track, or cone of uncertainty, is the projected path of the storm.  The solid and dotted lines represent where the storm is expected to go, while the white (or colored) area around the line is the margin of error area.  It's important to note, however, that even if you're outside the cone of uncertainty, tropical cyclone conditions may still be present.  Tropical cyclone contains often extend over 100 miles out from the center, or eye, of the storm.
Stock Up on Necessities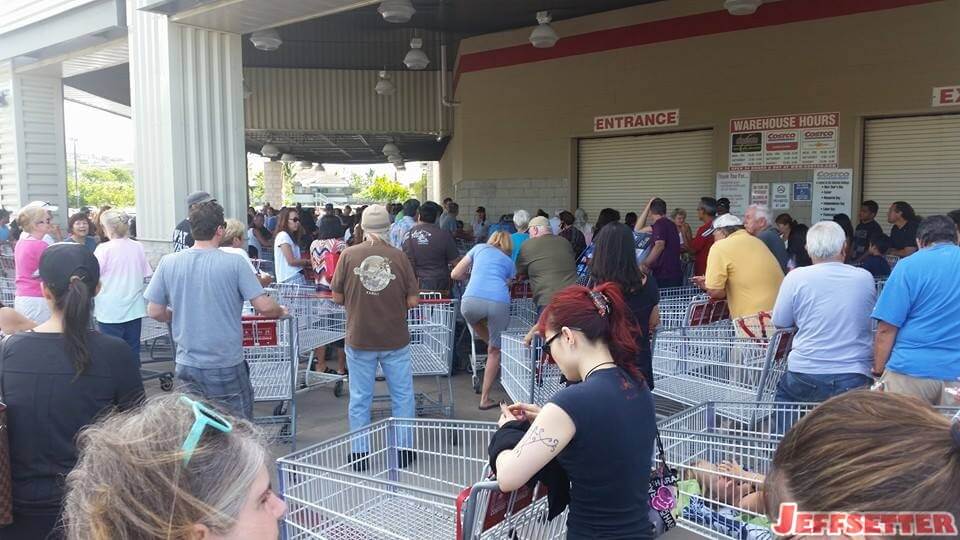 If it looks like the storm will impact the island you're on, it's a good idea to get yourself some supplies to ride out the storm.  The chief supplies are water, batteries, non-perishable food, and toilet paper!  Hey, we're on an island.  If we can't get shipments from the mainland, one of the most coveted items will be toilet paper.  Of course this will be less of a concern if you're in a hotel, though it wouldn't hurt to grabs some water and snacks.  Keeping a (charged) battery pack to charge your phone with is also a great idea.  Just be aware that once the announcement is made, the stores will get CRAZY and may even sale out.  This issue will only grow the closer the storm gets, too.  The same goes for gas if you have a car.
Check Your Flights
If you're schedule to depart (or even arrive) during a Tropical Cyclone, be sure to check with your airline.  If the airline thinks it'll need to delay or cancel flights due to the storm, most will waive change fees.  And if flight schedules are indeed adjusted, it's best to be among the first to discuss your options with the airline.  The longer you wait, the longer the delay you'll need to endure.
Familiarize Yourself with Your Hotel's Emergency Plan and/or Nearby Emergency Shelters
If you're staying in a hotel, be sure to familiarize yourself with your hotel's emergency plan.  For example, if you're on a lower floor, be sure to find out what evacuation options you have in case your room floods.  Most hotels practice vertical evacuations during tsunami events, and storm surges and/or flooding should be treated no differently.  Be sure to also familiarize yourself with the location flashlight in your room.  They're usually located in the closet.
For those of you that do vacation rentals, especially if you're near the ocean, be sure to locate the nearest emergency shelter to you.  Ocean front homes, homes near streams, and those in low-lying areas are particularly susceptible to damage from storm surge and flooding.  It's best to evacuate these locations.
Stay Off the Roads and Don't Go Hiking, Camping, to the Beach, etc.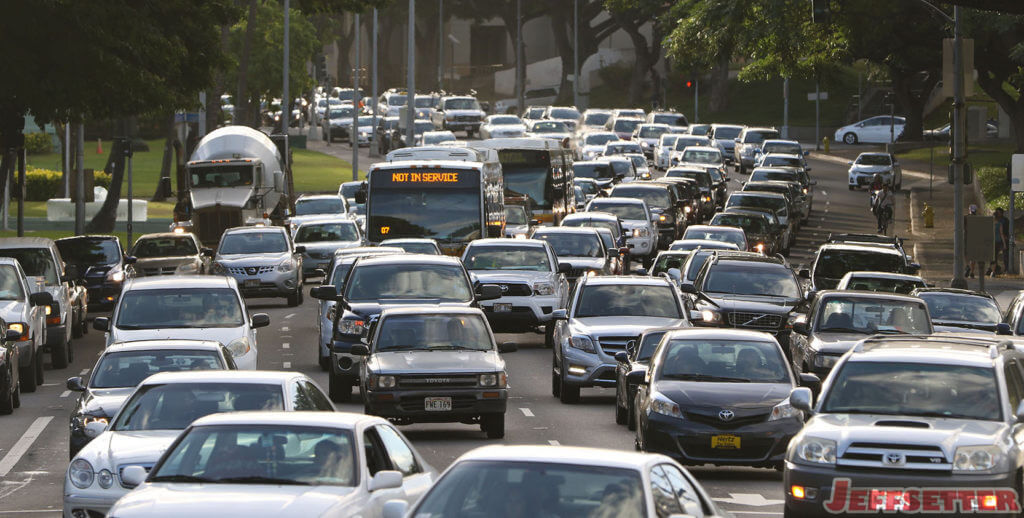 Storm time means heavy traffic.  Even before the tropical cyclone hits traffic may be heavy as people scramble to prepare.  So if you don't have to go anywhere, stay off the roads.  You don't want to deal with all the gridlock, so why contribute to it if you don't have to?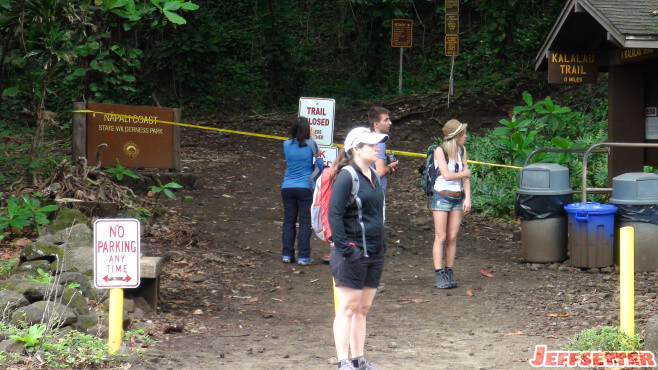 Even more important, however, is to refrain from doing any outdoor activities like hiking, camping, etc.  Much of Hawaii's hikes takes you through lush, tropical rainforests.  Many have streams along the way, or perhaps you were hiking along a dry stream bed and didn't realize it.  Even if there is no steam along the hike, just stay away.  Flash flooding can occur at any time, just about anywhere on the island.  Too many have learned this the hard way, especially on Kauai's Na Pali Coast.  In recent years literally hundreds of hikers have had to be rescued from the Kalalau Trail when severe weather (and even not so severe weather) caused the Hanakapiai Stream to flood.  Unfortunately, there has also bee loss of life recently, too.  Please do not let this happen to you.  Stay out of the mountains, valleys, and ocean when the weather looks iffy.
Don't Go Anywhere Until All Warnings Clear and/or the All Clear is Given
Darby played tricks on people.  The center of the storm approached Oahu, and nothing.  No wind, and barely a drizzle.  But hours later Darby unleashed a massive thunderstorm on the island.  The rain came quickly and hard, many parts of urban Honolulu flooded.  Worst yet, the H1 Freeway, Kalakaua Ave, Dillingham Ave, Kapiolani Ave, and many other main roadways flooded, standing many.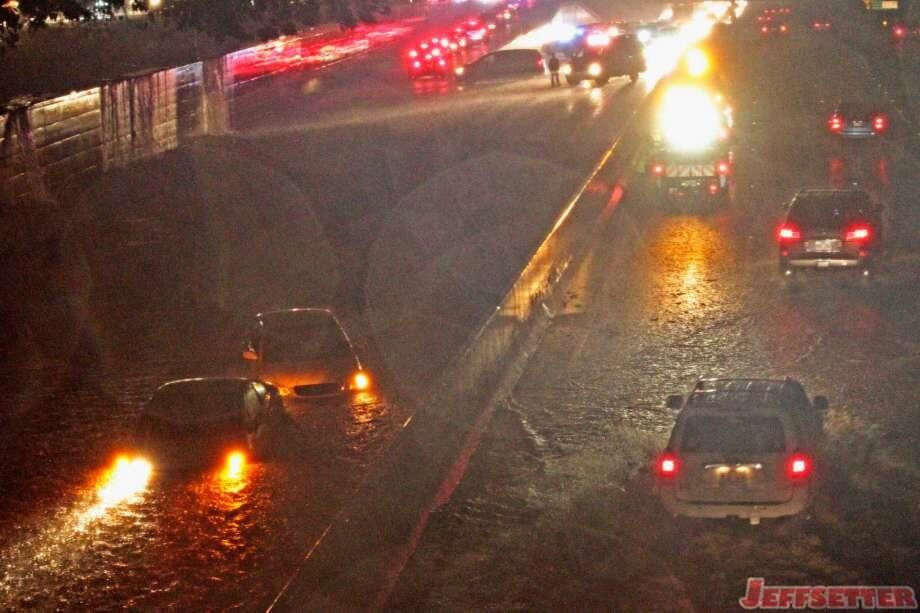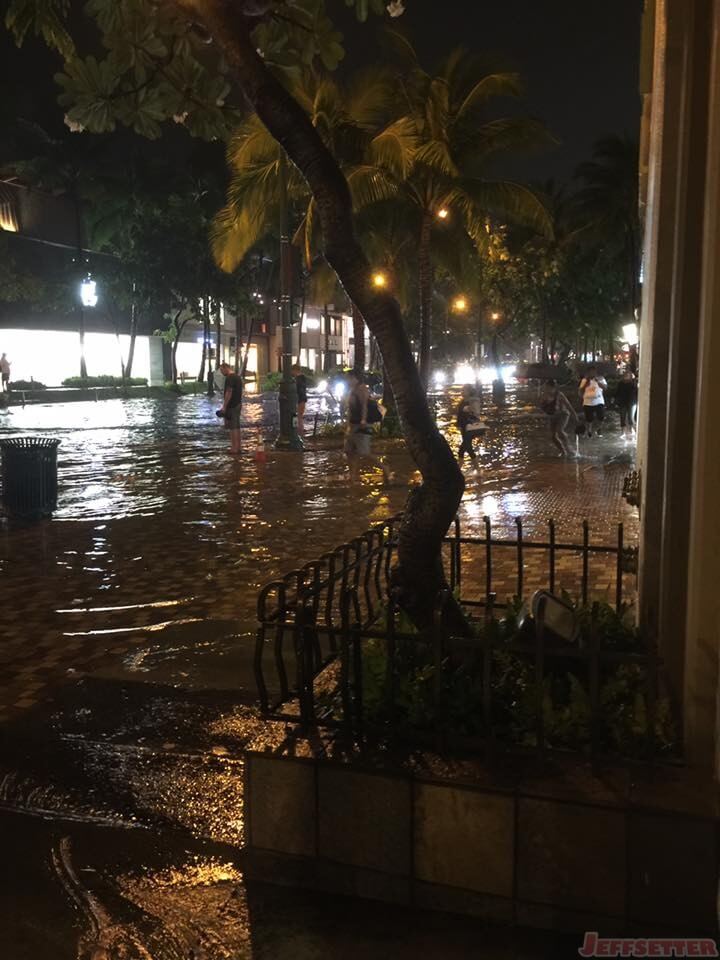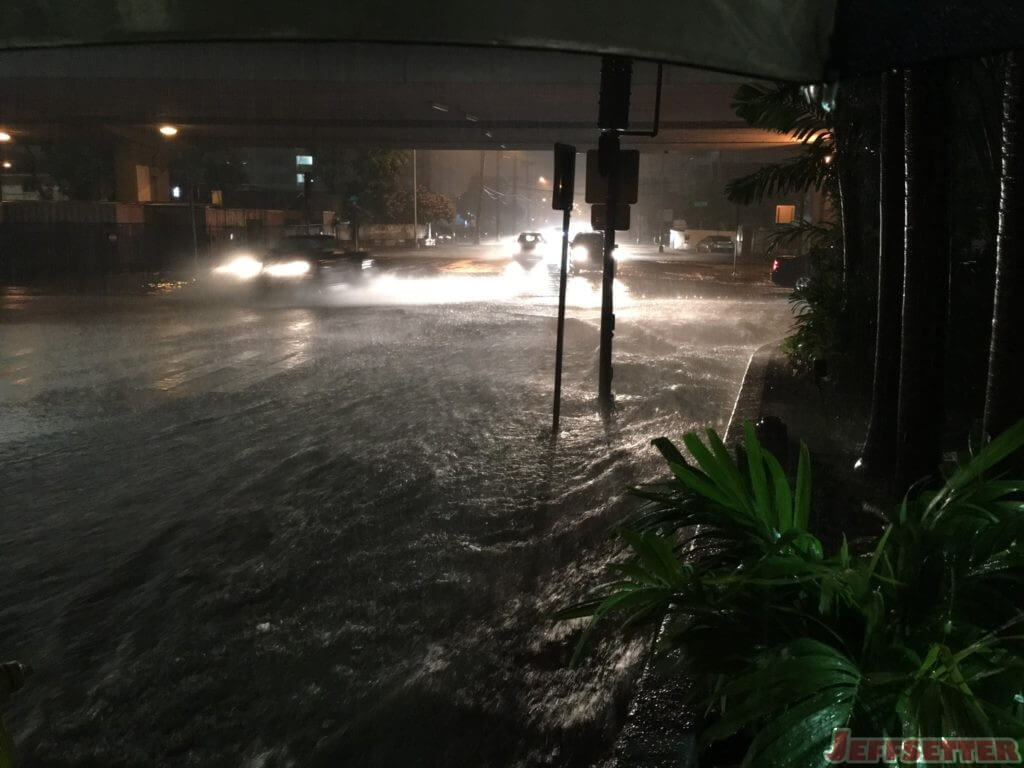 See that middle picture?  That's Kalakaua Ave, the main street through Waikiki.  If you weren't already at your destination by the time the rain started falling, you were already too late.  It could have been worst, though.  Meteorologist said just a small portion of the thunder cells actually hit Oahu.  If the main portion, over 4 times in size hit Oahu, things could have ended differently.
Just Because it's Over Doesn't Mean the Chaos is
It's sunny outside, there isn't a cloud in the sky.  The humidity is so oppressive now that I want to go for a swim!  It's all good right?  Nope.  The day after Darby lanes and even whole roads remained closed as flooding persisted and cleanup crews removed debris.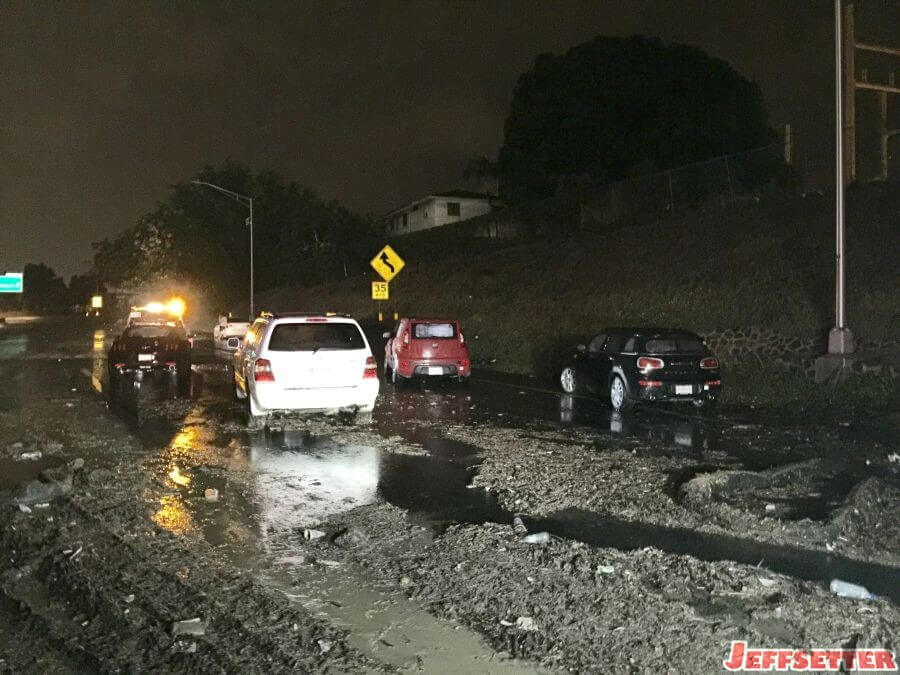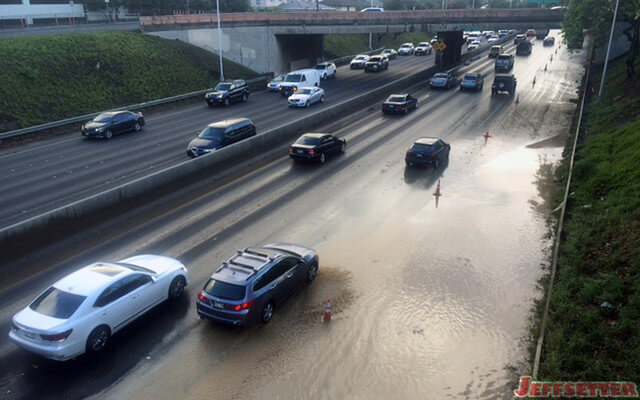 And even if you can get to where you want to go with relative ease, it doesn't mean it's safe to do certain activities.  Hiking trails will likely be unstable and streams may continue to swell.  Even going to the beach may not be so safe after a storm.  You know all that water in the steams?  It has to go somewhere, and it's always the ocean.  The water from the streams often contain harmful runoff including  soil, chemical, rodent waste, harmful bacteria, debris, and sometimes even raw sewage.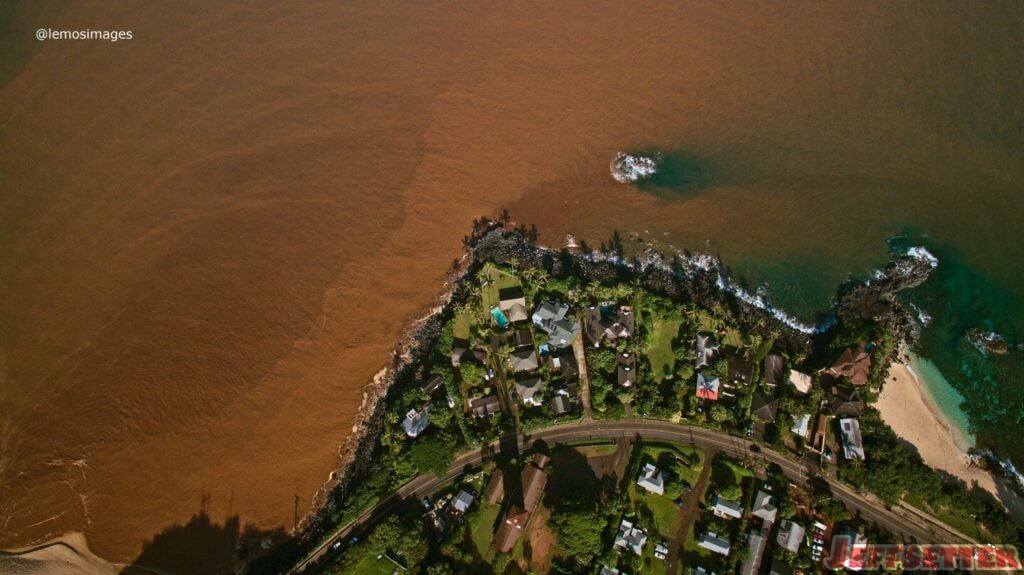 The result is as you see above.  This is what we call brown water, for obvious reasons.  Not only does it look dirty, but it is filthy.  Not only can you catch an infection swimming in these waters, but the murky water often attracts apex predators like Tiger Sharks.  These aggressive sharks can and often do mistaken people swimming in low visibility water for turtles, so staying out of the water when it looks like that is wise for many reasons.
While this all may seems scary, it really isn't.  If you properly prepare for what's to come during a tropical cyclone, you'll likely have no issues at all.  And while their occurrence has become more common recently, they're still relatively rare events.  Remember, Hawaii dodge A LOT of them in 2015, and we're hoping the same will hold true for this year.  Yes, it can be a scary situation to be in too, but you'll be far safer in your hotel than I'll be in my near 100 year old cottage.  ?