I got an intriguing offer from American Express the other day – earn 20k Membership Rewards points for doing nothing. Ok, well, not exactly nothing. But the level of effort required to get the points was so low, to me, it's basically nothing.
How to Earn 20k Membership Rewards Points for Doing Nothing
American Express currently has a number of targeted offers going around right now. One of them, it turns out, is to earn 20,000 Membership Rewards points for enrolling in Pay Over Time – available on the Green, Gold, and Platinum cards. Yes, I know, the Pay Over Time feature is not one liked by financially astute people – and for good reason. The interest you'll pay for enrolling in the program and carrying a balance is HIGH. But, as I've said many times before, you should never carry a balance on your credit cards.
Now, the interesting thing about this promotion is that it's not only targeted, but it's only available via specific channels. For example, Amex might serve it to you via their website and not the mobile app and vice-versa. In my case, I got served the offer via the website, which I rarely ever visit. So, it's good that, out of sheer luck, I decided to log in to my account via the website the other day.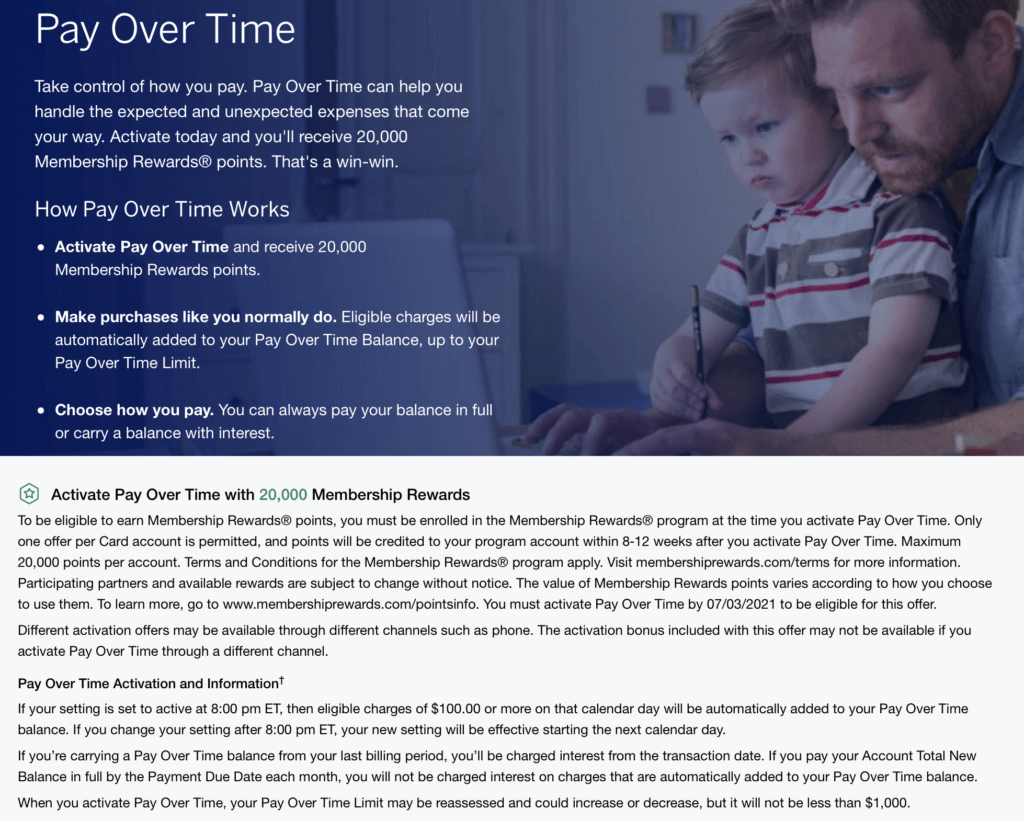 How to Disable Pay Over Time
What sold me on this promotion, even more, is the fact that you can disable Pay Over Time. So, if you get targeted for this offer, decide to take it, and want to later disable it, here's how:
Log in to your American Express account
Select the Account Services menu item, then select the "Payment & Credit Options" menu item, and, finally, the "Manage Pay Over Time Setting."
Once in the Pay Over Time setting screen, all you have to do is highlight the "Inactive" bubble and hit submit. That's it!
20k Membership Rewards Points for Doing Nothing, Final Thoughts
What's interesting about this promotion is that it doesn't specify how long you need to keep Pay Over Time to qualify for this promotion. They do say, though, that it can take eight to twelve weeks for the points to post. So, I figure I'd keep the function for at least a month or two before removing it. But, again, I don't carry a balance, so it's not a big deal to me. And if the points ultimately don't post, I'll be sure to follow up and let you guys know. After all, Amex has been really sketchy lately.
In case you're wondering, 20,000 points are enough to get a one-way West Coast award ticket on Hawaiian Airlines or Delta, a round trip Hawaii – West Coast award ticket on American (via British Airways), and a one-way East Coast award ticket with American and Delta, among others. See my Hawaii Credit Card Award Travel Guide 2021 for details.