Last updated on November 21st, 2017 at 04:10 am
We visited 4 epic Singapore cocktail bars.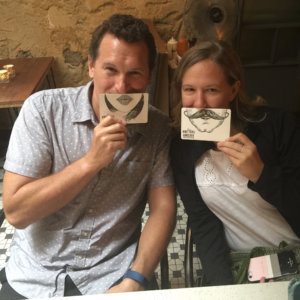 This post takes you on our accidental self-guided cocktail tour – aka the best night ever in Singapore.
A Little Context
First some background on how we stumbled upon, and literally, stumbled off of our accidental cocktail tour.
In March 2017, we returned to the States from our winter in Thailand for our semi-annual friends and family visits. We booked a business class ticket on Singapore Air from Bangkok to San Francisco. As part of the flight, Mr. J was able to add on a 3-night stopover in Singapore to our Singapore Air flight for only $100.
Our first full day in Singapore started with rain and grey skies forcing us to cancel our garden walk to the beach market. Unfortunately, our new plans involved a severely disappointing lunch, which I didn't think was possible in Singapore.
With the day not working out for us, it meant cocktail time.
Obviously, we Googled "best Singapore sling in Singapore" because we are in Singapore so we have to have one. According to Google, Singapore has no shortage of great cocktail bars. Oddly, the Raffles bar which claims invention rights to the Singapore Sling was nowhere on the list – SEO is important!
Scanning our Google results, we chose to try Bitters and Love to have one cocktail and call it a day.
Little did we know that this first stop would lead to such an epic and unexpected adventure of spectacular craft libations. Boom words.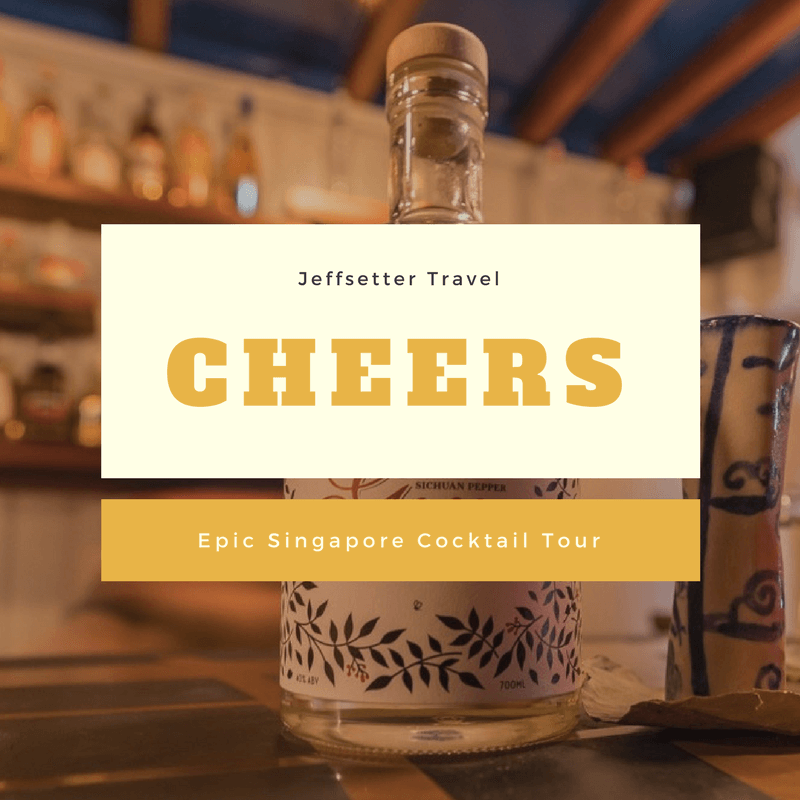 4 Epic Singapore Cocktail Bars
Here are the 4 epic-ly (pretty sure that should be a word) amazing bars we visited:
Stop one was Bitters and Love. This was our only planned stopped. The rest of the night just simply worked out for us. Stop 2 was the Spiffy Dapper which lead us to stop 3, Native. Our amazing mixologist at Native literally lead us to our last stop at Operation Dagger.
Bitters and Love
Located on the lovely Telok Ayer Street, Bitters and Love is tucked away behind an intimidating white door. Do not let this door scare you away!
Go ahead, you can take a peek before entering, but no need to proceed with caution.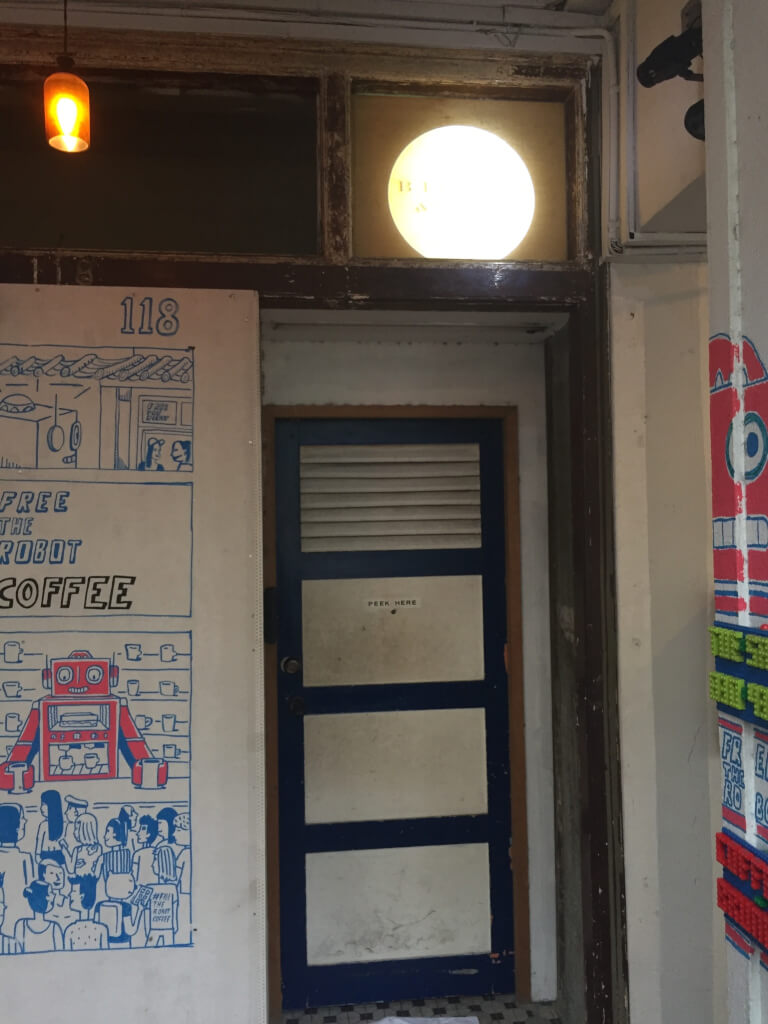 Atmosphere
The interior is welcoming, cozy and kitschy. Love it!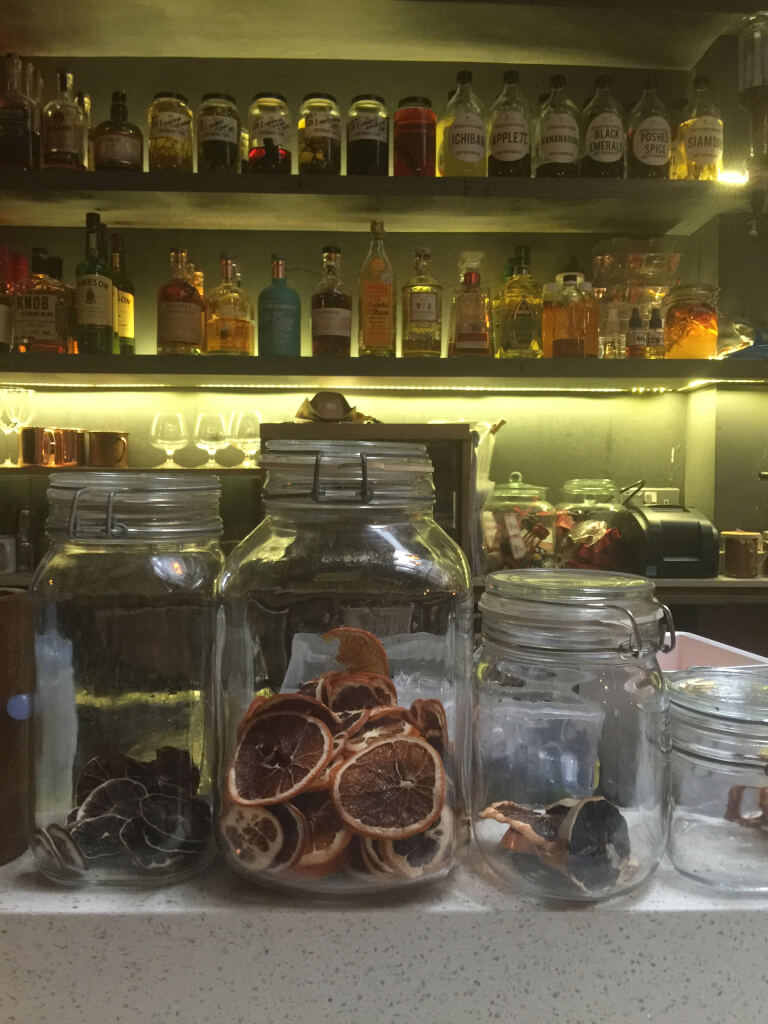 We entered with our heart set on a Singapore Sling…until we bellied up to the bar, and they walked us through the cocktail menu. Um screw the Singapore Sling, the unique and specialized creations on the menu all sounded too delicious.
"I don't even like Singapore Slings," said Mr. J.
My favorite part of the menu was the introduction of the "crew behind the bar."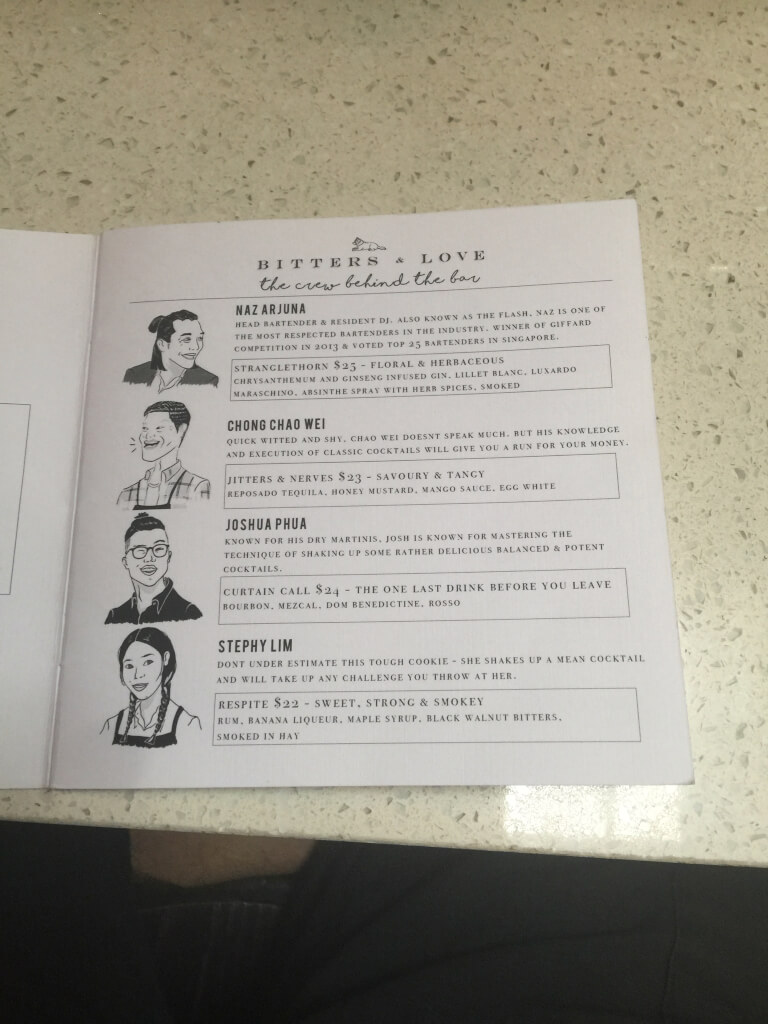 The menu introduces all of the mixologists and their specialties.
Our Drinks
Mr. J chose the Stranglethorn, the specialty of Naz Arjuna. The cocktail started a little something like this:
I assume everyone that just watched the video is as angry as Mr. J is right now. Yes, I made a major faux pas with this video. I did not hold the phone in landscape to record the video. At least, I didn't record it with an iPad.
Here is the finished cocktail.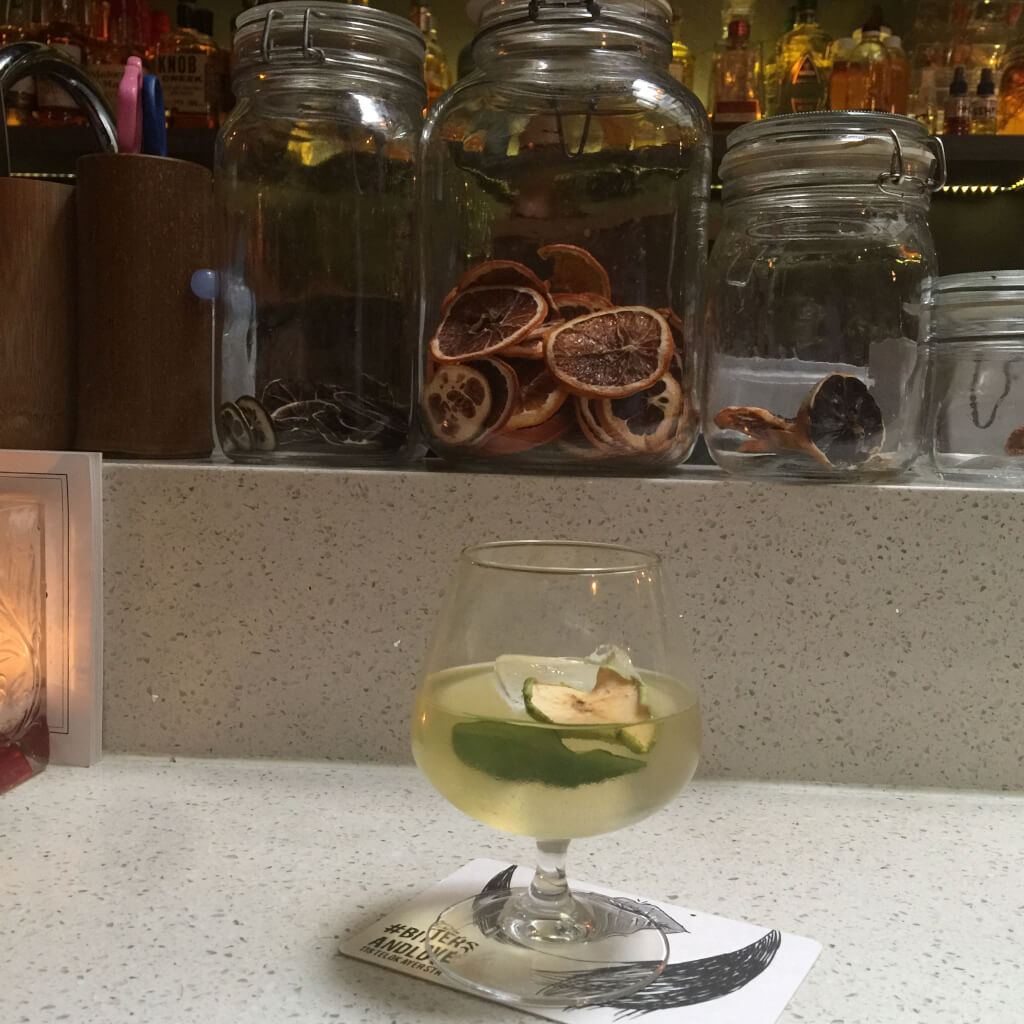 Light and refreshing gin-based libation – recommend!
I chose the Curtain Call, the specialty of Joshua. Joshua wasn't in yet, so Stephy made it for me, fantastic.
Look at this masterpiece! The Curtain Call lived up to its name a strong, rich and well-balanced whiskey drink – recommend!!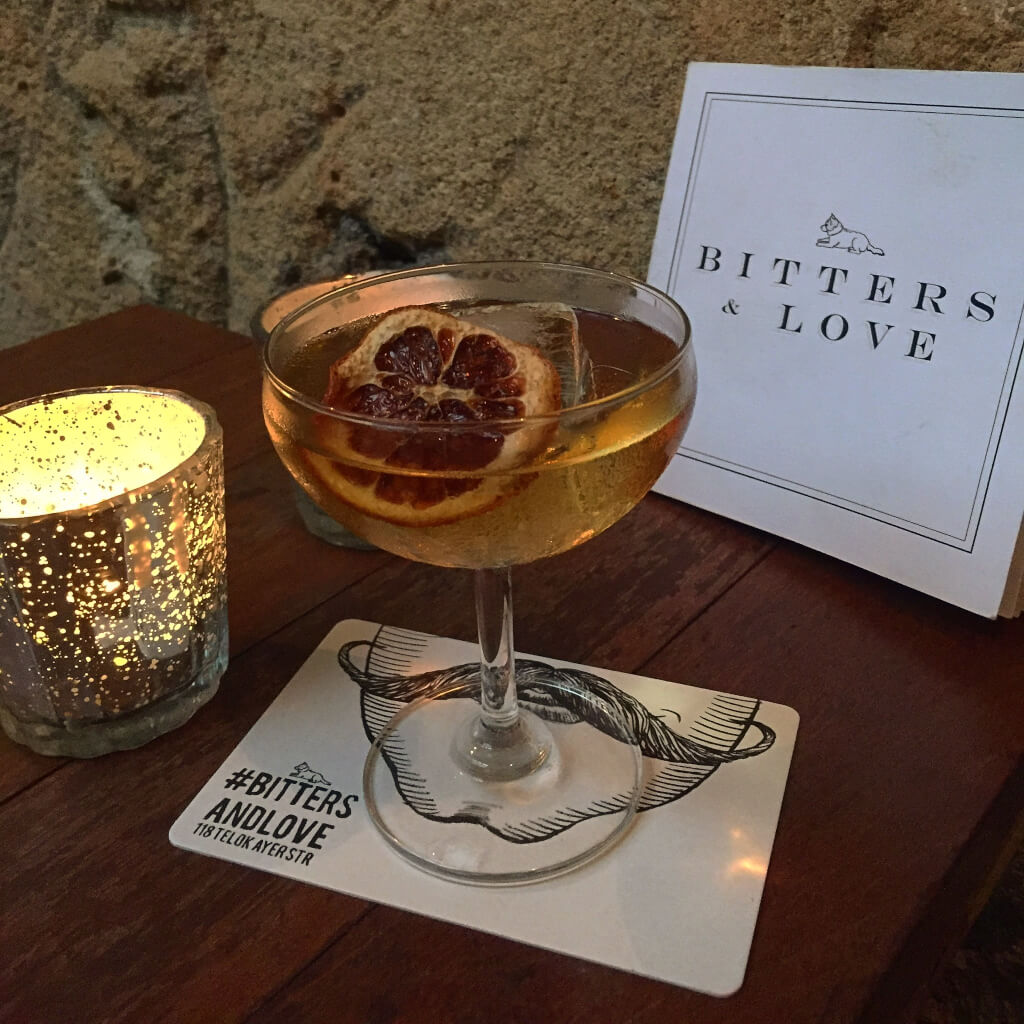 After finishing these amazing cocktails, we were debating (possibly a mild tantrum, but a debate by all legal professional standards) dinner and where to eat. We had free food at the hotel, but I wanted to go out to dinner because … well… because we are in Singapore.
Begrudgingly, I agreed to go back to the hotel. However, I was promised that after our budget conscious dinner, we could go have one more drink.
Now, here is where our night takes an epic turn.
I posted the picture above on my personal Instagram account. One of the first likes on the post was from @spiffydapper.
Who is the Spiffy Dapper? Why it's "The cocktail bar that forgot to give a f*@k." Since this is exactly how I was feeling, I knew the Spiffy Dapper was just what we needed to redeem the day.
Spiffy Dapper
Post dinner, stop number 2 on our accidental cocktail tour.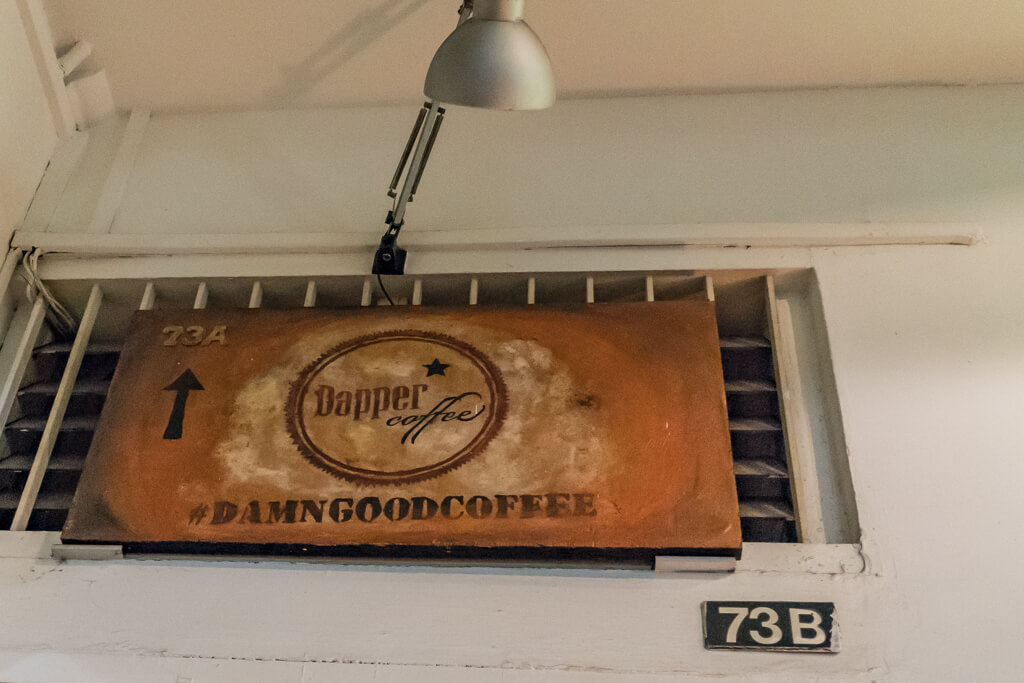 Kudos to your social media manager. Your like of my photo prompted us to stop by. I guess you do give a slight f#$k. :)
Atmosphere
The Spiffy Dapper was only a 10 min walk (at most) through a great neighborhood. Just walk up the "dingy stairs" on Amoy street to Dapper Coffee (yes, the Spiffy Dapper is a coffee shop by day, speakeasy by night).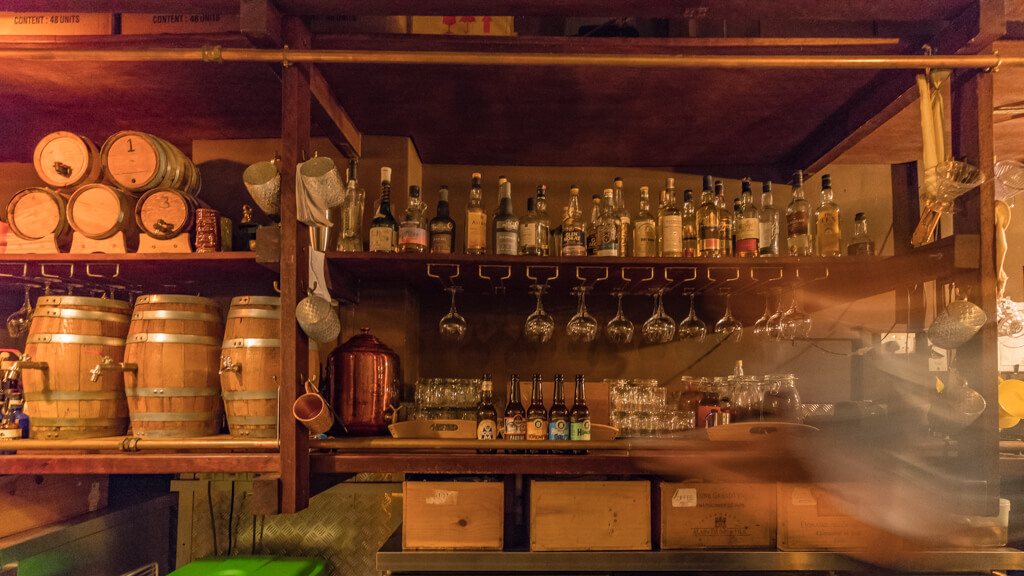 At the bar, we were greeted by a fantastic staff Joshua, a delightful young lady, (I did not catch your name), and Pavel.
This place has a great vibe. I have been trying to think of a word to describe it, but Dapper hits the nail on the head. It feels like an old-school barbershop turned bar that you would see in an early 1900s era movie.
Our Drinks
I tried the Sheba (which has a much longer name but I cannot remember it). Yum!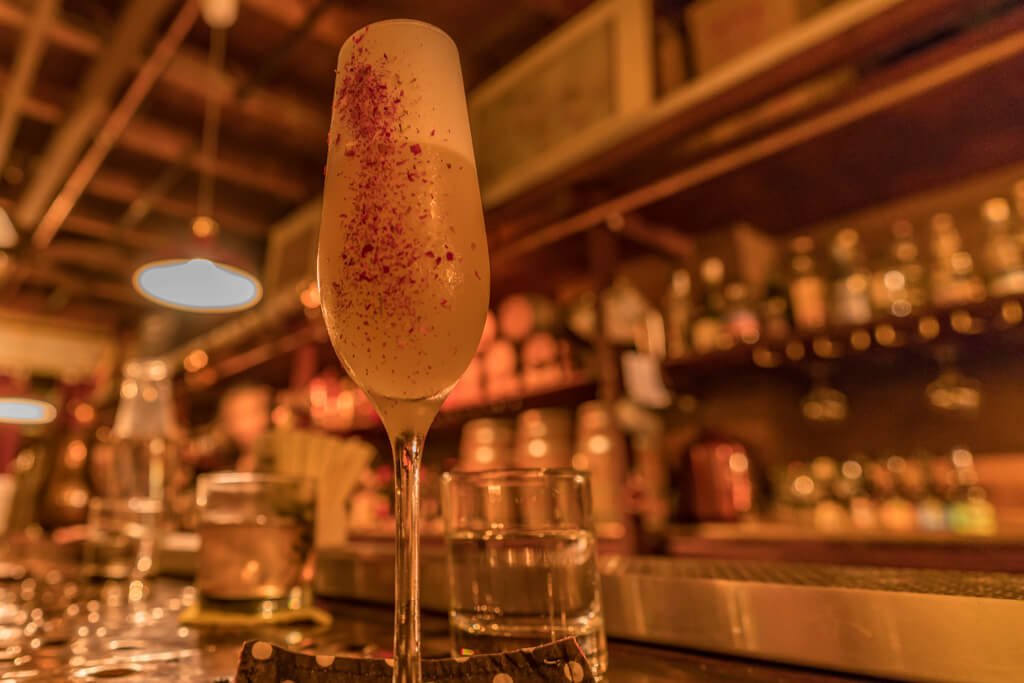 Mr. J tried a whiskey drink. He loved it of course. Unfortunately, I did not write down the name.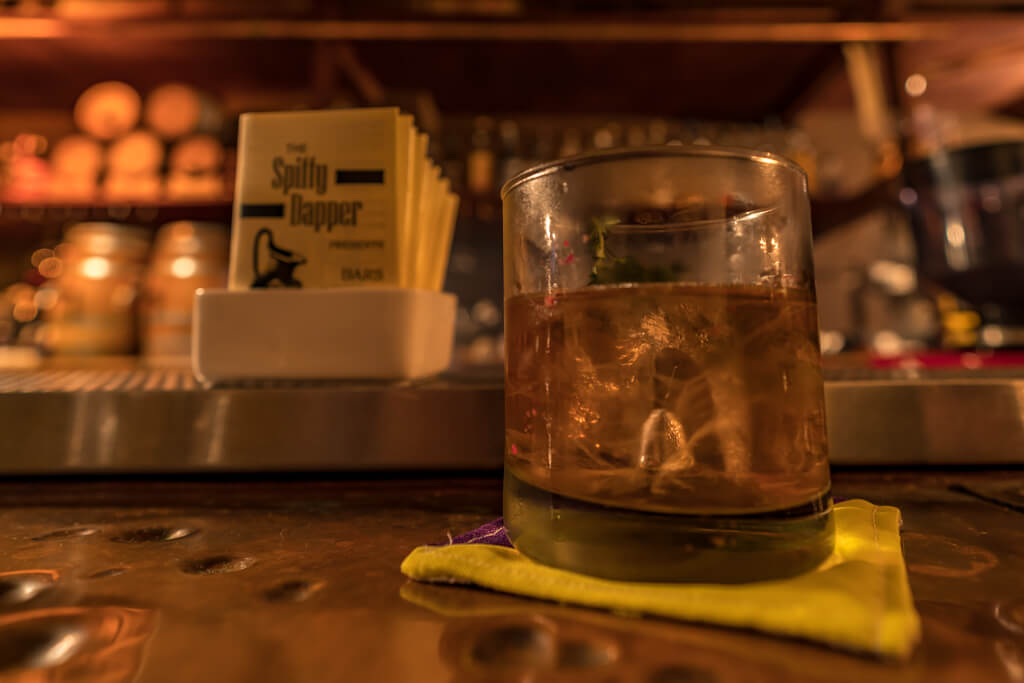 Mr. J and Pavel bonded over ice hockey (being a Minnesota native and Czech Rep. native, respectively).
The Spiffy Dapper also makes their own ginger beer. I am a huge fan of ginger beer.
Pavel and Joshua let us try a bit, this stuff is legit! They don't even carbonate it, instead of the tang of the ginger almost tricks your taste buds into thinking it's carbonated. If I had not already had a cocktail, I would have ordered a Dark and Stormy. If you like ginger beer, then I suggest trying one.
We told Pavel we were heading to Jigger and Pony (spoiler alert, we never made it to Jigger and Pony). Pavel suggested we try Native located across the street if we wanted something truly Asian.
Native
Obviously – post-Spiffy Dapper, we wandered across the street to Native.
Atmosphere
Native has only been open for three(ish) months. I have to say this is one of the most unique cocktail bars I have visited. Native focuses capturing the essence of the area and letting you drink it. All ingredients are sourced locally and the spirits are sourced regionally.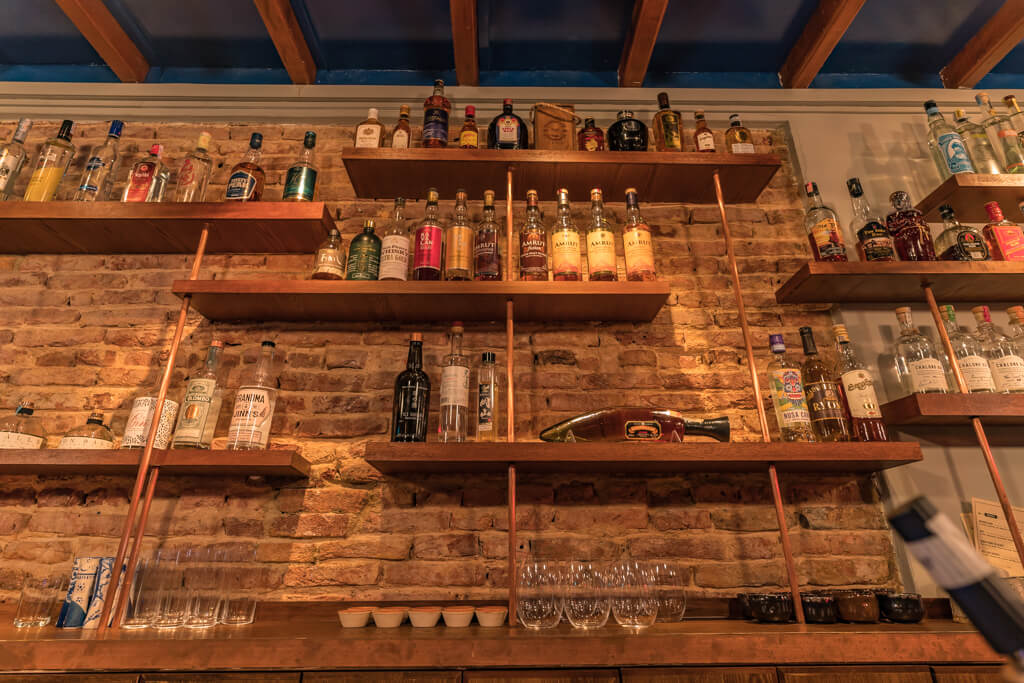 The cocktail menu small about 7-8 cocktails that are changed every six months. Each cocktail has an inspiration, a story and a process, creating an overall experience that you can feel through your senses.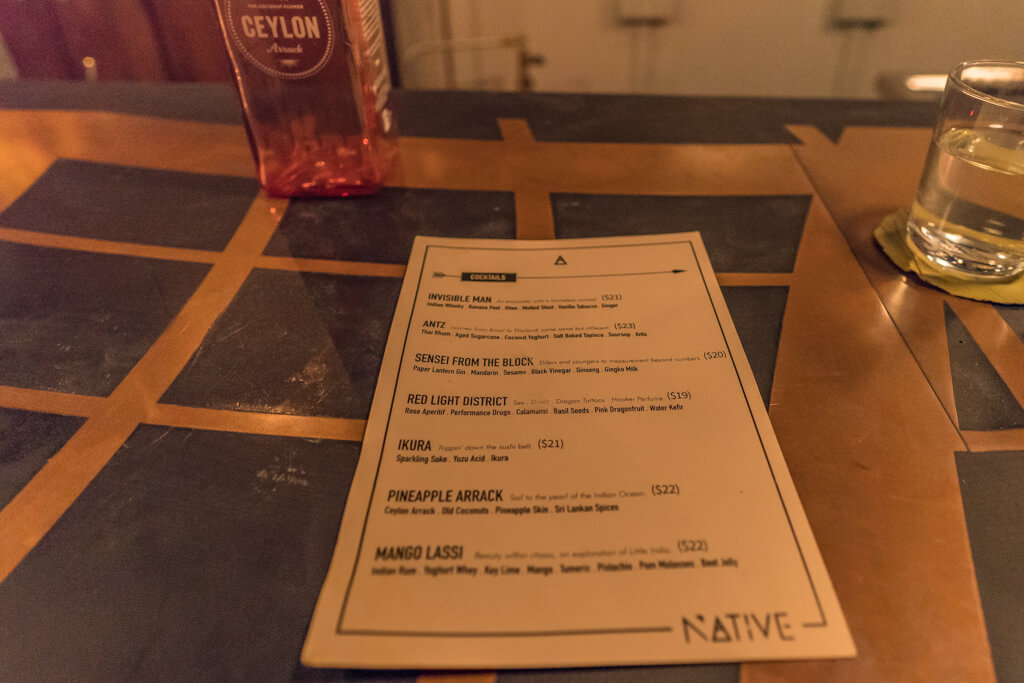 While this may seem romanticized, these were really some of the most unique cocktails I have tried.
Our Drinks
Mr. J started with a Sensei from the Block. He really enjoyed it. I loved the glass.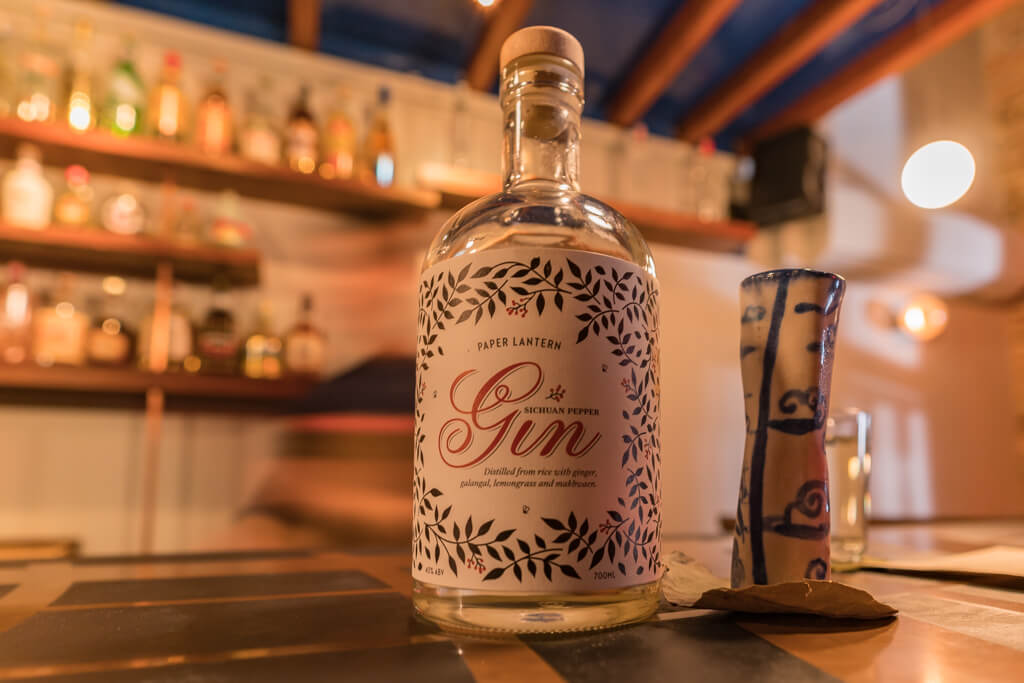 I went all in with the Antz. Yes, a smoking, yogurt infused, fruit concoction garnished with what else but crunchy little ants.
I may have been a little skeptical, but hey, when in Rome. Surprisingly, this drink works.
Don't let the ants scare you from trying. They do not taste like anything but just added a crunchy texture to the candied fruit garnish served on the side of the cocktail. So you take a bite, then a sip and repeat until you feel all warm and fuzzy.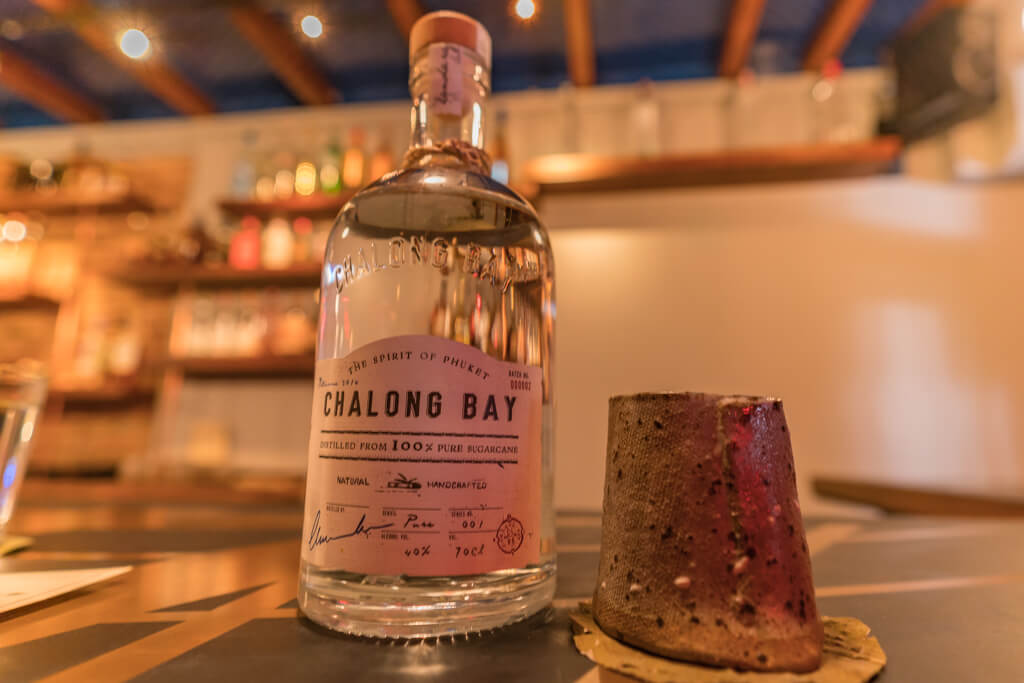 Then we shared the Pineapple Arrack. I loved this cocktail, or maybe I was just warm and fuzzy from my Antz.
No, this was definitely my favorite that we tried. Not too sweet and waaaay too easy to drink.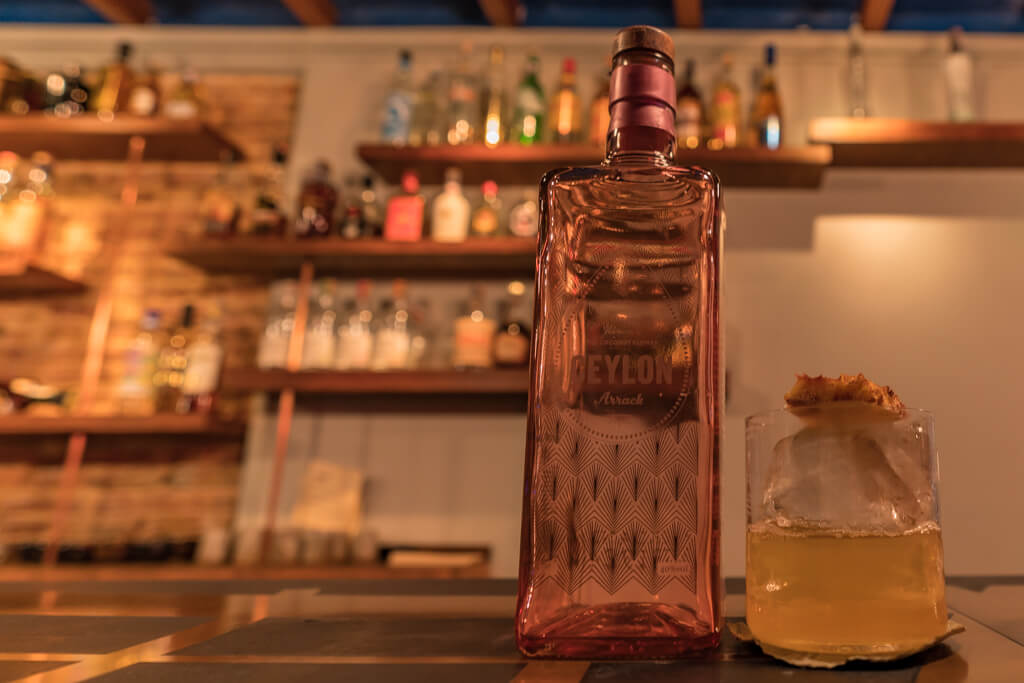 Native is infusing and distilling their own spirits. The first batch should be ready to serve with the next menu change, if all goes as planned.
The new upstairs bar will be open soon (summerish). The great staff gave us a tour, but asked us not to share any pictures because the concept has not been completed. However, I am sure if you stop by for a drink they will give you a preview.
Sean (I think, please confirm if you read this!!) one of the amazing bar tenders at Native escorted us to our next stop.
Operation Dagger
I am glad that Sean our new buddy and Native bar tender lead the way. Thank you!!
We would have never found this place after three cocktail bars and the entrance does not look like a bar at all.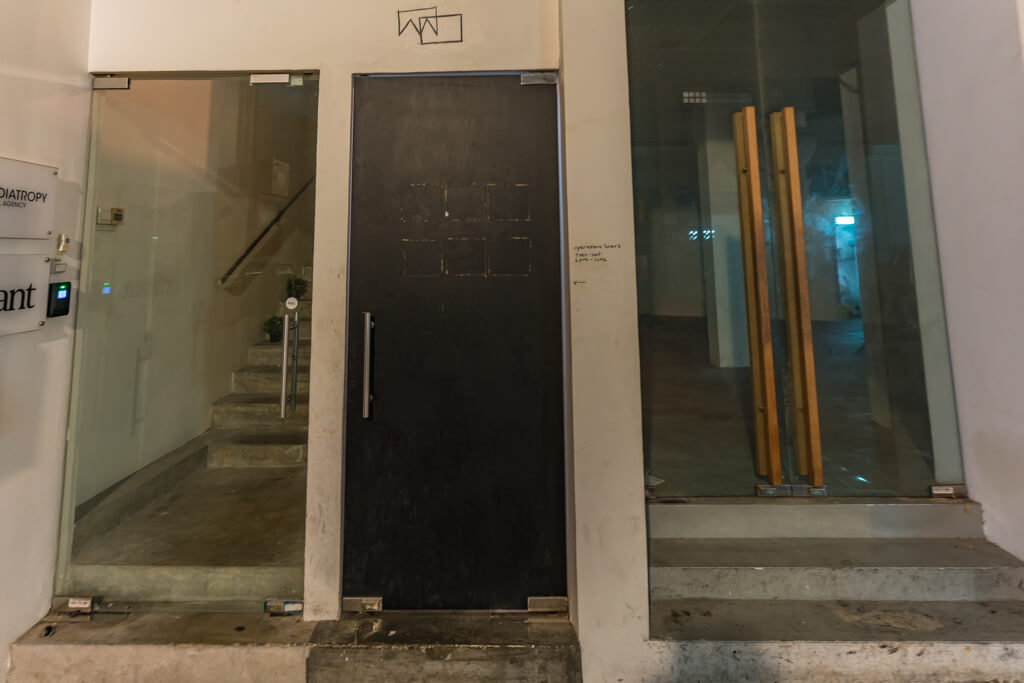 Operation Dagger is hidden behind an unmarked door the opens to steps leading to a basement door.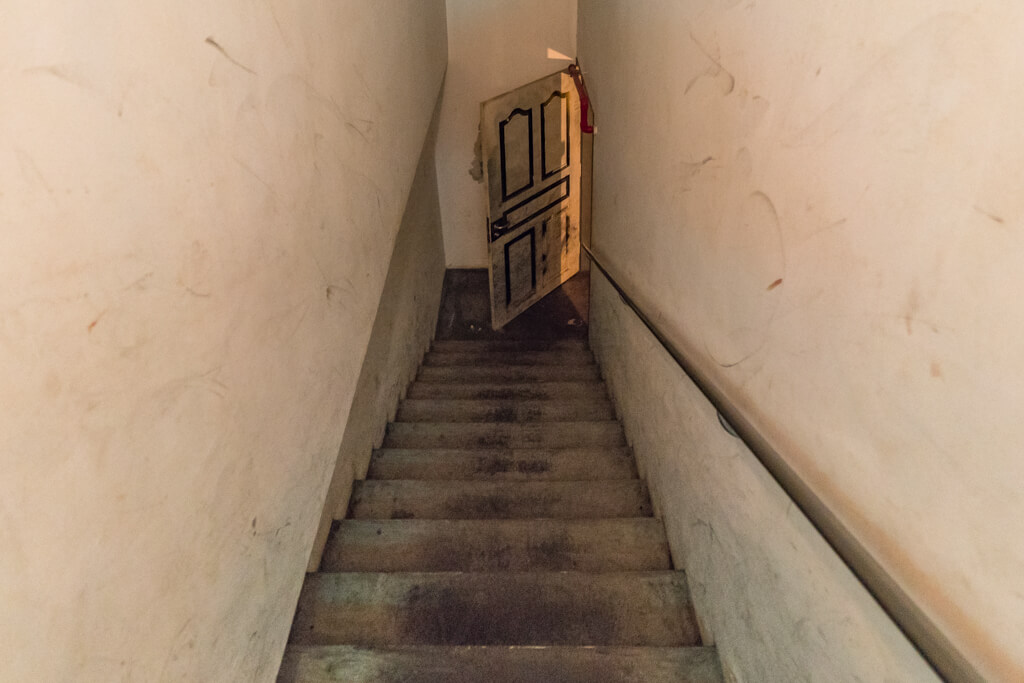 Behind that basement door is where you will find a fantastic trendy hip craft cocktail bar.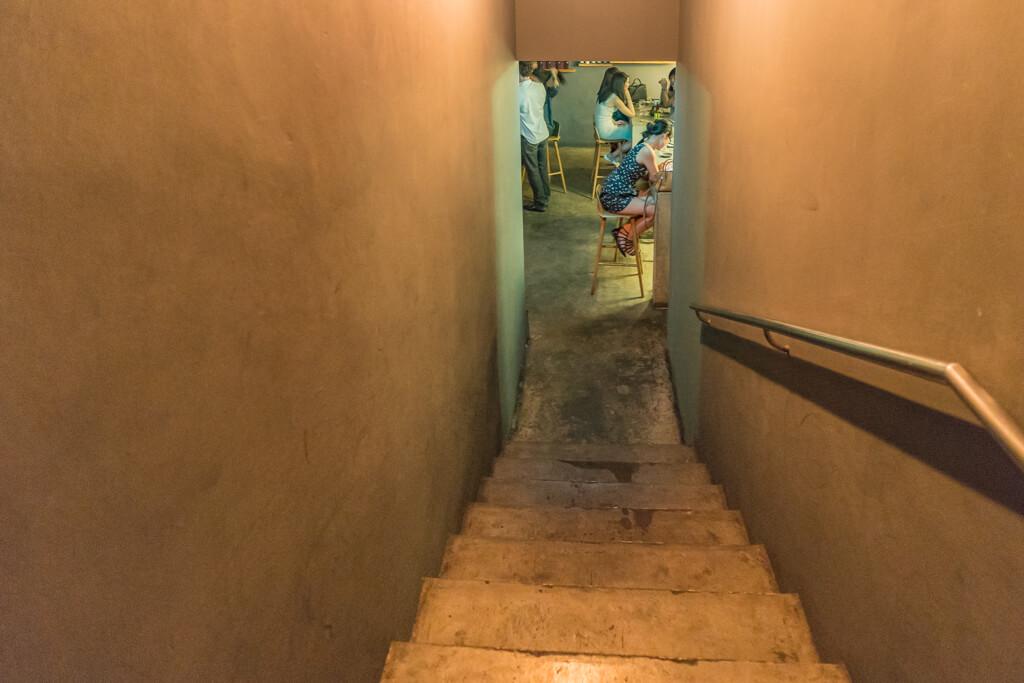 Atmosphere
I felt a little out of place in my afternoon walking around clothes as we were approaching 10pm.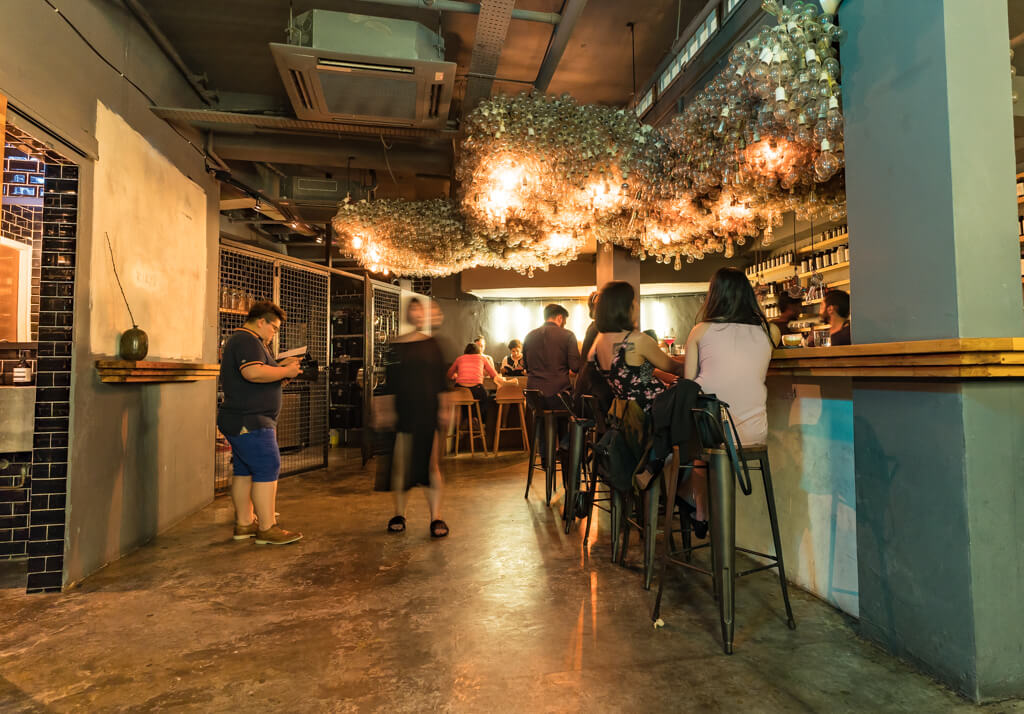 Sean left us in good hands, said hello to a few friends and then headed back to Native.
Here is what I absolutely love about Operations Dagger: they do not tell you what alcohol is in the cocktail.
They want you to choose your cocktail based on the ingredients not your preconceived notions about whether you hate gin or will only drink bourbon. I love this concept. Moreover, I loved my drink!
Our Drinks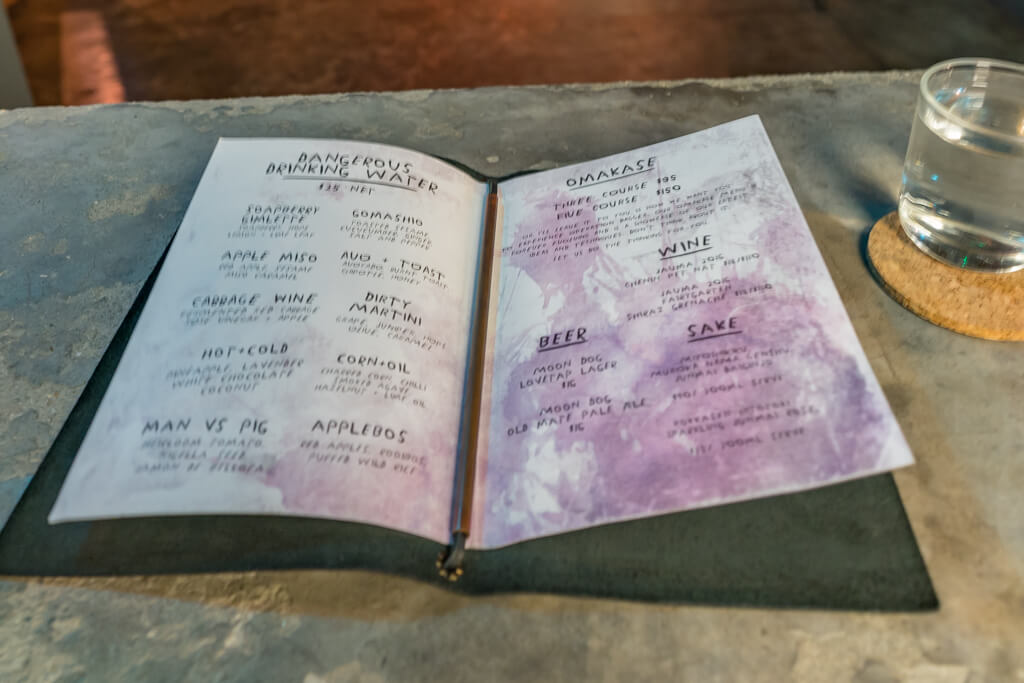 Perusing the menu, I picked one, but said that I wanted more of a light dessert type drink that isn't too strong.
Our server recommended that I get the Hold and Cold instead of my original choice.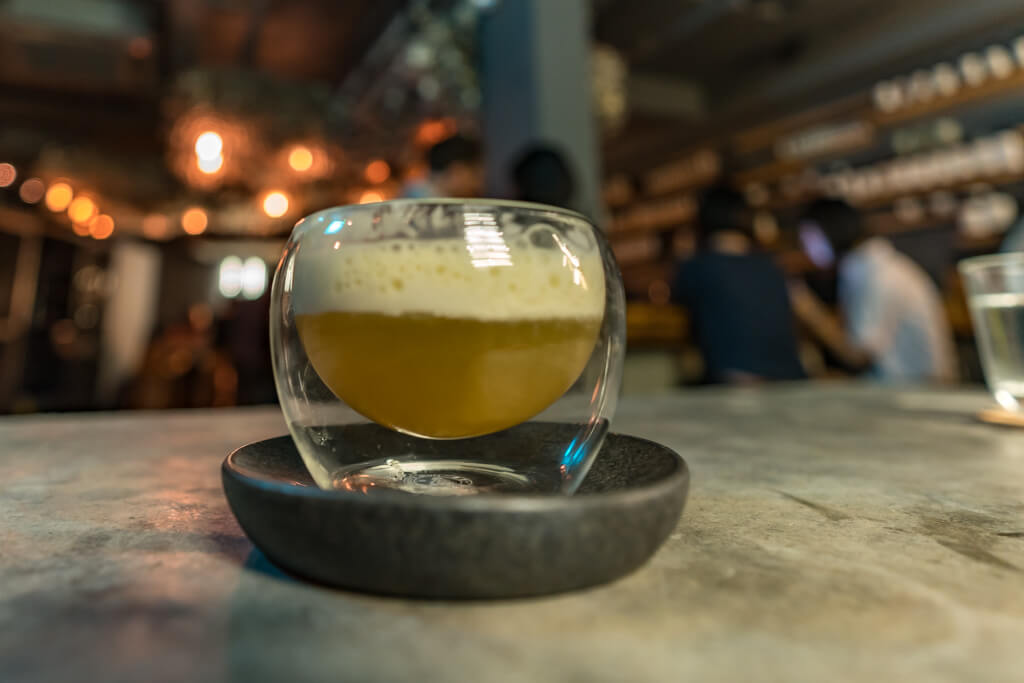 She was spot on! This tasted like a key lime pie. The foam was warm and the citrus-y liquid cold, refreshing with a mild sweetness. I still do not know what alcohol was in this drink.
Mr. J had a Gomashio. I was surprised at his choice because he does not like cucumbers. His drink was fresh and well-balanced.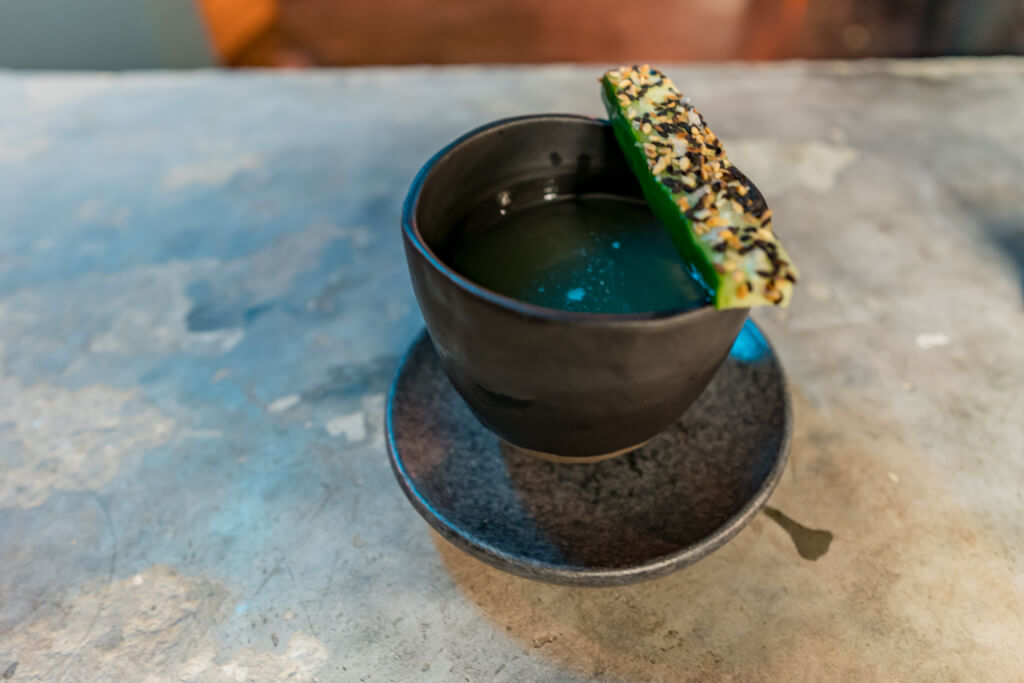 After we finished our drinks, I could no longer participate in human communication. Mr. J said it was time to leave, even though I was having ever so much fun. Singapore cocktails are small but mighty! Thus, it was time to start our walk back to our hotel.
Late Night Food Stop
Stumbling back to our hotel, we found an ATM machine that makes pizza. Obviously making good choices, we ordered a pizza from the nice machine.
Let me tell you this pizza met expectations! This pizza was awful, probably one of the top five worst pizzas in the world.
The only reason you should stop at a pizza ATM is if you want to enjoy the novel idea of getting a pizza from an ATM. My suggestion, avoid and stop at one of the amazing street booths for some BBQ.
Recommendation
And there you have it, 4 epic Singapore cocktail bars. If you love craft cocktails, then a Singapore cocktail tour should be on your Wanderlist.
I would highly recommend a stop at any of these amazing craft cocktail bars to enjoy a unique cocktail, excellent service and fantastic conversation.