Honestly, I didn't realize that next week is already Christmas. That means we've only got two weeks left in the year! This means that it's time now to activate your Chase Freedom Q1 2022 bonus.
The Chase Freedom Q4 2021 bonus categories were pretty good – PayPal + Walmart. I don't shop at Walmart, but I certainly do use PayPal whenever I shop at retailers that accept it. But, I didn't earn quite as much as I would've hoped, primarily because I curtailed my spending this year. However, earnings should be much better for me in Q1 2022, thanks to the more useful bonus categories on offer.
Activate Your Chase Freedom Q1 2022 Bonus
Our first bonus categories of the new year are Grocery Stores and eBay! Now, I don't shop on eBay a whole lot, but I do spend a decent amount on groceries. Sure, I won't spend enough to hit the $1,500 limit, but I think I should come decently close. Of course, I can always augment those earnings by throwing in a gift card to somewhere else I shop when buying groceries, but, we'll see how I do through organic purchasing. Needless to say, the grocery store category is one of my favorites.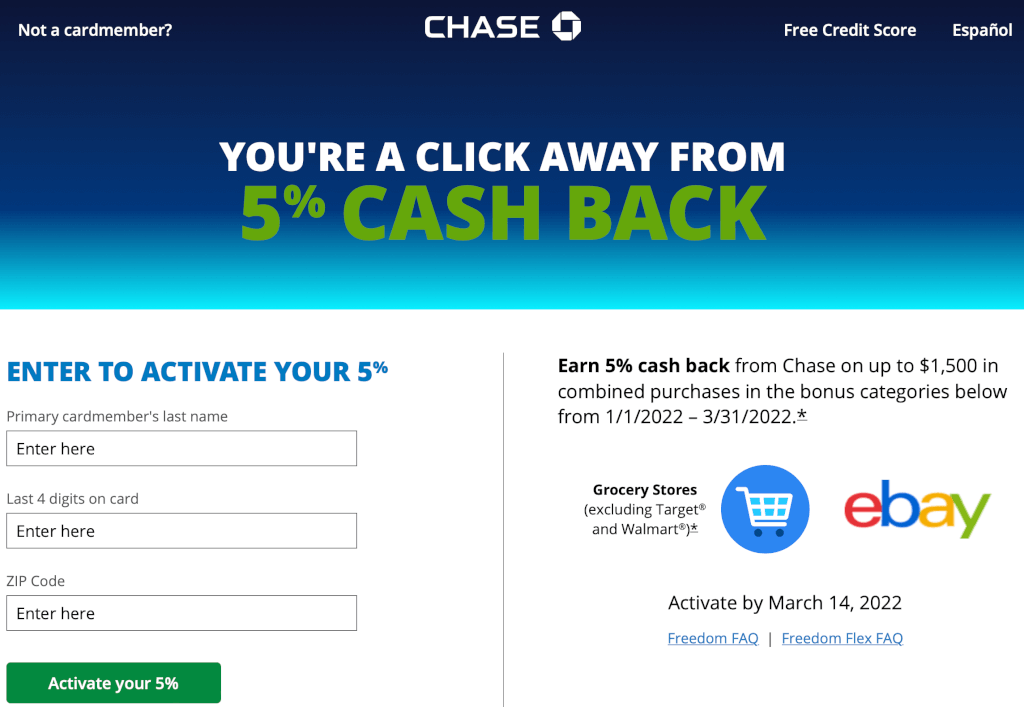 As a reminder, Walmart and Target DO NOT count as grocery stores, regardless of your local store's format. For my Hawaii people, Farmlink Hawaii doesn't count as a grocery store either – they fall under restaurants for some reason. And there are quite a few places that don't fall under a merchant code you think they should here. So, if you're unsure, either run a small test transaction first or use another card. Currently, outside of the Freedom bonus, my Hilton Surpass is my default grocery card. Not only does it get 6x points on grocery store spend, but also 6x points on restaurants, making it a good test card.
Final Thoughts
I can't believe we're already at the end of 2021. This year whizzed by even though it's largely been more of the same as 2020 was. Well, except for the two trips we took. But, still. Here's to hoping that things will finally get better in 2022! And if it doesn't, at least we get good Freedom bonus categories to start the year!
Activate your Chase Freedom/Freedom Flex Q4 2022 bonus categories at chasebonus.com. Be sure to do so before the end of the year!