Last updated on January 18th, 2017 at 08:47 am
Mauritius, Munich, Oktoberfest, Berchtesgaden and Paris: Air France Business Class Review Detroit to Paris
Trip Summary: Back in January of 2012 I decided to put my frequent flyer mileage knowledge, skills and learnings to the test and book the honeymoon of our dreams for my wife and me. While it took several months for the plans to fully materialize, the result was an amazing, while not always seamless trip. This is not only a recap of the trip we took and how we got there, but also the beginning of more formal travel blogging to showcase my adventures in the United States and abroad. 
This trip will be summarized in the following topics:
This was perhaps the best flight of my life until this point for reasons outside of the actual level of service received on the flight. As explained in a my post about a passport scare, this flight almost never happened.  The space we were able to secure on AF377 to Paris was a blessing, and I have counted my blessings ever since.
The airplane itself was an Airbus A340-300 with 6 rows of business class seats in a 2-3-2 configuration. While I was slightly disappointed that I would not have the chance to ride across the pond in an Airbus A380 that was scheduled originally, I was simply counting my blessings that I had a flight at all at this point. My companion and I were situated on the right hand side of the plane, in row 5. This is definitely my preference for international flights – sitting next to companion with one window and one aisle seat for maximum flexibility.
The seats themselves were nice, with shared cubby spaced in between, personal media center TV's for each, and angled lie-flat seating that allows you to sleep at around a 150 degree angle (at 6'2″, I am a little too tall to be fully extended in these seats, but with extra width and leg room, I wasn't complaining.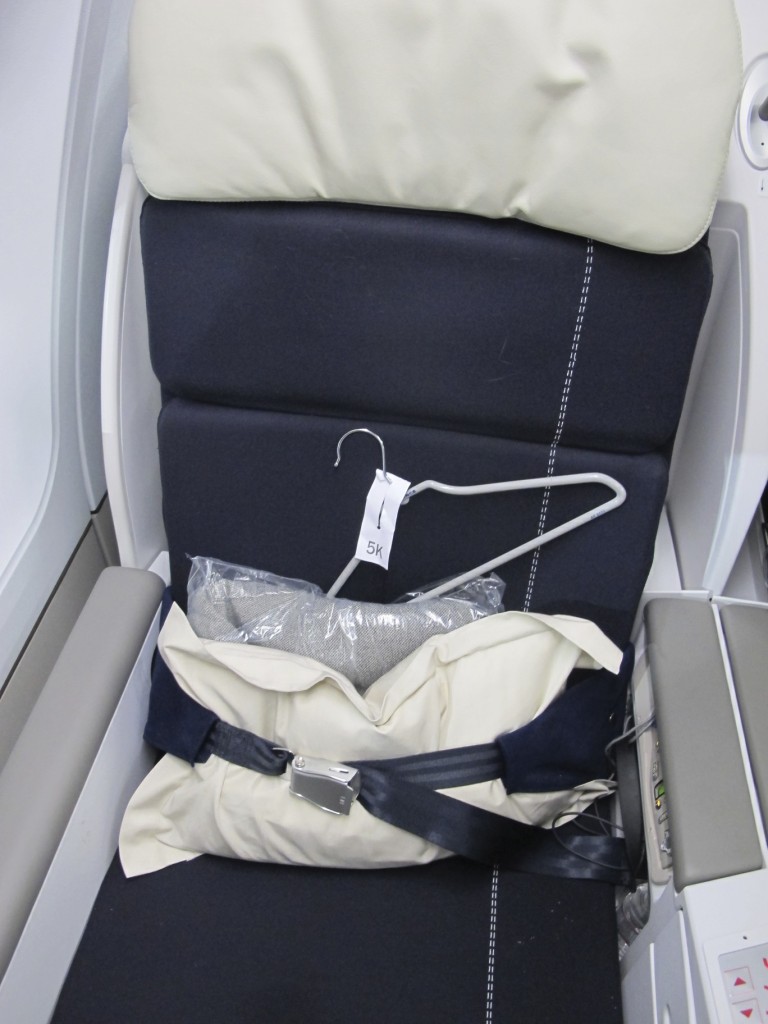 Since the flight was an overnight flight and was taking off around 10 PM local time and had 10 hours in the air, the main goal was to eat an excellent meal, drink some wine, and get a solid 6-7 hours of sleep to be refreshed the ned day.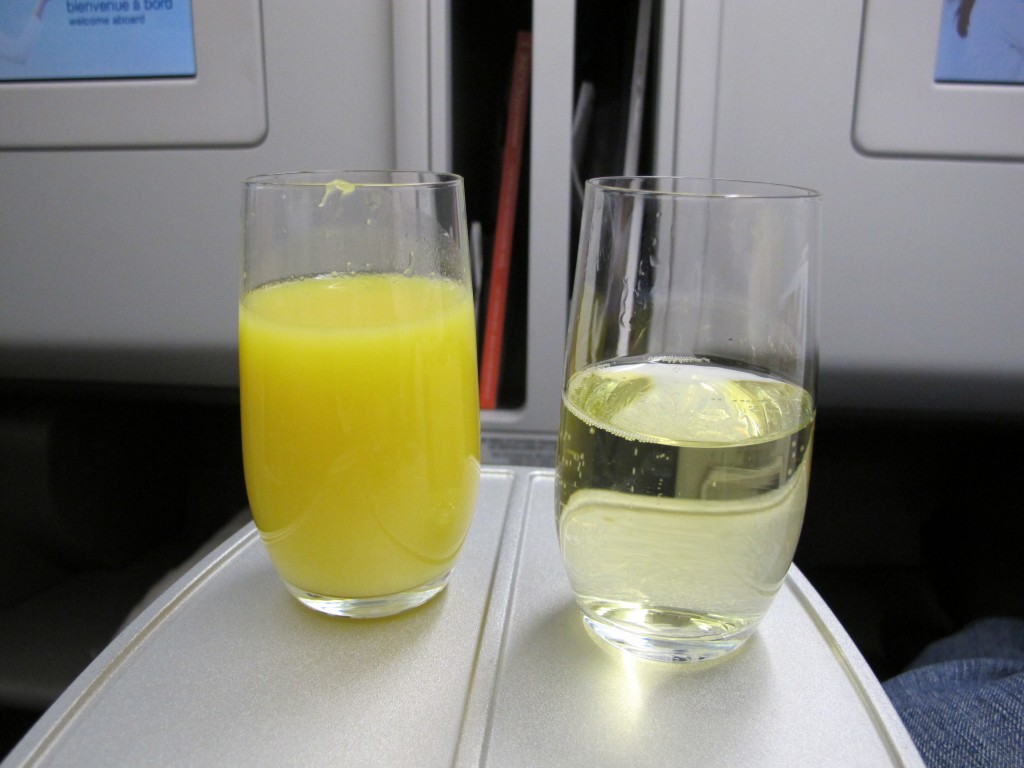 Some Champagne helped get the mood set at takeoff, and we were also handed our amenity kits. Pretty basic kits for business class, with nothing really worth keeping after the flight. The toothbrush and toothpaste would definitely come in handy, though.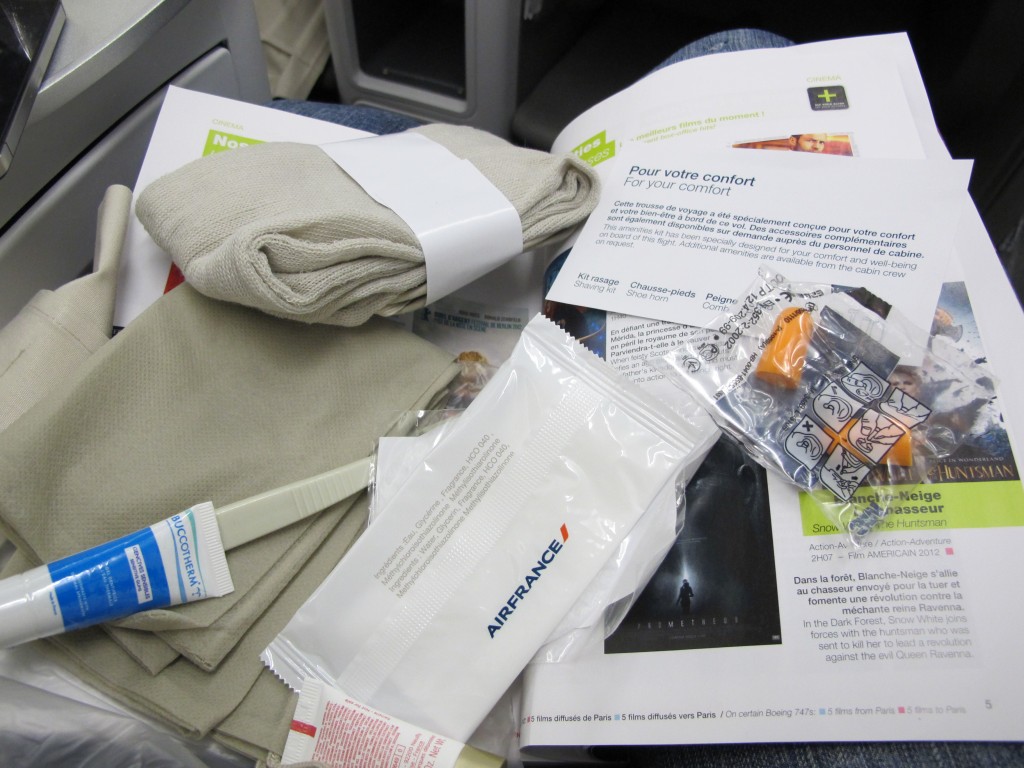 Menus were handed out, with a full dinner being served. The menu looked and sounded good, but I was skeptical about the food quality on Air France, since most reports I have read online rate their food as average at best.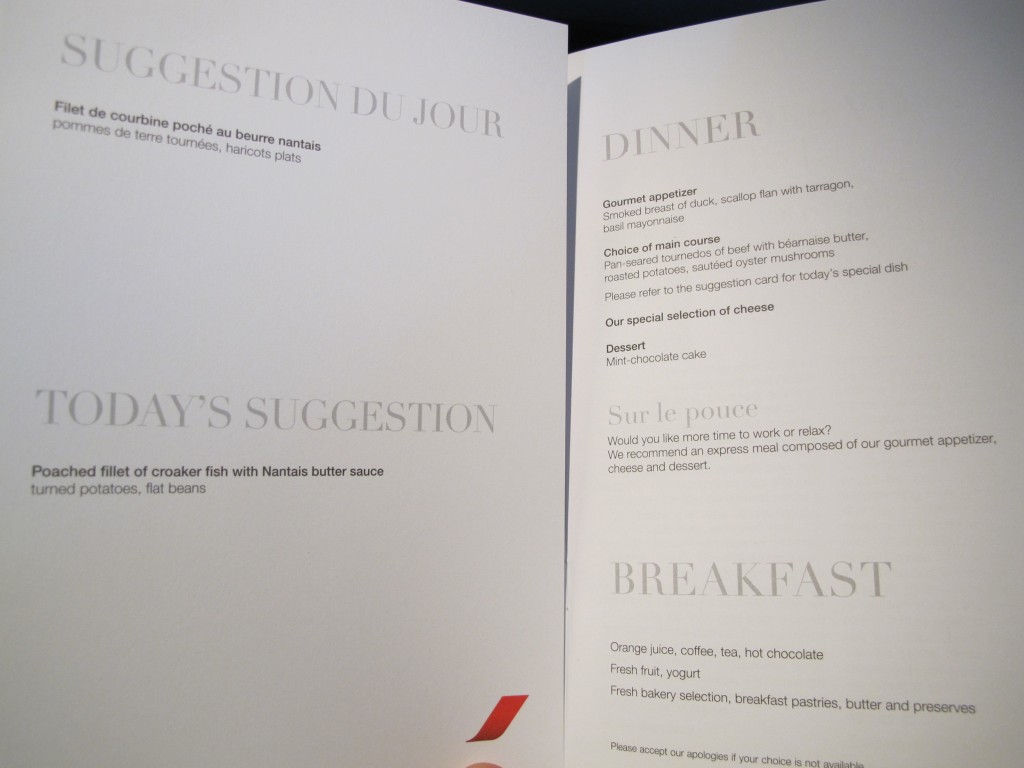 They brought out the appetizer, cheese and dessert on a single tray, which I found slightly odd, yet efficient (they must do this on overnight flights to save time).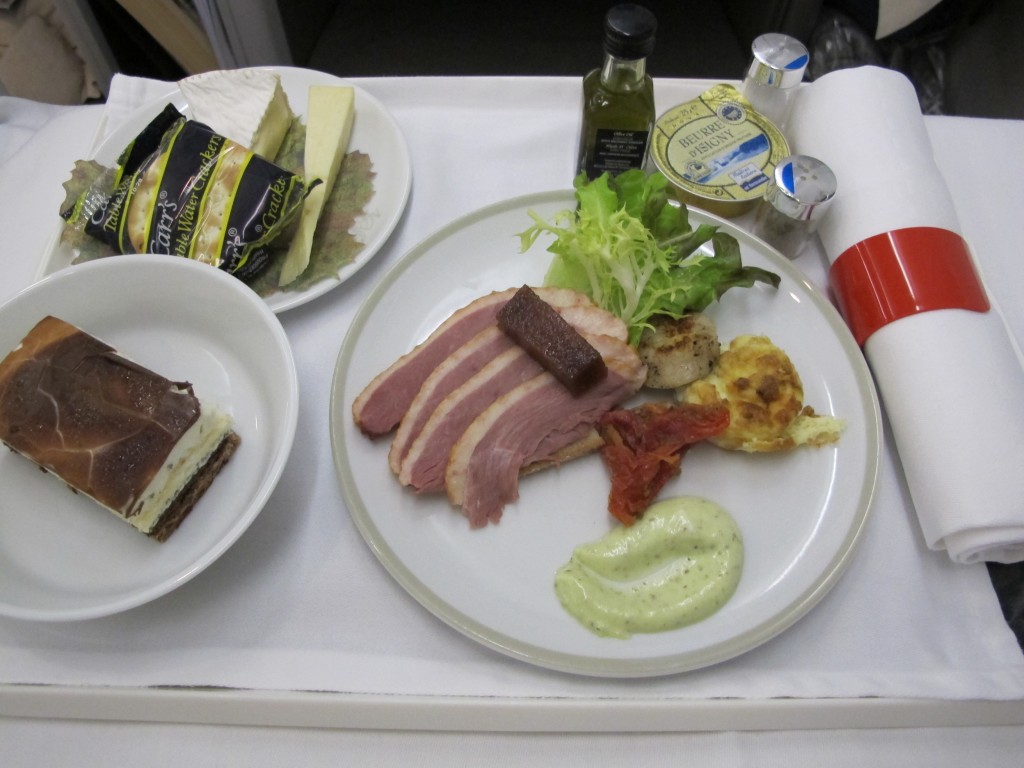 The appetizer was Smoked Duck Breast with Scallops, egg and sundered Tomato. The smoked duck had a nice smoked flavor and paired well with some of the fixings. The scallop was decent as well, but not remarkable. This was definitely more fancy than what you would receive on a coach flight internationally, but not as exorbitant as what I have seen in posts from other travel bloggers.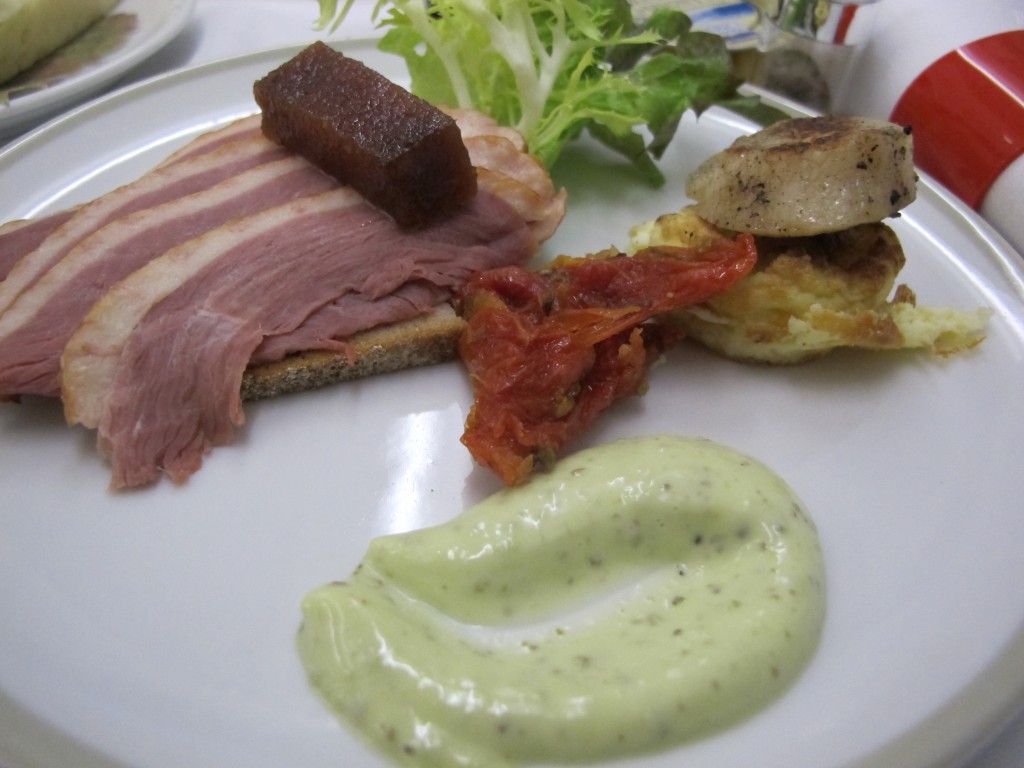 The cheese course was excellent (the French really do know their cheese), and set the tone for the main course. I chose the Pan Seared Tournedos of Beef with Bearnaise butter, potatoes and Mushrooms. The beef was tasty and the few potatoes included were good as well. I was not able to located the promised mushrooms, but at that point I wasn't overly concerned. The béarnaise butter was an excellent addition to the beef, not as heavy as normal béarnaise and adding a great flavor to everything.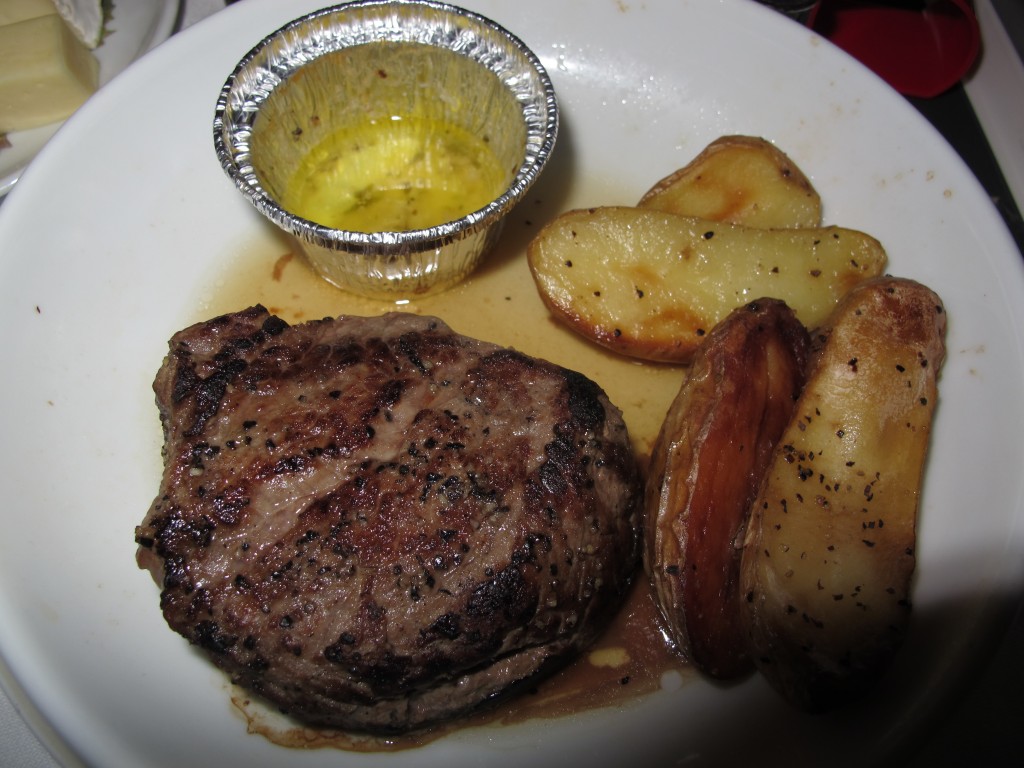 The Mint Chocolate Mousse cake and a glass of Tawny Port proved to be a good nightcap for the meal.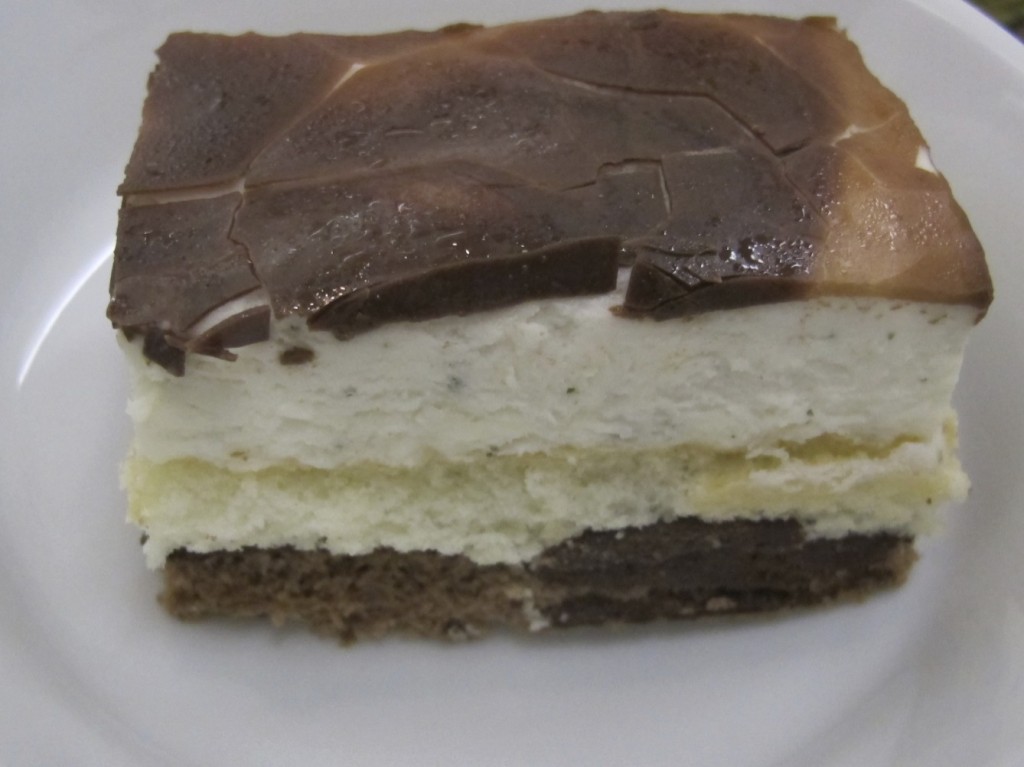 After dinner, I found the perfect movie to fall asleep to (Salmon Fishing in the Yemen) and got 7 solid hours of shuteye before being awoken for breakfast.
The breakfast consisted of a selection of breads and croissants, as well as coffee service (unfortunately I neglected to take photos).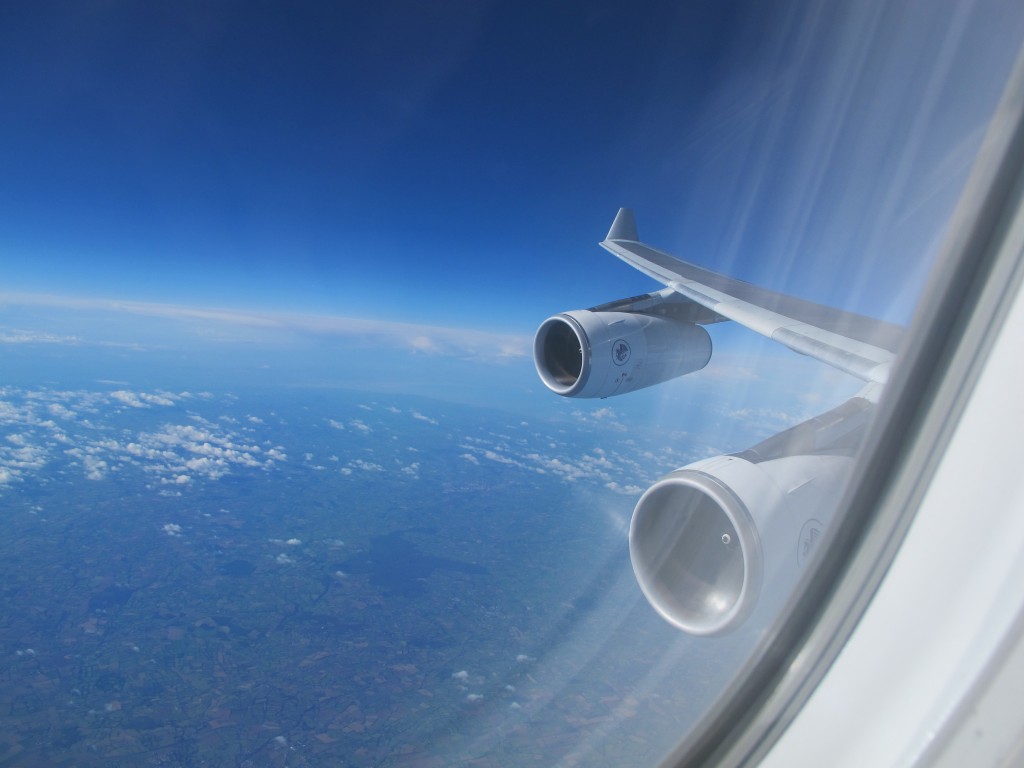 Within an hour of waking up we touched down in Paris, ready to get cleaned up and head into the city.