Yesterday news broke that Airbus wants to put beds in the cargo hold of certain widebody aircraft.  But I'm skeptical any airline will take such an option.
The trend in air travel, at least here in the U.S. has been densification.  And things, in my opinion, are getting out of hand, especially at American Airlines.  But, Airbus seems to want to change this trend.  And, yesterday the aircraft manufacturer announced its solution to this issue: sleeping berth module options for airlines.
Sleeping Berth Modules
The sleeping berth modules Airbus is touting has been developed with French seat manufacturer Zodiac Aerospace.  And the idea behind it is to give airlines the ability to offer passengers more while maintaining a high-level of flexibility.  To accomplish this, the proposed sleeping berths will occupy space in the cargo hold.  However, they will not be permanently installed; instead, airlines can add and remove them as needed.  But, aircraft to be equipped with these modules will need to be modified to allow access to them.  Airbus estimates that they can begin retrofitting aircraft in 2020.  The initial aircraft this system will be available on is the A330.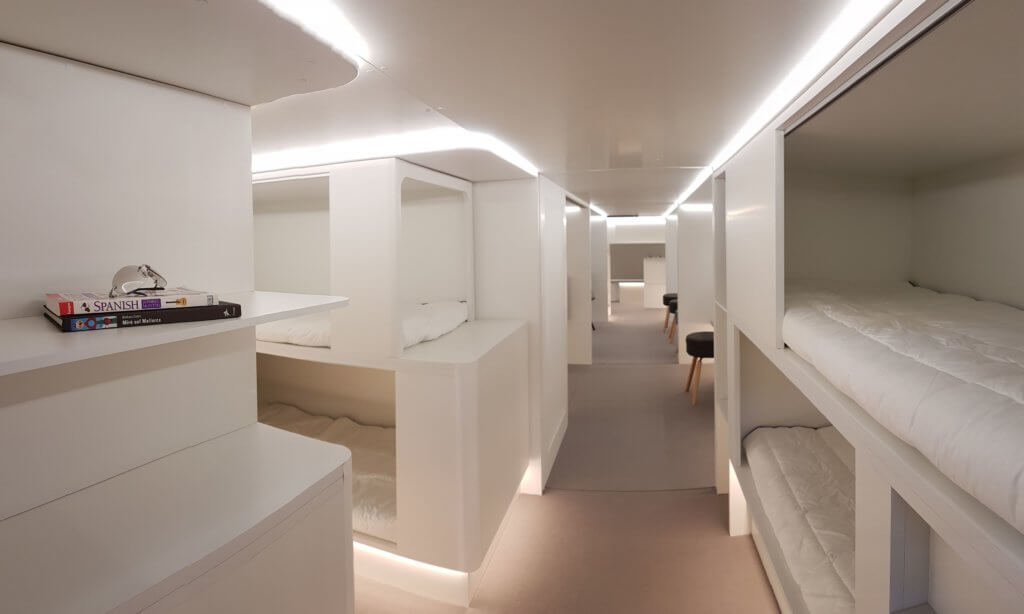 Questions
The biggest question I have is who the hell is going to purchase this option?  Boeing already had a similar proposal, the SkyLoft, for its 747-8 Intercontinental.  This concept would have seen sleeping quarters built into the crown area of the 747-8.  However, the concept was dropped in 2007 in favor of galley storage in the same space.  That being said, the Airbus proposal is more straightforward and won't have permanent weight implications for the aircraft.  And it's also a very flexible option.  But, for airlines to use the sleeping berth modules, they'd have to give up cargo capacity.  And with cargo being such a significant revenue generator, I don't see this happening.
However, there may be a market for such a system with airlines flying ultra-long-haul routes like Singapore Air or Qantas.  These carriers need lower-density interior layouts (and likely carry minimal cargo) to make these ultra-long routes work.  And since Singapore will operate an all premium cabin on its ultra-long SIA-JFK route, the could be a potential candidate for these modules.  But, Airbus hasn't released a certification date for the A350XWB yet, so we'll see if this is something the Airline can even consider any time soon.
Airbus Wants to Put Beds in the Cargo Hold, Final Thoughts
The sleeping berth module is an interesting concept.  And while I like having a window, buying up to this product is something I'd consider.  That is, if the price is right, of course.  However, I don't expect to see this option being taken by many airlines.  In fact, I think this development is more a way to drum up sales for the airframer's faltering A330neo line.  Afterall, the -800 variant currently has zero orders on the books.
But we'll see.  As I said earlier, if any airlines take this option, I'm sure it'll be either Singapore or Qantas.  And that's only if Qantas ever decides to pull the trigger on an A350 order.  Currently, the Airline is considering both the A350 and the Boeing 777X.  Other potential operators would be Etihad, Emirates, or Qatar.  Beyond those five airlines, though, I doubt there would be any takers.  And all of these airlines would install them on A350s, not less efficient A330s.  But if airlines do take up these options, I bet the price will be out of reach for most of us.  They will, after all, have to make up for the loss in cargo revenue.