Last updated on January 5th, 2023 at 11:54 pm
It's official! Hawaiian Airlines confirms Boeing 787 order.
Five months ago, Hawaiian Airlines revealed that they were reconsidering their Airbus A330neo order. The issue at hand, as we learned, was the fact that the Airline had the only open order for the -800 variant. And because of this, the future of the program and, therefore the ability to finance, place top-up orders, and purchase spares became significant concerns. Then, a couple of weeks ago, Leeham News stated that they had learned from an inside source that Hawaiian had canceled their A330neo order and switched to the Boeing 787-9. But, now the wait is over. We finally have an answer to one of the most burning aviation questions this year.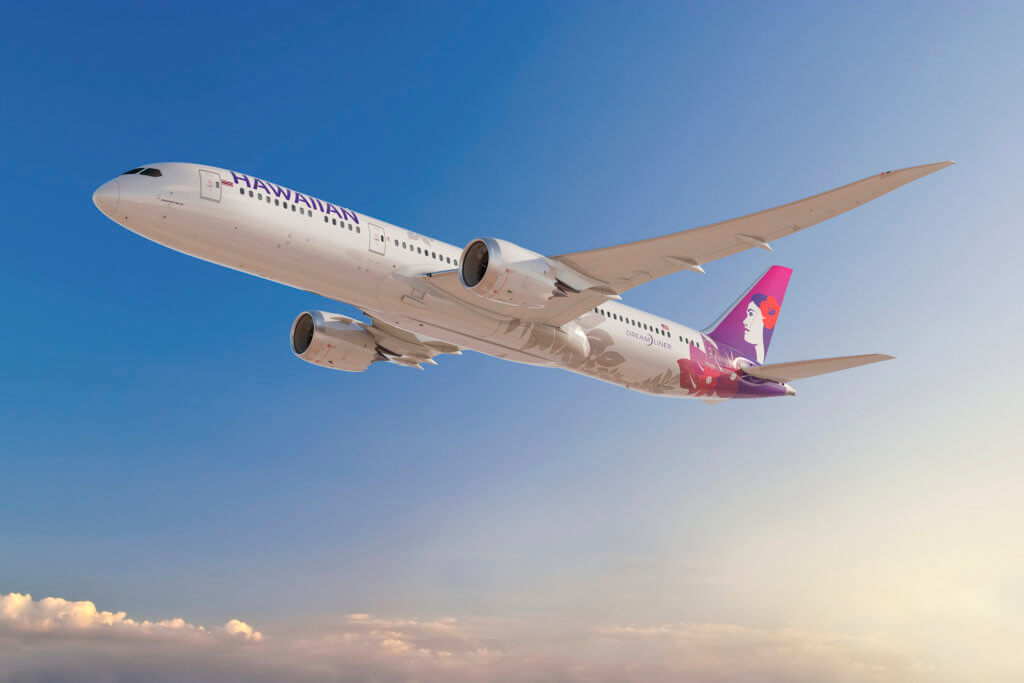 Hawaiian Airlines Confirms Boeing 787 Order
Announced on the Airline's website yesterday, Hawaiian Airlines confirms they have signed a non-binding letter of intent (LOI) with Boeing. The LOI is for 10 Boeing 787-9's with deliveries to commence in the first quarter of 2021; that's four more aircraft than Hawaiian's A330neo order. Hawaiian will also have purchase rights for an additional 10 787-9's. What's interesting, though, is the fact that Hawaiian has opted for the General Electric GEnx engine for their Dreamliners. After all, the Airline has primarily been a Rolls-Royce customer. In fact, all A330's are currently equipped with Rolls-Royce Trent 700's, while the Boeing 717-200s has BMW Rolls-Royce BR700s. And, of course, the A321neo utilizes the troubled Pratt & Whitney PW1000.
So if you count both the BR700 and Trent 700 as Rolls-Royce engines, then that means Hawaiian will soon have three different engine manufacturers. That's a lot for such a small airline, though the A321neo was always going to have different engines anyway. However, I would have thought that Hawaiian would have opted for the Rolls-Royce Trent 1000's on a potential 787 order. This isn't a complaint, though, just an observation. Personally, I believe the GEnx is the superior engine option and am happy to see it on their 787s. It's just that from an operational standpoint, the Trent 1000 would have made better sense.
Anyway, Hawaiian states that the 787-9 is an ideal aircraft to operate on its long-haul North America and Asia routes. And, of course, the aircraft's superior performance and modern, passenger-friendly features are both cited as reasons for the selection. Interestingly, the press release also reveals that Hawaiian was considering both the Boeing 787-9 and the Airbus A330-900neo. The A330-900, of course, seats a lot more passengers than the 787-9, having more in common with the 787-10, so that detail is a little surprising.
Hawaiian Airlines Confirms Boeing 787 Order, Final Thoughts
Unfortunately, no further information is available at this time. Hawaiian says the order will be finalized sometime in the second quarter of this year. Contract negotiations with ALPA will also need to occur before completing the order. And hopefully, the union won't make a big stink about an additional aircraft type. I always believed that the 787 is the right aircraft for Hawaiian, and I'm excited to see that the Airline will finally purchase this game-changer. Plus, doesn't Pualani look great on that sharkfin tail?