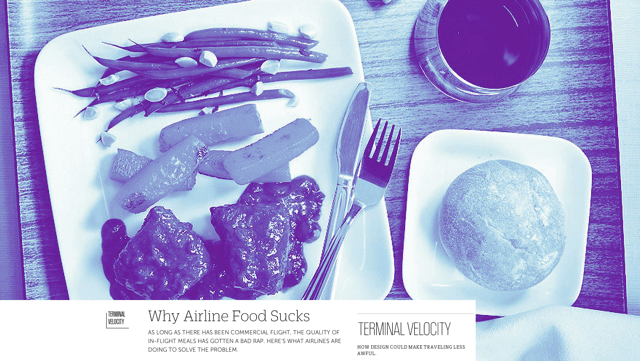 I just finished reading a provocative article entitled Why Airline Food Sucks from Fast Company and couldn't help but nod my head in agreement as I was reading along. While most frequent travelers know to temper their expectations for what they will receive from an in-flight meal, this article provided some scientific explanations behind why airline food gets such a bad rap.
Without stealing all of the thunder from Fast Company's article, here is a rundown of the reasons they give for airline food being so bad:
Cabin humidity of 4% closes our sinuses, making it harder to smell and properly taste food
Meals can't be cooked onboard, but rather have to be heated/re-heated in convection ovens
Economy Meals are mass produced, frozen and reconstituted
Meals are meant as a way to stave off boredom with passengers
All of this leads to the conclusion that no matter how many tricks you try to pull with the food, it's the cabin pressure and lack of humidity that may be the biggest problem, and this is not something that will be overcome for the masses anytime soon.
How Will Airline Food Improve?
The end of the article shares a glimmer of hope for airline food: the Boeing 787 Dreamliner. With improved cabin pressurization systems, humidity can be as high as 15%, which could significantly increase our smell and taste capabilities in flight. While something tells me that even with this development food will still be mediocre in economy class. Maybe I'll have to jump on a 787 soon to find out.
Does Airline Food Taste Better on the 787 Dreamliner?
This all leads to the question, does food taste better on the Dreamliner? Has anyone flown the 787 and care to comment on their dining experience? Was it better than normal or not noticeable?
Note: It's interesting that the photos of the meals were clearly of Delta Meals (you can tell from the trays) and that the main airline quoted in the article was Delta as well. I have found that the meals served by Delta in domestic first are often bland and require a fair amount of salt for taste. Perhaps they agreed to the article in order to make us empathetic to their food troubles?
Cover Photo grabbed from Fast Company website.