A critically endangered Hawaiian Monk Seal Pup captured the hearts of thousands as she grew on Kaimana Beach.  But now, she has moved on.
Back at the end of June, a miracle of sorts occurred on busy Waikiki Beach: a critically endangered Hawaiian Monk Seal pup was born.  It was the first such incident since the National Oceanic and Atmospheric Administration began keeping records in the 1970's.  And Mrs. Island Miler and I were lucky enough to pay the mother + daughter duo a visit back in early July.  But if you were hoping to catch a glimpse of the duo, this is unfortunately no longer possible.
Monk Seal Pup Rearing
Hawaiian monk seals usually nurse their pups for 5 to 7 weeks.  After this time, the mother monk seal weans their pup by simply leaving it.  Rocky, the mother monk seal in this case, is known to nurse her pups for 39 to 42 days.  Her pup born on Waikiki Beach, Kaimana, is named after the portion of the beach on which she was born.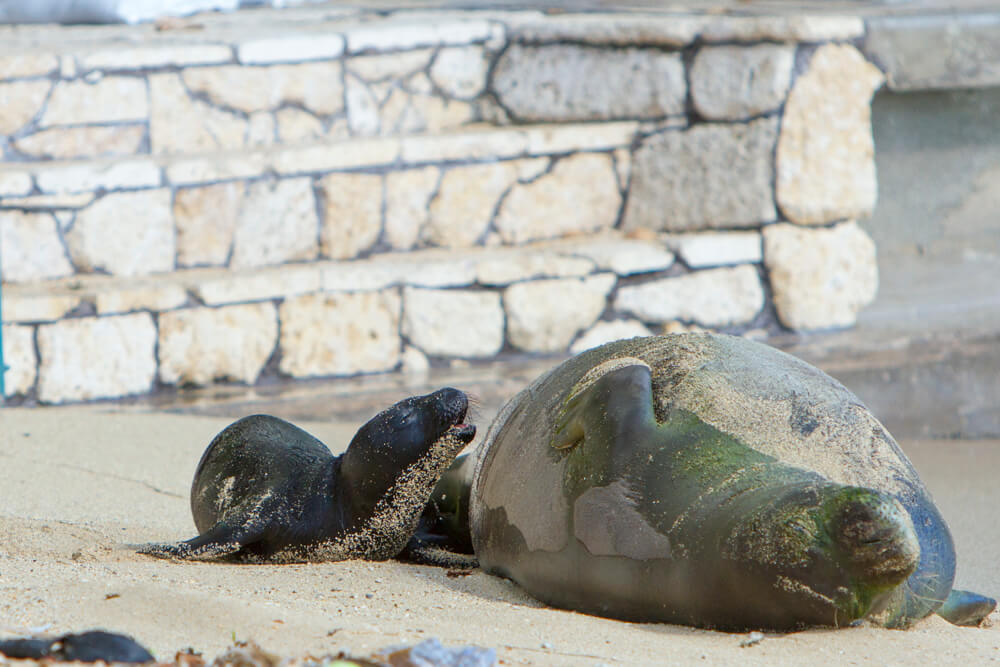 Kaimana is Rocky's 10th pup, so her track record is pretty well know and it was largely believe that she'd wean the pup in 6 weeks.
Well, that time came late in the day on Friday, August 11, 2017.  The two were seen interacting on the beach throughout the day, then all of a sudden, Rocky swam off and didn't return.  Kaimana was now alone to fend for herself.  And while this behavior is completely normal for Hawaiian monk seals, the pup's location on Waikiki Beach was a cause for concern.  Especially since the duo had become celebrities in their own right, attracting thousands of visitors each day.
Though on her own now, monk seal pups like Kaimana are highly impressionable.  And wildlife experts all agree that constant contact with humans on Waikiki Beach is not healthy for Kaimana.  This contact would cause her to become attracted to humans, which would could create a dangerous situation for both the seal and humans in the future.
Kaimana on the Move
So three days prior to her weaning, NOAA and the State of Hawaii Department of Land and Natural Resources announced their plans to move Kaimana.  Once weaned, NOAA and DLNR officials would capture Kaimana, transport her to an undisclosed beach on Oahu, tag her, and release her.  This all happened on the morning of Saturday, August 12, before Waikiki Beach became the crowded mess it usually is.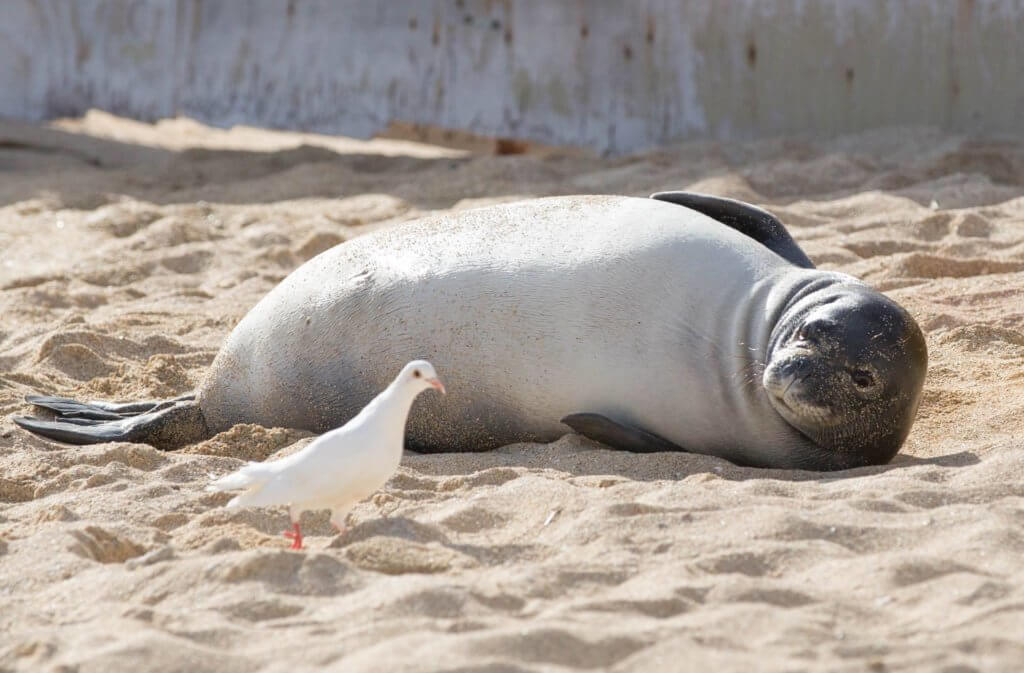 Where she is now, I have no idea.  From the video footage shared by NOAA and the Honolulu Civil Beat, it looks as if Kaimana has been moved to a beach on Oahu's north or east shore.  You can tell because of the presence of ironwood trees in the area.
Gone… For Now
While Rocky and Kaimana can no longer be found on Waikiki Beach, there is a silver lining to this story.  Kaimana's birth, while notable for its location, is also notable for her gender.  Currently there are far more male monk seals than females, so the birth of a female is always great to see.  What's more is that female monk seals usually return to the beach of their birth to give birth to their own pups.  So there's a pretty good chance we'll see Kaimana again in the future, but this time as a mother seal.
Before that can happen, however, Kaimana will have to survive her adolescence, which means evading predators like tiger sharks and manmade dangers like drift nets and fishing hooks.  And even if she does survive, there's no guarantee she'll actually return to Waikiki to give birth.  After all, Rocky was born on Kauai.
But chances are, if Kaimana survives, we'll see her again, as Rocky did give birth to 9 other pups on the beach on which she was born on Kauai.  And while most of the 1,400 Hawaiian monk seals live in the Northwest Hawaiian Islands, they are becoming more common.  A few hundred of them are believed to call the Main Hawaiian Island home now.  So, your while you might not see a monk seal pup during your next visit, your chances of seeing a monk seal in general are getting better.