The morning after our friends tried to abduct us, we woke up early and headed to Portland's Union Station for the next leg of our journey on the Amtrak Cascades.  Union Station is just a little over a mile from the Portland Marriott City Center, but I said screw it and caught an Uber.  In about five minutes we arrived at the Station and were ready to embark on our first Amtrak experience.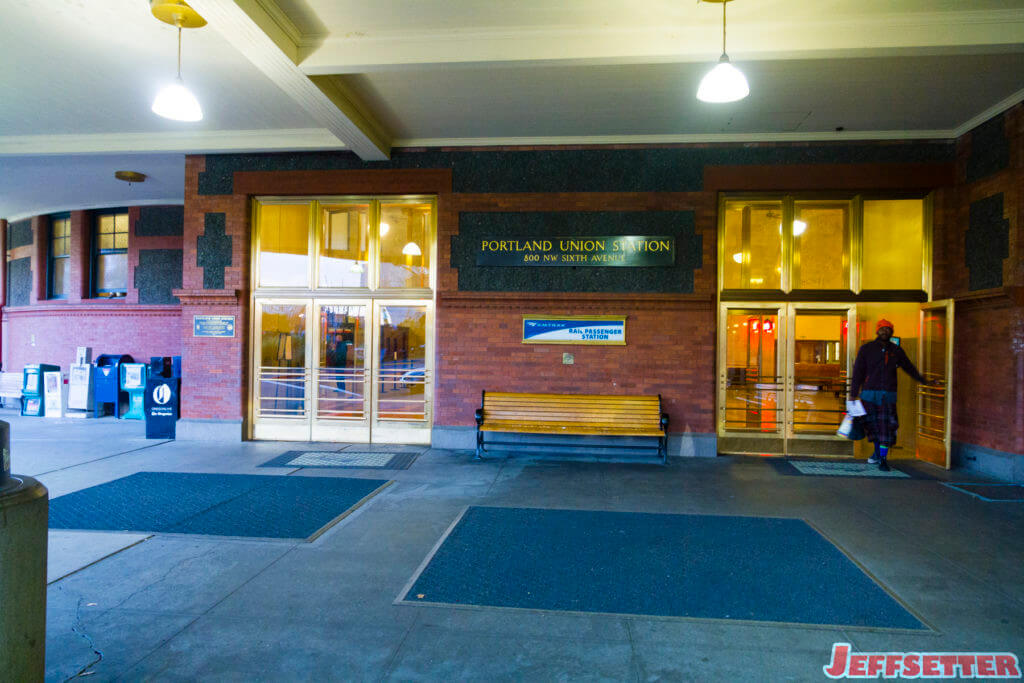 Now we've ridden long distance trains in Japan and Europe before.  Our last experience in France was super easy, we purchased our tickets online, had them in-hand before we left the US, and just jumped on the train.  With Amtrak we actually had to check-in, which ended up being kind of confusing.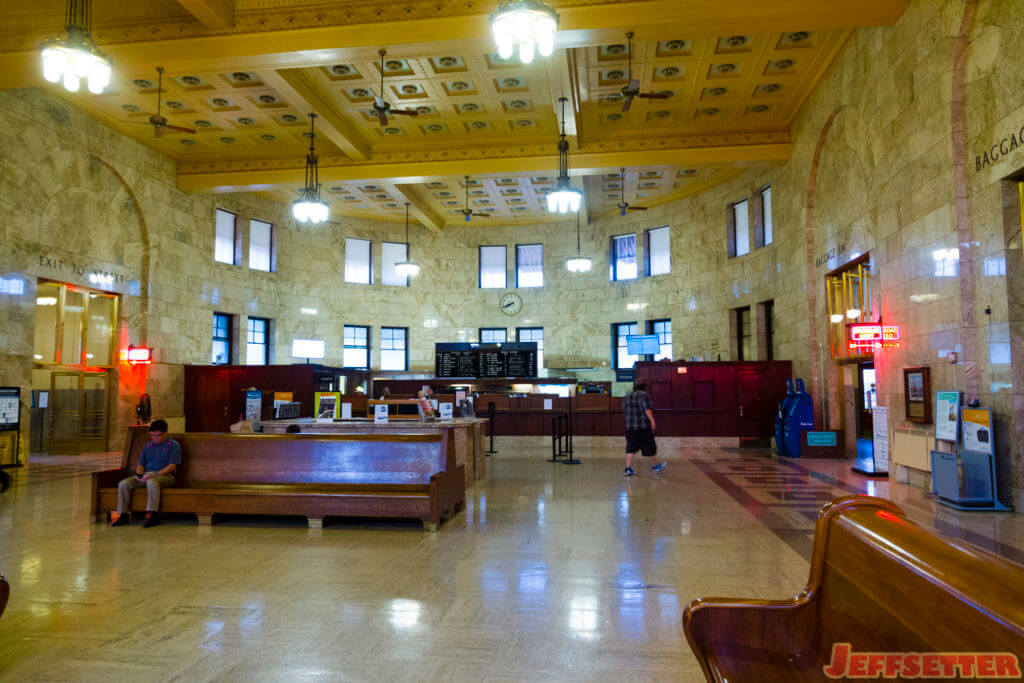 You see, apparently, only if you're riding business class (which we were) can you check-in at the ticket counter.  If you're not riding business class, you'll need to wait for the conductor to arrive and then you can check-in with him at the podium.  The employees assisting us at the ticket counter were really nice and helpful, but those we encountered at the baggage counter?  I wanted to punch them, no tackle them They were REALLY unfriendly and rude.  And as it turns out, Amtrak has a stupid rule that you can't have liquids in your checked bag.  Uh, I flew here with liquids in my checked bag!  Plus we had bought a bunch of hot sauces and what not in Portland, so this was especially problematic for us.  I tried to explain that they were (literally) triple bagged in freezer bags to prevent them from ruining my close incase they spilled in-flight.  But the baggage bitch attendant wouldn't hear any of it.  My advice?  LIE.  LIE TO THESE IDIOTS!!  YOU HAVE NO LIQUIDS IN YOUR CHECKED BAG.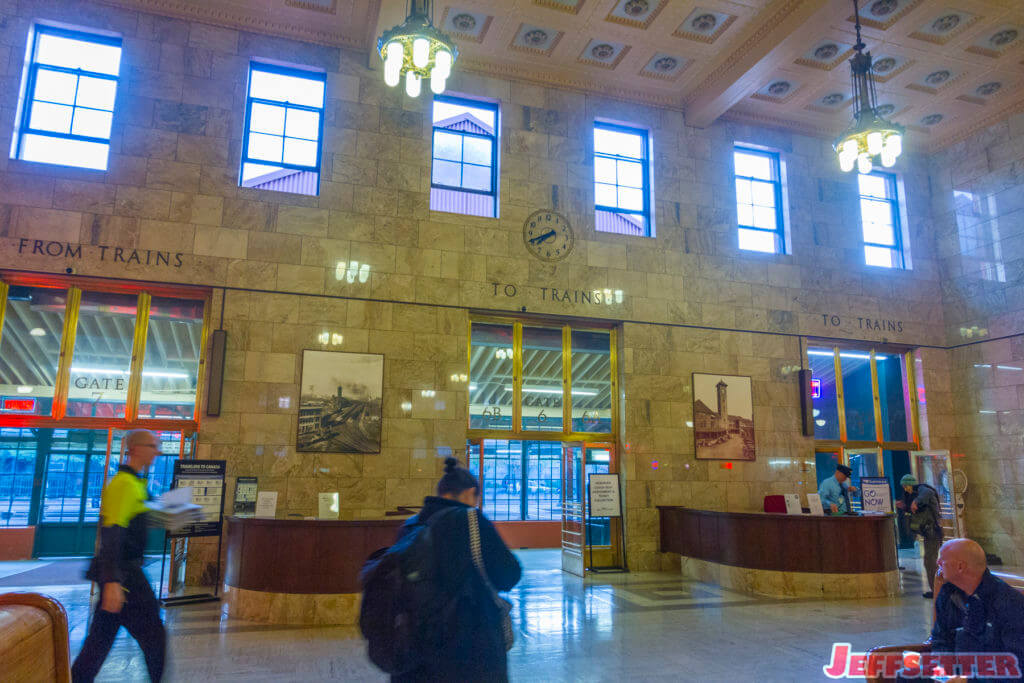 With the check-in process out of the way, we took a seat on one of the benches and waited for our train to arrive.  At check-in we really didn't do anything, except get our seat assignments.  Our boarding passes were saved in Passbook, so the conductor just scanned my phone when the time came.  They did give us a couple of coupons worth $3 off at the Bistro Car, though we ended up not using them.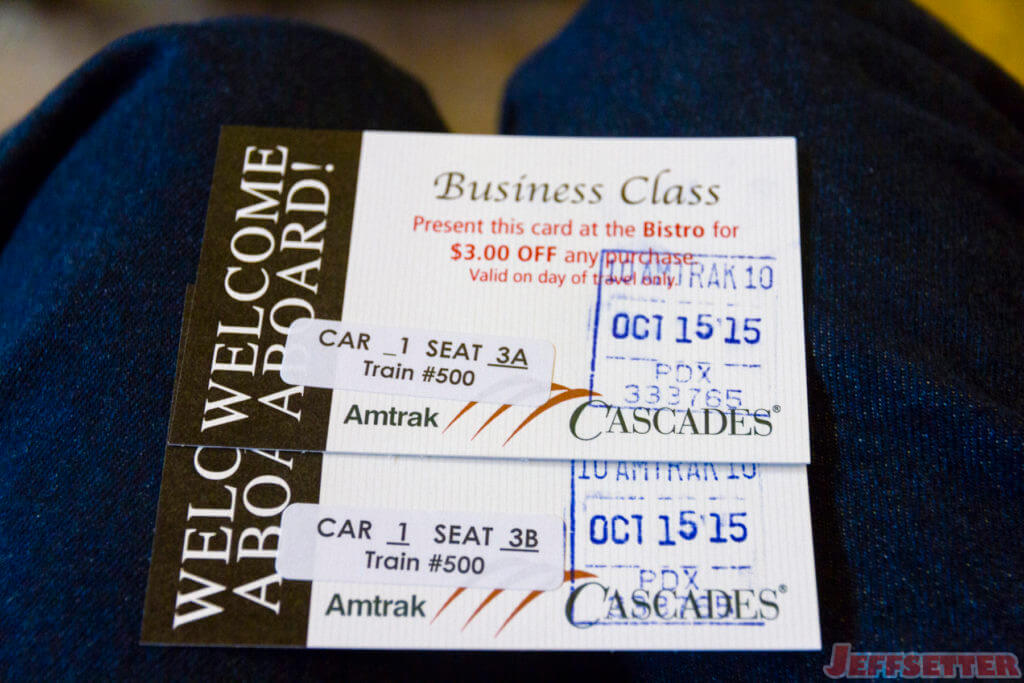 We ended up not using these as I haven't heard particularly good things about the food on this service.
When our train arrived, Business Class passengers were called to board first, so we headed out onto the platform and to our train.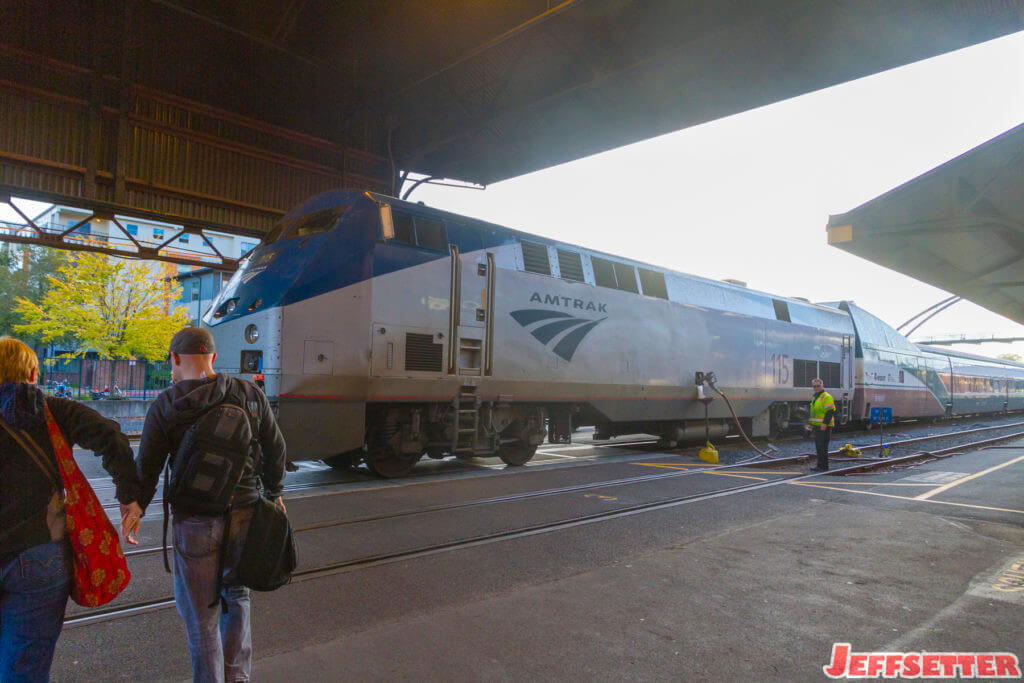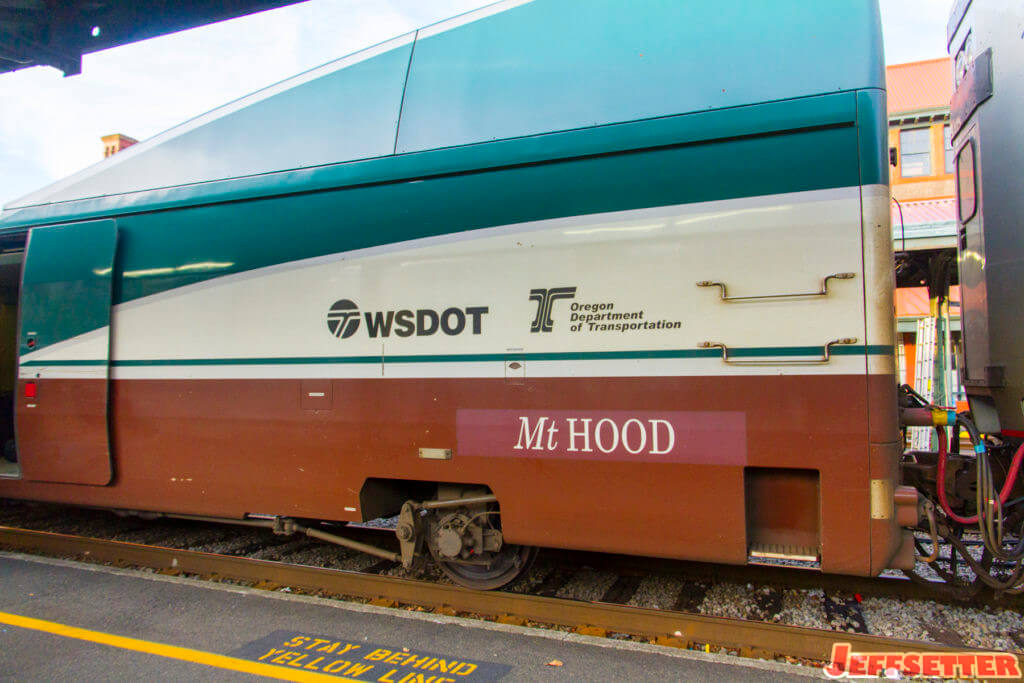 We were in car 1, which on this train set, meant we had to walk all the way down to the end of the train, which also meant that we'd have to walk the farthest once we arrived in Seattle too.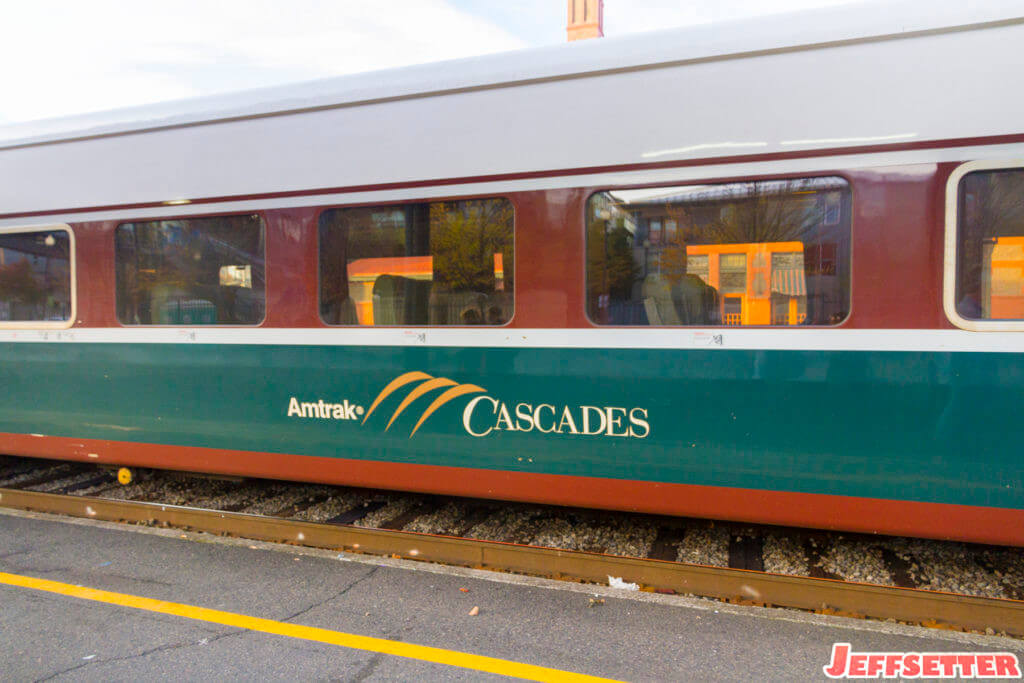 Once we reached our car, we boarded and took our seats towards the front of the car, right behind the set of seats facing each other.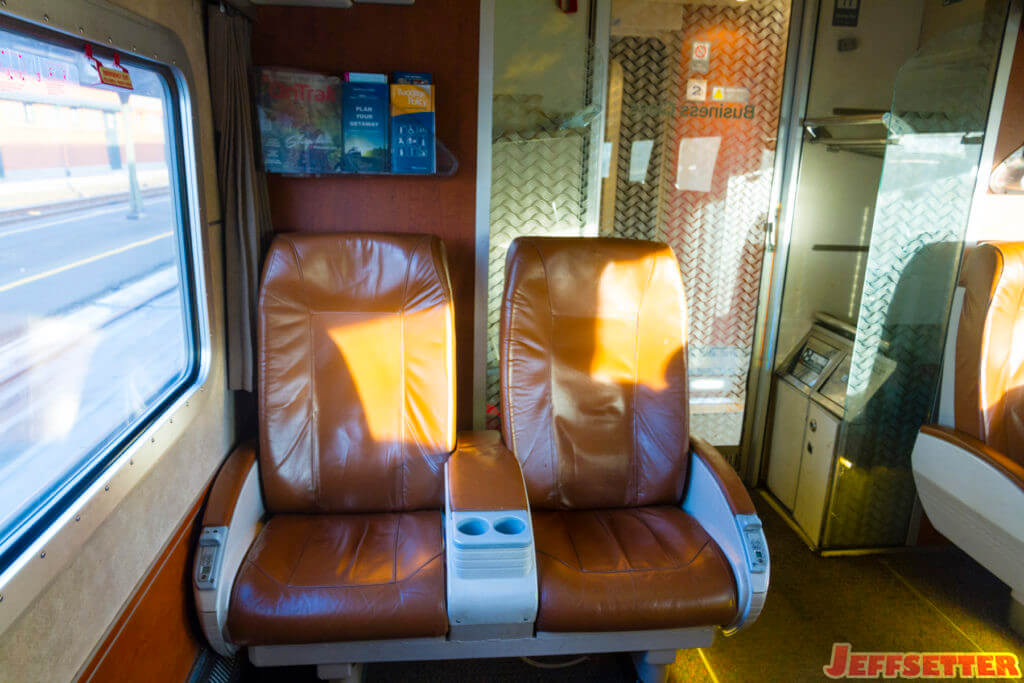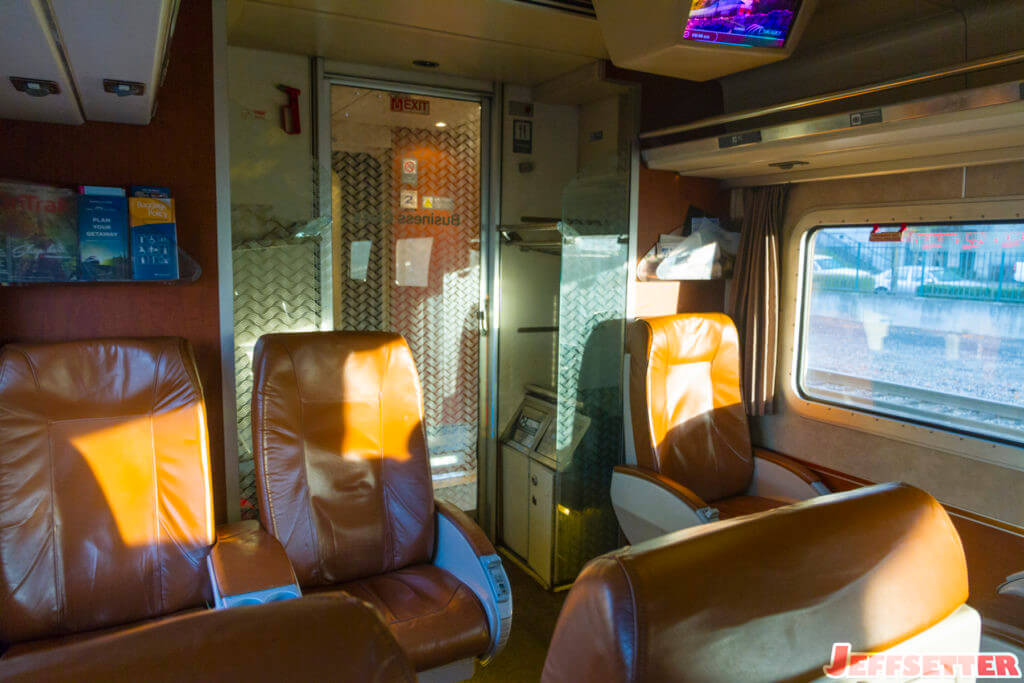 The seats in Business Class on the Amtrak Cascades are pretty comfortable and spacious.  It's like sitting in recliner seat domestic first class, only these do look a lot older than many airline seats.  The brown leather certainly doesn't help, nor does the CRT TVs hanging from the ceilings.  Anyway, if you are carrying your bag on and you have a rolling bag, you'll need to stow it on that small rack by the door.  There's no other place to put your bag if it doesn't fit on the slender rack above or under the seat in front of you.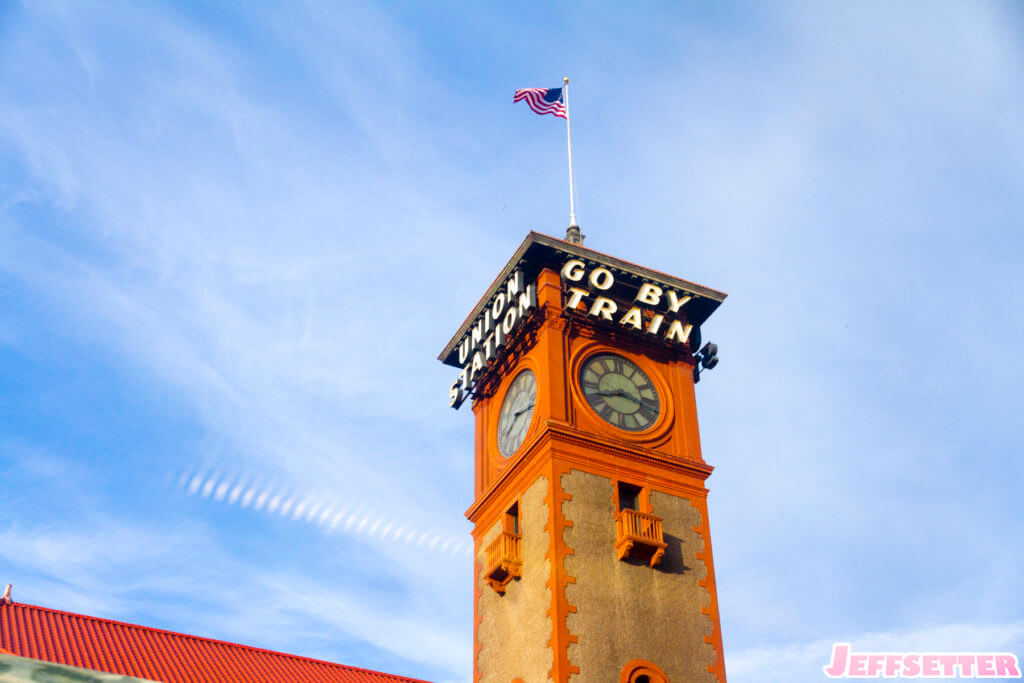 After about 15 minutes boarding finished, and we slowly pulled out of Union Station ad were out of the city.  Very quickly the scenery turned into just trees, so I decided to test out wifi speeds.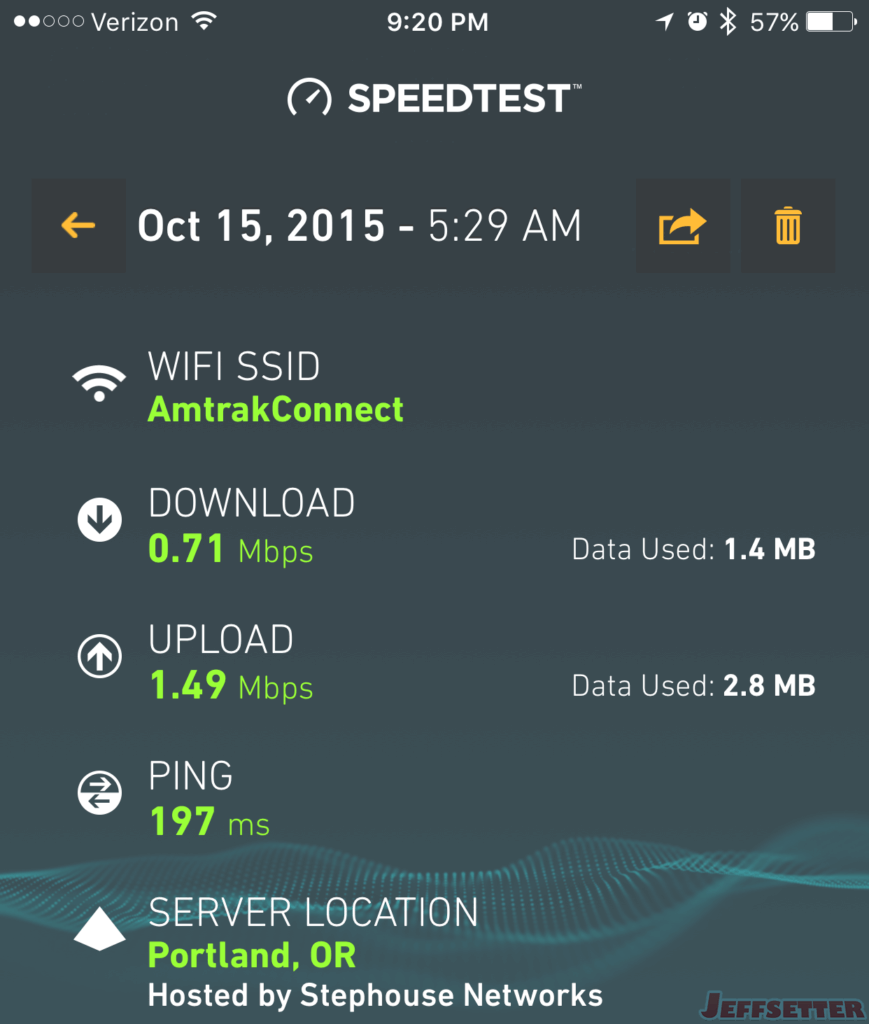 As you can see the speeds are atrociously slow… Pretty much unusable really.  Thankfully, I had loaded some TV shows onto my phone, so I settled in with for the 3 hour ride with my phone in-hand and my camera at the ready in my lap.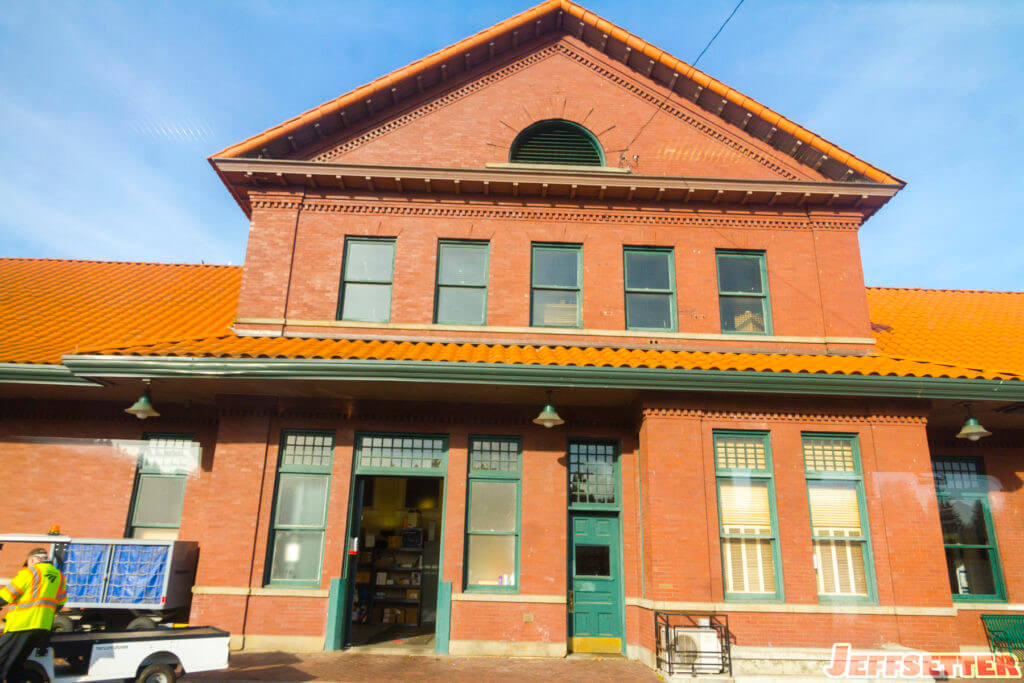 The beginning segment of our journey actually saw us stopping frequently at stations along the line.  None were as grand as Union Station, but there were some pretty interesting looking ones.  Lot's of history to be seen for sure!  After a while, though, the scene would turn into just forests and farm lands.  I actually ended up dozing off here and there, though actually getting sleep was difficult.  The seats aren't exactly good for sleeping, but the real issue was the elderly couple that boarded at the 2nd stop that were seated in front of us.  They brought aboard their "comfort dog," while they insisted it was a service dog.  Amtrak's policy allows only service dogs onboard, and the conductor rightfully said their (what looked like a Maltese) isn't a service dog.  Throughout the entire trip the couple would sporadically discuss/argue with the conductor, despite him accommodating them and not denying them boarding.
Anyway, we eventually reached the Puget Sound and the scenery began to change.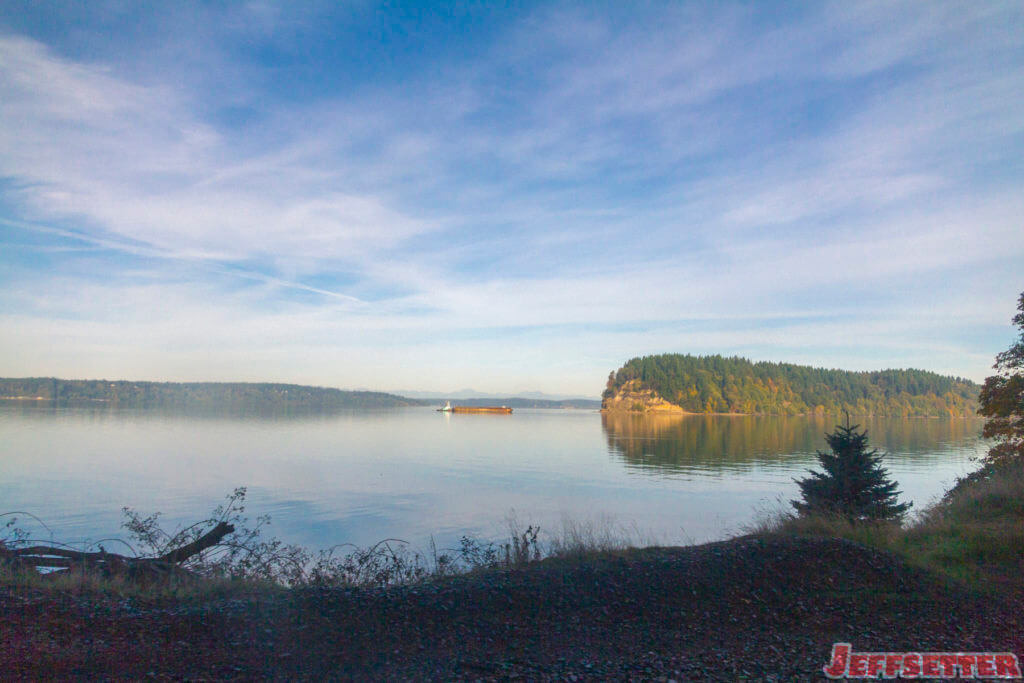 And of course, we got to see the Tacoma Narrows Bridge.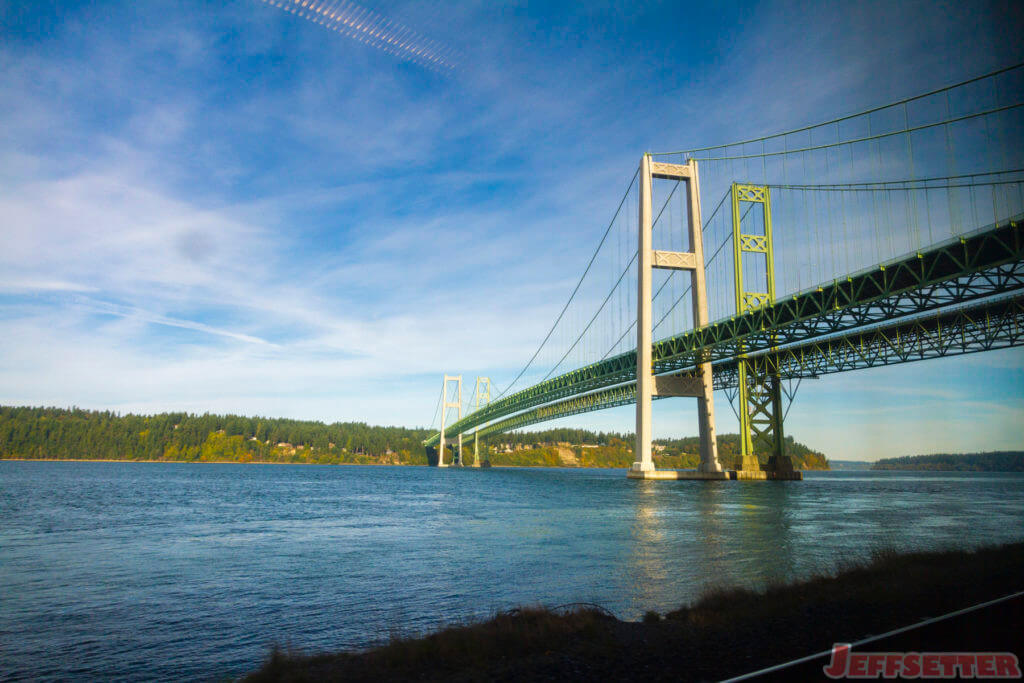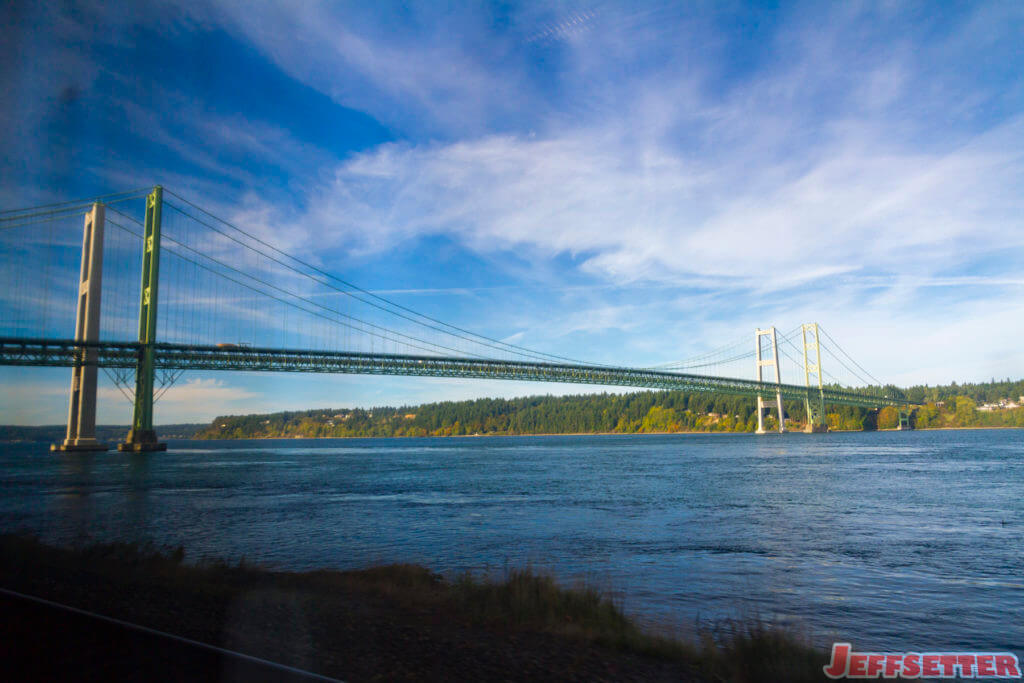 After a bit more time, we finally reached the greater Seattle area and did pass by Boeing Field (BFI) and the Museum of Flight.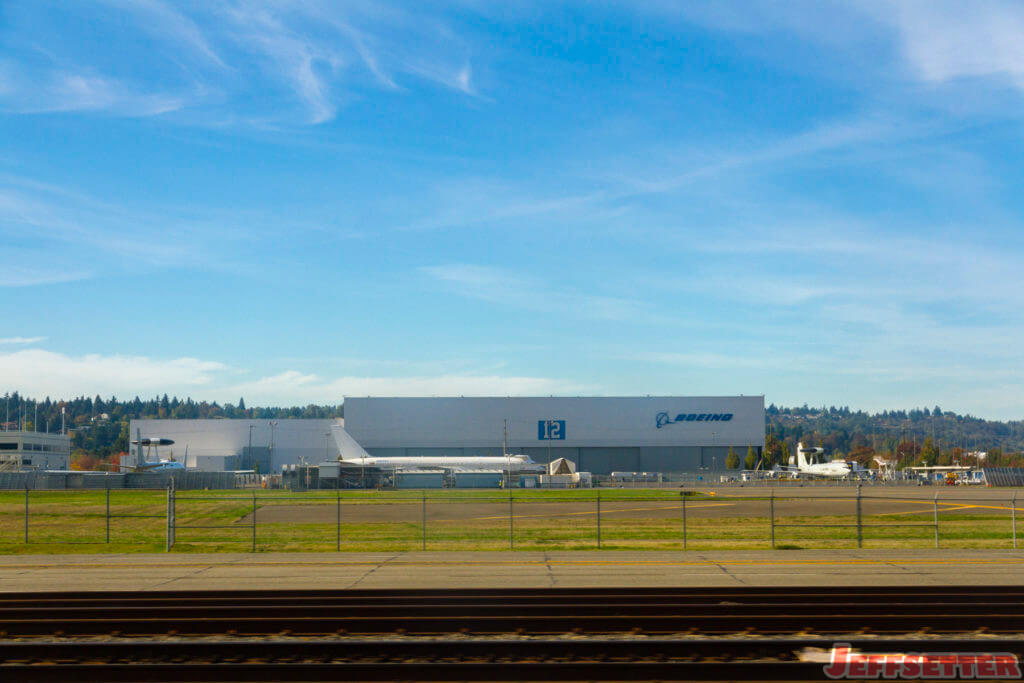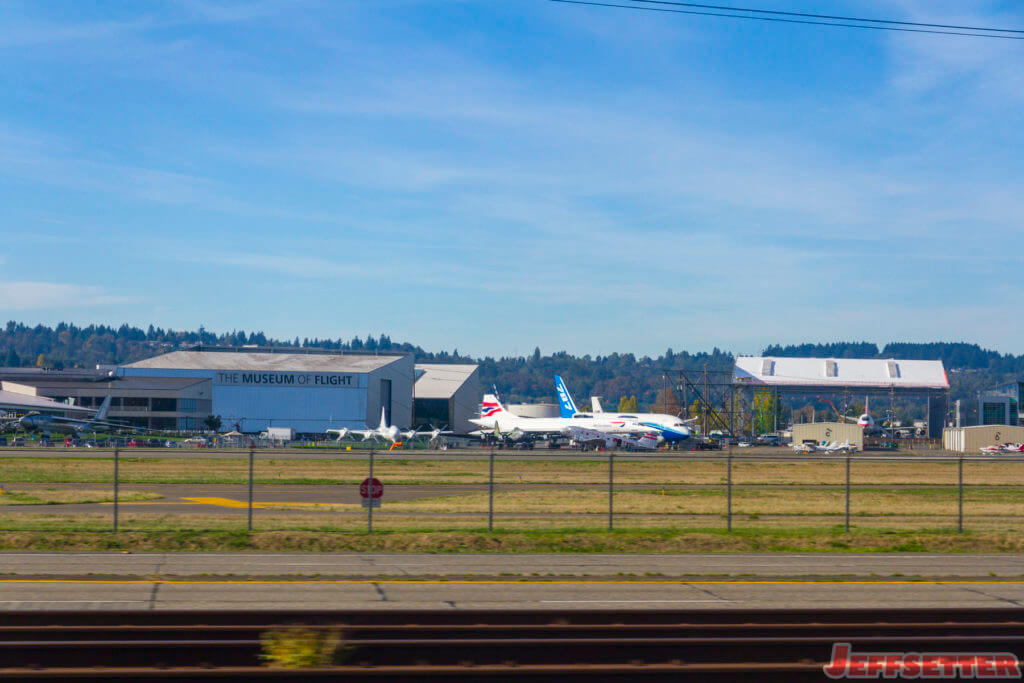 Soon after, we entered a rail yard as we slowly made our way to Seattle's King Street Station.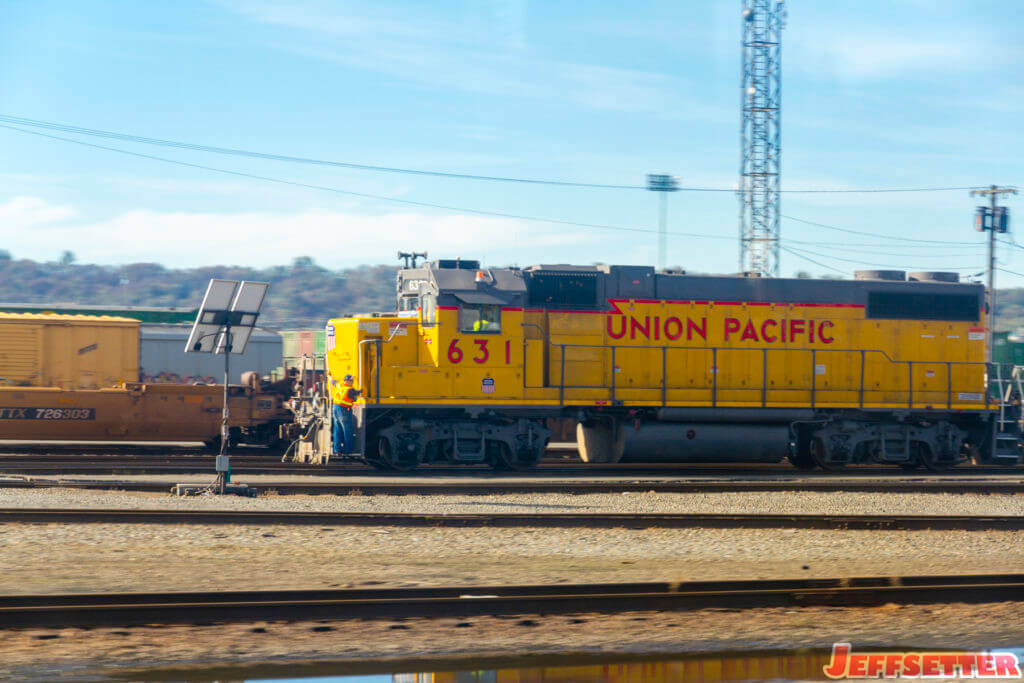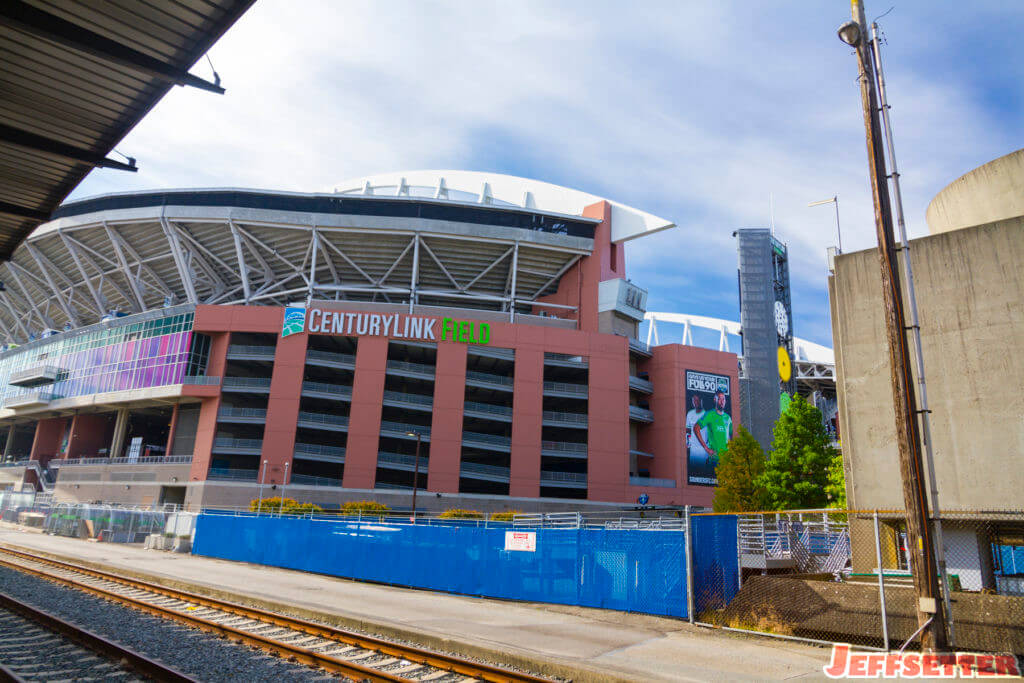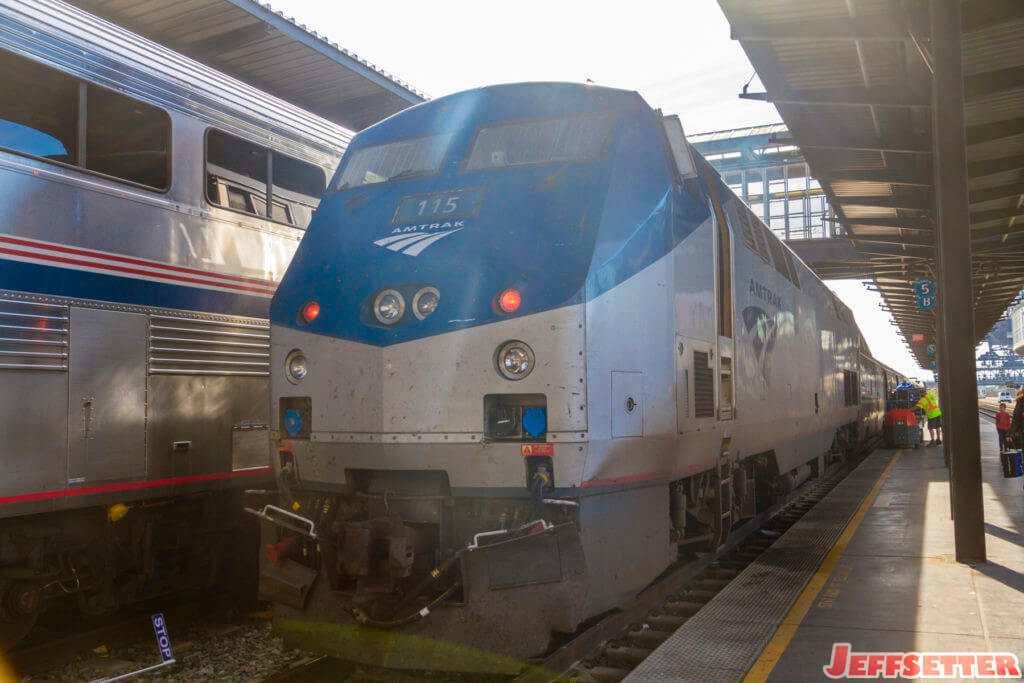 Though the ride felt like an eternity, to my pleasant surprise, we actually arrived in Seattle a little ahead of schedule.  That doesn't seem to be the norm with Amtrak, and I even had a friend recently take a similar journey that was delayed by HOURS.  So our experience was just the luck of the draw I guess.
And with that kind of on-time performance and lack of mile-earnings (I know Amtrak has a loyalty program, but I live in Hawaii, so it isn't really worth it for me) makes me question whether or not I'd do it again.  Then again, AS operates turboprop aircraft between PDX and SEA, and I'm not really a fan of that either, so we'll see.  Would do it again?  Perhaps.  It is a convenient service when it's on-time, there's no doubting that.
Oh, and, at least when we went, they really did check our baggage claim tags (and collected them) when exiting the baggage claim area.  So be sure you keep them and have them ready after you collect your bags!
Our PNW Adventure
Review:  Amtrak Cascades, Portland to Seattle