Last updated on December 26th, 2018 at 03:42 pm
The Amex Gold card is one of the best cards available today. And if you haven't applied for one yet, I can understand because, initially, I too was on the fence. But now's the time. Apply for the Amex Gold Card now before it's too late!
Why You Should Apply Now
When the new Amex Gold card first came out, it did so with the following limited time offers:
20% back as statement credits on U.S. restaurant spend up to $100 for the first 3 months
Exclusive rose gold metal card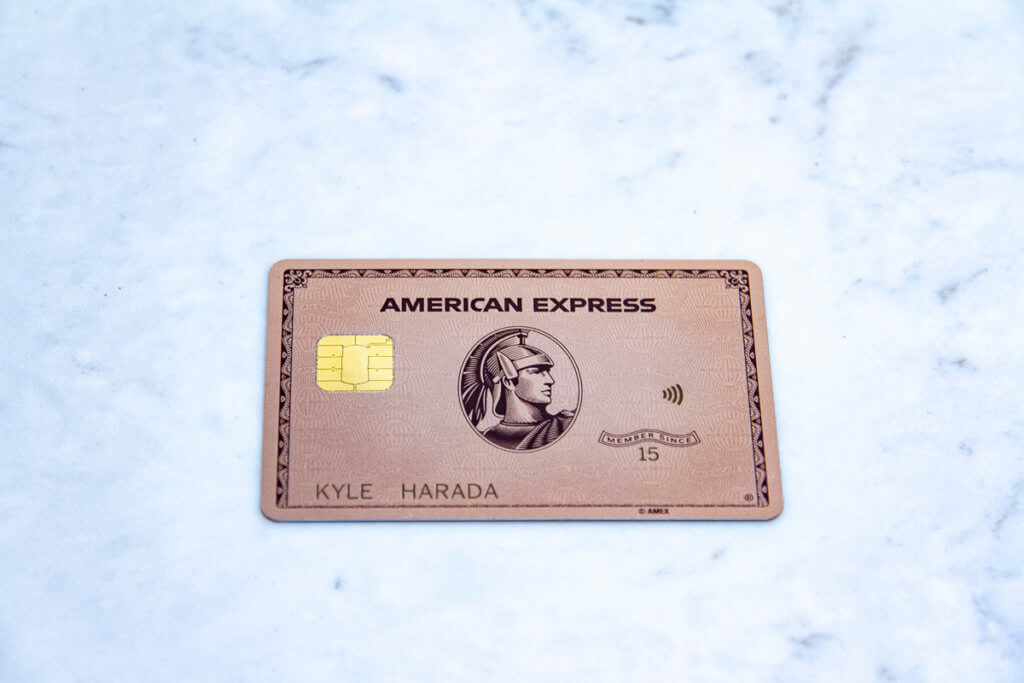 Ok, so the rose gold card, while attractive and on-point, isn't a reason to apply for the card alone. But, hey, it's only available for a limited time and you're going to get the card anyway, why the heck not?
The 20% statement credit on restaurant spend, though, is very helpful. Essentially, Amex is covering the gratuity for you, up to $100. And that will help bring your first-year annual fee down from $250 to $150.
Further, the Amex Gold card provides up to $100 in statement credits for airline fees. These fee reimbursements are based on a calendar year, so you could apply now and use $100 by the end of December and then come January, you'll have up to another $100 available. Doing so will then bring your effective annual fee down to $50!
A Note on Airline Fee Credits
Of course, you must be wondering how the hell you'd use the airline fee today if you won't get your card by the end of the year. Well, Amex gives you your account number, expiration, and a temporary CID when you open your account. They even let you provision your card to Apple Pay, Samsung Pay, etc. without having your physical card, so it's entirely doable.
How to spend once you have your card information is another story, though. Technically the credit only applies to fees like onboard meal purchases, seat upgrades, baggage fees, etc. But, some have reported success getting reimbursed for gift card purchases. If you do do this, do your homework first and know that your mileage may vary.
Ongoing Benefits
Aside from the initial launch benefits and the always available airline credit benefit, the Amex Gold does have benefits that makes the card worth keeping and using. After all, you can extract another $120 in value from the card if you maximize its $10/month Grubhub/Cheesecake Factory/Ruth's Chris/Seamless/Shake Shack statement credits.
Beyond the credits, the card also earns fantastic rewards points. After all, the Millennial-targeted card earns 4x points and restaurants and grocery stores. Plus, you'll earn 3x points on purchases made directly with airlines and for airfare purchase made via Amex Travel. By the way, to all my Hawaii readers out there, I did the math, and this card will earn more HawaiianMiles than your Hawaiian Airlines World Elite Mastercard. Just saying.
And, while the card doesn't come with the fantastic Concierge service that the Amex Platinum does, it still has great ancillary benefits. Again, to my Hawaii people, had you had this card, you could have purchased Amex Preferred seats during the Amex Presale for his upcoming concert at the Aloha Stadium. Plus, the card has Premium Road Side Assistance (which is like AAA but for free), baggage insurance, purchase protection, return protection, extended warranty, and more.
Apply for the Amex Gold Card NOW, Final Thoughts
Make no mistake, the Amex Gold is an excellent card and worth getting after the introductory offers go away. But by not getting the card now, you're leaving money on the table. So if you're on the fence about this card (and aren't worried about 5/24), then get it now. You've really got nothing to lose. And, as you can see, it's easy to extract more value from the card than the $250 annual fee. That is, if you get the card before the introductory offer (and color) disappears on January 1, 2019.