To get from Honolulu to Northern California, naturally, I chose to fly Alaska Airlines 710 HNL-SFO.  It was an easy choice because of my Companion Certificate that got better when I scored a free upgrade!
When I initially booked our flight, Alaska Air was busy integrating Virgin America's fleet with that of its own.  So, it's understandable that things would change after I made my arrangements.  Luckily, I booked a pre-merger Virgin America flight, so when an equipment swap did occur, it meant a completely different product swapping in too.  
That aircraft swap, though, worked out hugely in my favor.  You see, initially, I assigned us a standard economy seat in Row 4 on a Pre-Merger Virgin America Airbus A320.  However, because Alaska Air's Boeing's have a larger First Class and a Premium Economy cabin when our seats were swapped, we ended up in Row 7.  Row 7, might I add, is the second row in Alaska Air's Premium Economy cabin, so we scored a free upgrade.  
Boarding
Interestingly, when we got to our gate at the Daniel K. Inouye International Airport, our aircraft wasn't there.  At 8:55 pm, I began to wonder if we were going to experience a delay.  After all, the inbound flight still hadn't arrived, and we were scheduled to start boarding in an hour.  But, at 9:00 pm, our aircraft pulled into the gate.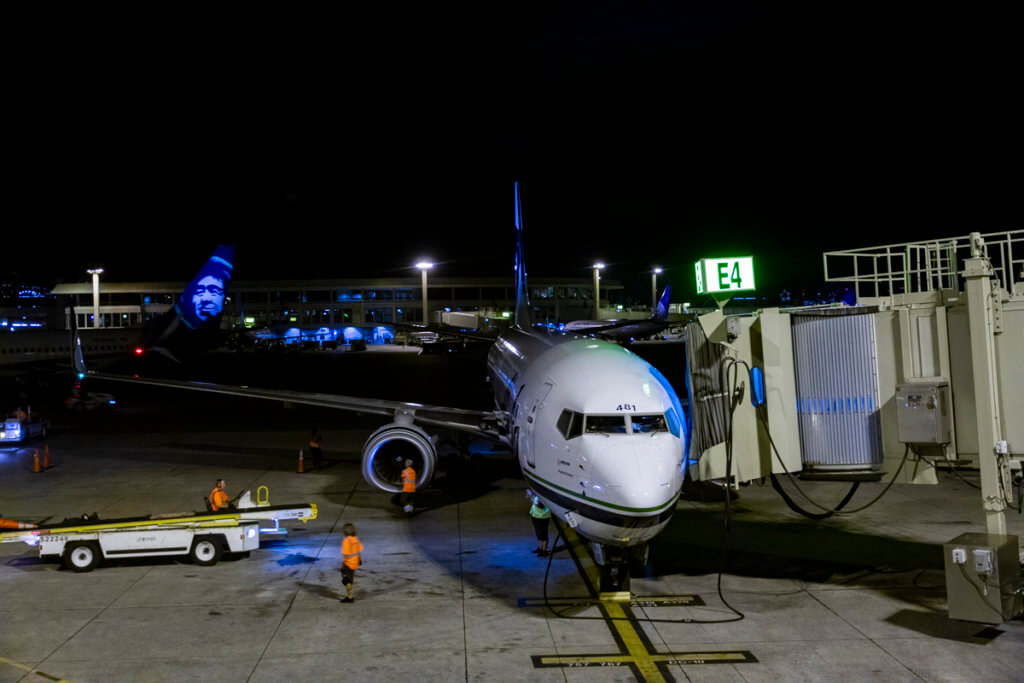 I must say, Alaska can turn its aircraft around quickly!  They deplaned, cleaned, and restocked the Boeing 737-900 fast enough that we began boarding six minutes early at 9:49 pm.  And, guess what?  Even though we got a free upgrade to Premium Economy, we still got assigned to Group A for boarding.  Score!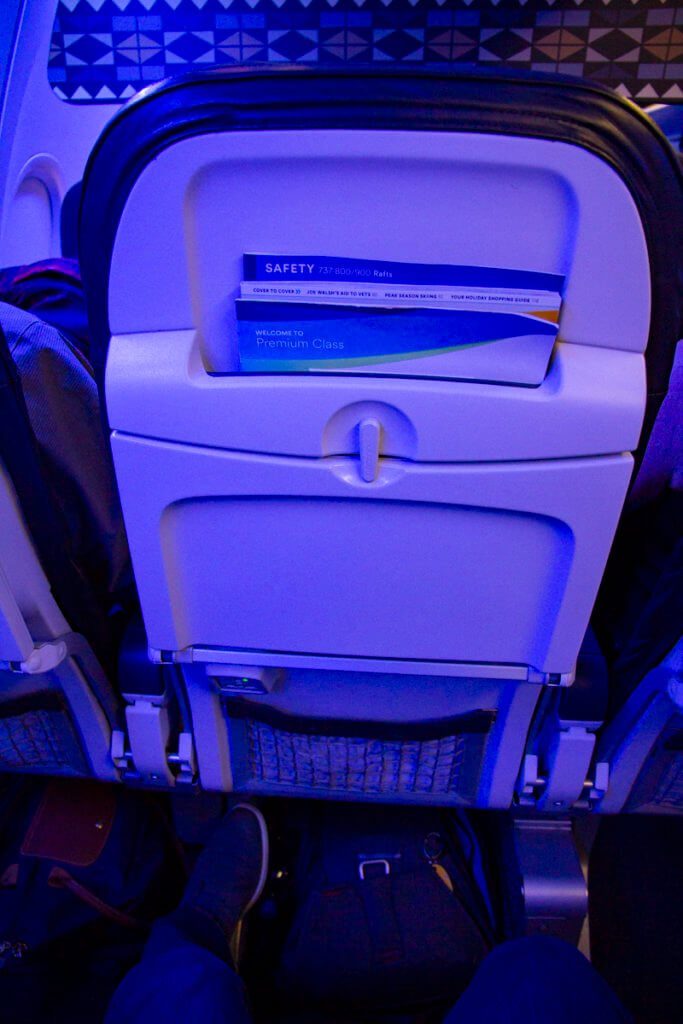 Twenty-six minutes later, the door closed and we pushed back thirteen minutes early at 10:22 pm.  What was interesting, though, was the flight crew locked the lavatories before closing the doors.  
Alaska Airlines 710 HNL-SFO 
The crew aboard our flight, AS 710, was peppy and friendly, as is usually my experience on Alaska.  There was an unusual amount of traffic that night, though, so once we reached HNL's Runway 8R, we were third in line for departure.  Then, at 10:38 pm, we began our quick takeoff roll. 
With a quoted flight time of four hours and forty-six minutes, I did my best to get to sleep.  Unfortunately, like my Delta flight to SLC, there was quite a bit of chop on the way out.  As a result, flight attendants did only water service at 10,000 feet.  Cart service eventually happened at 11:15 pm when things smoothed out a bit.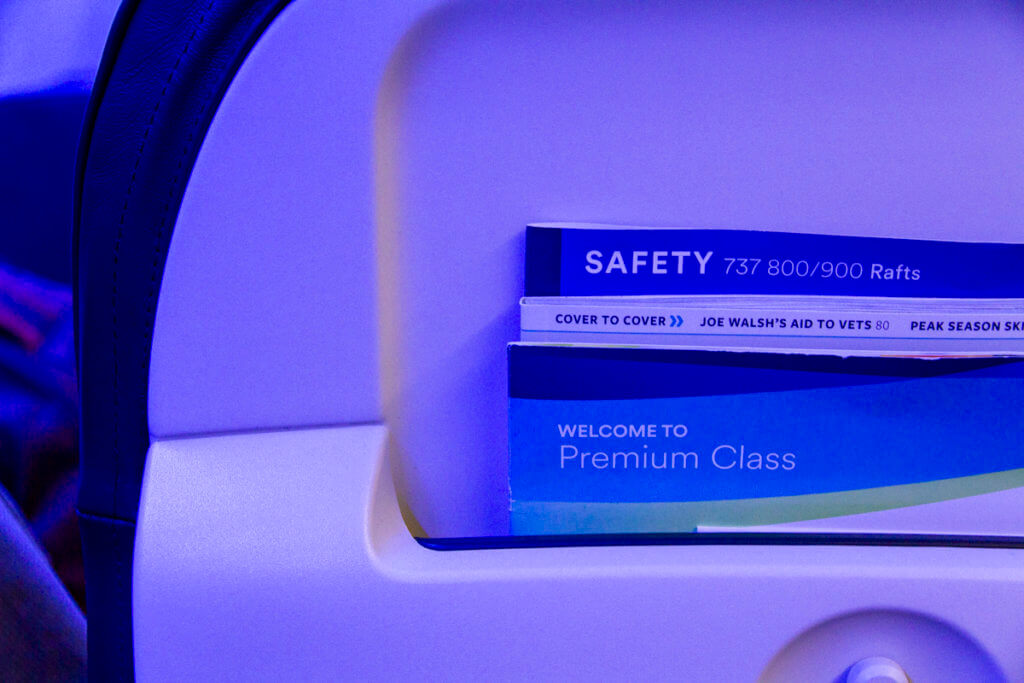 After taking little naps here and there, we began our descent at 2:57 am HST or 5:57 am PT, four hours and twenty minutes after departure.  At that time, the crew announced that they'd be locking the lavs once again.  Then, at 6:27 am PT, we touched down at SFO, pulling into a gate at 6:31 am, fourteen minutes ahead of schedule.  Doors opened just three minutes later at 6:34 am.
Alaska Airlines 710 HNL-SFO, Final Thoughts
Despite scoring a free upgrade (thanks Alaska!), it was an uneventful flight with the same excellent service I usually find on Alaska flights.  Of course, once off the plane, we headed straight for the baggage claim, where our bags were already on the belt.  Again, why do people like Hawaiian better?  There's a reason I fly Alaska over Hawaiian aside from the better scheduling.  But, seriously, what was up with the lavatory locking?  I've never seen that on any other Virgin or Alaska flight, and that wasn't the case on subsequent flights that trip either.  
A Gourmet Adventure Through Northern California
Introduction: A Gourmet Adventure Through Northern California
Review: Alaska Airlines HNL-SFO