I've said it before, and I'll say it again.  I don't play the points & miles game like most others.  My annual spending isn't enough to quickly build points.  So I do what I can to make traveling at least once a year more affordable.  And one of the best tools to accomplish this is the best airline card for infrequent travelers.
Best Airline Card for Infrequent Travelers
In my opinion, the best airline credit card for infrequent travelers is the Alaska Airlines Visa Signature.  Why?  Because of the card's relatively low cost and excellent benefits.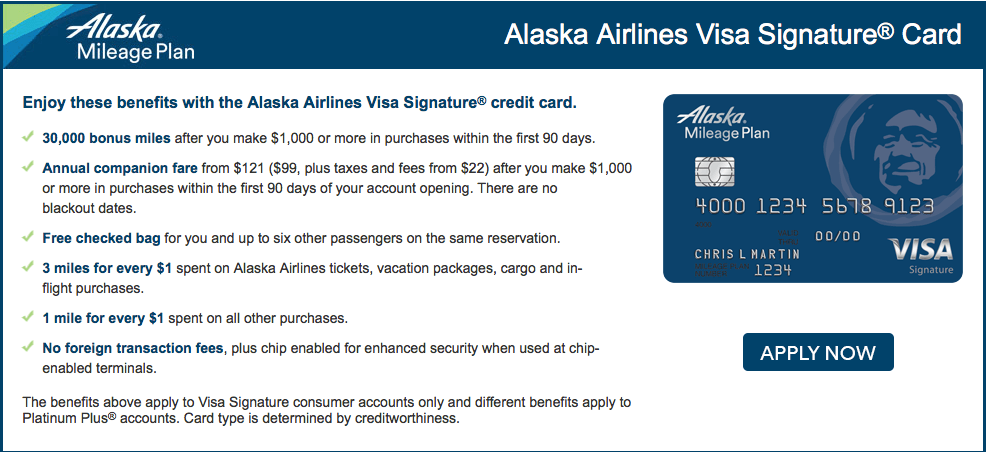 As you can see, the Alaska Airlines Visa Signature provides cardholders with:
30,000 mile signup bonus
Free checked bag for all on your itinerary
Annual companion fare
3 miles per $1 spent on Alaska Air
No foreign transaction fee
And if you travel once or twice a year like I do, then this card makes perfect sense.  You get all the above benefits for a low annual fee of just $75.  This is especially true when you compare the annual fee to the annual companion fare benefit.
Annual Companion Fare
The annual companion fare is, perhaps, the most lucrative benefit of the Alaska Air Visa Signature.  With it, you essentially get a buy one, get one for $99 + taxes/fees companion fare.  What this means is that when you purchase an economy fare, your companion will fly for just $99 + taxes and fees.
For example, when Mrs. Island Miler and I went to New York in December, I paid somewhere around $800 for my ticket… Yeah, that's pretty expensive, but Mrs. Island Miler ticket came out to $150, so it kind of balanced things out a bit.  And of course, since I used my Alaska Air Visa Signature, both of our checked bags were free.
Of course you don't have to use your companion with a spouse; you could always use it with friends and family.  And if each of you have a card, then that's more companions you could include on a trip, or you could simply take more trips!
Best Airline Card for Infrequent Travelers Final Thoughts
The Alaska Air Visa Signature represents a great value, even if you travel just once a year.  Redeeming the annual companion certificate provides much more value than you're paying for the card's annual fee.  And you'll get even more value out of it if you use the card to travel on Alaska Air thanks to the complimentary bags.  Once you accumulate enough miles in your Alaska Air Mileage Plan account, you could extract even more value by redeeming miles for flights too.  Award flights between Hawaii and the Continental U.S. start at 35,000 miles for a roundtrip ticket.