In early December of 2013, Mr. and Mrs. Jeffsetter took a three night trip to Milan, Italy. Part mileage run, part weekend getaway, part desire to see another Christmas Market in Europe. Put it all together and we had an excellent time in Milan. What follows is a series posts over the next few weeks about the Milan trip, including: Booking Business Class Tickets to Milan, Alitalia Business Class Lounge at JFK, Alitalia Magnifica Business Class from New York to Milan, The Park Hyatt Milan Hotel, Christmas in Milan, Skyteam Lounge at Milan MXP Airport, Delta International Business Class Milan to New York.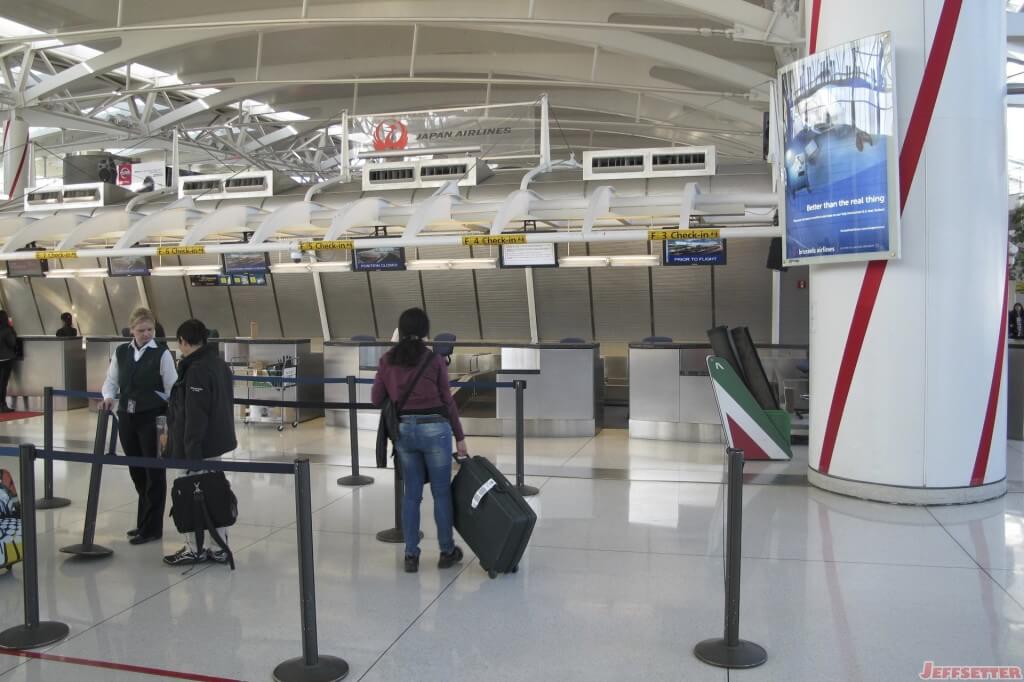 When you arrive early at an airport, you get to see things unfold before your eyes. In our case, we arrived at JFK airport 9 hours before our scheduled departure on Alitalia later that evening.
Since we had already cleared through security in Terminal 4 to pick up our luggage, we walked to the Alitalia counter to see if we could get checked in for our flight and head to their lounge to kill time before we left. We had booked different itineraries from our MSP-MYR-JFK-MSP Thanksgiving trip and our Milan trip, so we did not have the ability to check out baggage through to Milan.
Unfortunately, Alitalia only "officially" opens up flight check in and baggage services 4 hours before each flight. At the time we arrived, there wasn't even an Alitalia counter open for passengers to check baggage and be issued paper tickets.
Fortunately, there was a flight for Rome leaving in approximately 5 hours, so they would be opening up their check in area soon.
So we waited outside of what would eventually become Alitalia's check-in counter while they set up the entire operation. We watched as they roped off queueing areas, rolled out the red carpet (literally) for elite members and staff started to boot up their computers.
About 15 minutes before the counter opened, a nice Alitalia staff member asked us which flight we were waiting for. We said the Milan flight, to which she replied "oh, that's not until 8:55 PM. You might not be able to check in."
She said that there was a chance we would be able to check in early, but we would most likely need to store our bags and come back 4 hours before the flight to check out baggage.
Stuck in a purely international terminal with few food options outside of security, we weren't looking forward to having to wait this long before entering the terminal and hanging out in the lounge, so we were hoping for the best when we visited the counter.
When the check in area finally opened up for the Rome flight we were first in line to see what we could do to get through security sooner than 4 hours before our flight. The counter agent was adamant that we would have to come back 4 hours before the flight before checking out bags, so we appeared to be out of luck. Apparently the ground crew doesn't even accept luggage until 4 hours before the flight, so it was out of their control.
Luckily, a supervisor came over and said that they would just our baggage now and keep it behind the counter. Then they would send it to the baggage area when the time comes and they would print our tickets so that we could clear security and enter the lounge.
Upon clearing security into Terminal 1, we soon realized that there were actually fewer eating options here than there were outside of security. We checked into the Alitalia lounge briefly to review their food options and then decided to eat lunch at a restaurant in the terminal.
The coolest part of Terminal 1 was definitely the diversity of carriers who had planes arriving and departing. This China Eastern Plane was probably the most interesting, making a claim "Better City, Better Life" on the side of the plane. Update: a reader pointed out that this is the slogan from the 2010 Shanghai Expo.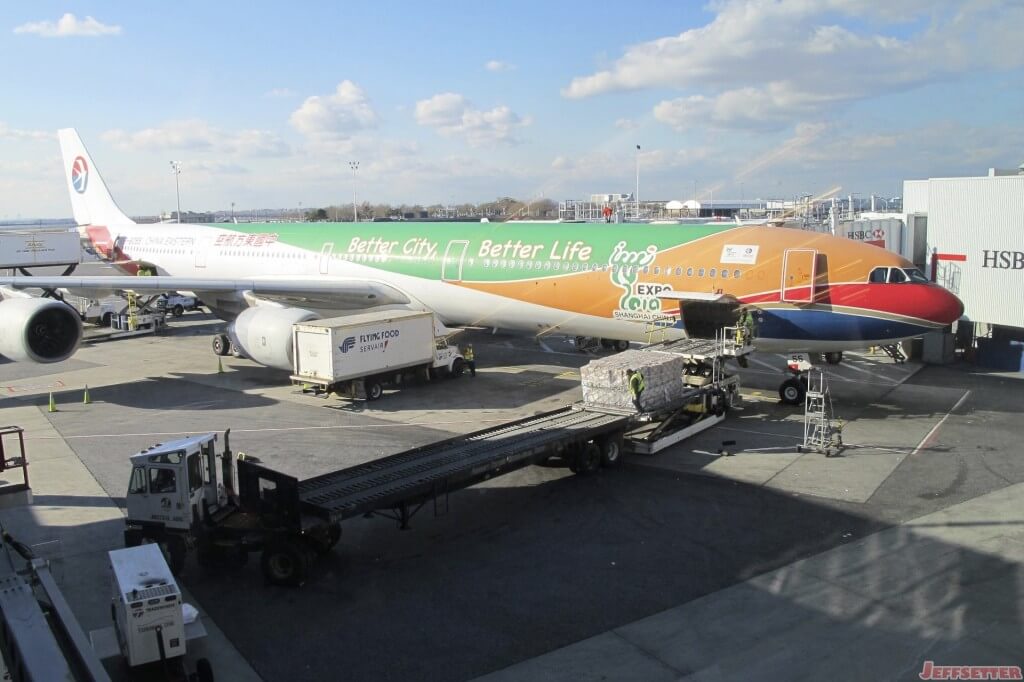 I had high hopes for the Alitalia Lounge, thinking that since it was in an international terminal there would be solid food and beverage options compared to the domestic lounges of the US.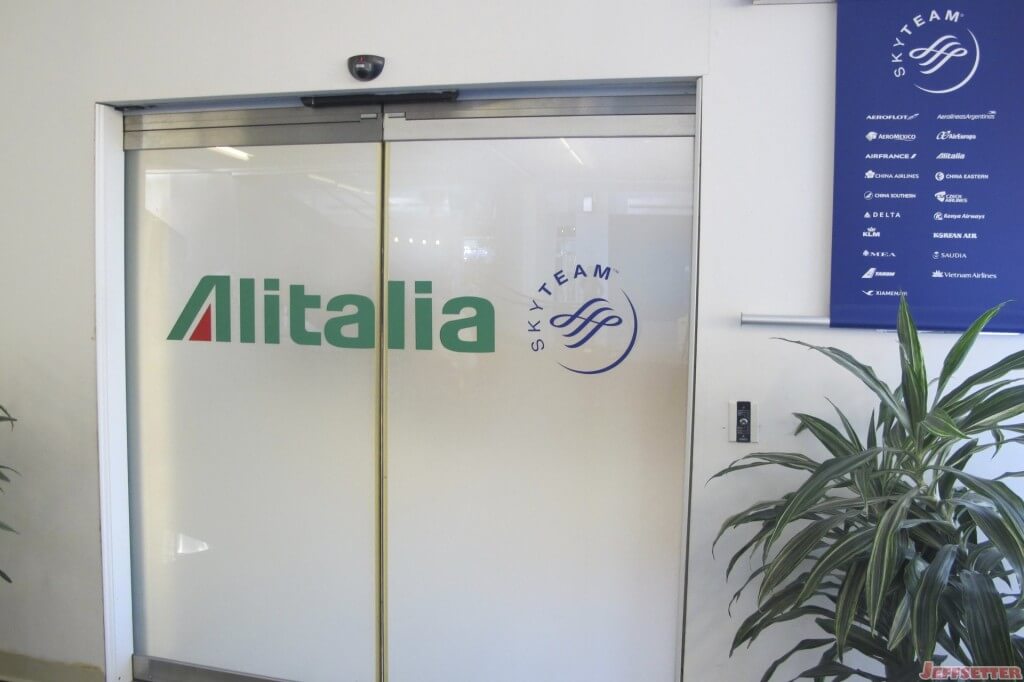 Check in was painless and past the entry desk we saw an inviting and stylish lounge that had an Italian feel to it.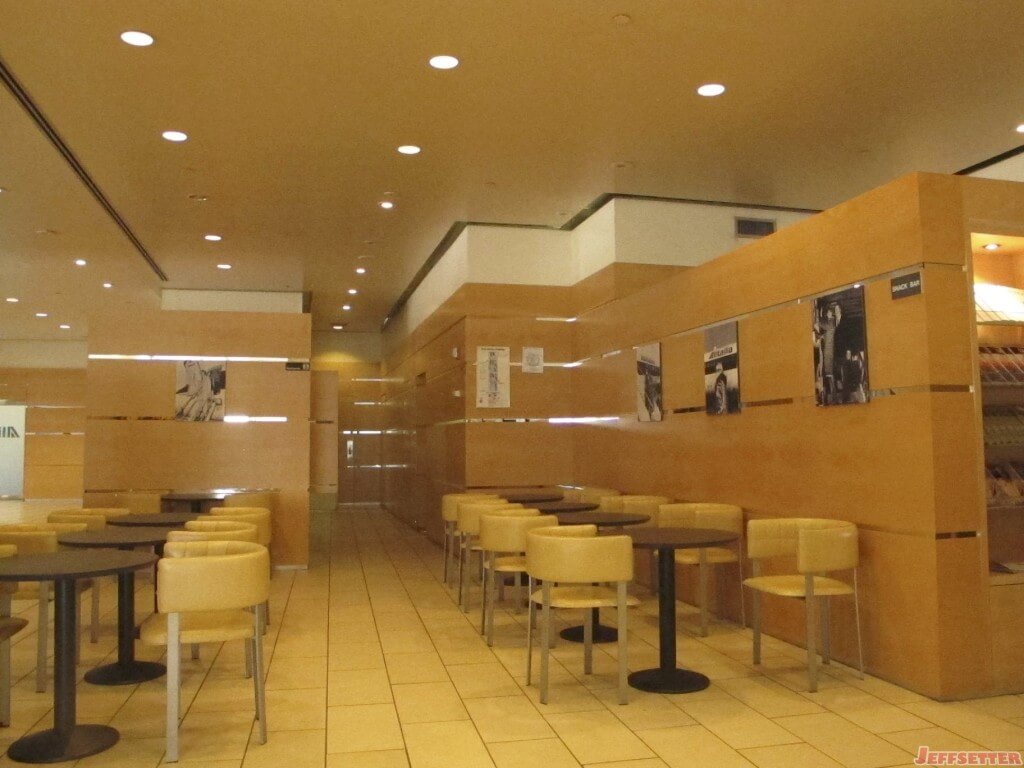 The walls were decorated with pictures of Alitalia flights from the past and I would presume that the couches were made of Italian leather.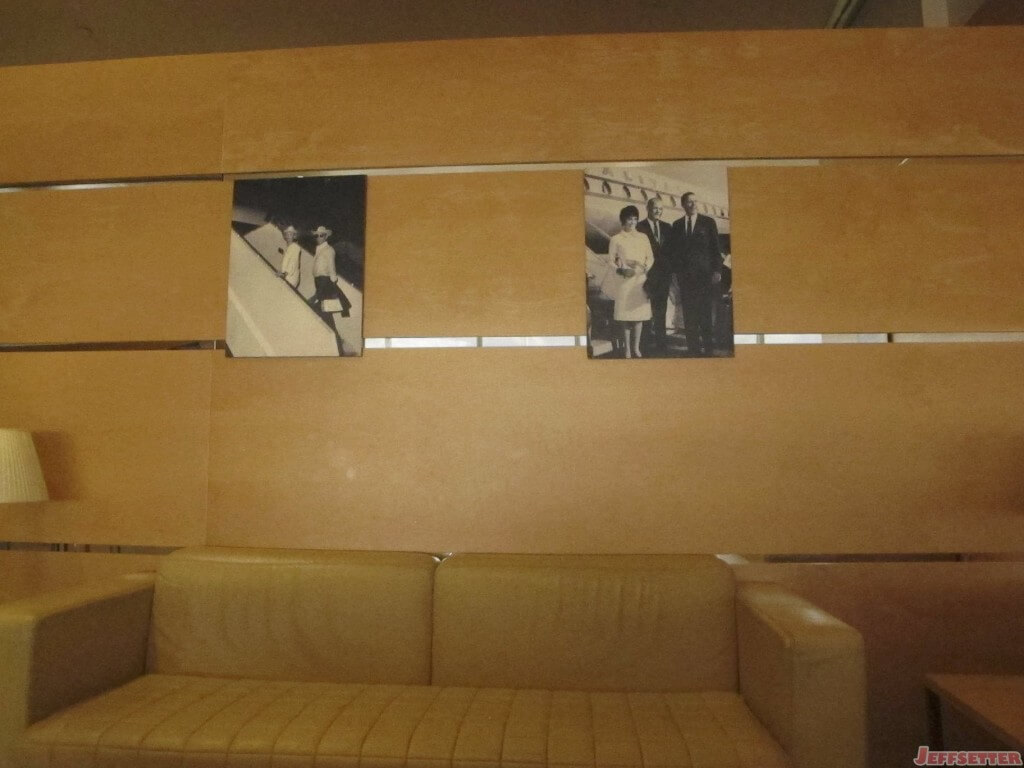 There were also many large windows overlooking the tarmac, which gave us several opportunities to see big planes arriving and departing from this terminal.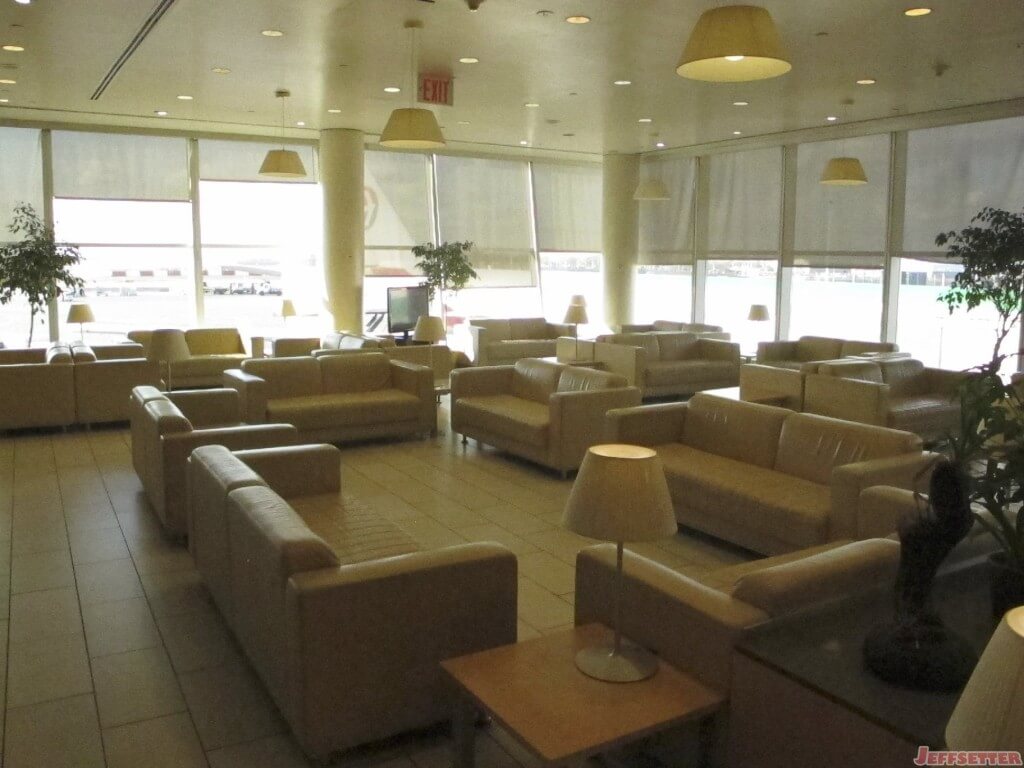 We tucked ourselves away in a quiet corner of the lounge and fired up our laptops to research Milan, answer emails and I even managed to get a blog post out.
Food and Beverage Options in the Alitalia Business Class Lounge at JFK
The kitchen area of the lounge was tiny compared to the number of seats available. I would not have even noticed it was there if I wasn't looking for it.
As a fan of wine, I appreciated that they stocked a very small beverage area with bottles of red, white and sparkling wine. It was still a little early to start indulging when we first arrived at the lounge, so I simply made note of my options and explored the rest of what they had to offer in the kitchen area.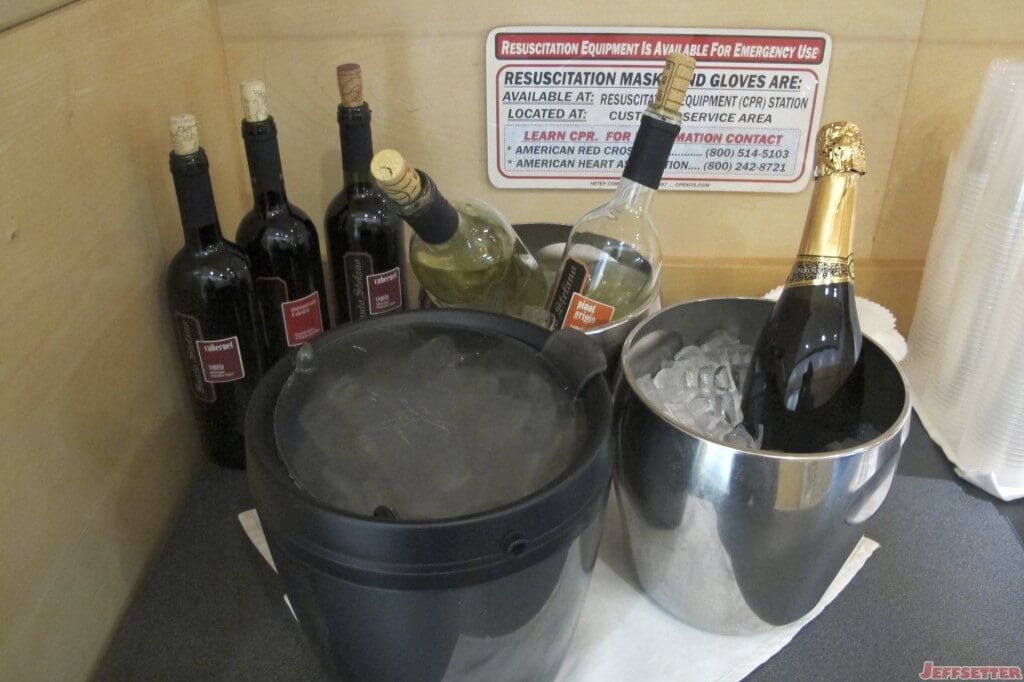 There were cold snacks, cheeses and sparkling water in one of the fridges.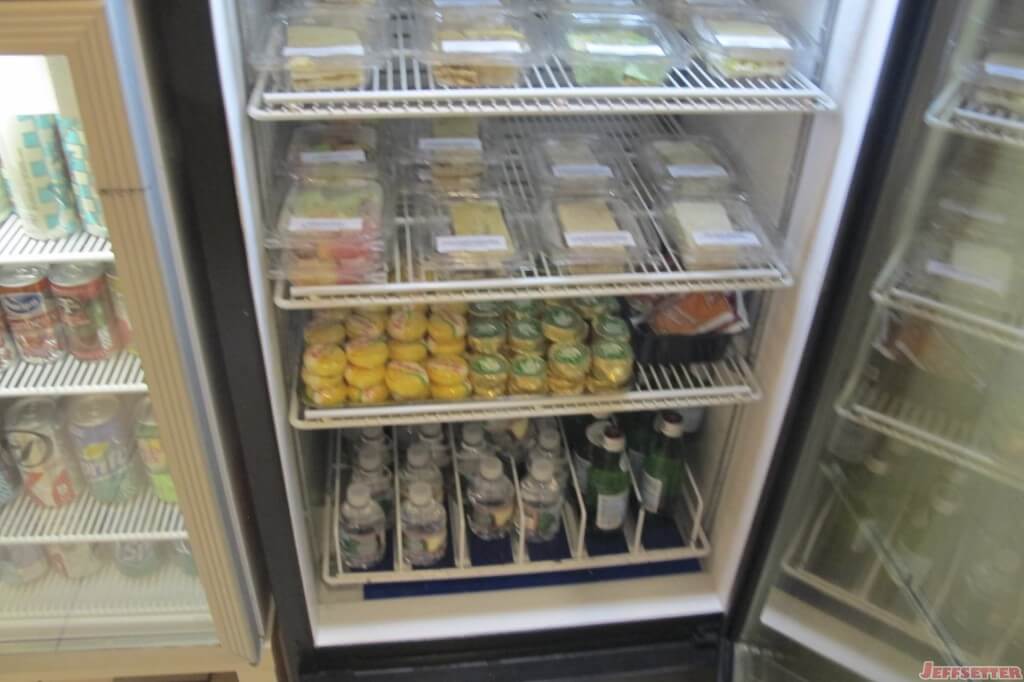 There were bottles of liquor and packaged snacks available.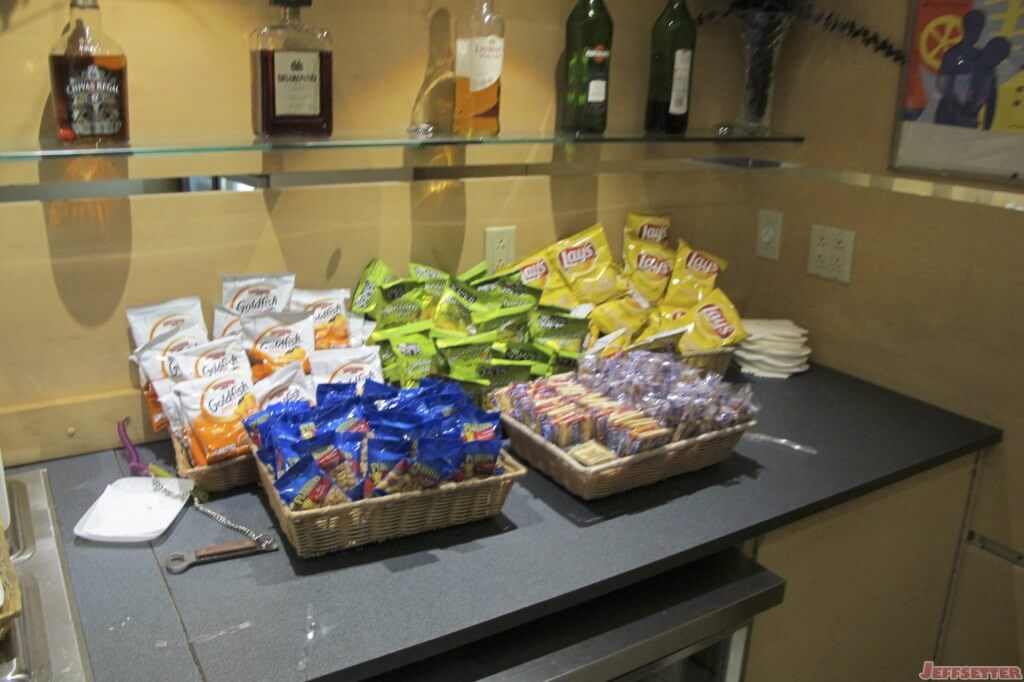 Another fridge with soft drinks, juices and water.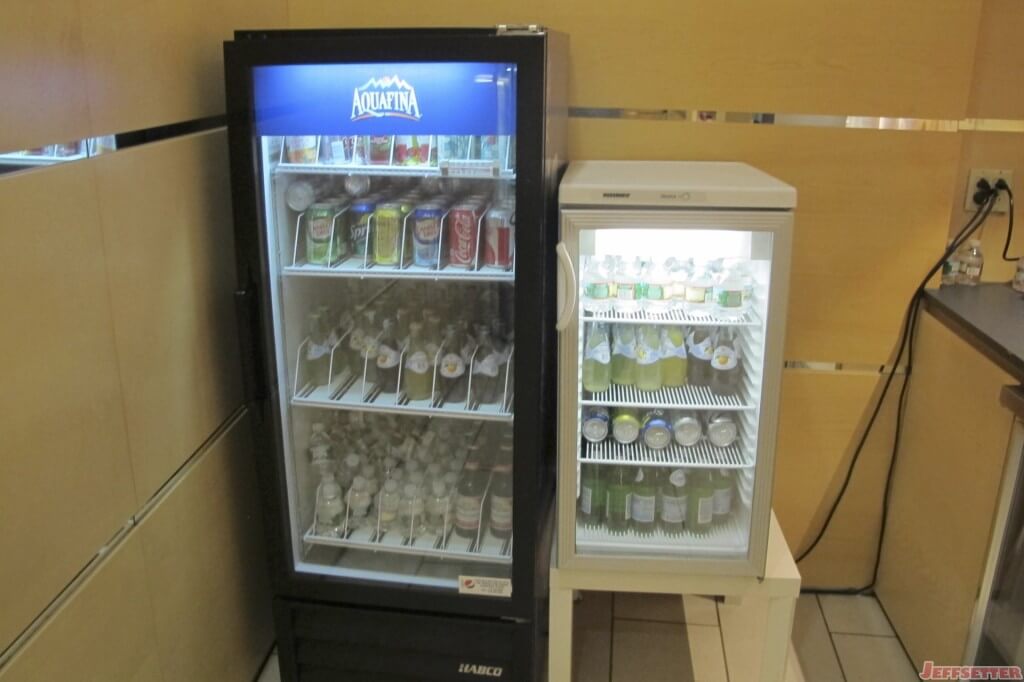 And an amazing espresso machine that I was not particularly qualified to operate (I needed help from an attendant to get it to work).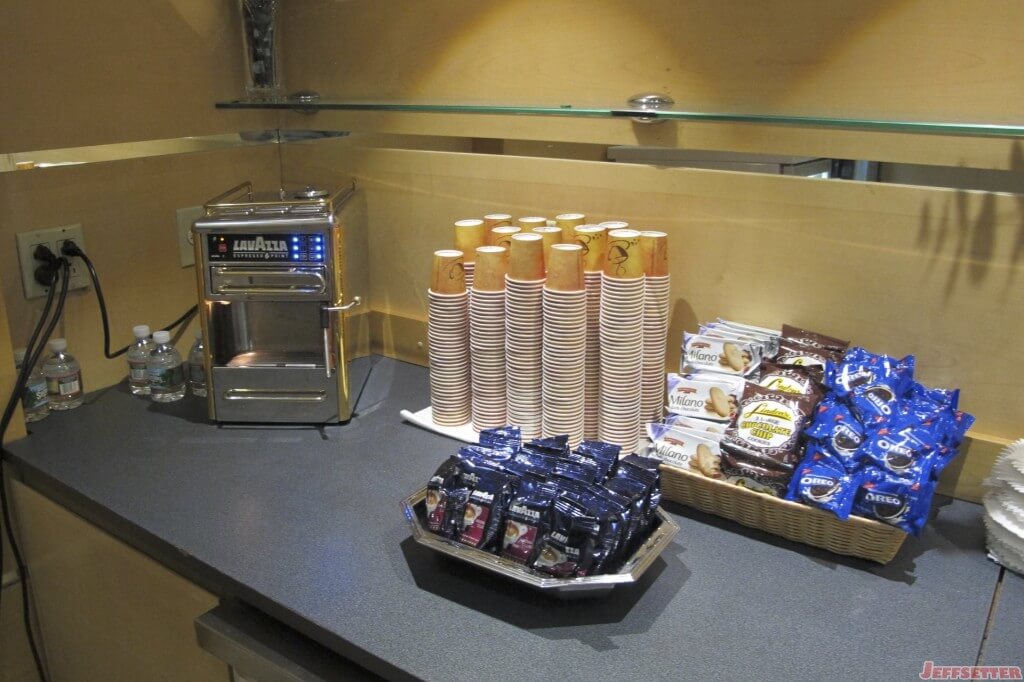 Compared to just about any other lounge on the planet, the Alitalia lounge offered only modest refreshments for patrons. This may be partially because they are only open 4 hours before flights begin, or because there are only a few flights that actually use this lounge on a given day. Either way, I appreciated the lounge most for its comfort and considered the refreshments secondary.
The Views from the Alitalia Business Class Lounge
We were seated in an area of the club that offered us a nice view of the planes coming in and out of the terminal. While it was awesome to watch while sitting, the reflection on the glass of the windows prevented most of my photos from turning out.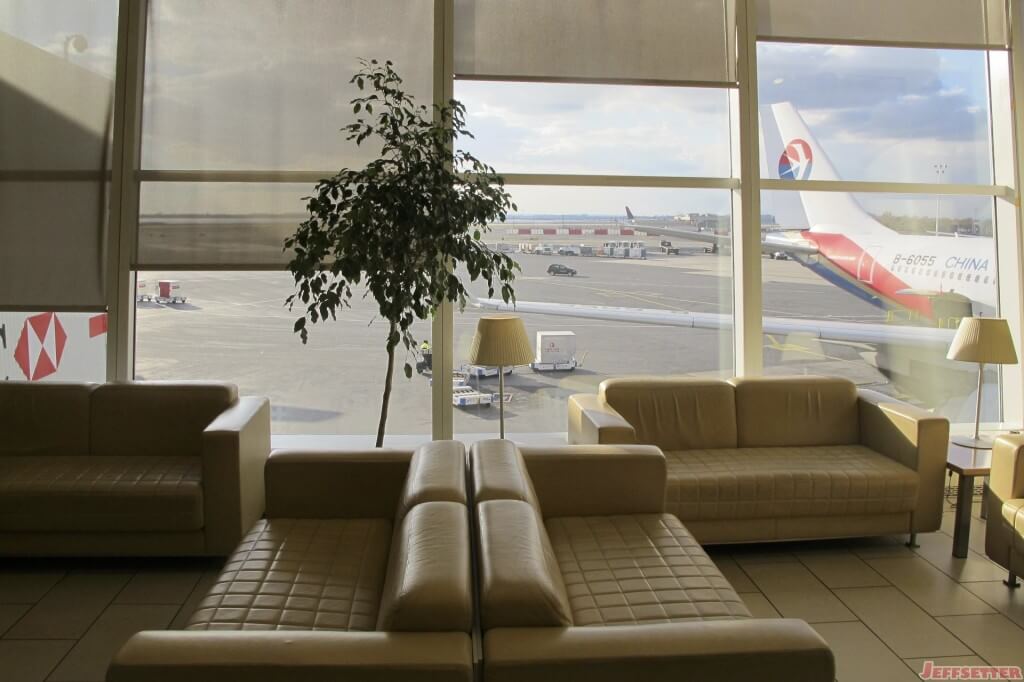 As we watched the sun set over New York City, a Lufthansa 747 taxied past the window and I was able to get a photo of the plane next to the sunset. After snapping a few photos, an attendant from the lounge also broke out her camera phone and started happily taking pictures of the view. She must have taken 15 photos and was very proud of her results!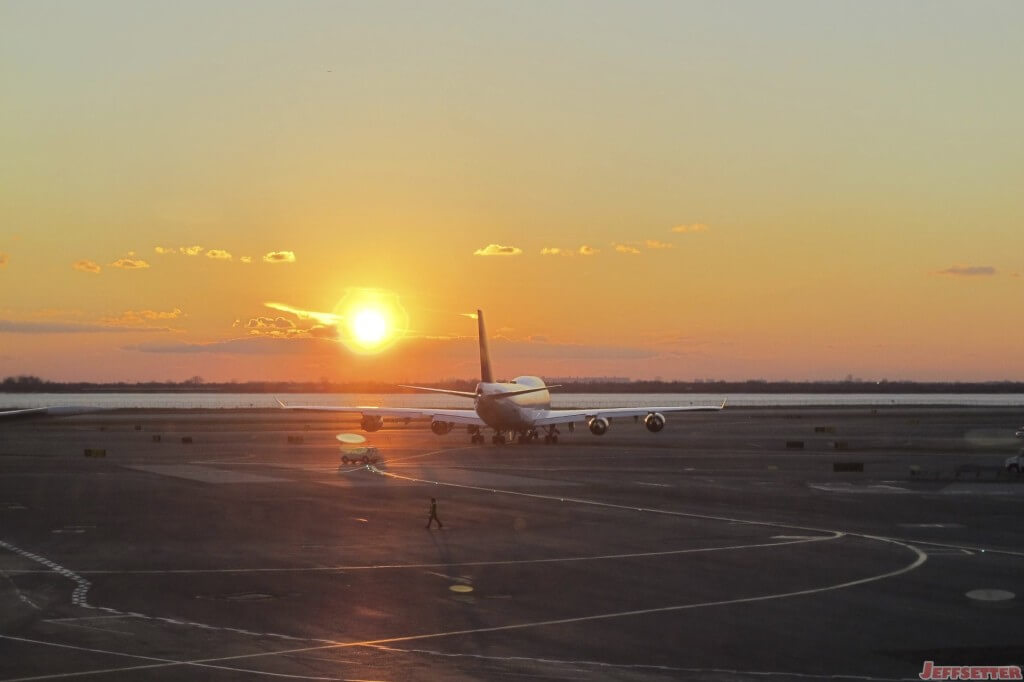 Overall Impressions of the Alitalia Lounge
This is a very comfortable lounge, but it is also very loud with the way it is configured. Sound from a television half way across the lounge carries all the way to the most tucked away corners. Before a major flight begins to board the sound becomes almost unbearable without headphones.
The food options were minimal, and I highly recommend you eat elsewhere if you are flying Alitalia from Terminal 1. The restaurants in Terminal 1 were mediocre and the food in the lounge was minimal. If you are showing up 8 hours early to your Alitalia flight, try to entertain yourself at Terminal 2 or Terminal 4 where there are more options available before clearing security.