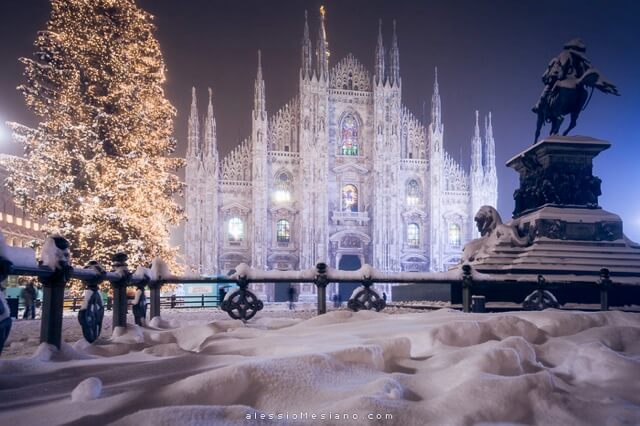 I wrote a few weeks ago about how I pulled the trigger for a trip to Milan the day after Thanksgiving with Mrs. Jeffsetter. For those of you who didn't have a chance to read the article, here's the rundown of the mileage earning opportunity:
Alitalia was offering cheap business class fares from the US to Italy through September 30 on travel around Thanksgiving and Christmas. These business class seats were as low as $1,990 round trip to Milan from New York.
A few days later, I received another note from Alitalia that I would receive a minimum 5,000 mile bonus on Alitalia or Delta each way for traveling from New York to Milan before the end of the year. These promotions were stackable and could lead to significant mileage earning into my Delta Skymiles account.
Booking the trip in business class also promised at least 12,000 MQM's for the round trip vacation.
It provided me a chance to fly two new International Business Class cabins:
After booking the trip on a whim, I solidified our plans by transferring 66,000 Chase Ultimate Rewards points to my Hyatt account and booking 3 nights at the Park Hyatt Milan, which is TripAdvisor's #1 Rated Hotel in Milan. I wrote about how this was done in my article about recent points and miles redemptions. We are very excited to spend a long weekend in Milan and I personally can't wait to photograph the Milan Christmas Markets at night (catch a hint of Christmas in Milan in the above photo).
Exactly How Many Miles Will this Milan Mileage Run Earn?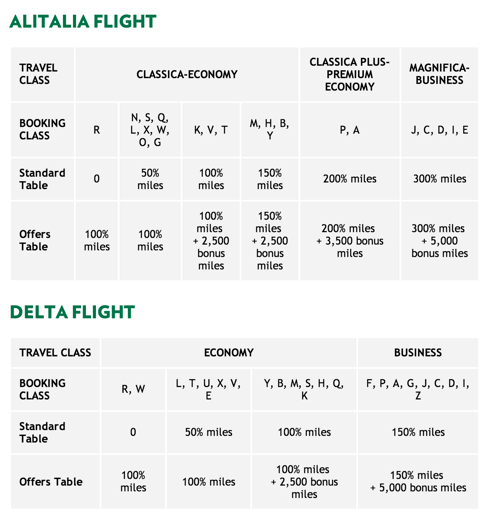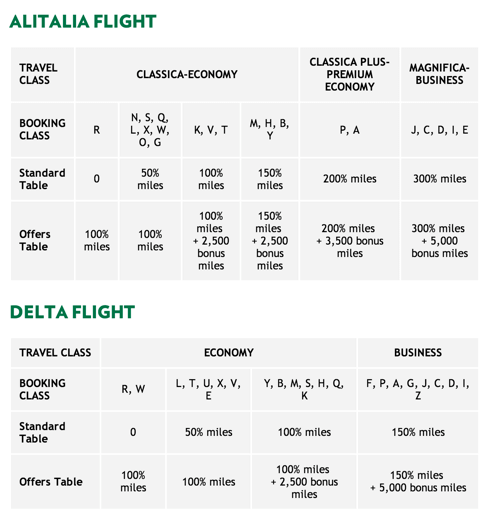 I estimate that as a Platinum Medallion Delta member, I will earn 48,199 miles for this flight. Here is a breakdown of how I expect that to happen:
Mileage Flown: 8,042 Miles Earned (4,021 miles each way)
Class Bonus from Promotion for Alitalia: 13,042 Miles Earned (4,021 X2 + 5,000 Bonus Miles)
Class Bonus from Promotion for Delta: 7,010 Miles Earned (2,010 + 5,000 Bonus Miles)
Platinum Medallion Miles Bonus from Delta: 8,042 Miles Earned (100% Bonus for MIles Flown)
MQMs Earned on Delta: 12,063 MQMs Earned (8,042 Miles Flown + 50% Class Bonus) * Note – This is the part I am not 100% sure of. I received a 50% bonus for Air France Business Class in the past. Could be more, could be less.
Total Miles Earned: 48,199 Miles (12,063 will help me earn elite status on Delta).
Total Spent: $1,990
Total Cost Per Mile: 4.12 cents per mile
While from a pure mileage earning perspective, this is not the most efficient mileage run. Others could earn miles at a much more reasonable rate, but there is one major difference in my mind:
They will be miserable in Coach while I am sipping champagne in Business
Call me a mileage earning snob, but I just value my time and health far too much to take 10 flights across the US in order to earn miles. While I admire others who are able to do this, I would rather pay a little more to be comfortable.
Why I Really Didn't Spend $2,000 on the Flight
While the amount of cash spent on the flight was nearly $2,000, I value the miles earned at $963.98 (48,199 miles at 2 cents per mile). While others may feel that Skymiles are not worth anywhere near 2 cents per mile, I will only use my Skymiles when I find flights that deliver this value per mile. That means in my case this is the value of the miles earned. It's actually more than that given how much I value MQMs.
Add it all together and i spent just over $1,000 to spend a magical and luxurious weekend with my wife in Milan (she even bought her own ticket). Doing a mileage run doesn't have to be stressful. In fact, I'm going to find this particular tip to be quite relaxing.
What are your mileage earning preferences? Would you pay more to be comfortable and turn mileage earning into a fun vacation? Or do you go for the challenge of paying as little as humanely possible to earn miles?
How many of you think I'm crazy for earning miles on Delta in the first place?
Photo Credit: Alessio Mesiano via Compfight cc