We're about mid-way through December, so its time to find out what the Chase Freedom Q1 2017 bonus categories are.  And the mix of merchant types is quite different this time around.
With December half over and 2017 coming to a close, its time to discover what our first Chase Freedom bonus categories for 2018 will be.  And while there is a repeat merchant type (gas stations), Chase is changing things up a bit for 2018.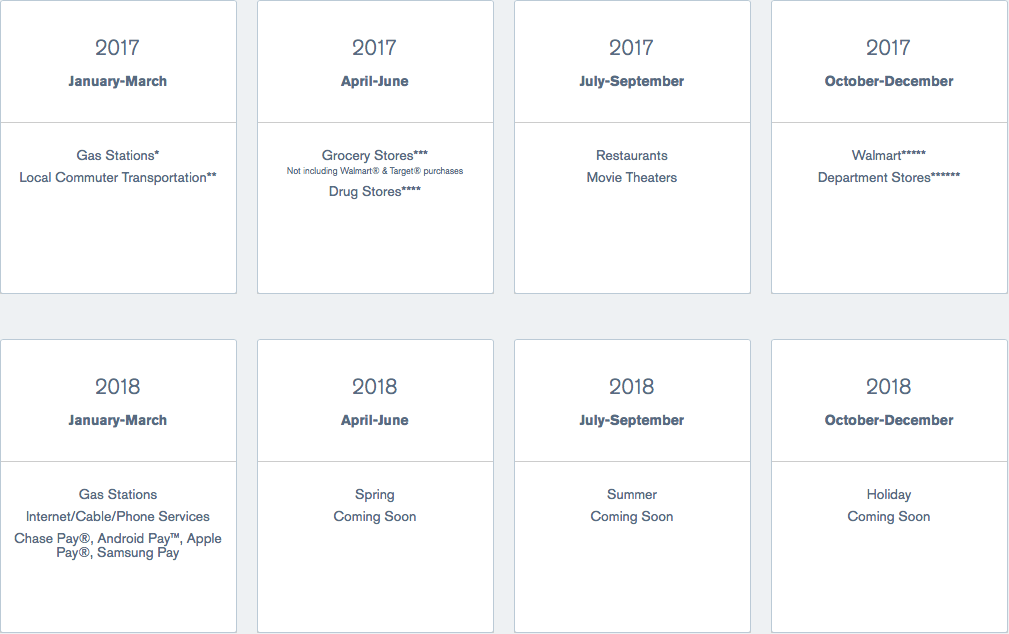 As you can see, instead of Local Commuter Transportation, which was a *meh* category anyway, Chase has now included telecom-type merchants.  That's a bit more useful for me, as I do have internet and cable service with Spectrum, as well as cell phone service with Verizon.  For many folks, that's already a going to be at least $600 in bonus category spend during Q1 2018.  But it gets even better since Chase has also included Chase Pay, Android Pay, Apple Pay, and Samsung Pay transactions.
Mobile Wallet Bonus
The mobile wallet bonus is perhaps the most generous Chase has given us with the Freedom card to date.  Essentially, this allows you to earn 5x points on virtually any purchase, especially if you're a Samsung Pay user.  Why?  Because Samsung Pay uses a technology called Loop Pay, that lets you do a contactless transaction at any terminal with a magstripe reader.  It doesn't require (but will work with) NFC technology like Apple and Android Pay does.  But, it's not like Apple and Android Pay users are left in the dark either.  The number of merchants accepting these two wallets has been growing.  For the latest list of merchants accepting NFC check out Apple and Android's websites.
For me, this is awesome.  This is a bonus category I'll most likely be able to maximize.  I pay for telecom, I often drive (gas), and most of the places I shop at, at home do accept Apple Pay.  This includes Safeway, Times Supermarket, Foodland, Whole Foods, Best Buy, Jersey Mike's, The Street HNL, and even the lady that cuts my hair, among others.
No Stacking
What you can't do with the mobile wallet category is stack your bonus spend.  So, if your telecom provider accepts Apple Pay and you make your payment that way, you can't double up your points.  Instead, you'll earn the straight 5x rewards that you usually would have.  However, it's not like many gas stations, or telecom providers accepts NFC payments anyway.
Chase Freedom Q1 2018 Bonus Categories, Final Thoughts
I lamented the day Chase stopped offering Amazon as a Q4 bonus category.  Losing the wholesale club category, Chase ran all year to counter Citi gaining Costco's portfolio sucked equally bad.  But this mobile wallet category is, in my opinion, an even greater opportunity than those other two categories.  I will do what I can to maximize my spend using mobile wallets in Q1 2018 and will cross my fingers they extend or repeat in the future (though I highly doubt it).