Earlier this month I reviewed the newer Duke Lane Market & Eatery.  However, The Street HNL Social Hall at the International Market Place has been around longer and is someplace Mrs. Island Miler and I dine at more.
Food halls are becoming a thing in Hawaii, just like in many other parts of the U.S.  And in recent years we've seen quite a few open in Honolulu.  First came the Shirokiya Japan Village Walk, followed by Waikiki Yokocho Gourmet Ally, then The Street HNL Social Hall, Duke Lane Market & Eatery, and finally The Lanai at Ala Moana Center.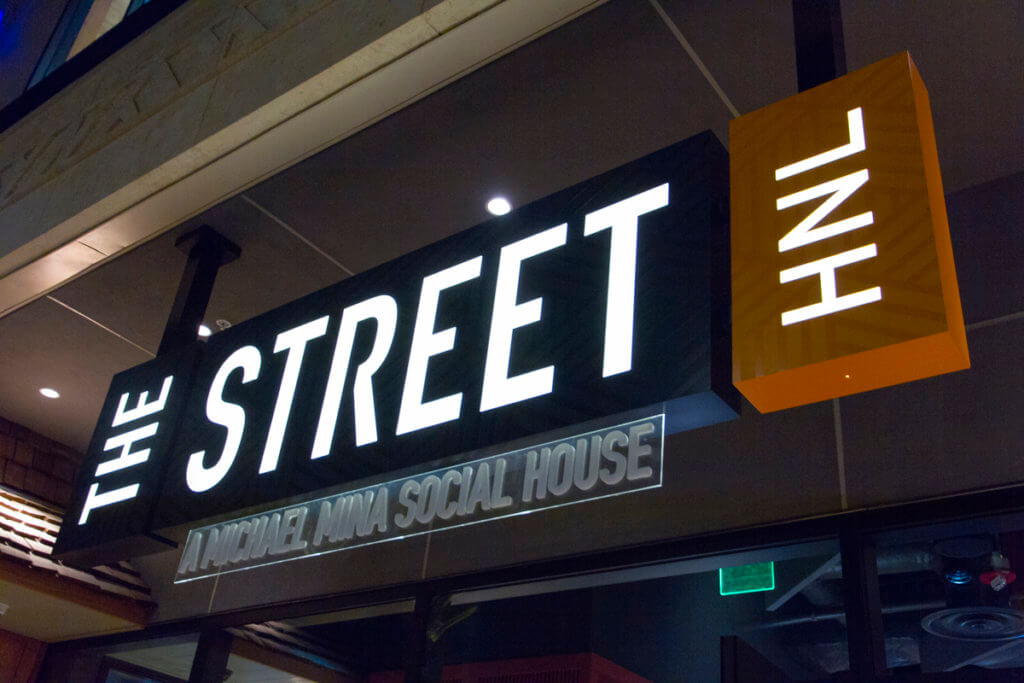 Concept
Like many food halls, The Street HNL is a collection of different eateries.  But unlike many others, this one is the brainchild of Michelin-rated chef Michael Mina, whom personally selected each vendor, or "hawker," for his food hall.  And those vendors include:
Adam's Nana Lu – pizza and pasta by Chef Adam Sobel
Aloha Ice – shave ice by MW Restaurant's Michelle Karr-Ueoka
Beer – beer… duh
Chocolate Bar – artisan chocolates
Indie Girl – juices, bowls, smoothies, kombucha, and more
International Smoke – Ayesha Curry's fusion barbecue stand
Kai Poke – Chef Gerald Chin's modern interpretation of poke
Lamill – Craig Min's coffee house with grab-n-go items and pastries
Little Lafa – Chef Michael Mina's Mediterranean/Egyptian food
Maui Onion Burger – Chef David Varley's big smash burgers made with Maui onions
Mindful Greens – Salads of all kinds
The Myna Bird – Specialty Bar
The Ramen Bar – Chef Ken Tominaga's ramen, curry, and more
Atmosphere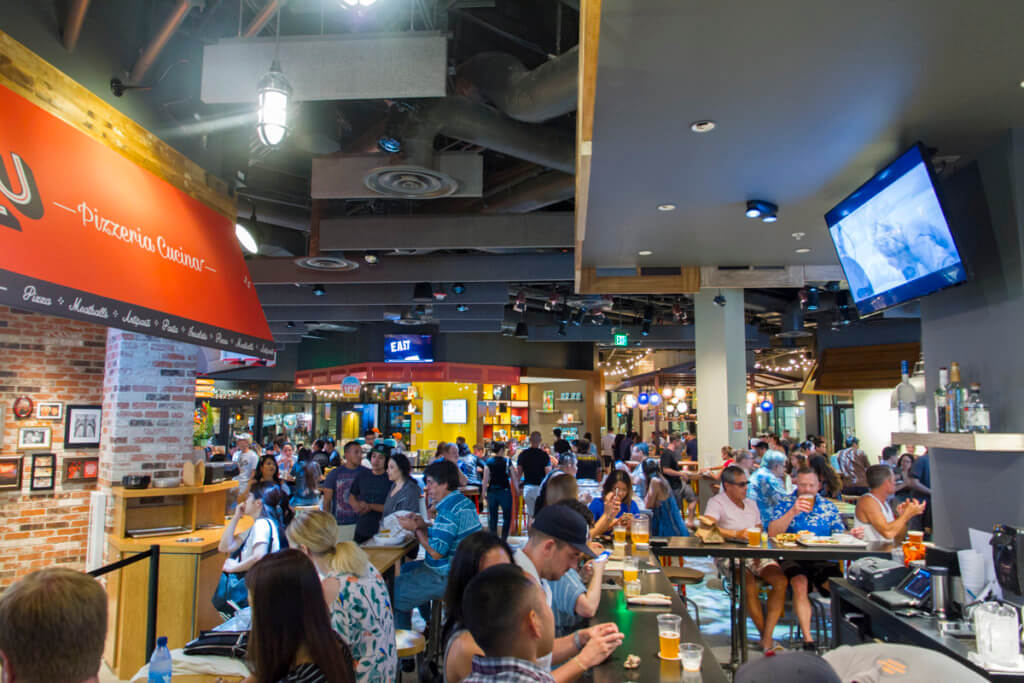 Of the five food halls in Honolulu, The Street HNL is the most party-like.  The atmosphere is very lively, meaning loud, though it's also the one with the largest variety.  There's a number of TV's playing live sports around the bar areas and on certain nights, there's live entertainment too.  So you definitely won't get bored at The Street HNL, but if you're looking for a quiet or intimate meal, this obviously isn't the place.
My Take
Of the places available to dine at The Street HNL, Mrs. Island Miler and I have tried Aloha Ice, International Smoke, Kai Poke, Lamill, Little Lafa, and The Ramen Bar.  And of these places, Aloha Ice and Little Lafa are our favorites.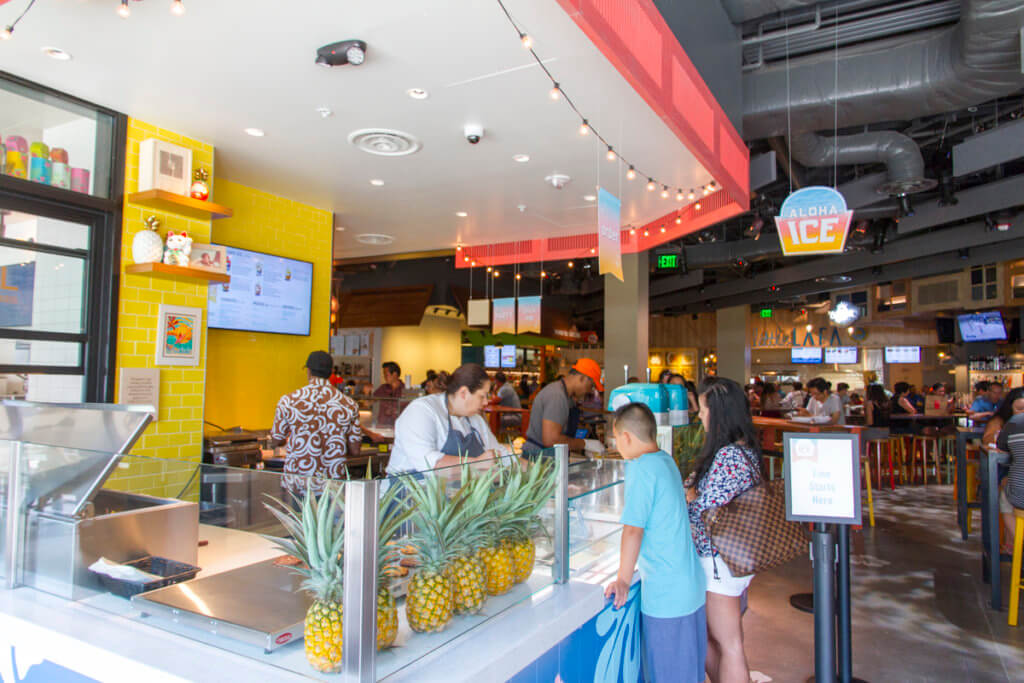 Aloha Ice
It's hard to go wrong with Michelle Karr-Ueoka's shave ice making Aloha Ice a solid option.  However, the shave ice here is different from the traditional type.  No artificial flavors here, the shave ice here is made out of real fruit, coffees, etc.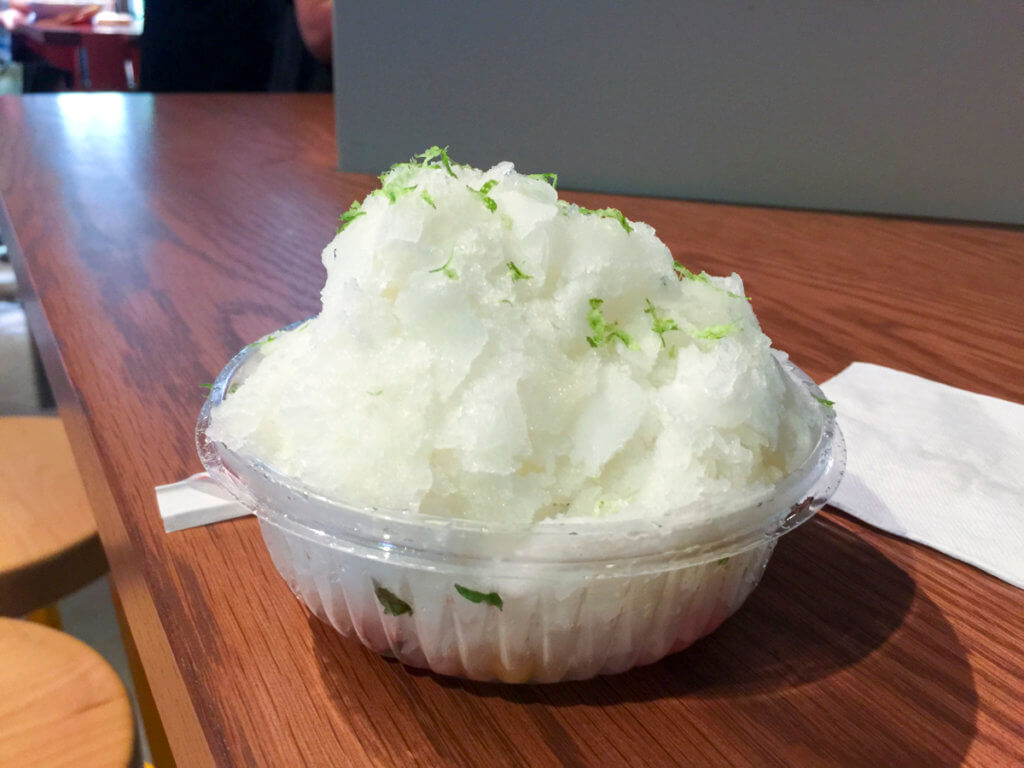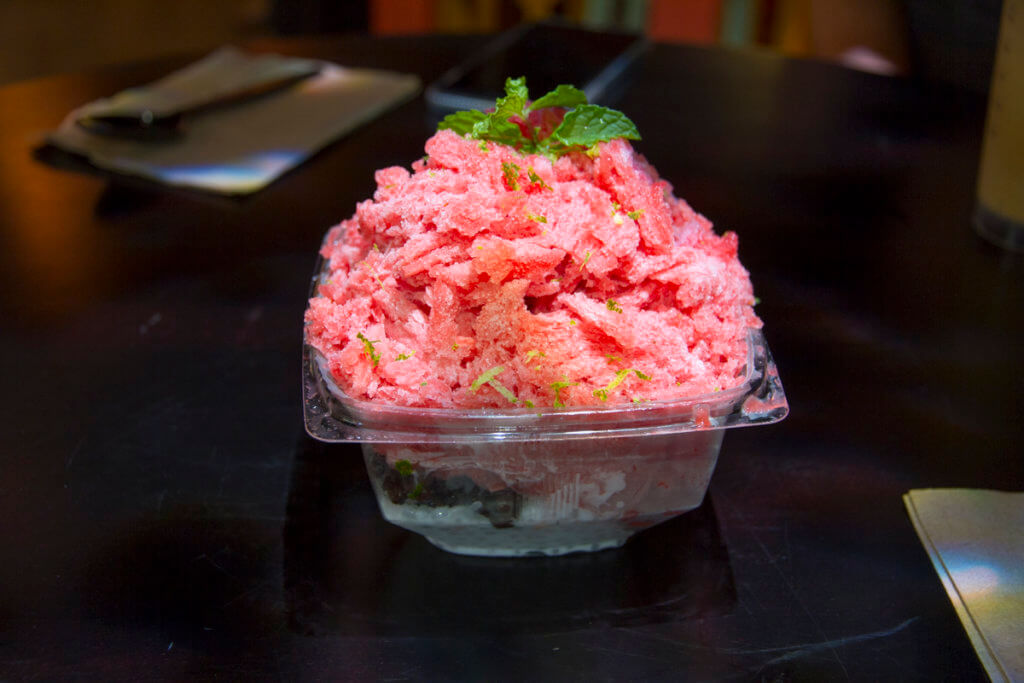 So far, we've tried the Asian Mojito, and the Strawberry Hibiscus shave ices.  As you'd imagine, the Asian Mojito is lime and mint shave ice over lime sorbet, fresh fruit, and mochi.  The Strawberry Hibiscus, on the other hand, is strawberry hibiscus shave ice with haupia tapioca, Tokachi Azuki Beans, strawberry yuzu sorbet, mochi ice cream, and li-hing strawberries.
The lemon sorbet was very tart, almost bitter, but overall was very refreshing.  The strawberry version was sweeter and creamier and good.
Little Lafa
Good Mediterranean/Middle Easter food is hard to come by in Hawaii too, and Little Lafa is good.  But consistency is not their strong point.  Just look at these photos of the same dish during various visits.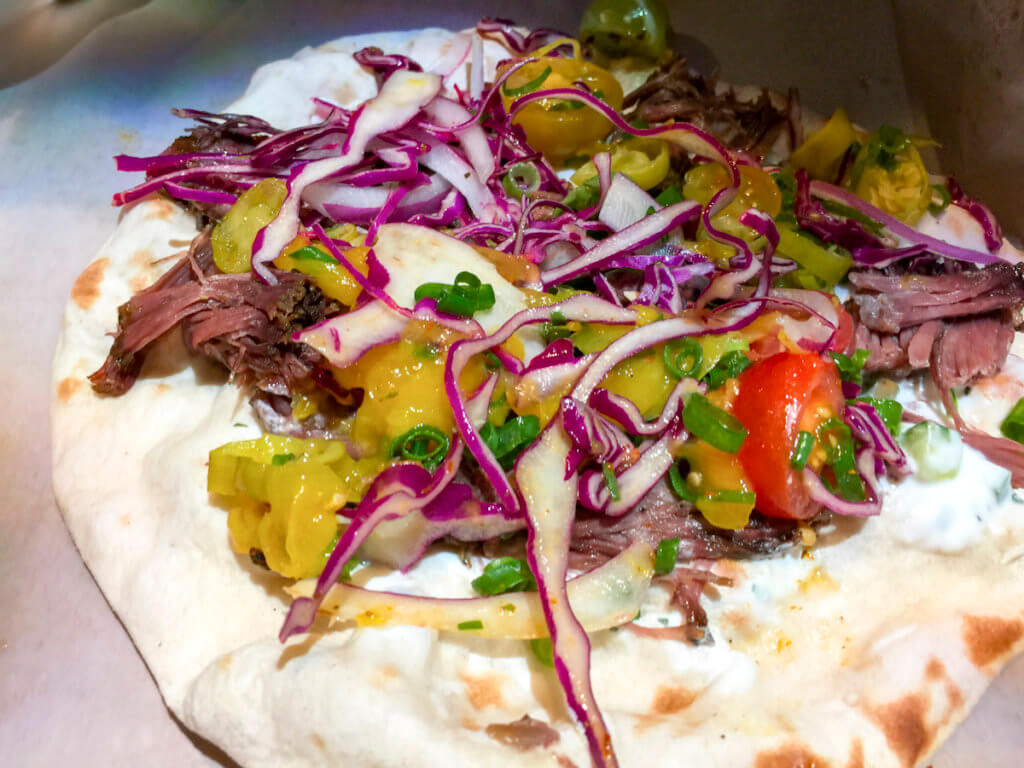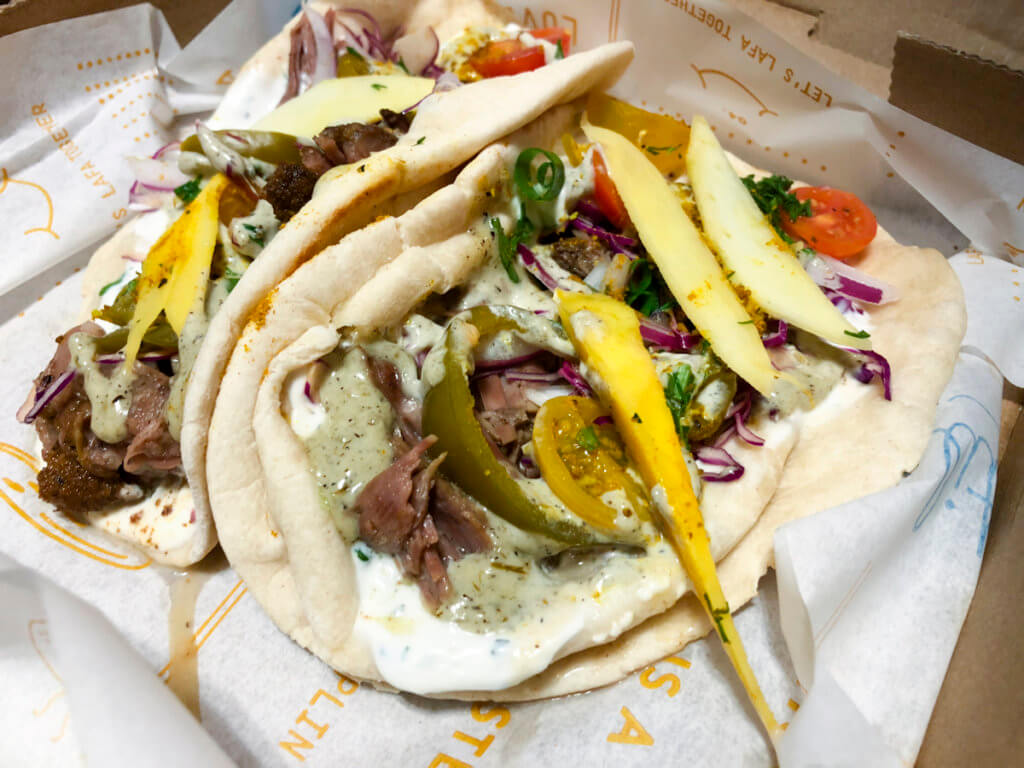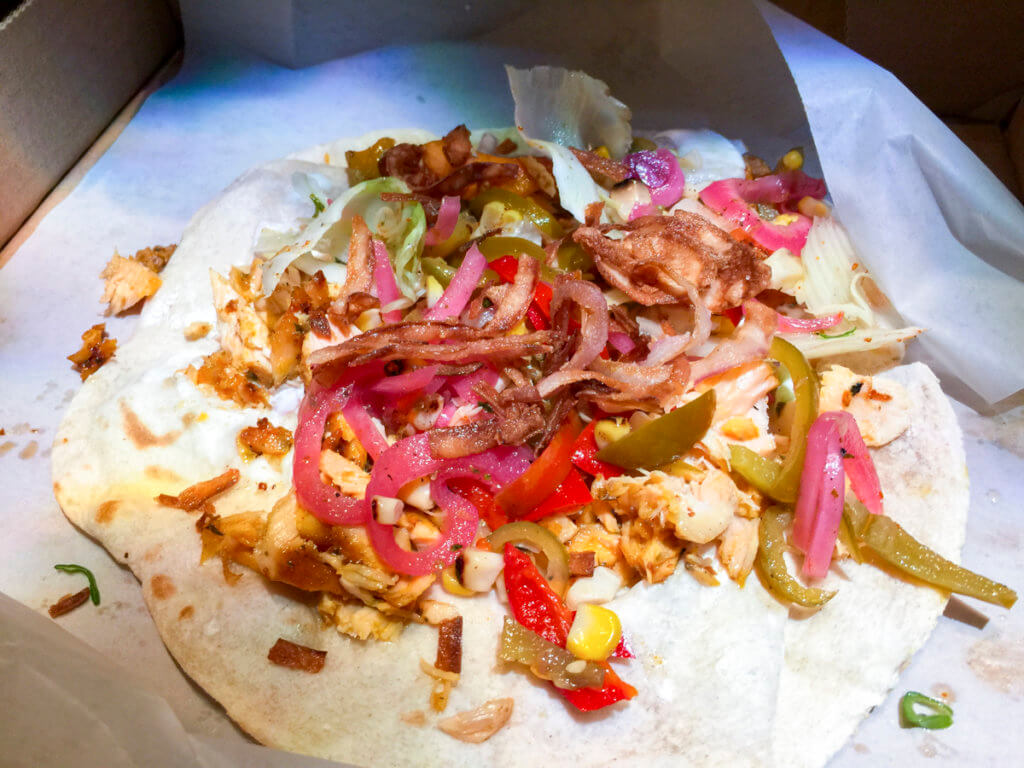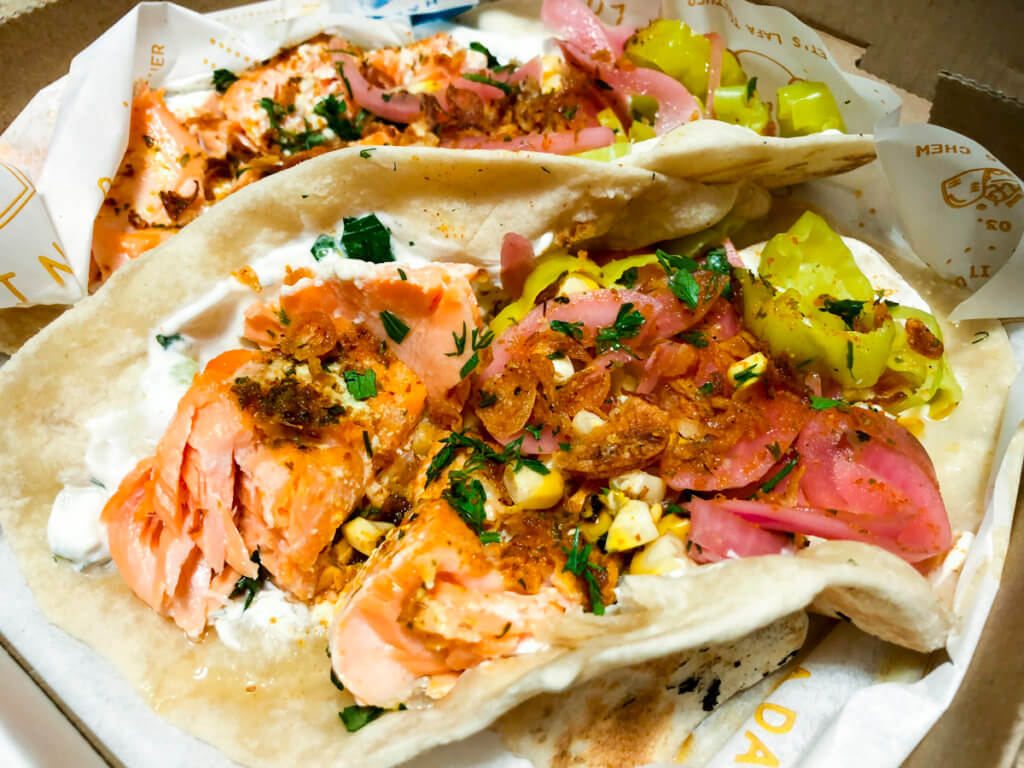 The Frozen Limonata is pretty consistent, though.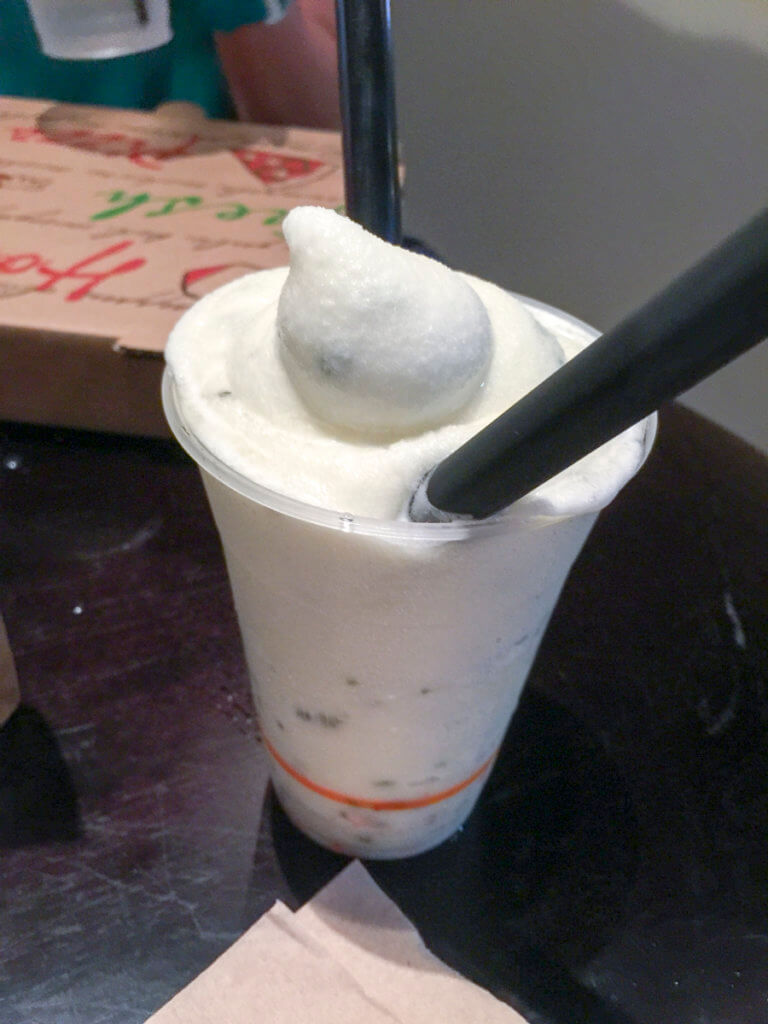 Overall, though, the Lafas are really good.  We love the Yemenite Short Ribs and the Chermoula-roasted salmon.  They're such a great combination of meaty, umami, creamy, spicy, and acid.
Kai Poke
For us, Kai Poke was really hit or miss.  We only tried the place once, so we've only tried one poke bowl and the poke tacos.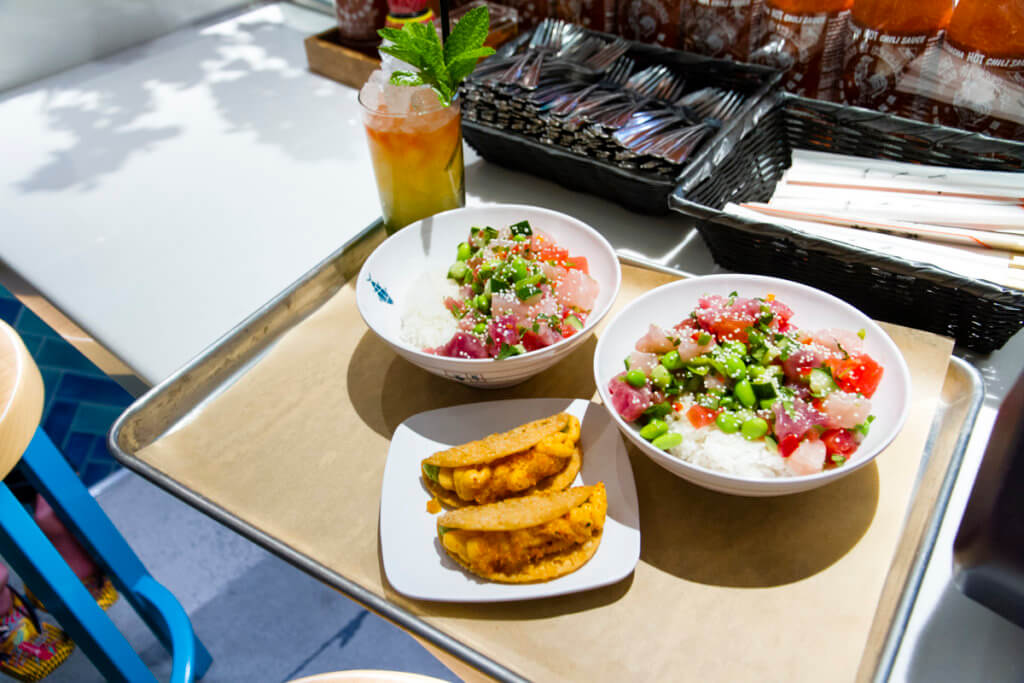 Perhaps we shouldn't have both ordered the same thing, but we did because the G-Man's Ahi & Nairagi looks really interesting.  Unfortunately, it missed the mark, being a bit bland and having what seemed like more vegetables than fish.  The spicy ahi poke tacos, though, were fantastic.  I'd give Kai another try.
Lamill
The Street HNL's coffee shop is, like Kai Poke, a little hit or miss.  We haven't tried the coffee here but had a few of the snacks.  I can confirm their chocolate chip cookies are good, and the sweet potato mochi doughnuts are good, if not a little oily.  But the haupia dessert we tried was a little funky.
International Smoke
Ayesha Curry's International Smoke is a new take on traditional barbecue.  Here you'll find ribs done three ways, jerk chicken, beef, and more.  And, as you might imagine, the dishes have an international influence here.  So expect to see dishes like Chinese BBQ Pork Ribs, Cucumber Kimchi, Japanese Potato Salad, and Coconut Curry Cornbread.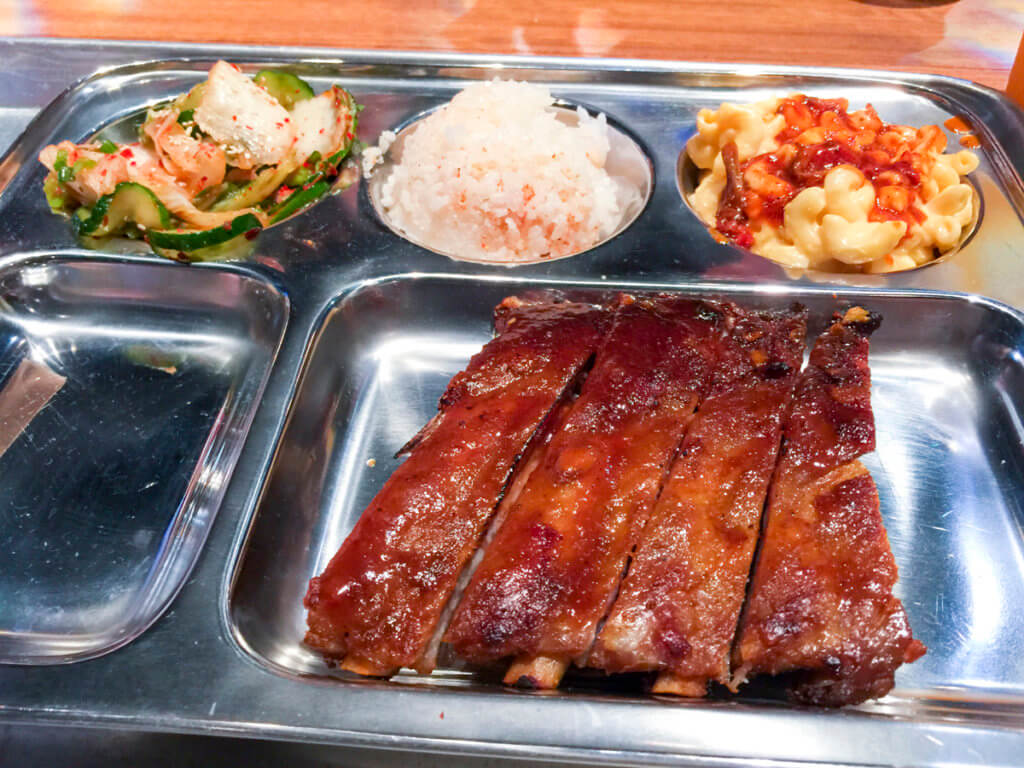 The one time we tried International Smoke, we had the St. Louis-style ribs, cucumber kimchi, Kaffir Lime rice, and burnt ends mac and cheese.  Everything was good and the ribs were fairly authentic, but not quite as good as the ribs I had in Texas.  And as you'd imagine, the ribs here cost WAY more than the amazing BBQ I had in San Antonio.
The Ramen Bar
Last but not least is The Ramen Bar.  Here, you'll find Tokyo-style ramen, Hokkaido-style, and more.  This time around Mrs. Island Miler and both ordered something different.  She had the ginger chicken ramen, while I went for the traditional Tokyo-style ramen.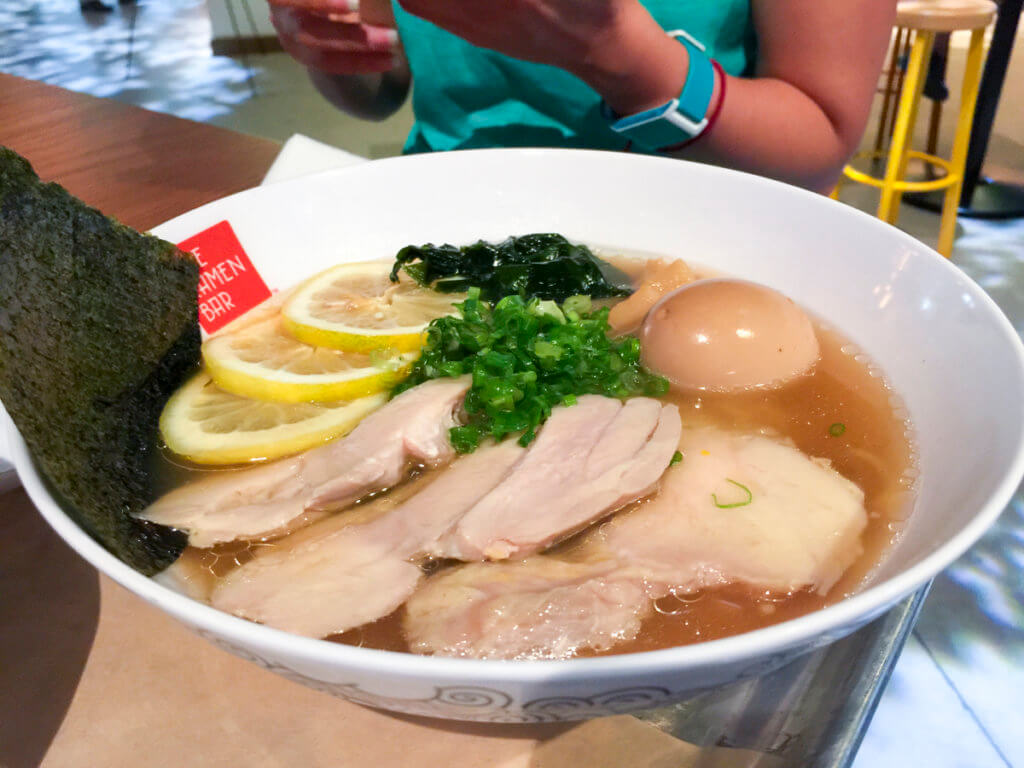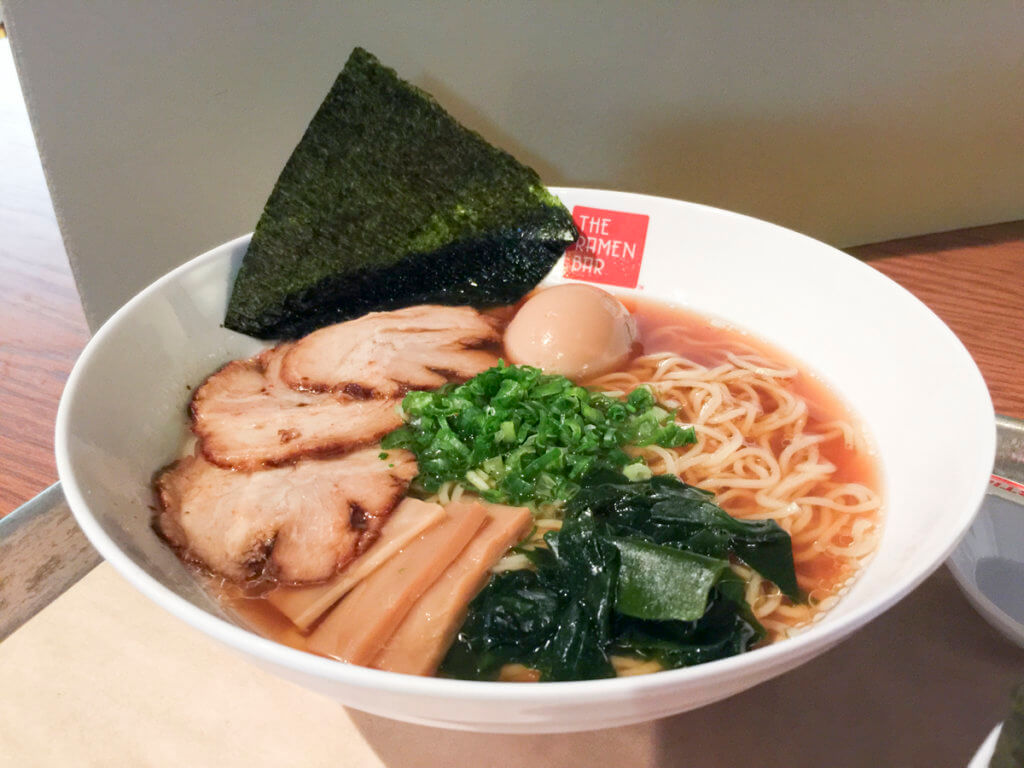 The Ginger Chicken was the best of the two, with great flavor, especially with the lemon.  Sadly, it doesn't look like they include lemon with this ramen anymore.  The shoyu ramen was ok, but nothing special.  Especially not for the price.  My pet peeve, though, is that the noodles were a bit on the soft side.
The Street HNL, Final Thoughts
Chef Michael Mina's first food hall is an interesting concept, but it's a little hit or miss.  I think consistency is the issue here, and the value isn't quite there, but it is Waikiki.  That being said, I do have my favorites at The Street HNL, so it's somewhere we do dine at from time-to-time.  There is a way to save some money if you're willing to give up some choices, though.  Available at the front desk, you can purchase a "Party Pass" for $37.  The pass is good for 30 days once you use it the first and lets you try seven different dishes.  The only issue is that each hawker stand offers only one Party Pass dish each day.  Alternatively, you can enjoy The Street HNL's Late Night Happy Hour.  From 10pm, you can get a plate for $10 with items from nearly all of the different stands.  Head over to International Smoke to get your $10 at 10pm special.