I've never flown Delta Air Lines or visited any of their lounges before but have always wanted to.  But thanks to a last minute trip to Utah and my Amex Platinum, I finally got to try both.  And, you know what?  I was very impressed by the Delta Sky Club Honolulu.
Now, before I get into the review, I want to apologize in advance for the poor quality of my photos.  The lounge, while not crowded, had a fair amount of people in it and was very quiet.  I didn't want to disrupt that by taking out my SLR and snapping away, so there are all phone pictures.  And, of course, they didn't come out all that great.
Check-In
I checked in for my flight ahead of time via the Delta mobile app.  It's worth noting, though, that any trip extras or upgrades to Comfort + or First Class must be purchased before check-in.  That being said, the check-in process is even easier with Delta than it is with Alaska Air.  I say this because once you check-in online or via the mobile app, all you need to do is go to the bag drop line at the airport.  There, they scan your boarding pass, weigh your bag, tag it, and you're off.  Plus, you can even track the location of your bag with the Delta mobile app!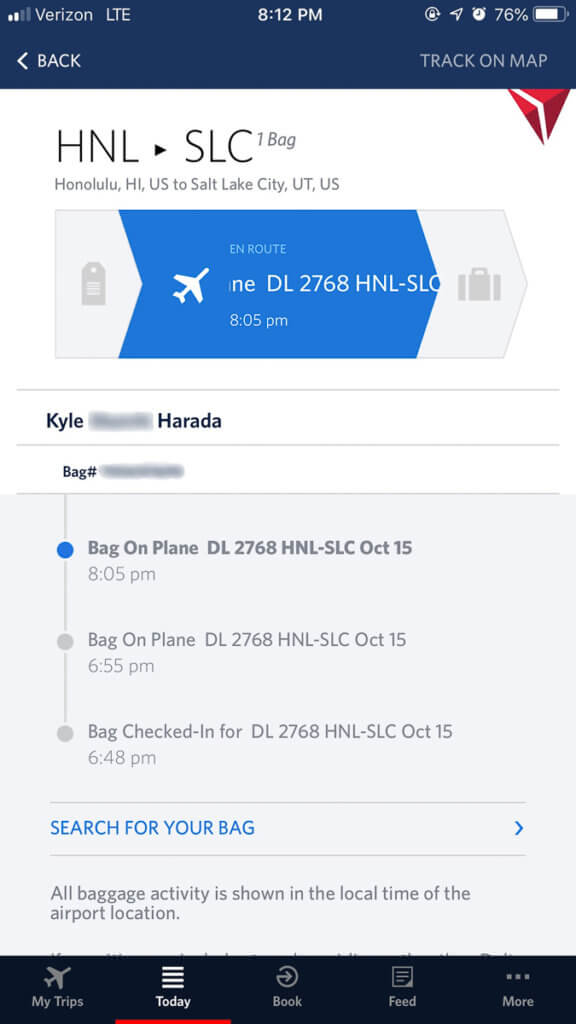 No tagging your own bag or going through a pain-in-the-ass process as is the case with Hawaiian.
Location
The Delta Sky Club Honolulu is in Terminal 2 at the Daniel K. Inouye International Airport, right across from gate F-1.  Yeah, the new gate numbering system still makes absolutely no sense to me.  But, whatever.  Being across from the gate, though, means that this Sky Club doesn't have any tarmac views or any natural light (during the day) to speak of.  But, you know what?  That didn't bother me as much as I thought it would.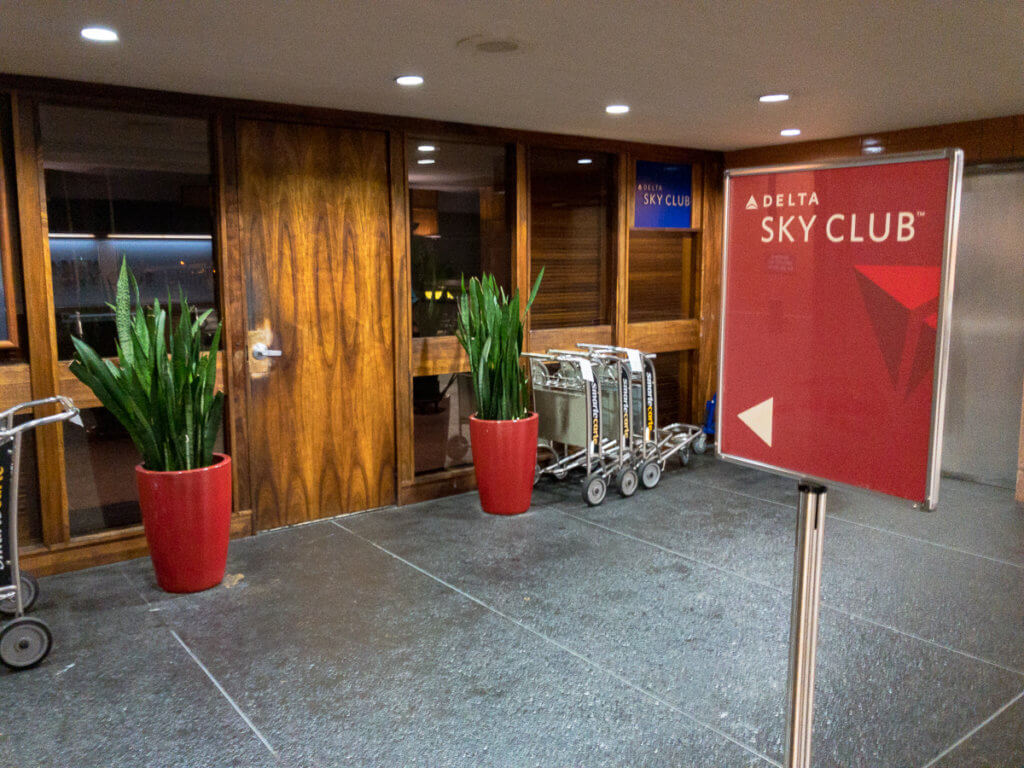 Inside, the Delta Sky Club Honolulu, the lounge is nice but isn't remarkable.  There are three zones, all of which have the same types of seats.  And while the lounge got a little crowded closer to departure time, it never felt too crowded or got too noisy.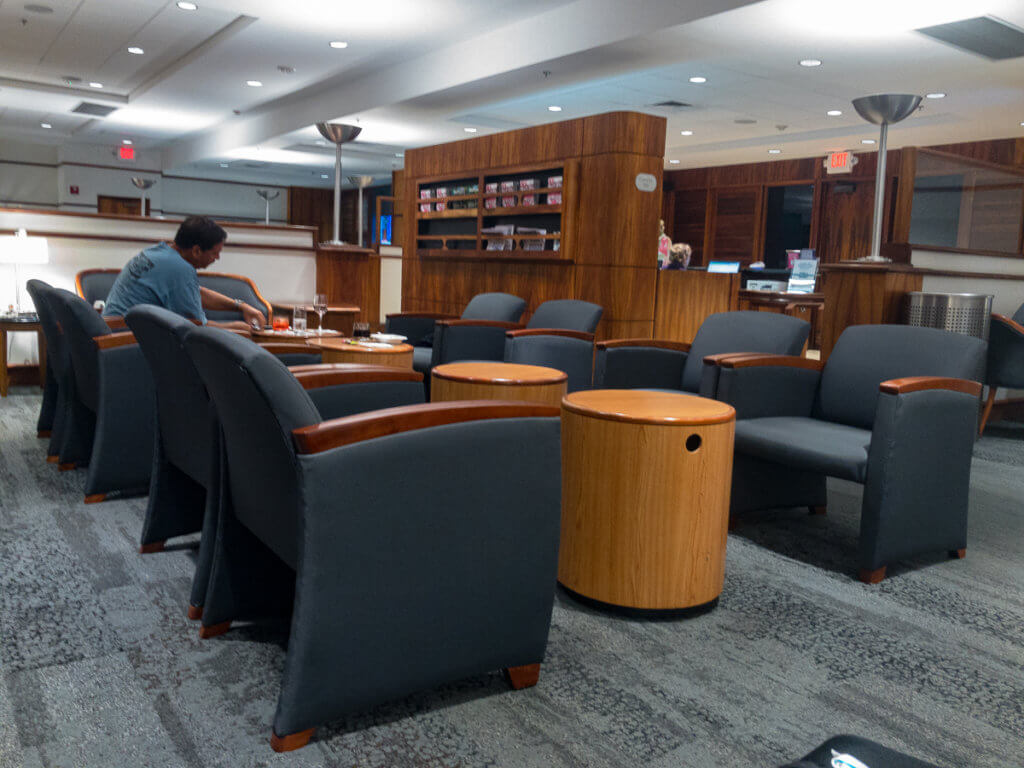 Service
From the moment I walked into the Delta Sky Club Honolulu, the service was outstanding.  In fact, upon entering, not only did the front desk agents greet me warmly, but they offered me chocolate covered macadamia nuts.  Then, while I sat in the lounge, another employee came around with a cart of complimentary desserts, wine, and champagne, offering them to everyone in the club.  And they always made sure to clear used dishes immediately, while proactively offering refills too.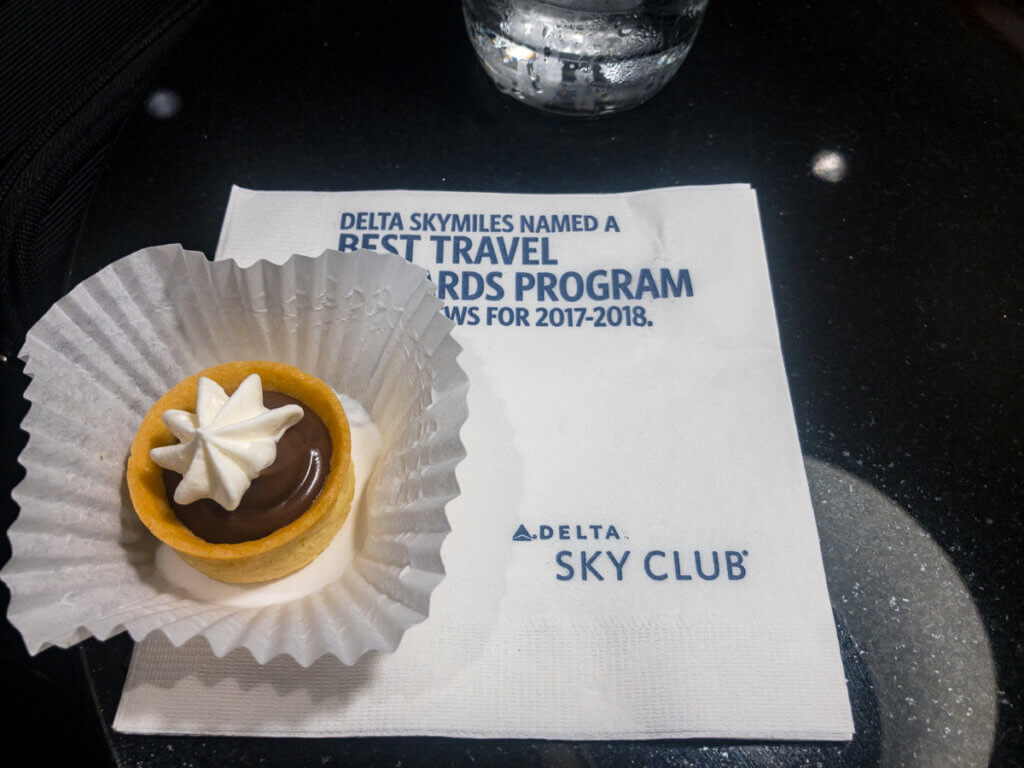 Catering
Speaking of food, the Delta Sky Club Honolulu has among the best catering I've seen in a domestic lounge yet.  I haven't been to a Centurion Lounge yet, though, so we'll see.  But, that said, this lounge does have a small buffet with hot items like macaroni and cheese, meatballs, vegetarian chili, and more.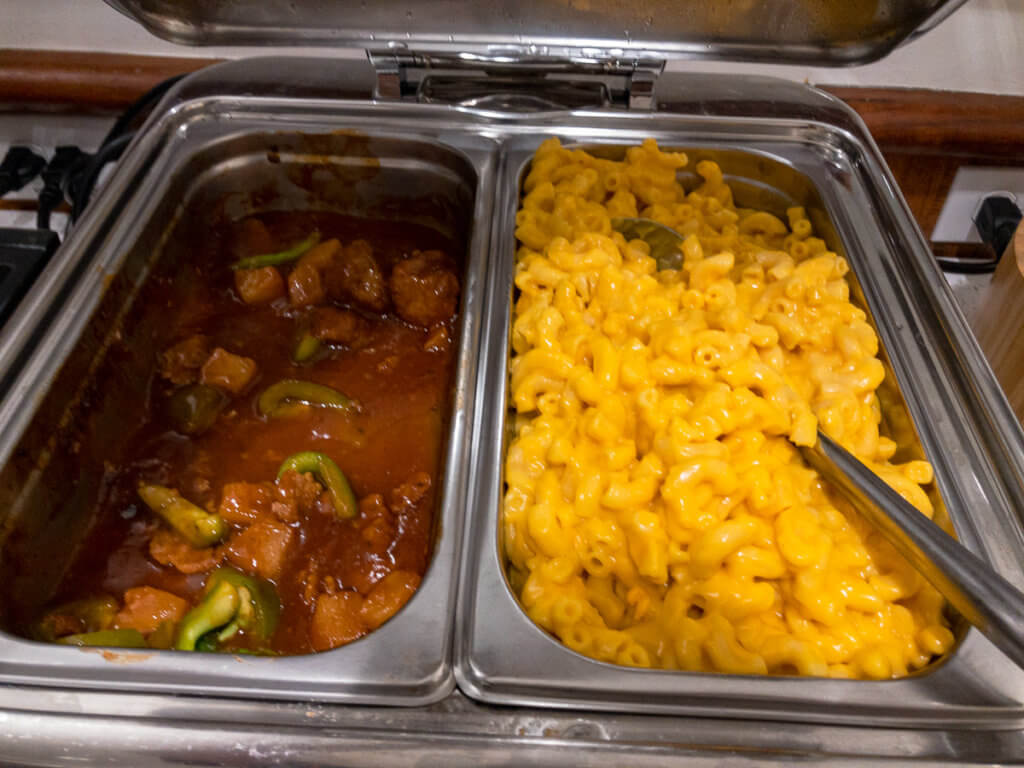 There's also a number of cold items available like crudites, salad, cheese, rolls, etc.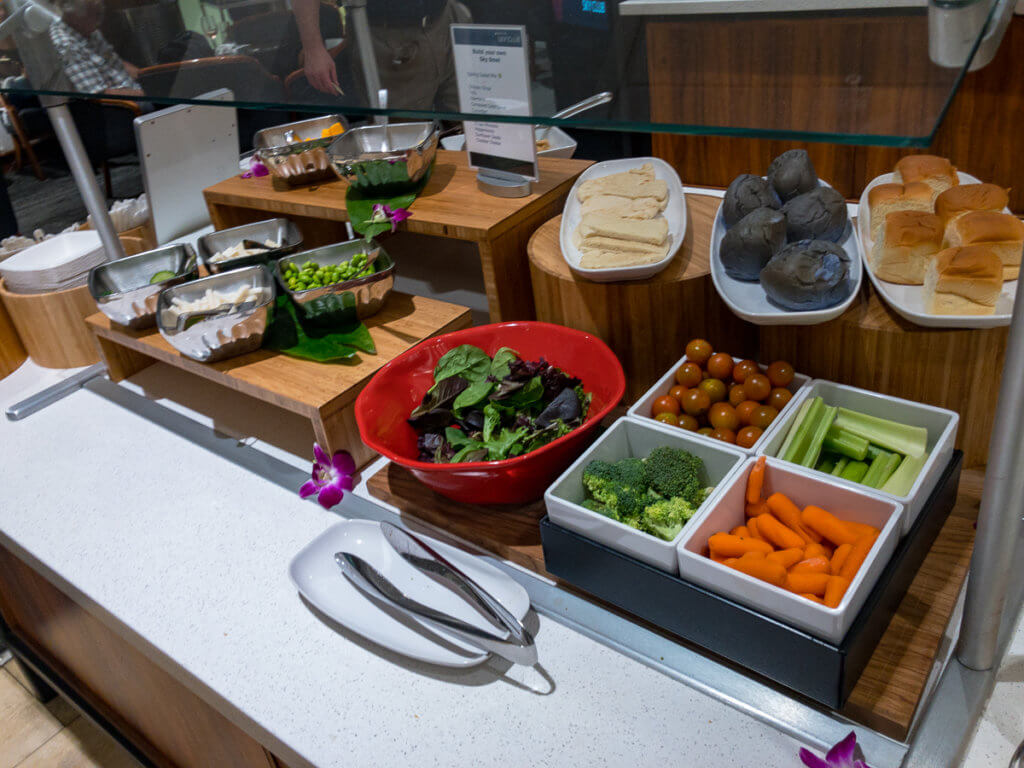 The bar also offers complimentary house drinks with premium beverages available for purchase.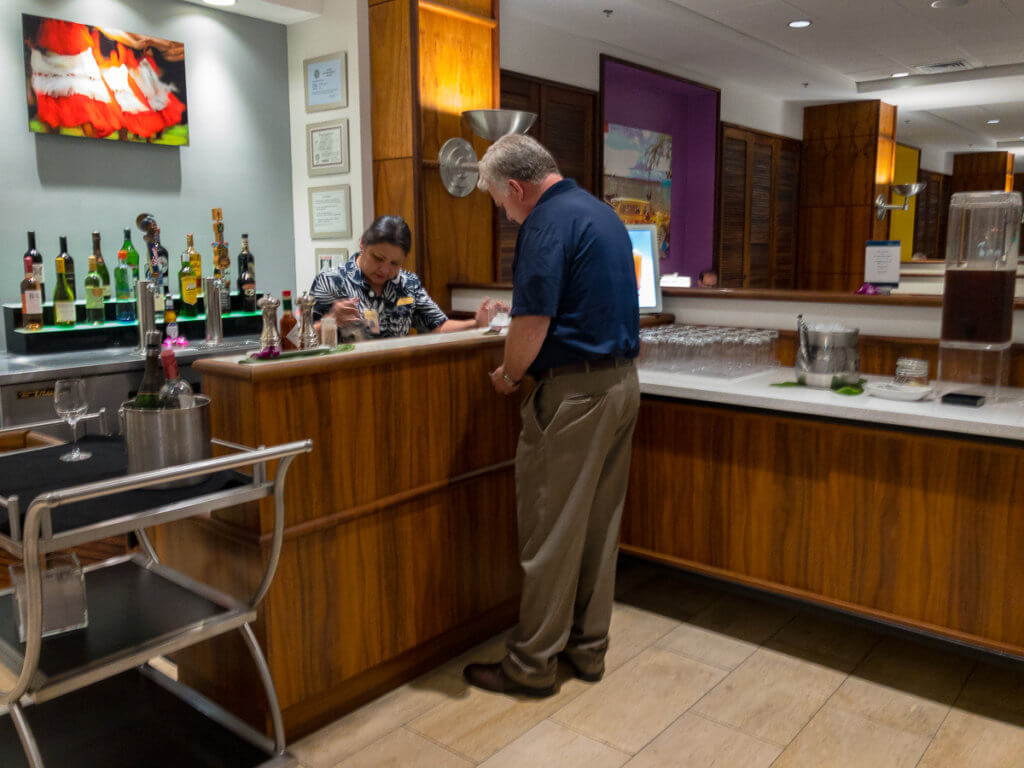 And, of course, there's a self-serve Starbucks coffee machine, as well as a fountain of Coke products.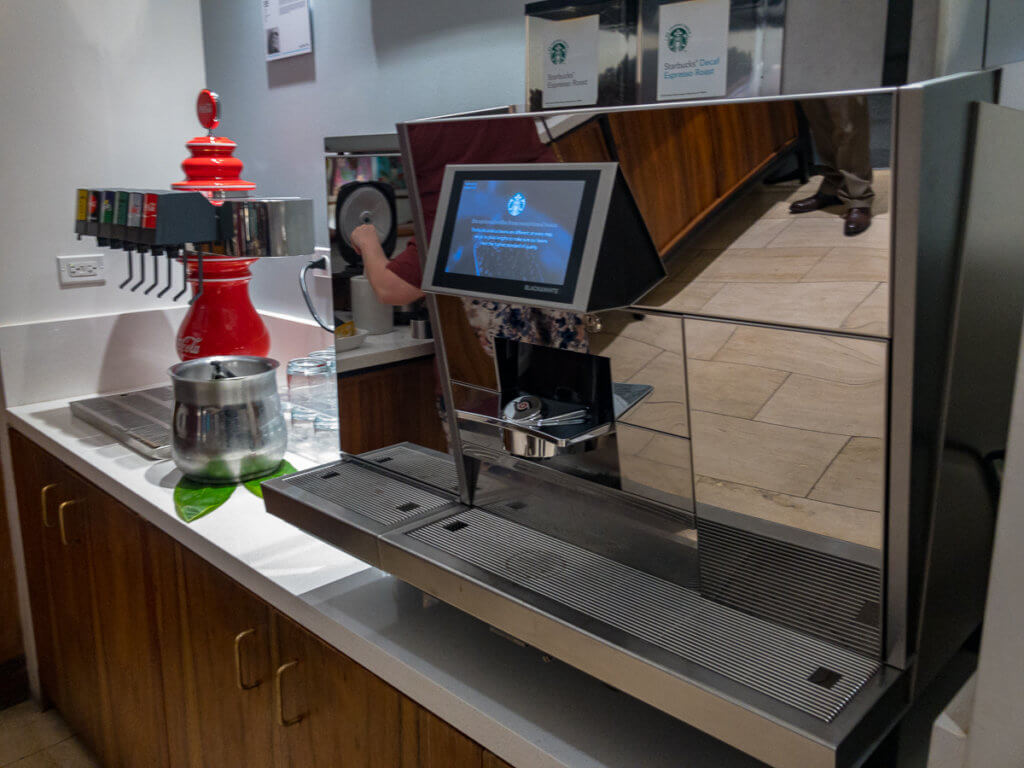 Other Amenities
While the Honolulu lounge boasts excellent service and decent catering, it does lack other amenities.  For example, the restrooms here are small and don't offer showers, though they were very clean and in good working order.  And, of course, being on the inside of the terminal, there aren't any windows in this lounge.  But, they do have WiFi, which is sufficiently fast for basic tasks, though I didn't try anything else, nor did I remember to test the connection speed.
Delta Sky Club Honolulu, Final Thoughts
Thanks to the wonderful service and catering, the Delta Sky Club Honolulu is probably the best domestic lounge I've been to yet.  Definitely better than The Club at LAS and WAY better than the one HNL Priority Pass lounge that was open at the time.  And, despite its shortcomings (which really didn't matter to me), it's a lounge I love based solely on the service alone.  As a result, I'm going to make it a point to visit the lounge whenever I fly Delta out of Honolulu.  Unfortunately, that likely won't be often, at least for now.
Utah 2018