Since last year, I've been looking forward to doing a Waikiki Beach Marriott revisited staycation to check out their newly renovated rooms. And, recently, I got to do just that. Of course, staying in Waikiki these days is a far different experience than before. But, I must say, I am a fan of the Marriott's new rooms.
Note: this review is merely an update to showcase the Waikiki Beach Marriott's new rooms along with our pandemic experience here. For a full review of this property, check out my review from two years ago here.
The last time I stayed at the Waikiki Beach Marriott was for the 2018 Honolulu Marathon. We skipped last year to check out the Alohilani Resort. And, since then, the property has completed a full refresh of its rooms. For those of you that haven't stayed here before, this is what the rooms used to look like.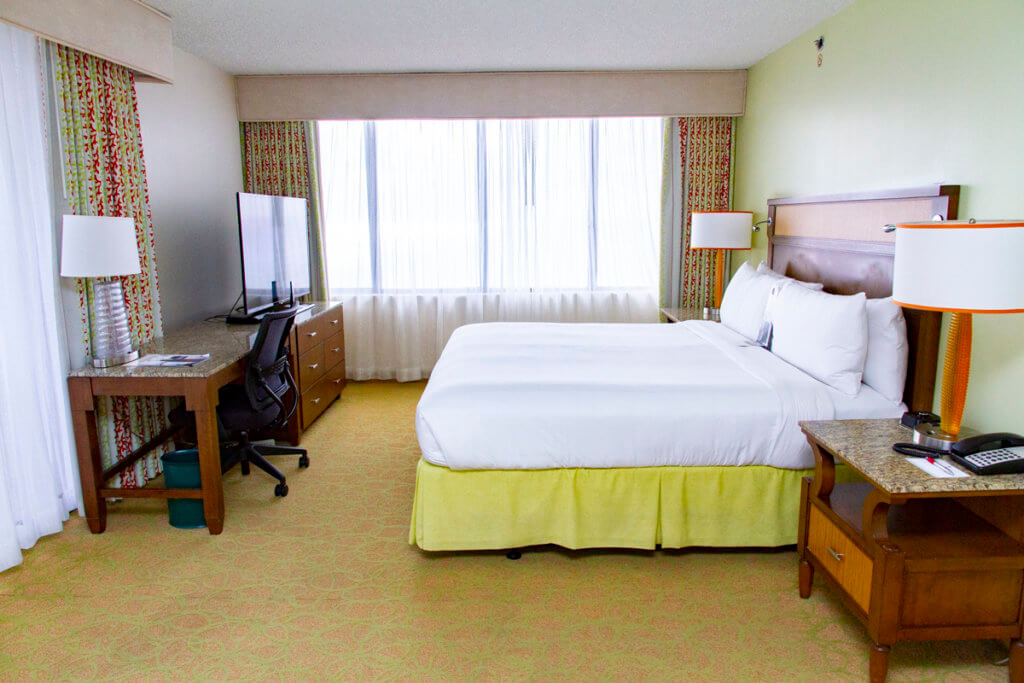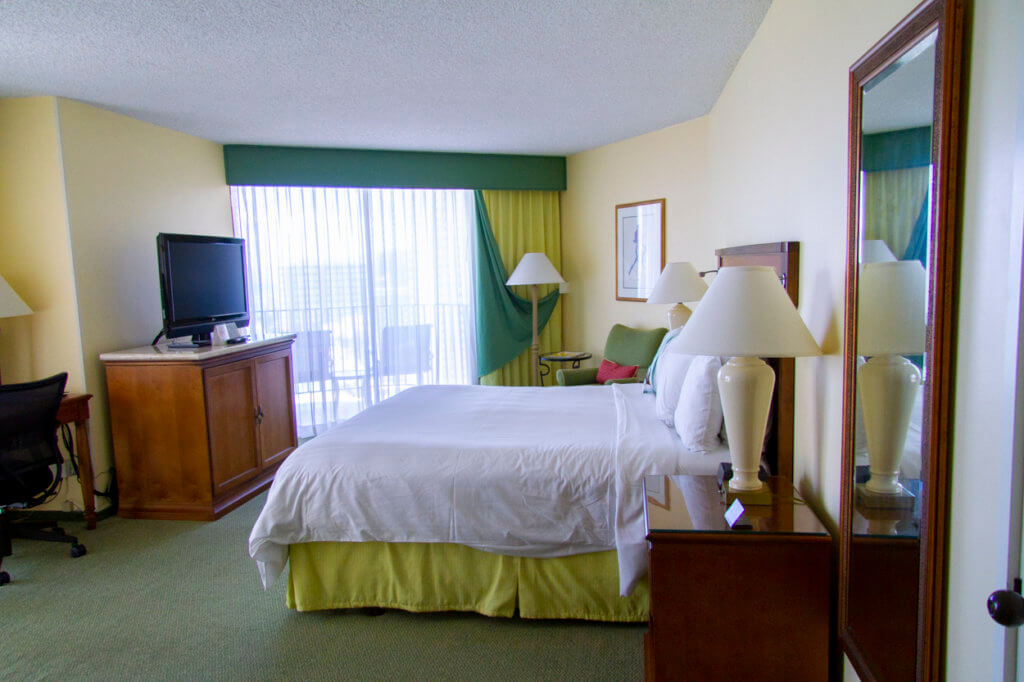 Eesh. Those rooms are quite dated. But, thankfully, they're no more.
Pre-Arrival Experience
Given the unusual times in which we live, the Waikiki Beach Marriott reached out a couple of weeks before with some important information. In an email, they provided information on the current pandemic rules, along with property restrictions and changes. This was a nice touch, though I wish that they were more specific about the on-property dining options. Especially since, as we later found out, the property was only offering grab-n-go breakfasts. Yes, these were hot options, but all of the restaurants were closed. So, no sushi, no Italian, nothing. Not even as takeout.
That said, a few days before our arrival, I received an email notifying me that my Suite Night Award upgrade request had been fulfilled. What's more, the property even honored my request for a west-facing room in my category.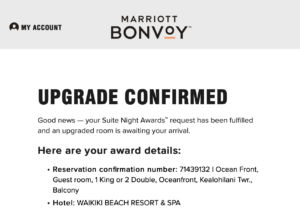 Check-In
I almost always opt for self-parking at the Waikiki Beach Marriott. However, it's worth noting that, at least at the time of our stay, this is your ONLY option. Given the emptiness of the property, though, finding a convenient stall is no problem at all.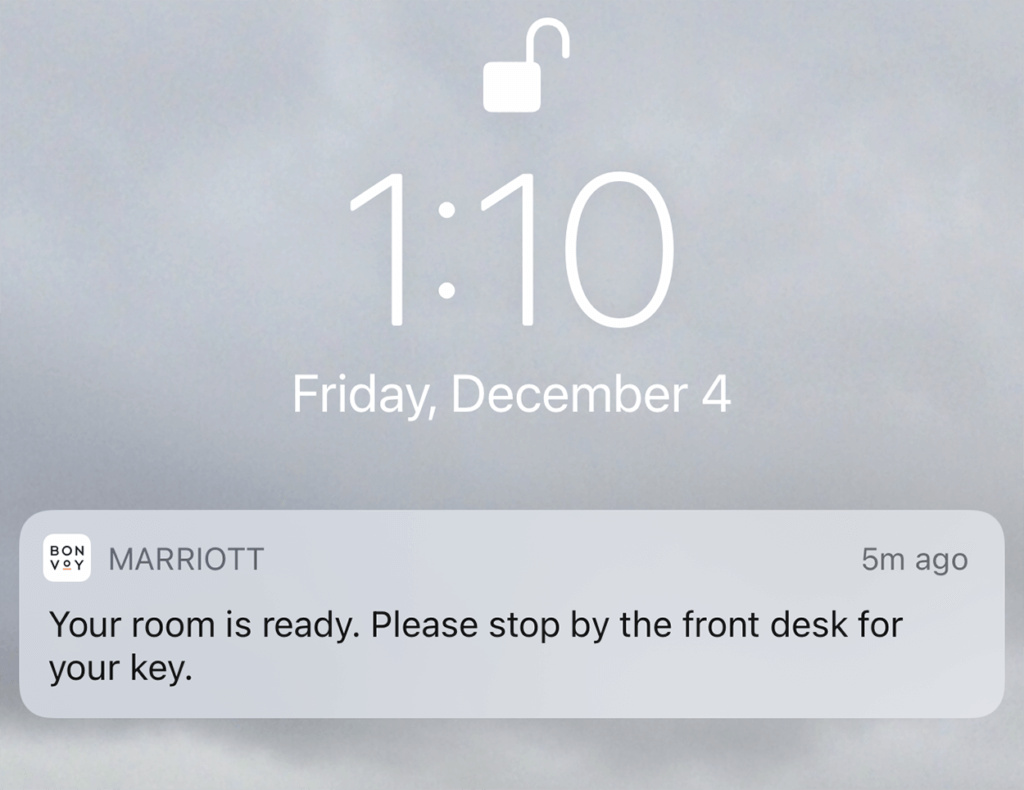 After parking, we headed down to the front desk to check-in. I checked in via the mobile app days before. But, much like with the Ritz-Carlton Waikiki, you can't head straight to your room. You must visit the front desk, regardless of your rate, to register and verify all guests. The staff at the front desk will also cover the property's status with you, explain how breakfast service works, etc. That said, the staff we interacted with were all fantastic. I sincerely hope all of them will get called back eventually and that, with vaccination efforts now underway, that they won't have to wait too long to come back.
It's worth noting that, since the property does offer to-go breakfast options, you can opt for free breakfast as a Platinum Elite benefit. However, I decided to take points instead. With that, though, they gave me a reuseable tote with a handful of alcohol wipe packets and their reusable water bottle bag things.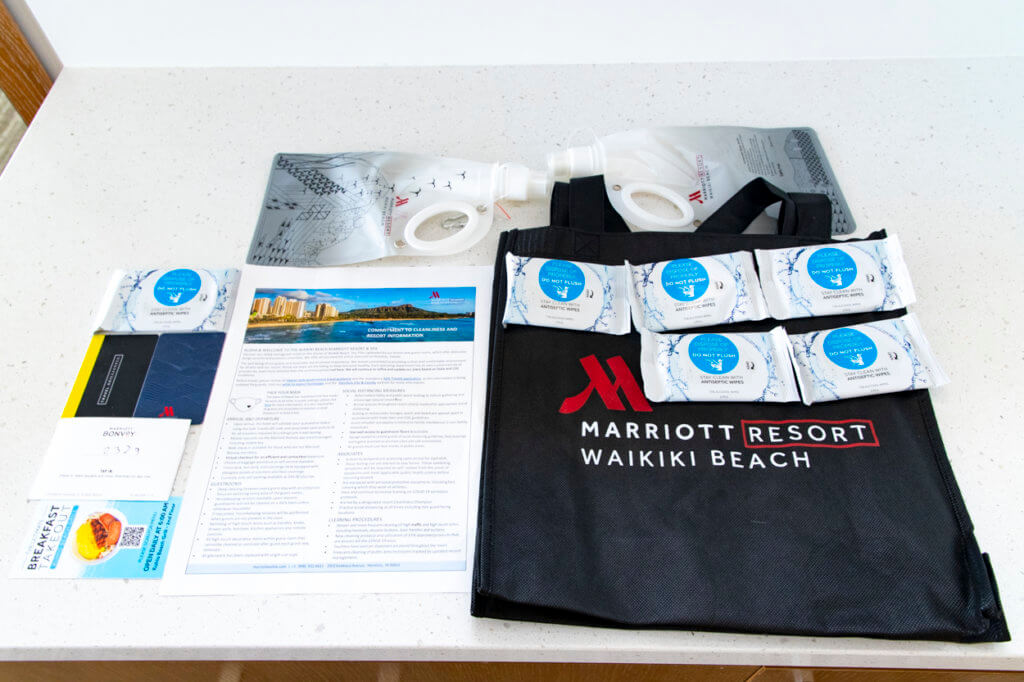 Room 2329
For this stay, we were assigned room 2329 – a standard west-facing oceanfront room in the smaller Kealohilani Tower. Before we get to the room, though, in the elevator bank on the 23rd floor, I noticed big signs declaring the floor a Marriott Bonvoy exclusive one.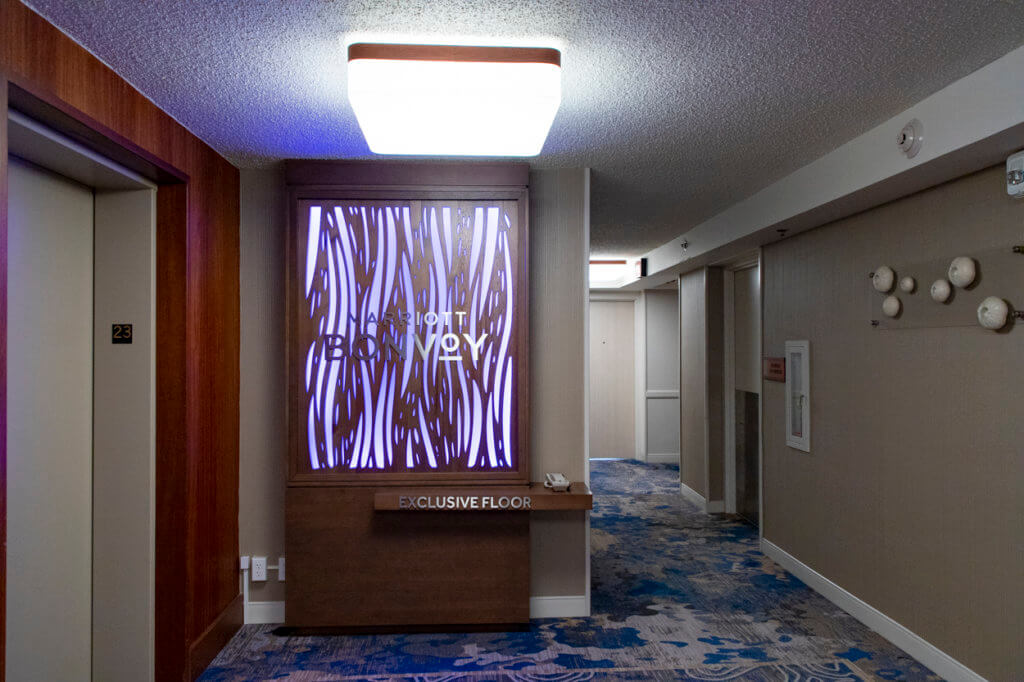 Like all oceanfront rooms, our room is to the left from the elevators and all the way down the corridor of this L-shaped building. The building isn't very large, though, so this is a non-issue.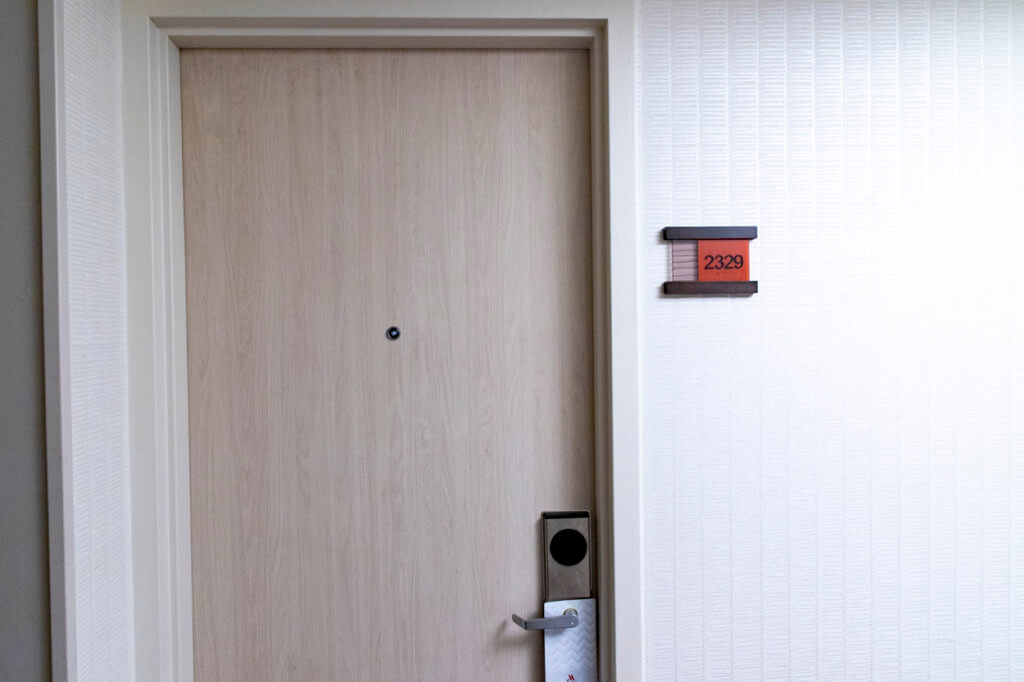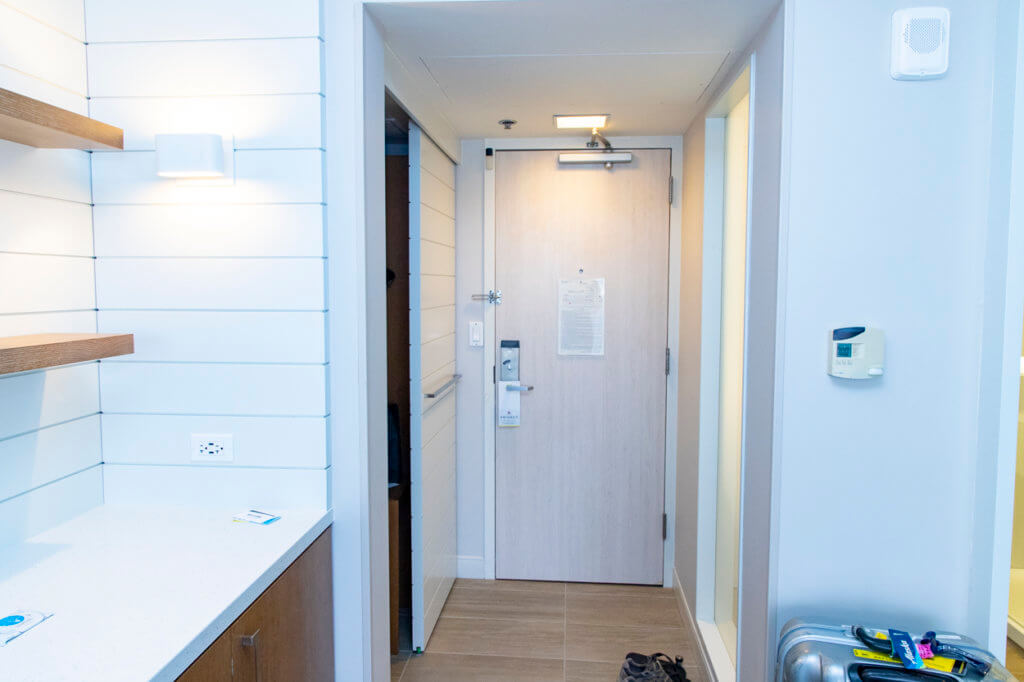 Upon entering our room, the changes were readily apparent. The layout and footprint haven't changed at all, but virtually everything else did. What that means, though, is that, in our room, the closet is to the right as you enter. It's a small closet, which contains an iron, ironing board, and a large safe.
Across from the closet is a decently sized (for Waikiki) bathroom with a single vanity, a shower stall, and a standard toilet – no washlet here. Interestingly, next to the vanity is an opaque window facing the closet. I'm not sure what the purpose of this is aside from, maybe, providing better lighting?
Toiletries, by the way, remain single-use bottles here. What's more, these aren't your standard-variety Marriott toiletries either. During our stay, we got pleasant-smelling aromatherapy toiletries from a company called thisworks.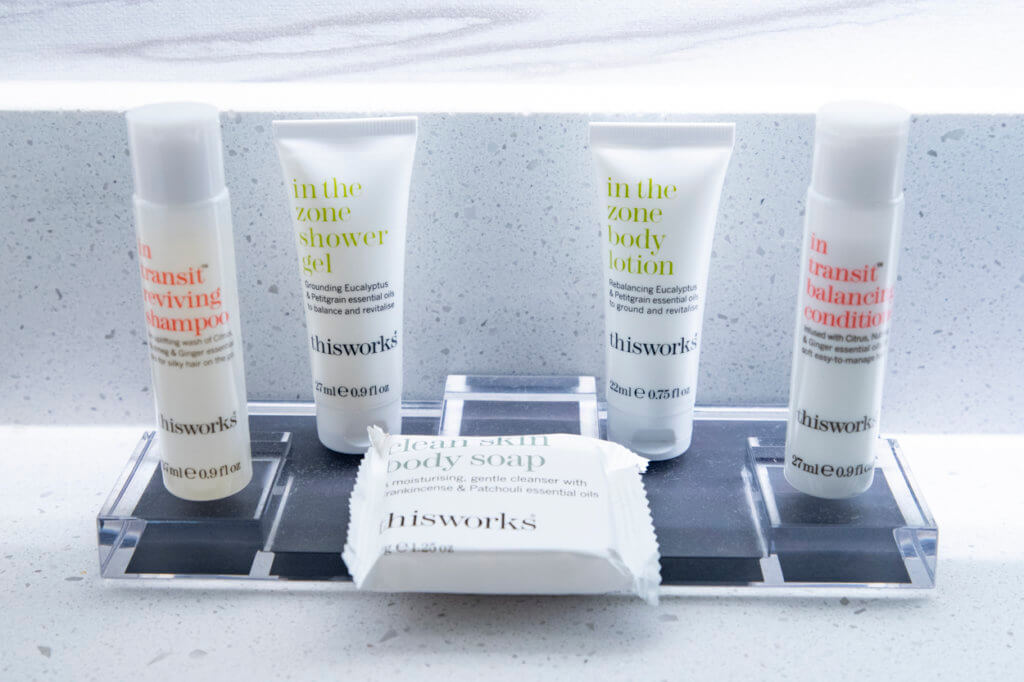 Immediately outside of the bathroom is the main portion of the room. Thanks to the new paint scheme, fixtures, etc., the room now feels much more fresh and airy. True, the design motif isn't necessarily something that evokes Hawaii, but I like it. I also love the sectional love seat with its accompanying table. Opposite from our king bed and the love seat is a large work desk, a wall-mounted TV with a Bluray player, some floating shelves, and a few dresser drawers.
Typically, that countertop over the drawers is where the coffee maker would go. But, thanks to the pandemic, coffee makers, microwaves, and even hairdryers are available upon request only. There's no charge for these items, but I guess it's a way to reduce waste and simplify disinfecting procedures. What you will continue to find in this area, though, is a decently sized fridge.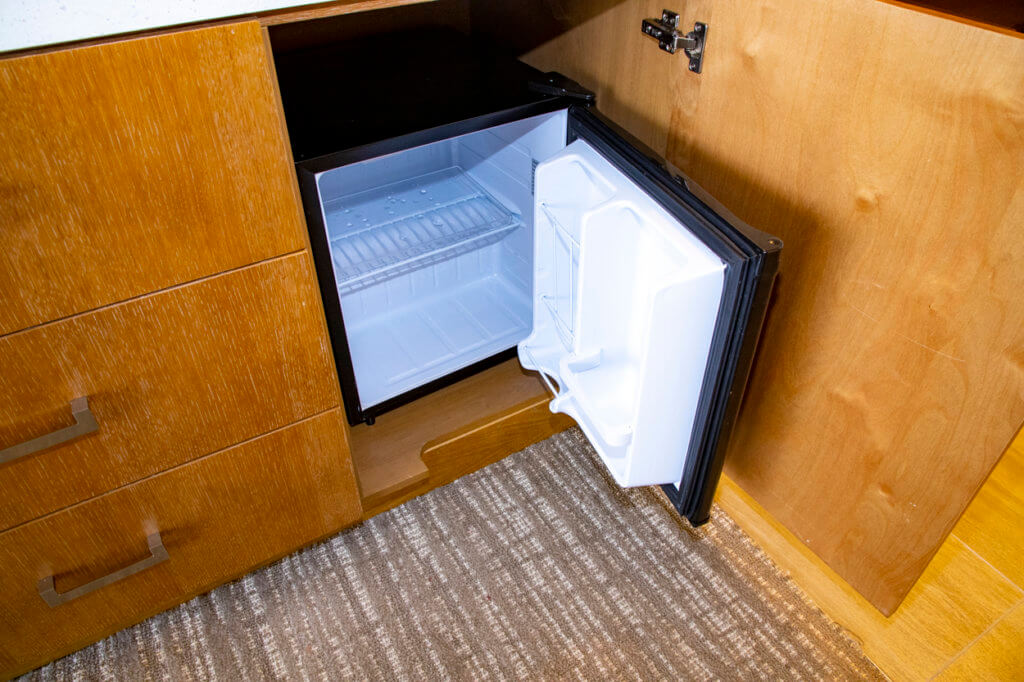 Connectivity
The connectivity in this room was pretty impressive – even for a newly renovated one. Not only was there an abundance of outlets and USB ports, but there was also a USB-C outlet.
As mentioned earlier, the rooms at the Waikiki Beach Marriott also include a Bluray player. Now, normally, I'd say that such a feature isn't necessary, but Bluray movie rentals are included as part of the resort fee. What's more, the WiFi speeds here are, even with the low occupancy rates, well, terrible. In fact, the fastest speed I was able to clock was 14.9 Mbps. Whereas my iPhone 12 Pro MAX running on Verizon's standard 5G network clocked in at 110 Mbps.
HVAC + Sound Isolation
The HVAC system at the Waikiki Beach Marriott worked very well and held our room at our desired temperature. It's not the quietest system in the world, but it wasn't intrusively loud either. What white noise we did hear from the system did also help to drown out the street noise, which, even on the 23rd floor, is noticeably louder than what we experienced on the 19th floor of the Ritz. Was it bothersome? Not at all. But it's still there.
Balcony + View
The balconies at the Waikiki Beach Marriott are, admittedly, one of its weaker points. The size is actually quite good for the area, but the privacy totally sucks. You can clearly see all of your neighbors. And, if you're on the west side of the building as we were, you can totally see the people on the northern side of the building too. But, the tradeoff for that is the gorgeous views you get of the rest of Waikiki. Want to see what an east-facing view looks like? Check out my last visit. It's also worth noting that our balcony featured a small table, two chairs, and a chaise lounger. I think they moved all the chaise loungers from the pool (under renovation) and up onto the balconies.
Amenities
While the pool in our tower was closed for renovations, the one in the Paoakalani Tower remained open. However, the pool, like the laundry room and the fitness center, requires a reservation to use. These are all part of the property's efforts to maintain social distancing. In fact, you'll need to obtain a special key card from the front desk to get into the laundry room and the gym. Valet laundry, I should note, along with room service, wasn't available during our stay. Guests are also asked to keep elevator cars down to just one family per ride, though this wasn't actively followed by everyone based on our experience. Oh, and the hydration stations are still available, and they've even converted them to foot-activated dispensers! I still didn't use them, though, as my germaphobe mind thought that people could still touch the dispenser with something they've put on their mouth.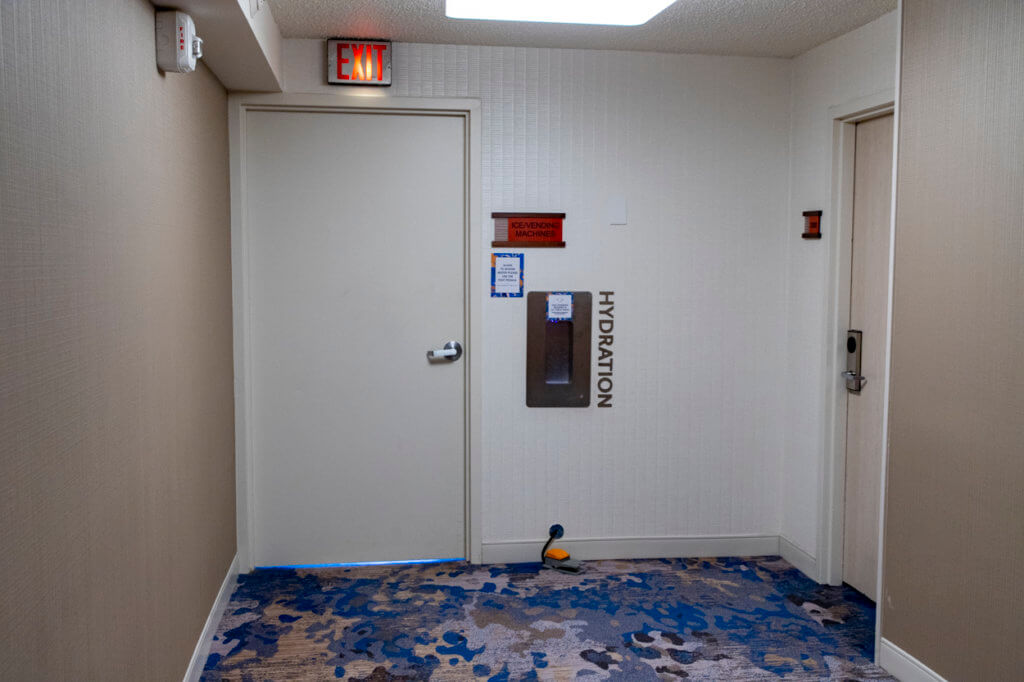 It's also worth noting that, beyond the packs of alcohol wipes provided to us by the front desk, a single pack of wipes was available in our room too. What's more, my request for additional foam pillows was fulfilled before we even made it into our room. Awesome.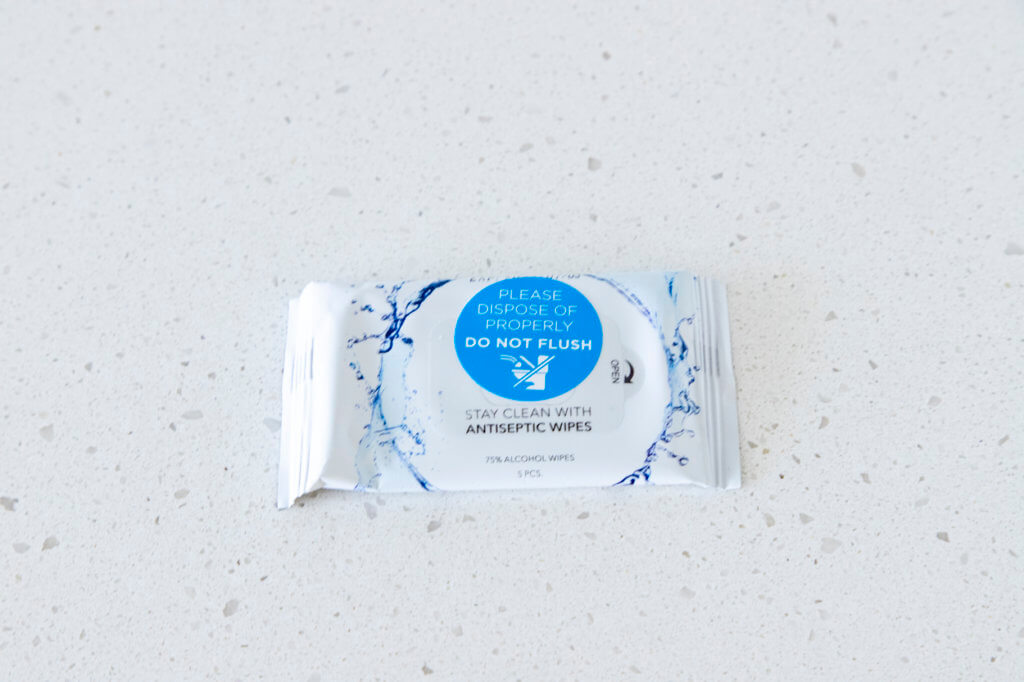 And, in case you're wondering, yes, all remote controls in our room were wrapped in plastic.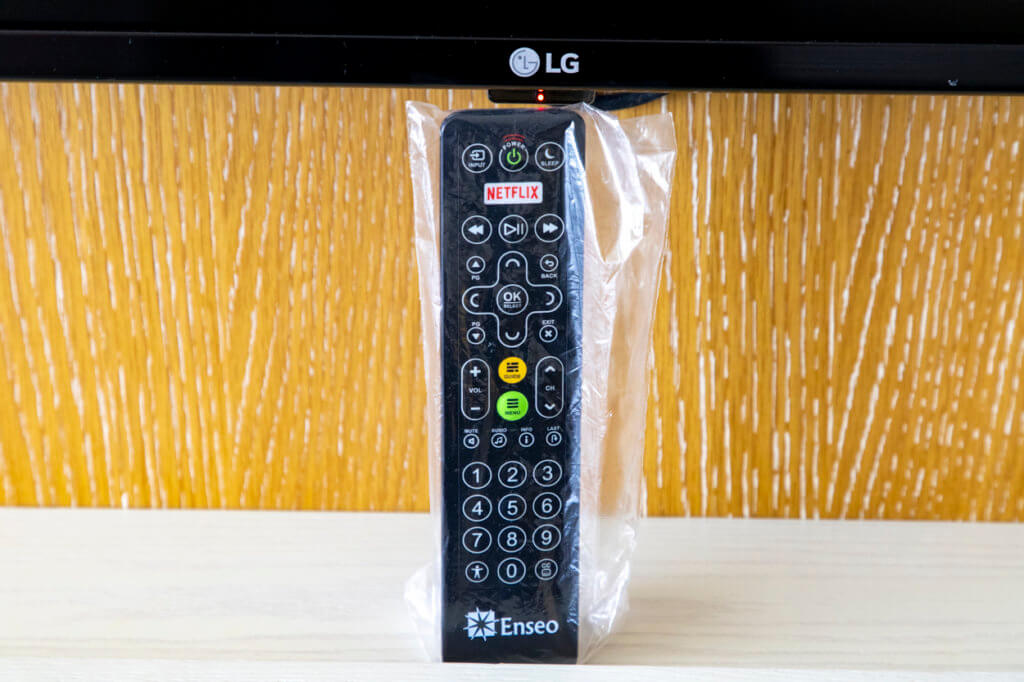 Waikiki Beach Marriott Revisited, Final Thoughts
Despite the restrictions and lack of dining options, both the Mrs. and I enjoyed our time at the Waikiki Beach Marriott. The newly renovated rooms are far more stylish and contemporary than the old ones while offering enhanced functionality and comfort to boot. The staff here is also fantastic, managing to remain friendly and upbeat despite the gargantuan challenges and hardships they're facing.
Needless to say, I look forward to returning to the Waikiki Beach Marriott again. Perhaps for the 2021 Honolulu Marathon?
My Not-2020 Honolulu Marathon Staycation
Waikiki Beach Marriott Revisited
Restaurant Review: Island Vintage Wine Bar