Surprise! Without warning or even an announcement, Hawaiian Airlines converts to dynamic award pricing! And, man, your next award flight on Hawaiian has the potential to be MUCH more expensive than in the past.
Previous Pricing
Before we get into the new Hawaiian Airlines award pricing scheme, let's go over the old chart. As you'll recall, Hawaiian previously had tiered pricing as follows: Coach SuperSaver, Coach Saver, Coach Flex, First Saver, and First Flex.
That meant that a Hawaii – North America award flight previously cost 40,000, 60,000, or 80,000 miles roundtrip, while first class award tickets came in at 80,000 or 160,000 miles roundtrip. And for all my Japan obsessed friends, this is what your award flight costs used to look like: 80,000, 120,000, or 160,000 miles in economy, and 130,000 or 260,000 miles in first class. Yeah, Hawaiian was NEVER a good value for award flights to Japan.
New Award Chart
Hawaiian's new award chart no longer has tiers. Instead, Hawaiian's award chart now has ranges. And if you guessed that the range-topping prices are higher, you guessed right!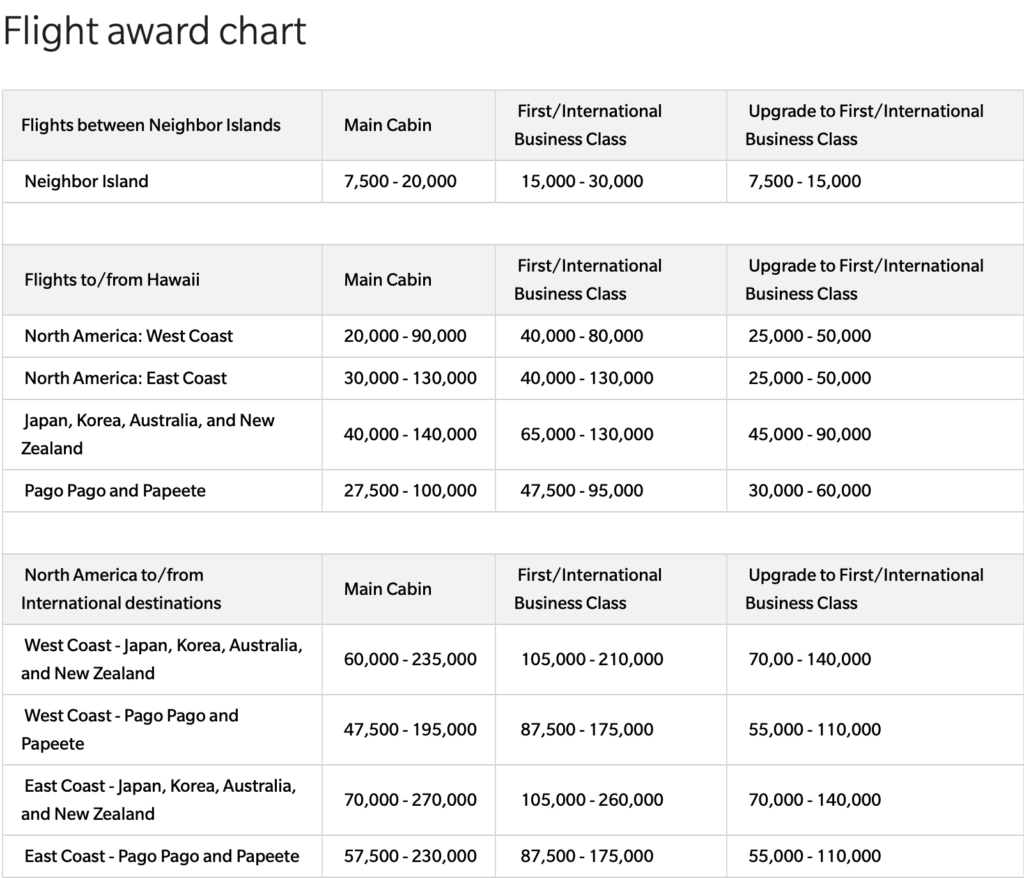 An award ticket to Vegas now costs anywhere from 40,000 to a whopping 180,000 miles roundtrip in ECONOMY. First class, thankfully, didn't jump too much, remaining at 80,000 to 160,000 miles roundtrip. The story is the same for flights between Hawaii and Japan with the most expensive economy class tickets now coming it an eye-watering 280,000 miles roundtrip!
But look closely. There are now two North America categories; East Coast and West Coast. Award pricing for North America as a whole used to be the same, but now it's not. Instead, an award ticket between Hawaii and New York or Boston costs anywhere between 60,000 and 260,000 miles. Ouch. Strangely enough, first class pricing for those routes come in at 80,000 to 260,000 miles roundtrip. That's not much higher (if at all) than economy, so… ??‍♂️.
Cardholder Pricing
Hawaiian always offered better award pricing for those that have the Hawaiian Airlines World Elite Mastercard. However, they didn't have a separate award chart published for it until now.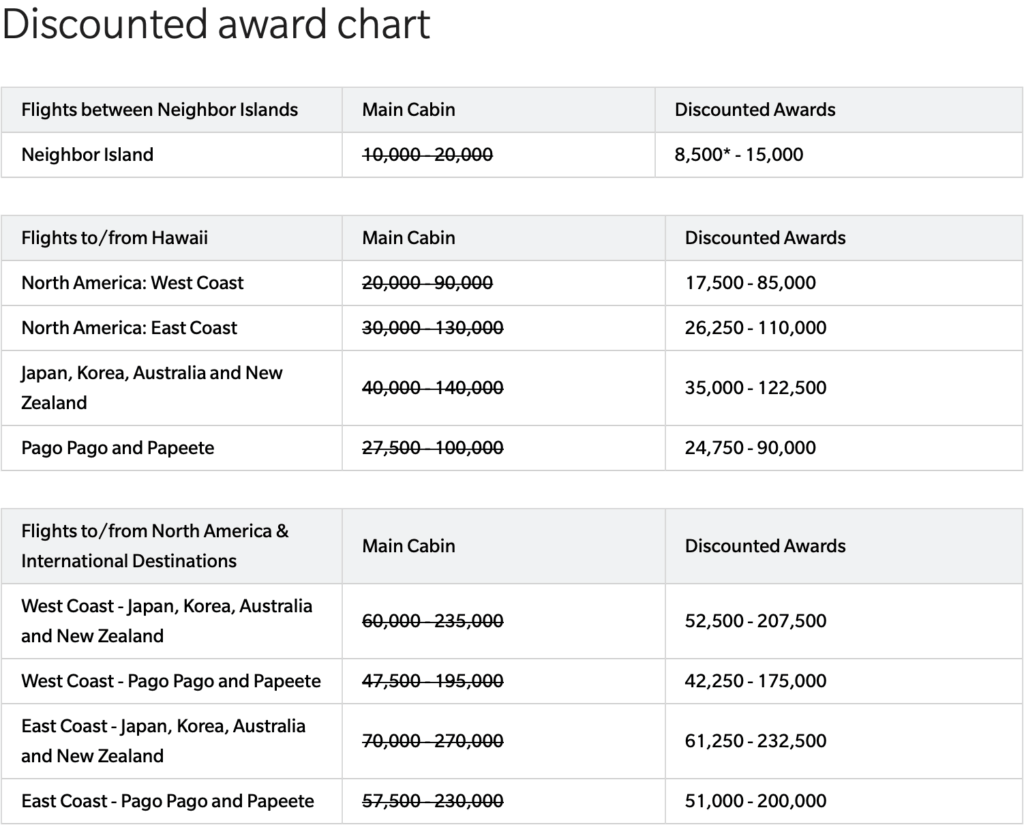 As you can see, Hawaiian kept the 35,000-mile pricing for West Coast award tickets. However, minimums for East Coast are now 56,500 roundtrip. And award tickets to Japan start at 70,000 miles in economy. The problem, though, is that the ranges extend nearly as high as those for non-cardholders. In fact, the most expensive cardholder pricing is only 10,000 miles roundtrip less than non-cardholder pricing. Not cool.
Other Considerations
Now, the most significant factor affecting the above changes is availability. Unfortunately, we don't know how many of the base price award tickets Hawaiian intends to make available. And that's the scary part since they could release only a handful of those and have everything else price higher, effectively increasing award flight costs. Or, they could keep availability fairly similar to what it is today, though I wouldn't hold my breath on that.
Hawaiian Airlines Converts to Dynamic Award Pricing, Final Thoughts
You don't need me to tell you that these changes SUCK. Clearly, Hawaiian wants to minimize impacts award flights have to its bottom line. But with more competition than ever, is this really the right move for them? While not class leading, I did view HawaiianMiles as a strength for the Airline. Though, that's, obviously, no longer the case. Guess I'm updating my award travel guide in the near future too!
The bigger issue in all of this though, at least in my opinion, is trust. To make such a large and drastic change without prior notice or any announcement at all is deceitful. Granted, yes, Hawaiian reserves the right to make changes to or cancel HawaiianMiles at any time without notice, but it is an extremely customer unfriendly move to make. Haven't they learned from the U.S.Big 3's mistakes? Or is things really that messed up at the top over at Hawaiian?