Last updated on October 12th, 2019 at 09:40 pm
Last year, I did a few Hawaii credit card award travel guides thanks to all the changes in cards. But a lot has changed since then, so it's time for another update! Check out my Hawaii credit cards award travel guide 2019 edition.
When the new Amex Gold Card came out last year, I thought that's the final big release we'd see of the year. But, I was wrong. You see, the Citi Prestige made its return, and Capital One began allowing Venture Miles transfers to airlines. Plus, Southwest Airlines recently began its hotly anticipated Hawaii service. So, I dug up my charts and updated them.
Now, I'm trying to keep things simple, so I'm not including the Citi Rewards+ card. The reason for that is it's too damn hard to figure out the earning power of that card because of the way it earns points. And, as far as Capital One goes, I'm only covering the Venture card.
Assumptions
As you'll recall from my very first Hawaii credit card travel awards post, I'm making some really broad, generalized assumptions in making my calculations. I've updated those assumptions slightly, as follows:
Groceries: $6,000/year
Gas: $3,840/year (2 cars)
Dining: $6,000/year
Travel: $6,000/year
Entertainment: $1,200/year
Other: $10,800/year
Other assumptions I'm making in my calculations are how you are earning points. By this I mean, for the Amex EveryDay Preferred, I'm assuming that the 50% bonus is being maximized. The same holds true for the Chase Freedom bonus categories.
Earning Potential
Without further adieu, here are my earnings calculations based on the above assumptions.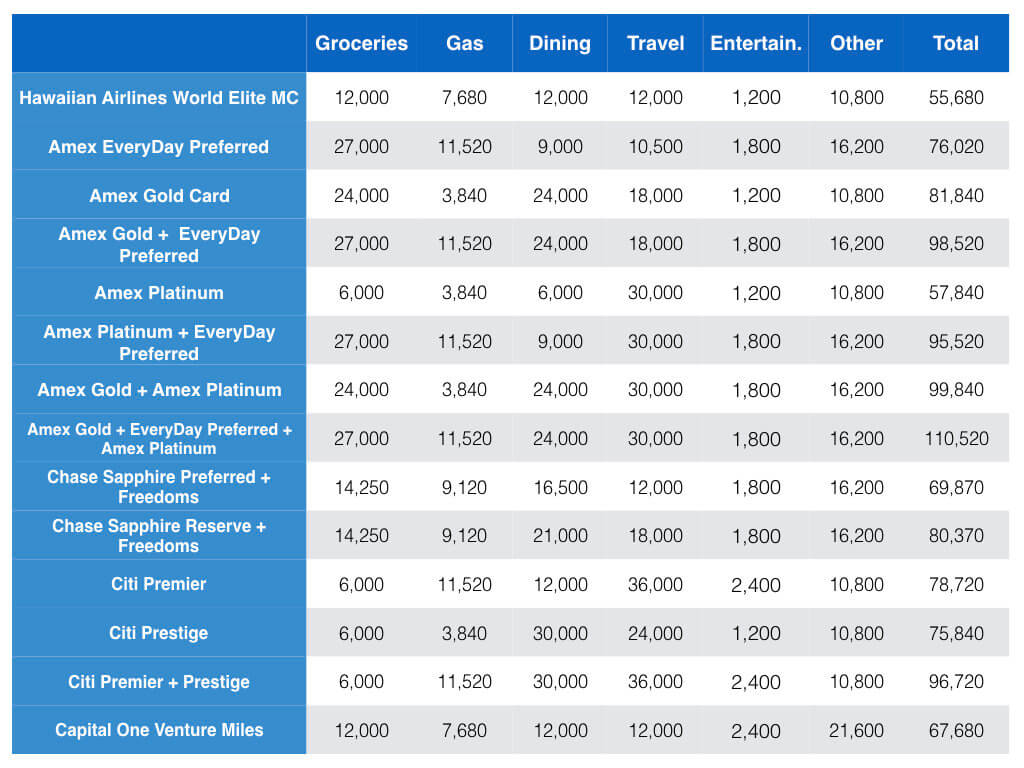 Unsurprisingly, Amex remains the reigning king regarding points earning potential. My Amex Trio (I don't actually have this) of the Amex Gold, Platinum, and EveryDay Preferred comes it first at 110,520 points. The Amex Gold + Platinum duo follows the trio at 99,840 points, with the EveryDay Preferred + Gold comes in at 98,520 points.
Interestingly, though, the Citi Prestige + Premier Duo comes in fourth at 96,720 points. That blows the Chase Sapphire Reserve + Freedom Duo right out of the water, though at a much higher cost. After all, the Citi Prestige carries a $495 annual fee, while the Premier has a $95 annual fee, versus the $450 annual fee of the Sapphire Reserve.
Transfer Ratios
Earning points are great, but they don't mean anything if you can't do anything with them. So, like last time, I compiled a table showing transfer ratios for most airlines with Hawaii award travel options.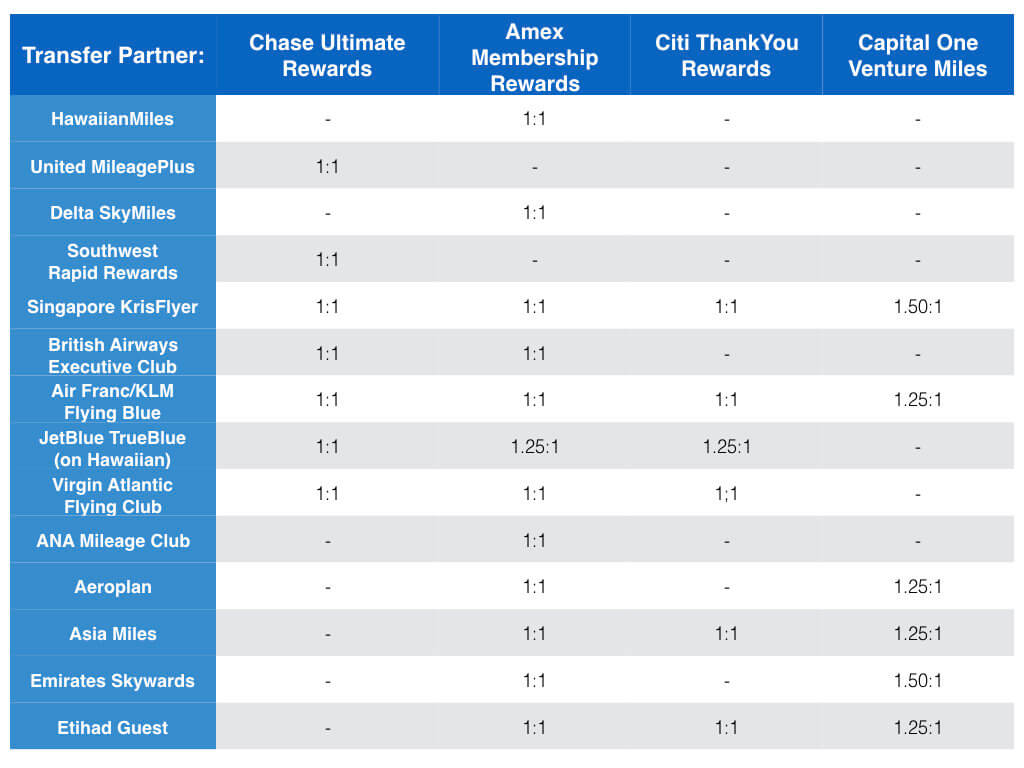 Combine those transfer ratios with the potential points earning rates above, and we get the following annual mileage earning potential.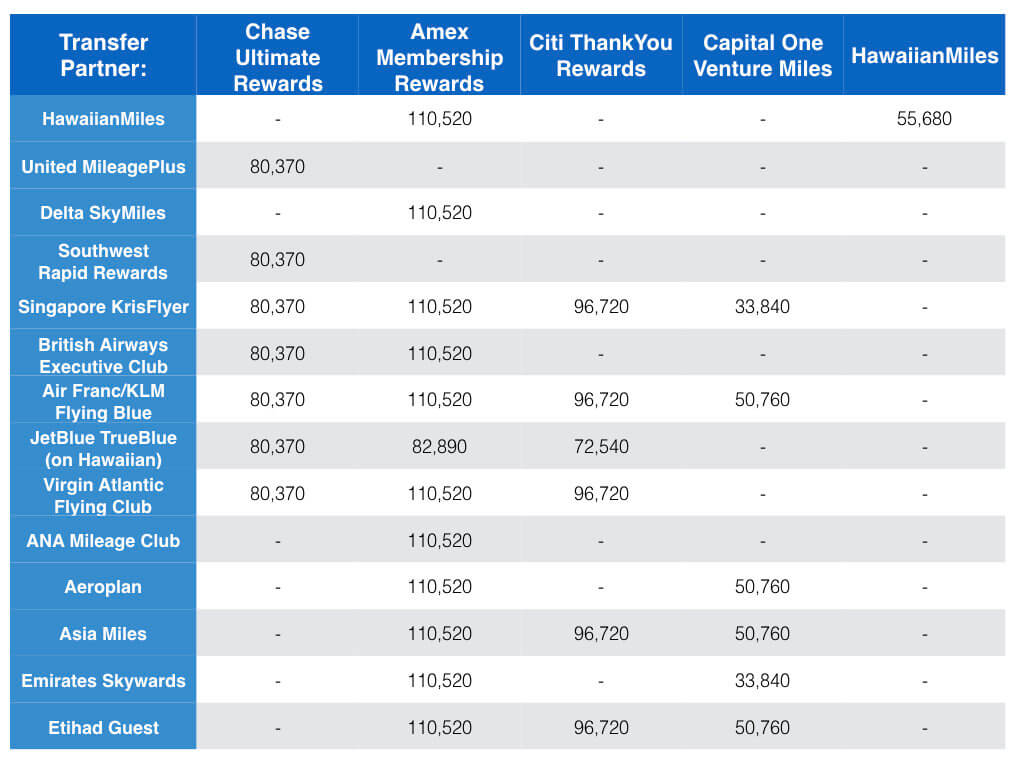 It comes as no surprise that American Express cards give you the highest miles earning potential, followed by Citi. But, as you'll recall, Amex is the only card issuer that allows you to transfer points to HawaiianMiles. And even better yet, Amex cards will earn you more miles than the Hawaiian Airlines World Elite Mastercard by nearly double.
What Those Miles Get You
So what's the best way to burn those miles to get to Hawaii? Depends where you are traveling to or from. Below is my Hawaii award travel comparison chart.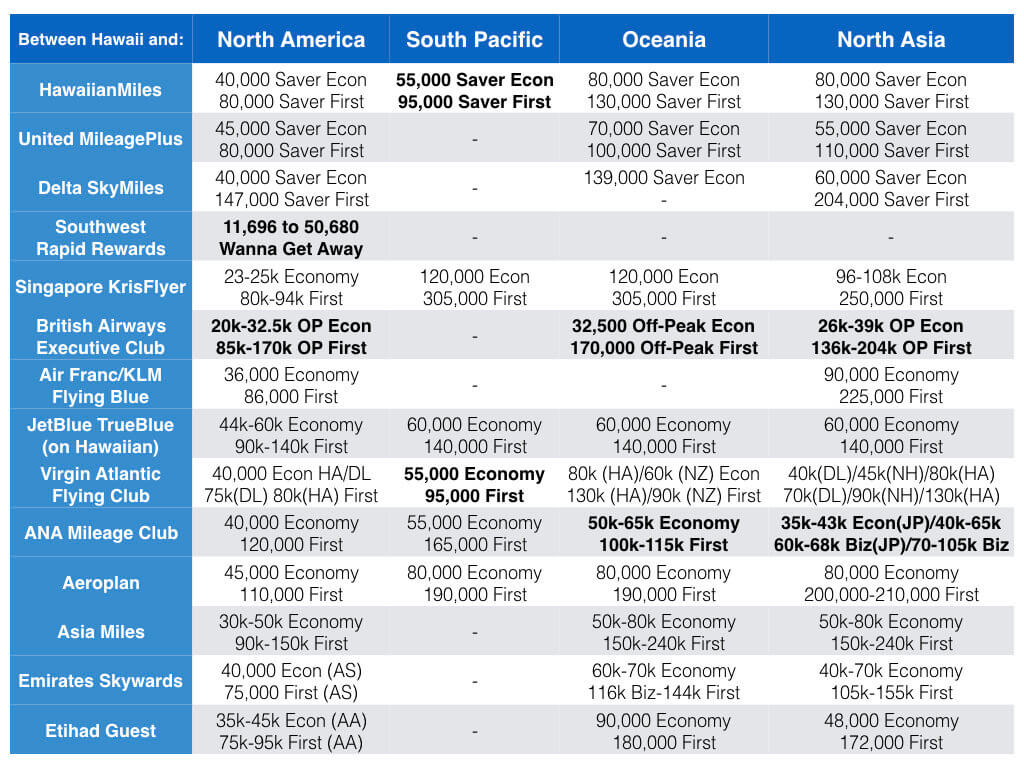 As you can see, the best value for travel between Hawaii and North America is now from Southwest, though award prices are based on ticket prices, making them highly volatile.  But if you can snag the lowest award cost option, you could, theoretically, earn 13 one-way segments per year from credit card spend alone!  And the best way to earn those Rapid Rewards points, by the way, is via the Chase Sapphire Reserve + Freedom Duo combo.  That also happens to be one of the lowest cost methods from an annual fee perspective too.  
But, if you're looking for a more traditional award chart, British Airways Executive Club with travel on American Airlines is still the program to beat. And the best way to earn those miles is by earning American Express Membership Rewards points and transferring them to British Airways.
Following British Airways regarding award travel value is Singapore KrisFlyer. And, unlike British Airways, KrisFlyer is a transfer partner with all four card issuers. However, Amex is, again, the top way to earn KrisFlyer miles, followed by Citi, Chase, and Capital One.
Hawaii Credit Card Award Travel Guide 2019, Final Thoughts
As is always the case, the moral of my post is that the airline cards are not the best way to earn award travel. This especially true of the Hawaiian Airlines World Elite Mastercard. And it's not like the card's benefits make it worth keeping either. I mean, come on, first checked bag free for the primary cardholder only? $100 companion discount code per year? Yeah, that may cover the annual fee of the card, but there are better airline cards out there.
Case-in-point, the Alaska Airlines Visa Signature. The card's $75 annual fee gets you an annual $99 + tax companion pass and free checked bags for up to six people traveling with you. That's an incredible deal, considering it got me an $800 roundtrip ticket between HNL and JFK for Mrs. Island Miler for $121.