A couple weeks ago I decided to take advantage of some great deals at Turtle Bay Resort.  For the winter, the hotel had some great bed + breakfast rates that were nearly as cheap as Kama'aina rates.  My rate was $274/night plus ~13% Hawaii transient accommodations tax and $41/night resort fee.  I booked us into an ocean view room, which included continental breakfast for two (a $46 value).  That's a pretty good value if you ask me.  And with my $300 Chase Sapphire Reserve travel statement credit, my out of pocket expense was minimal.  Sort of.  Turtle Bay is an isolated resort after all.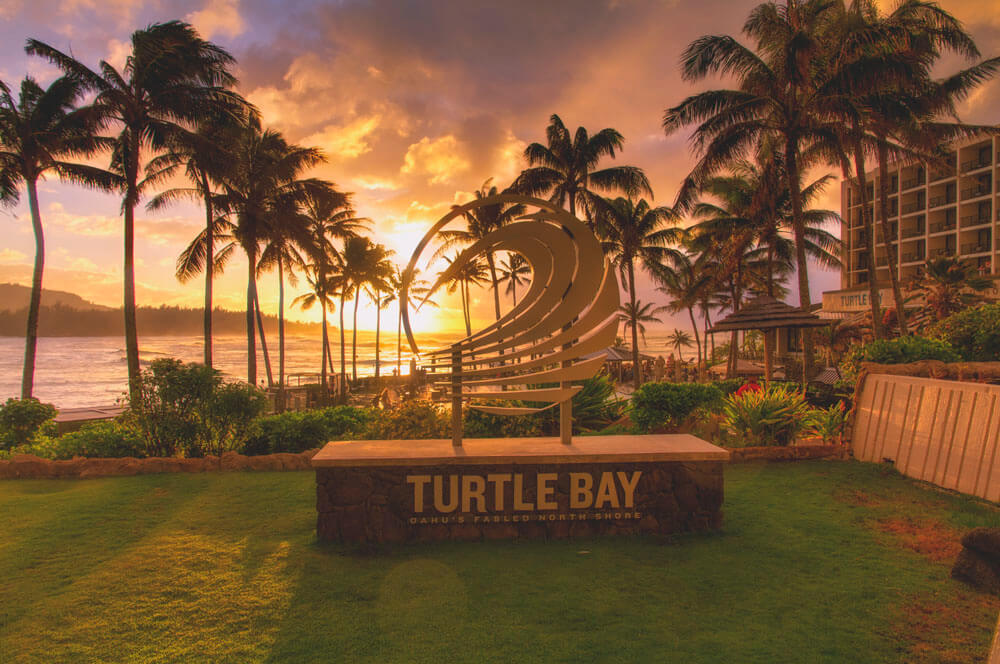 Formerly known as the Turtle Bay Hilton, the Turtle Bay Resort is located next to Kawela Bay to the east, and the town of Kahuku to the west.  It is the only full-service resort on Oahu's North Shore.  In fact, the nearest hotel to Turtle Bay is the Courtyard Oahu North Shore, which is nearly 7 miles away in the town of Laie.  This also means that, unlike most other hotels, there's vary little in the way of dining, shopping, and activities nearby.  This may or may not be a deal breaker for you.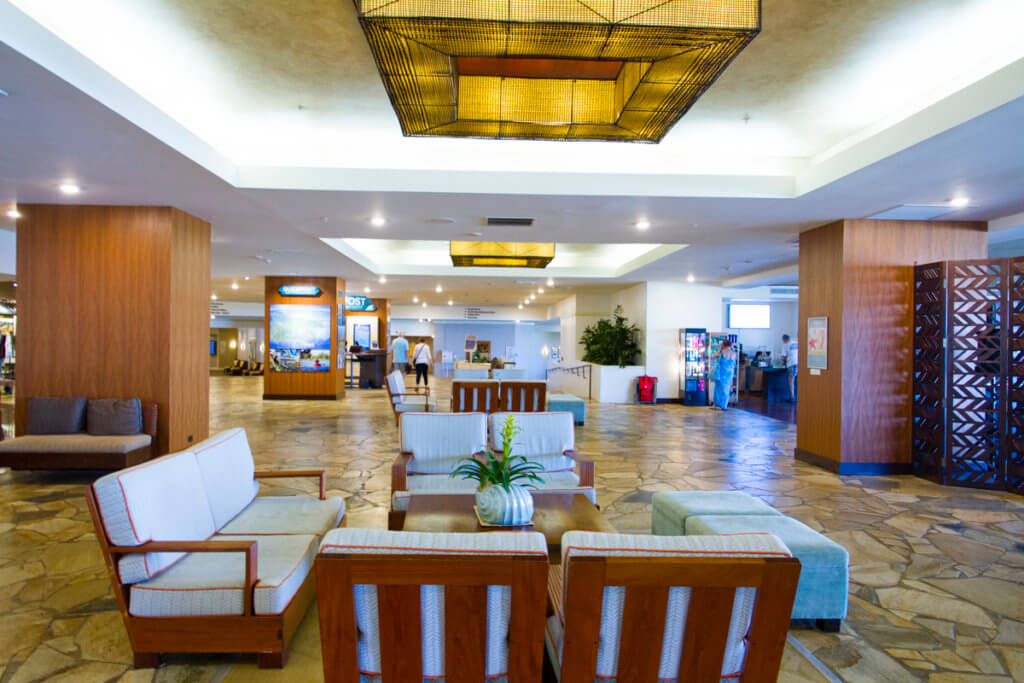 The rate for my entire stay charged to my credit card 14-days prior to check-in.  Once your prepayment goes through, you're locked-in.  No cancellations or modifications.  The prepayment period is even worst during the holiday season, though I can't remember what it is exactly.
Check-in time at Turtle Bay is 3:00pm; we arrived a little earlier, around 1:30pm.  Parking at the resort is not so great.  All stalls are in an open lot, with certain stalls reserved for beach access.  There doesn't seem to be enough stalls, and we had to circle around a bit prior to finding a stall.  Self-parking is included with the resort fee, with valet parking costing $20/night.
After a brief walk from the parking lot to the hotel, we entered the lobby and approached the front desk.  There was no line when we approached, but all the "normal" receptionists appeared pre-occupied and didn't notice us.  The "Cottage" receptionist did see us, though and promptly assisted us.  And after a few minutes, we were informed that our room was ready.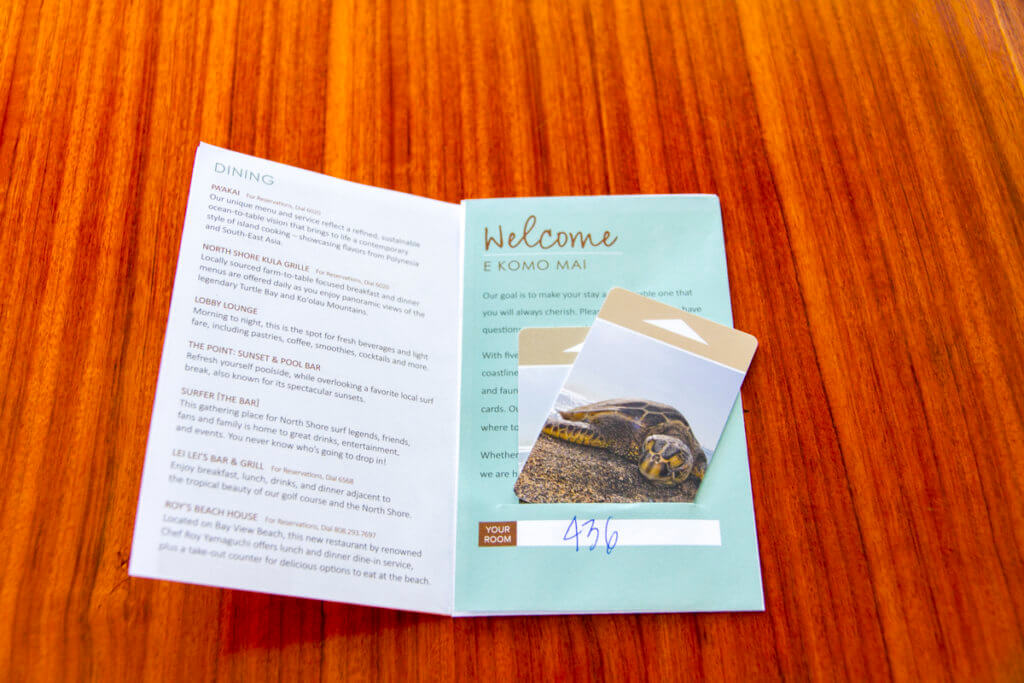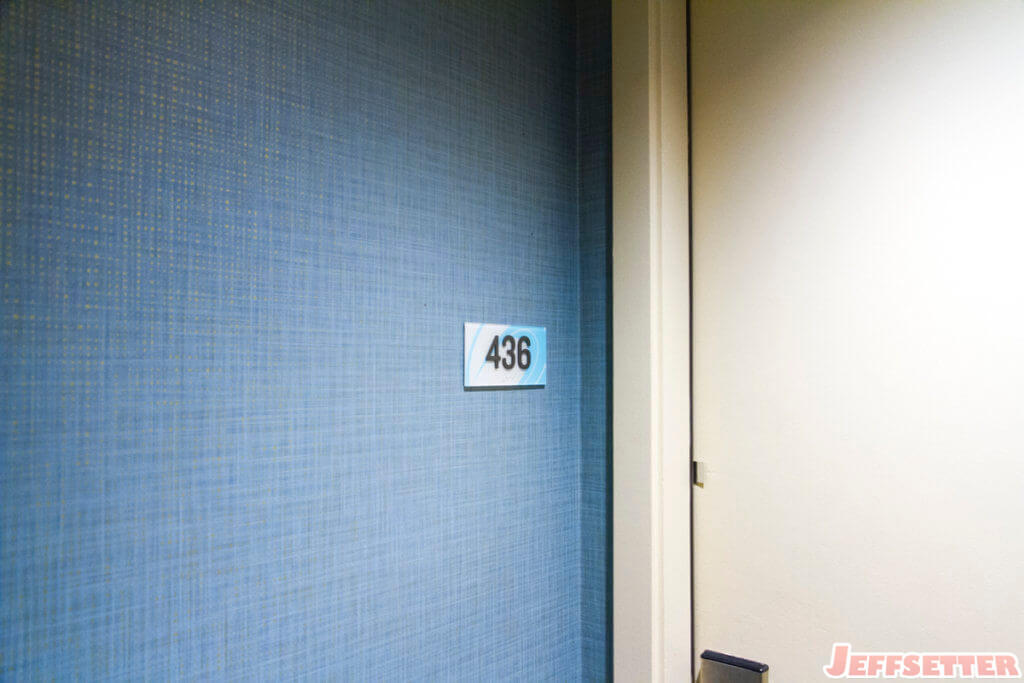 We were assigned room 436, a king room on the 4th floor (out of 6) of the main building.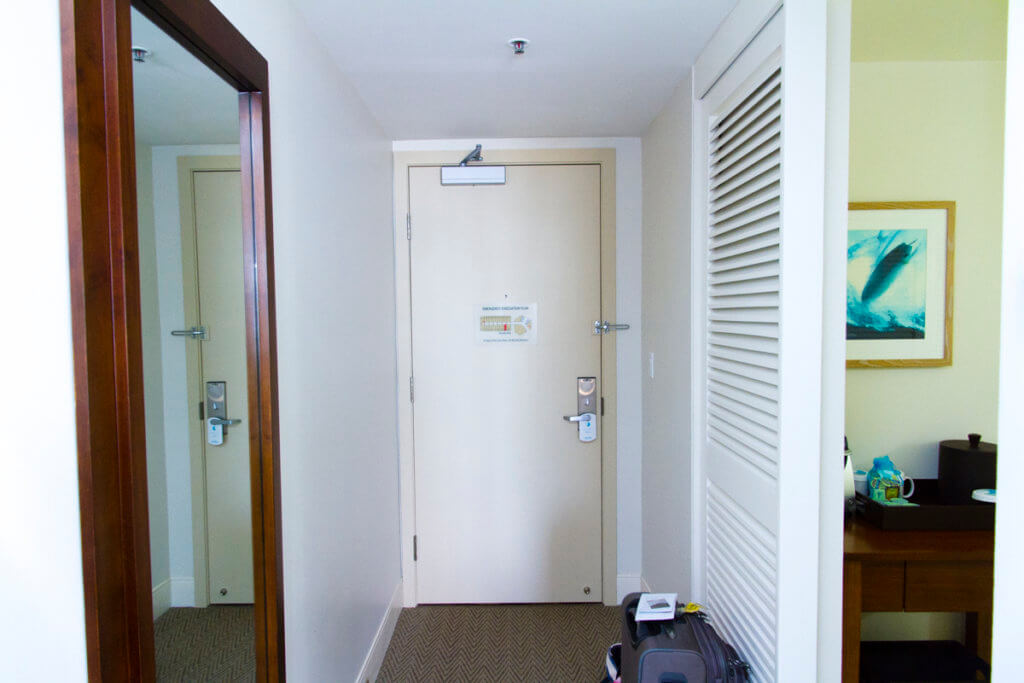 Located to the left upon entry was our room's nicely sized bathroom.  It's separated from the rest of the room by a sliding door, and is further partitioned with another door inside.  The bathroom itself has two vanities, one in each of the rooms.  One of the rooms contained a toilet and walk-in shower, while the other room contains the large closet with safe and ironing board, and the mini-fridge.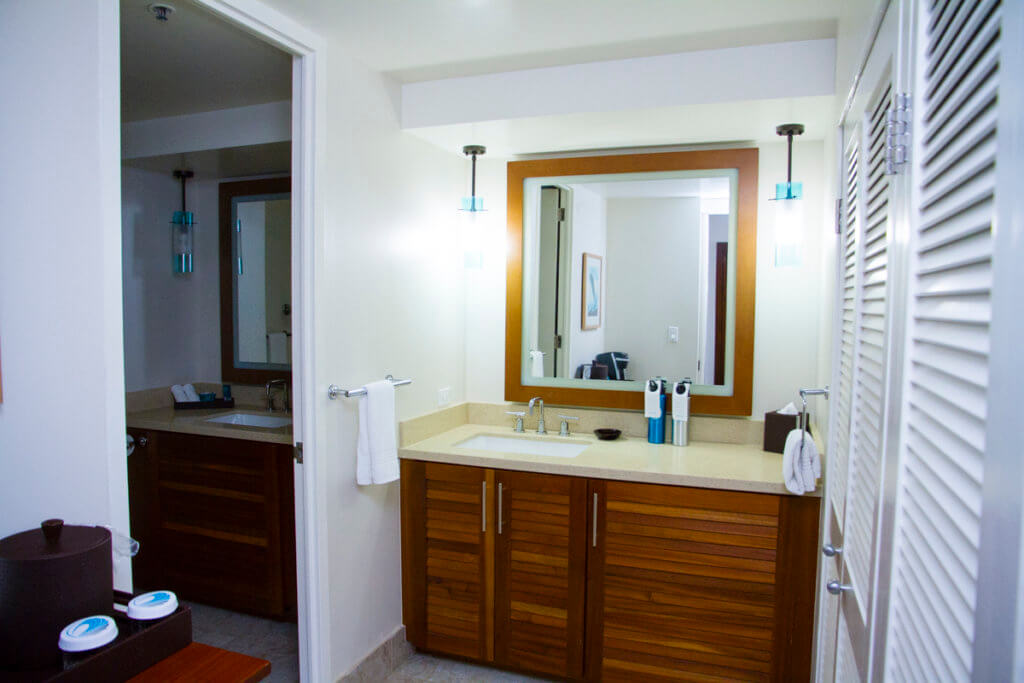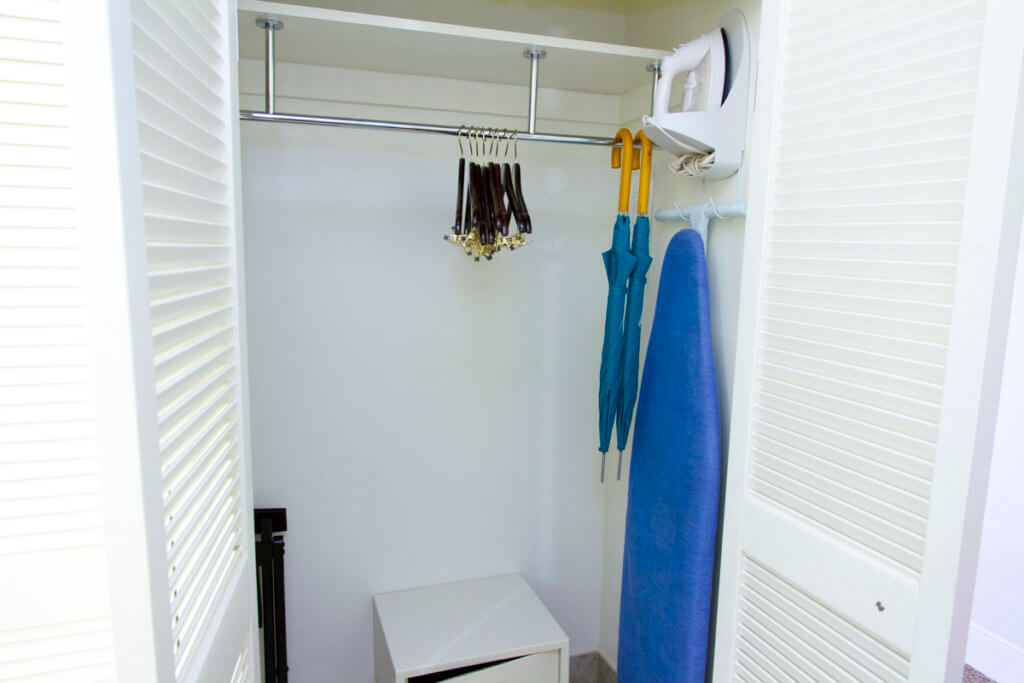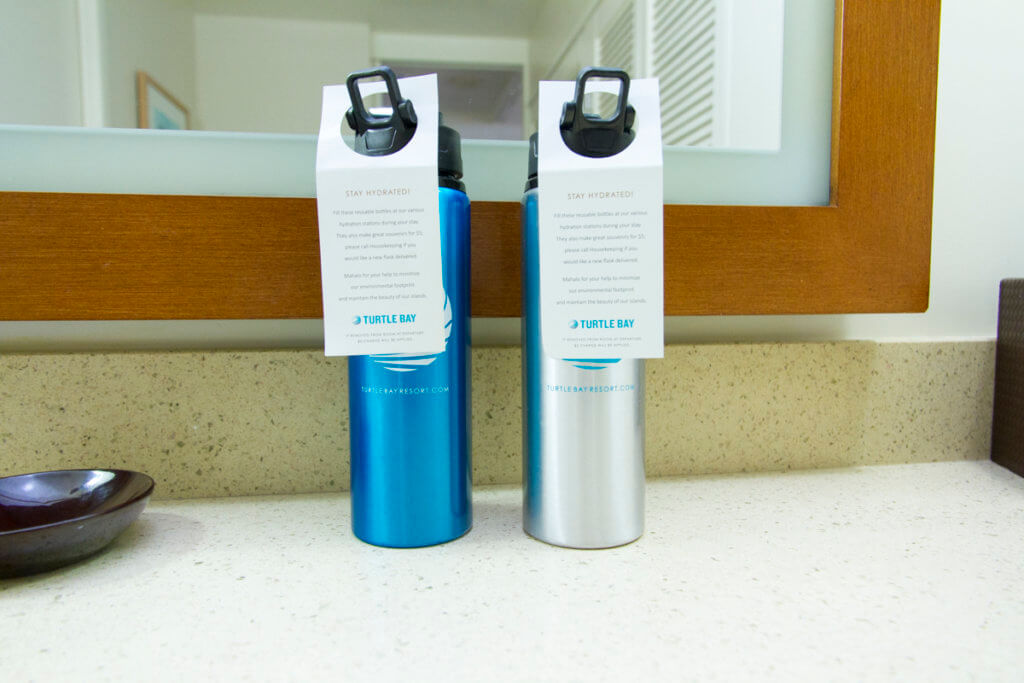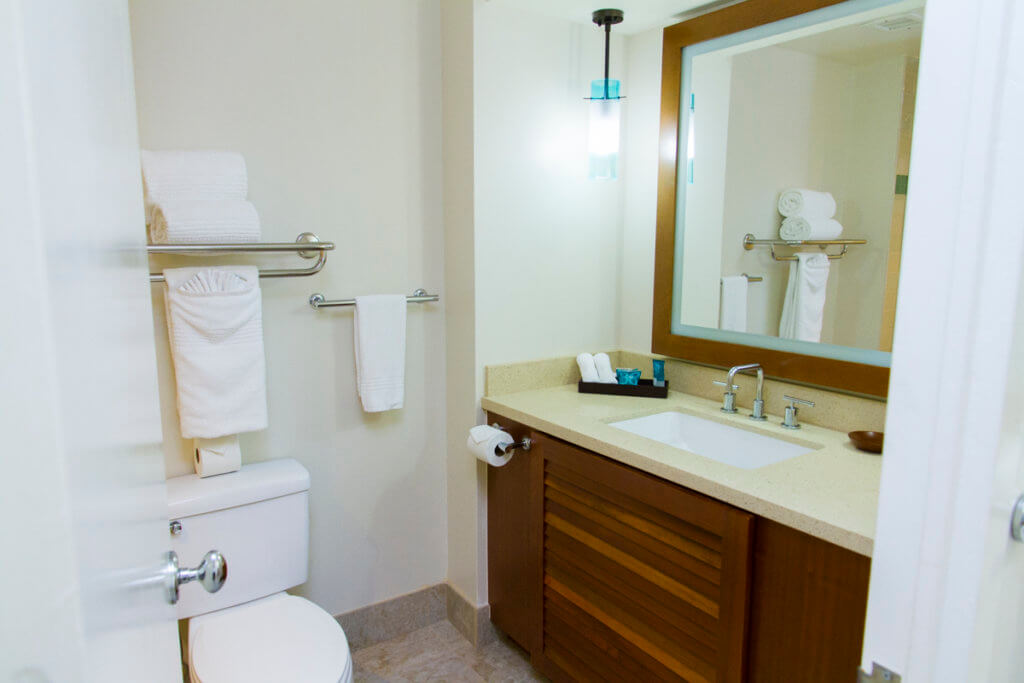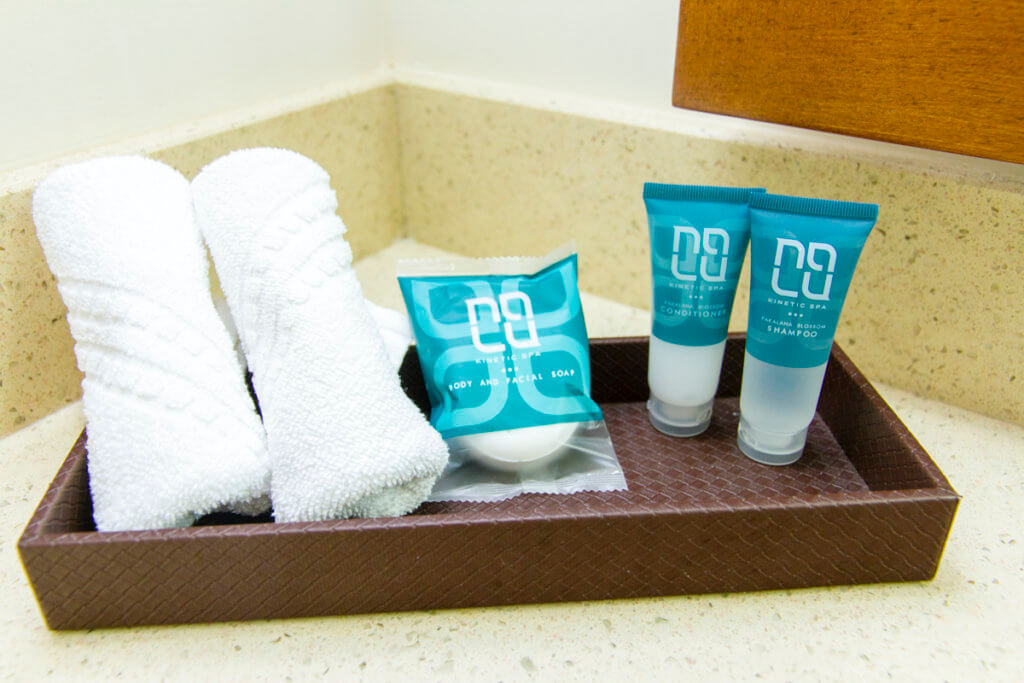 The bathroom is stocked with toiletries from the hotel's Kinetic Spa.  They were nothing special in my opinion, and didn't have much of a scent.  The reusable water bottles in the bathroom are provided for use on-property and may be refilled at stations throughout the property, though I didn't see many of them.  Also located in the bathroom is a Keurig with a handful of K-Cups and an ice bucket.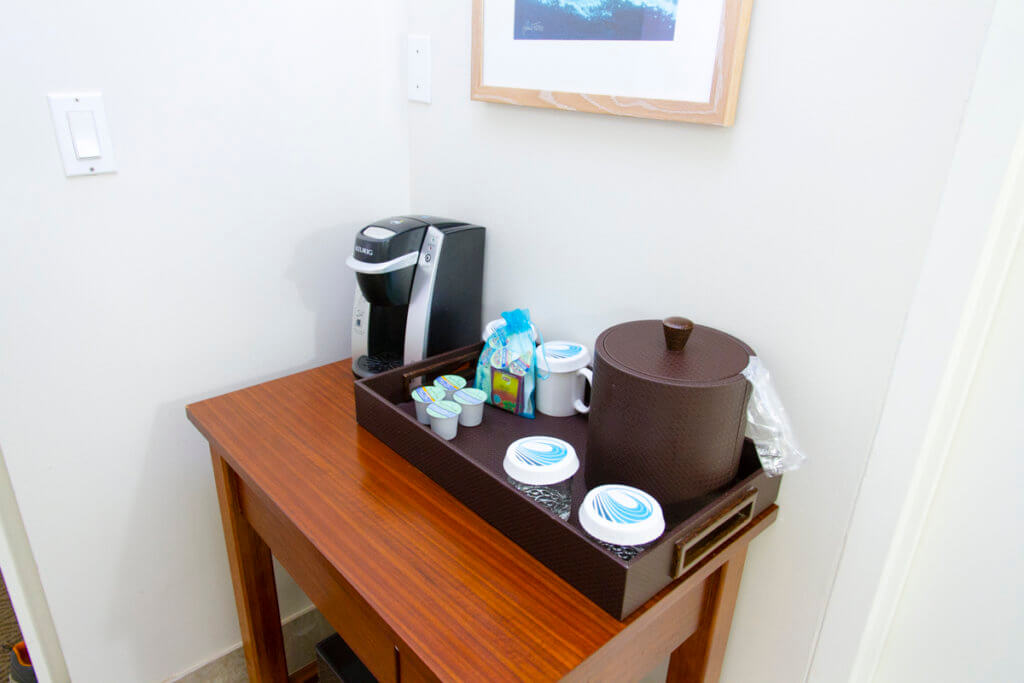 Heading into the rest of the room there's the king bed, a charity with ottoman, a table with a couple of chairs, a dresser, and a 42″ HDTV.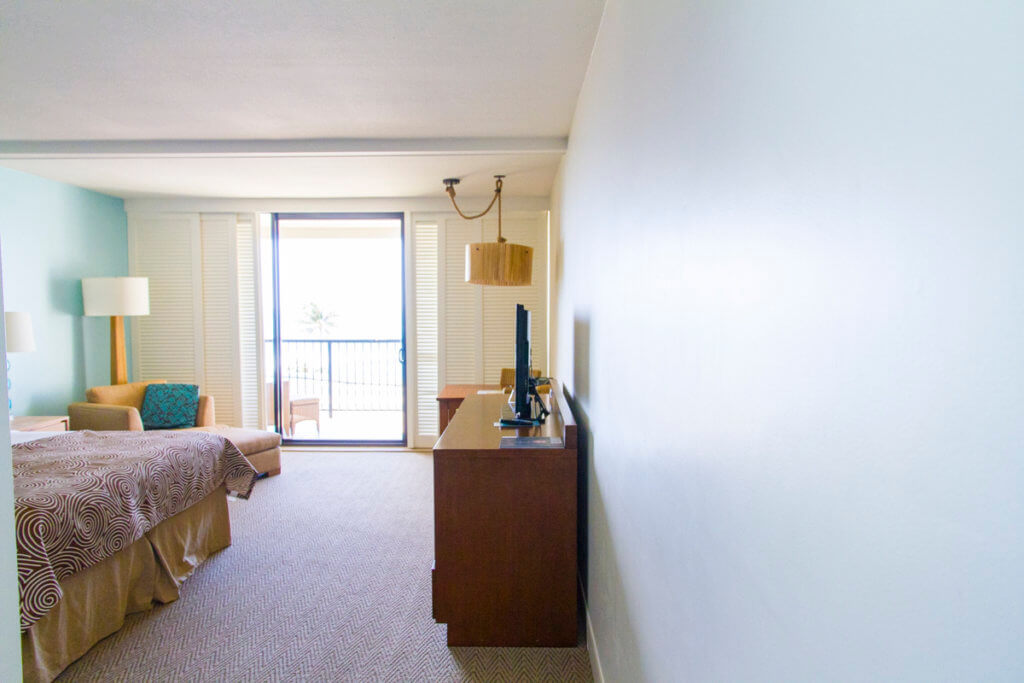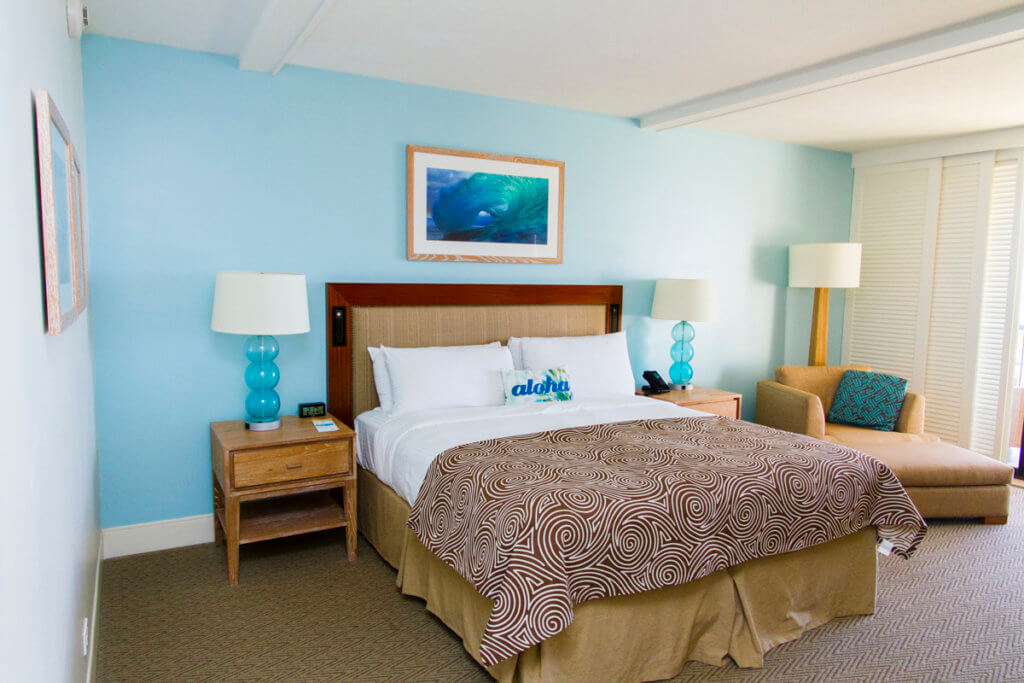 Turtle Bay's rooms are decked out in earthy and ocean tones.  The lamps on the nightstands reminded me of the ones Marriott used to use in their Courtyard branded hotels, but blue.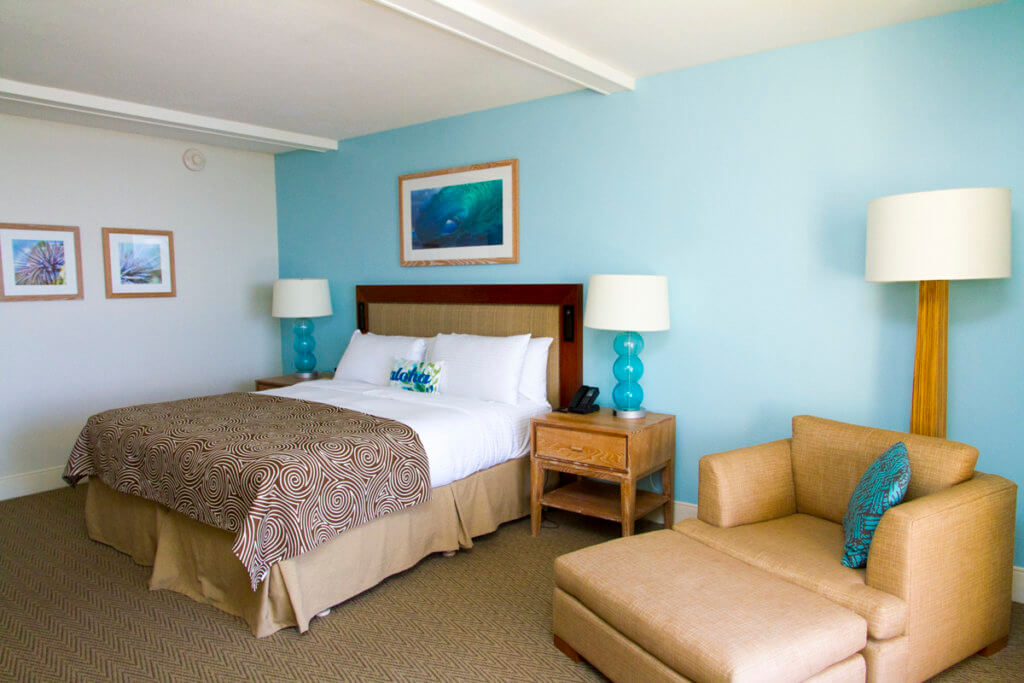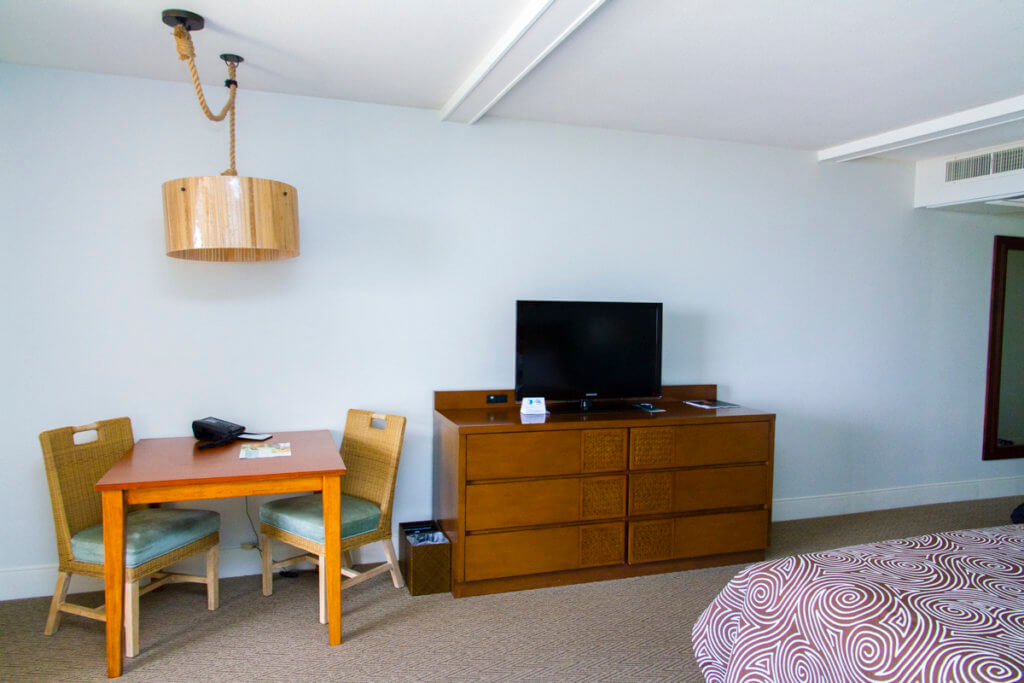 The room has two phones, one on the desk and one on a one of the nightstands.  An alarm clock is located on the other nightstand.  Two outlets are available next to the TV, with two USB ports.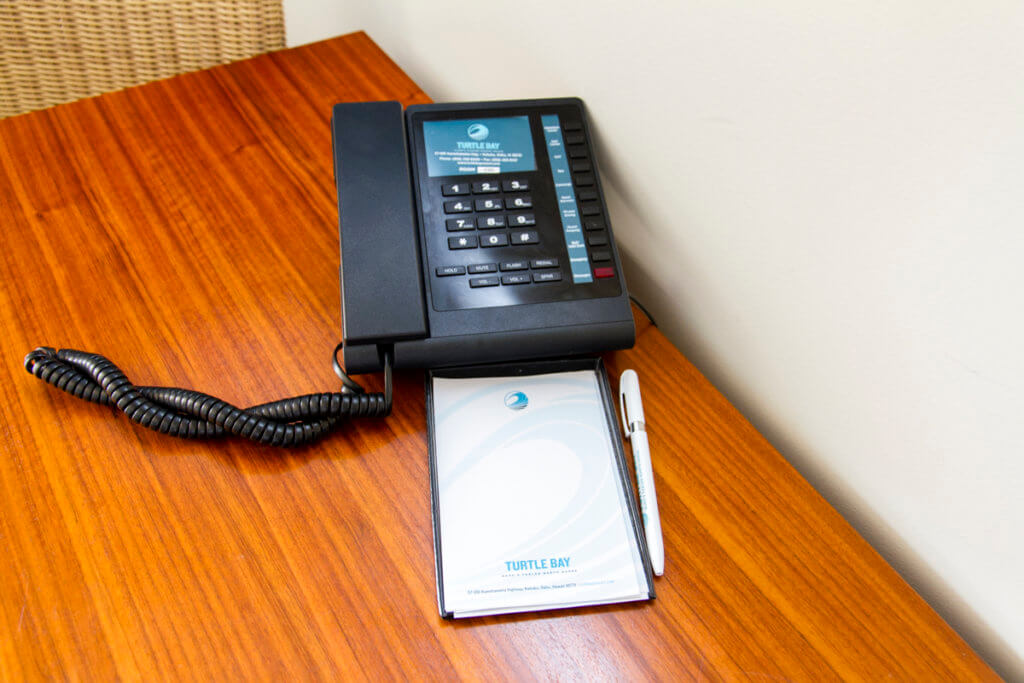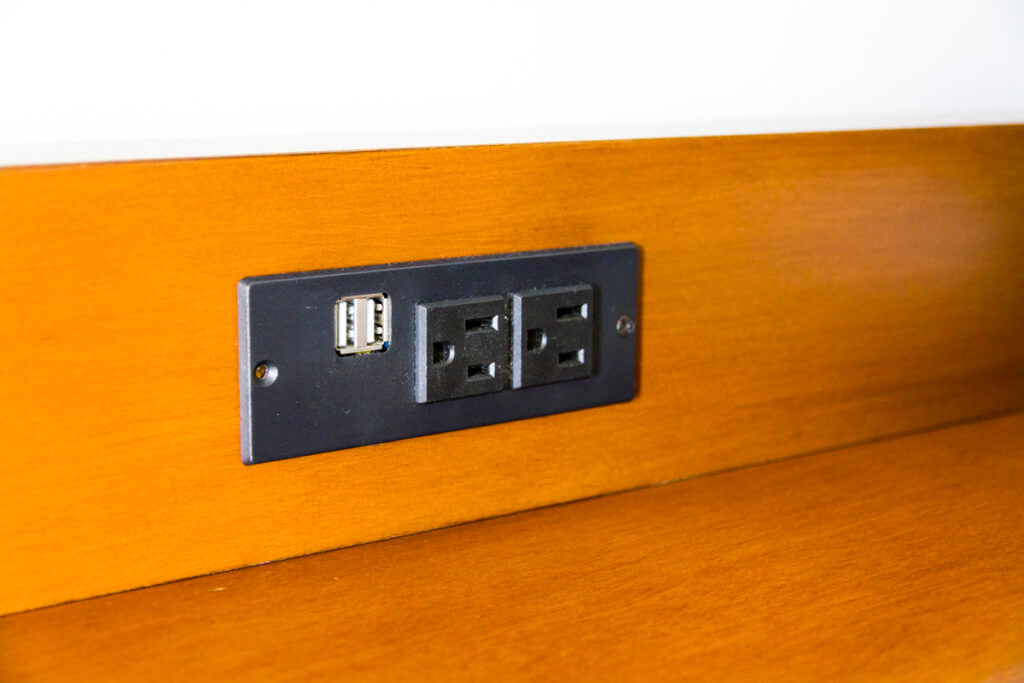 Of course, what you really want to know if how the view from our room is right?  We did have an ocean view king room after all.  Our room did have a nicely sized balcony with two chairs with ottomans and a small table.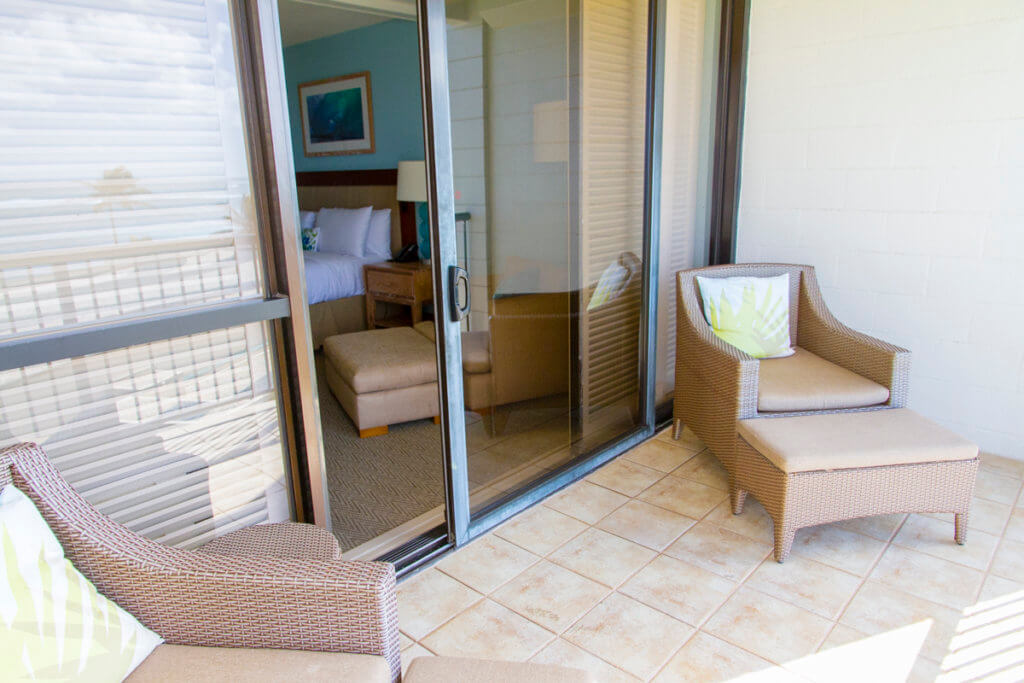 The view itself from our room was pretty good.  We did have a nice, direct view of the ocean…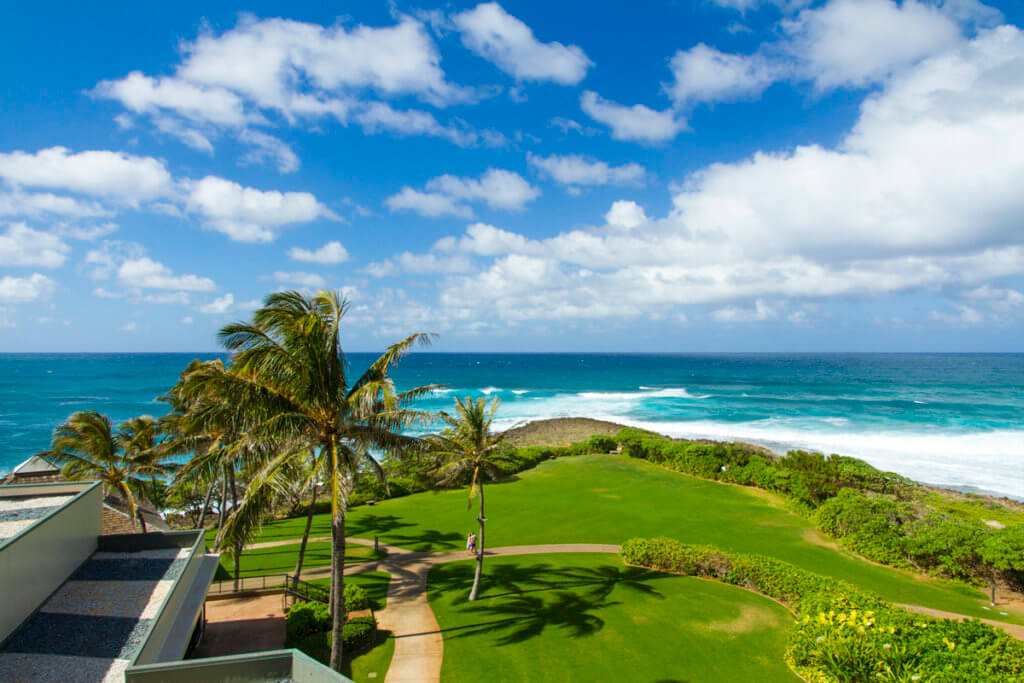 But the best view is towards the west of Kawela Bay, which our room didn't have a view of.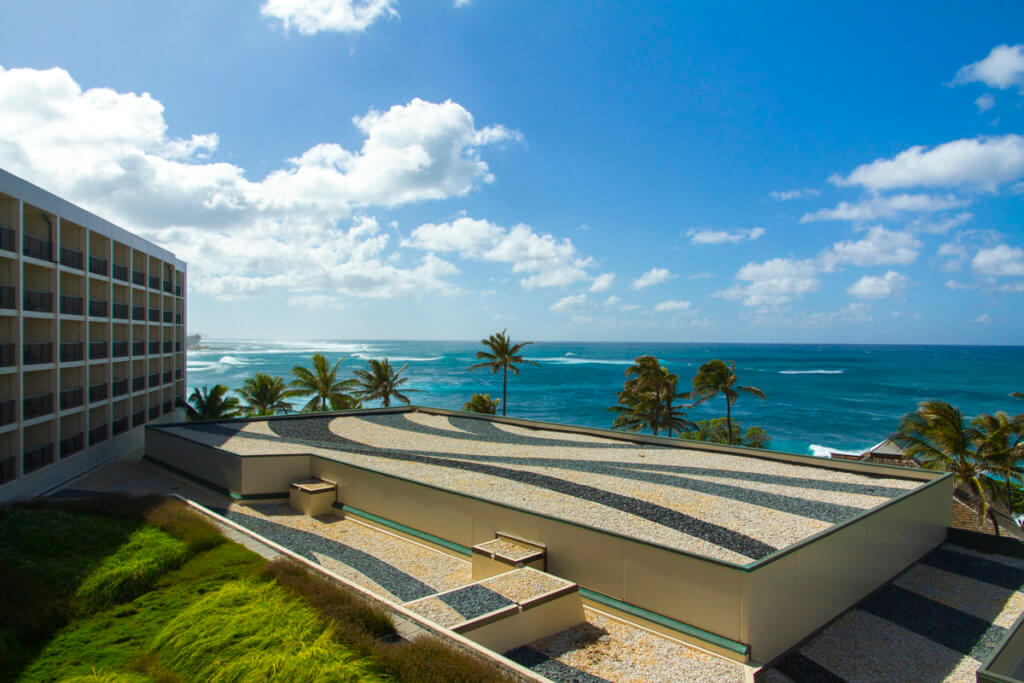 Ok, well you could kind of see part of it, but not really.  The view to the west is, of course, what draws people to the North Shore.  It's the direction of the legendary sunsets after all.
In terms of amenities, the resort has:
a single pool
fitness center
Kinetic Spa
two golf courses
a stable
tennis courts
foot golf
disc golf
beach rentals
surf lessons
walking/hiking trails
a wedding pavilion
and a heliport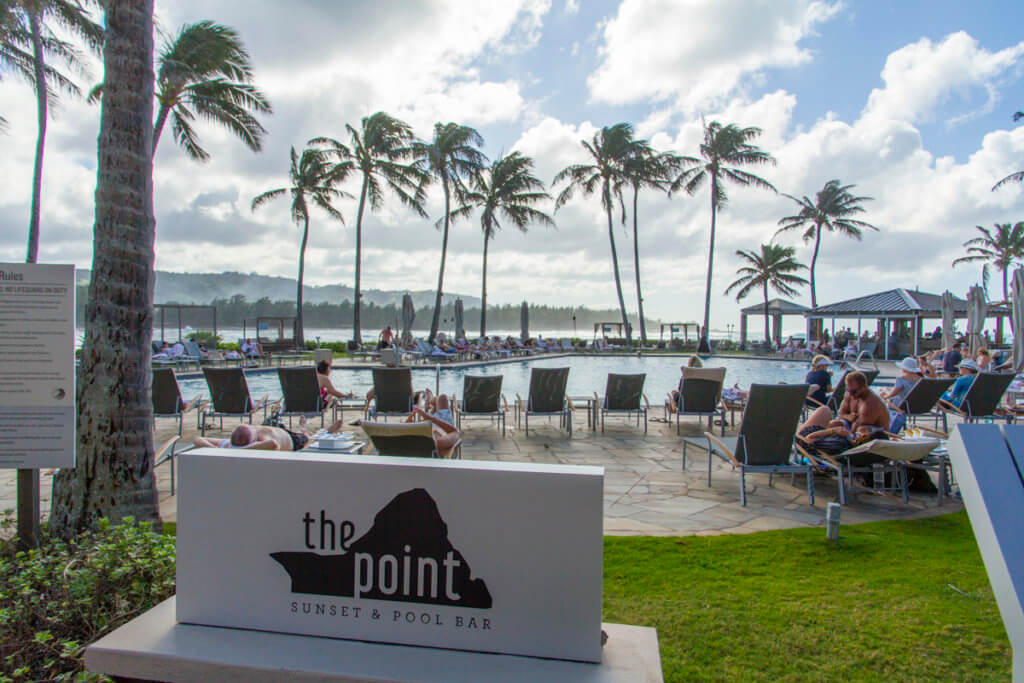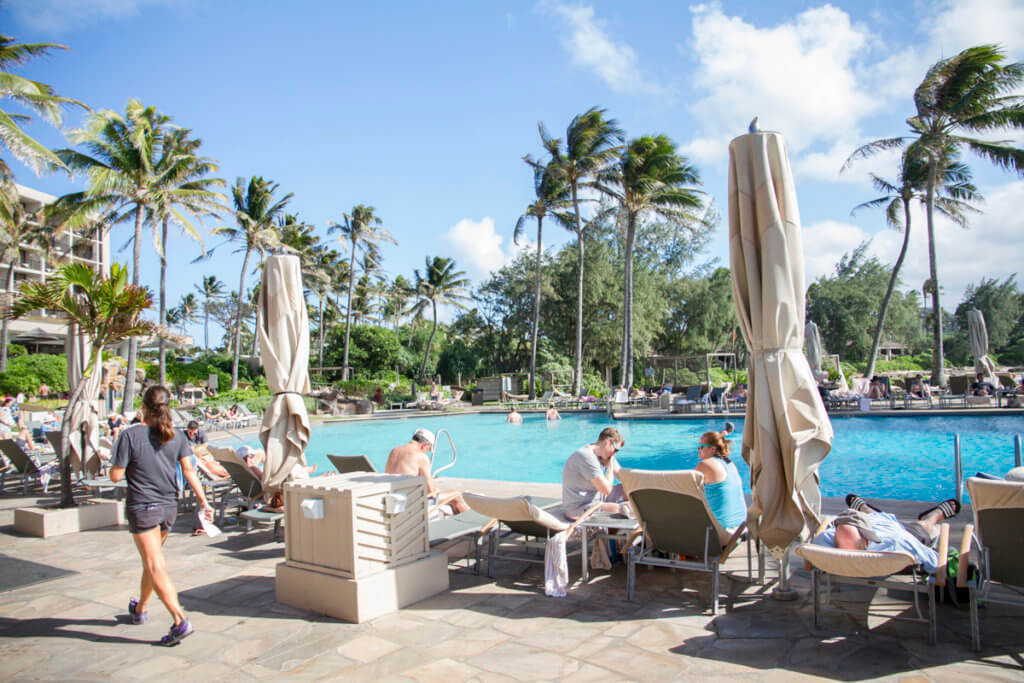 The pool isn't anything special in my opinion.  There is a waterslide, though.  In terms of beaches, there is no beach directly outside of the hotel.  There are beaches to the east and west of the hotel, with the one to the west being the closest.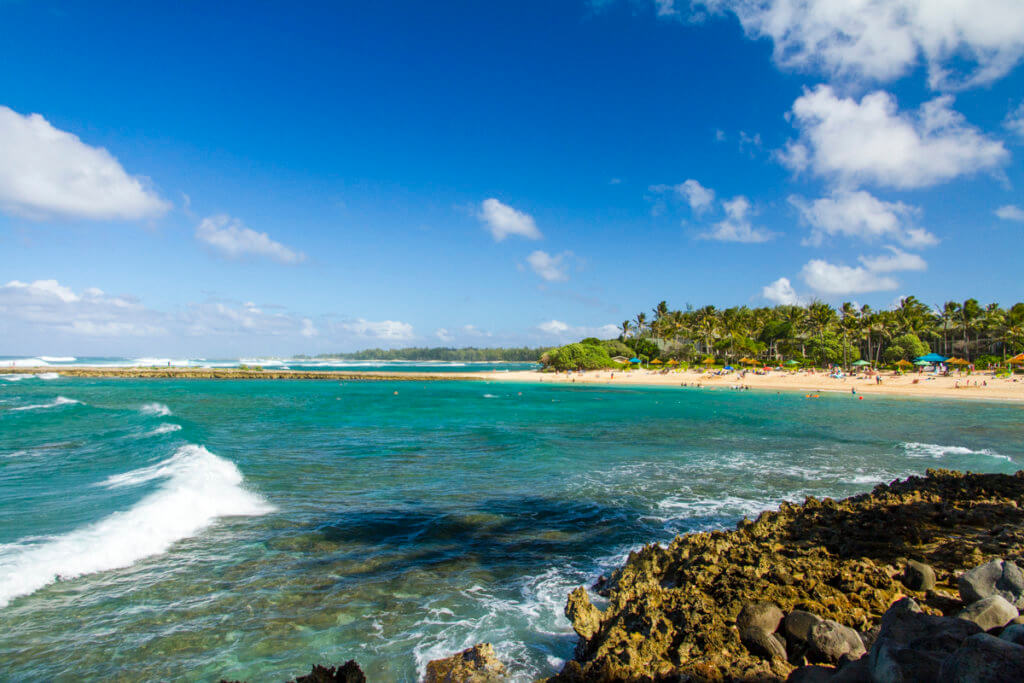 In terms of dining, Turtle Bay does have a number of different options:
Pa'akai (signature restaurant)
Kula Grille (resort's casual restaurant)
Roy's Beach House
The Point (pool bar)
Surfer, The Bar
Lobby Lounge
Lei Lei's (clubhouse restaurant)
Luau at The Point (Sundays)
room service
The restaurants on-property are very expensive.  We considered dining at Pa'akai, but we couldn't fathom paying those prices.  I mean they charge $62 for a 8oz NY Steak, which is far more expensive than elsewhere on the island.  For example, a 13oz dry-aged prime NY steak at Hy's in Waikiki is $53.  Hell, a 16oz bone-in NY steak at Michael Mina's Stripsteak Waikiki is $67.  Point is, the food at Turtle Bay is expensive.  We ended up going off-property for dinner, though we did order some snacks through room service later that night.  And that was only because all other options had already closed already.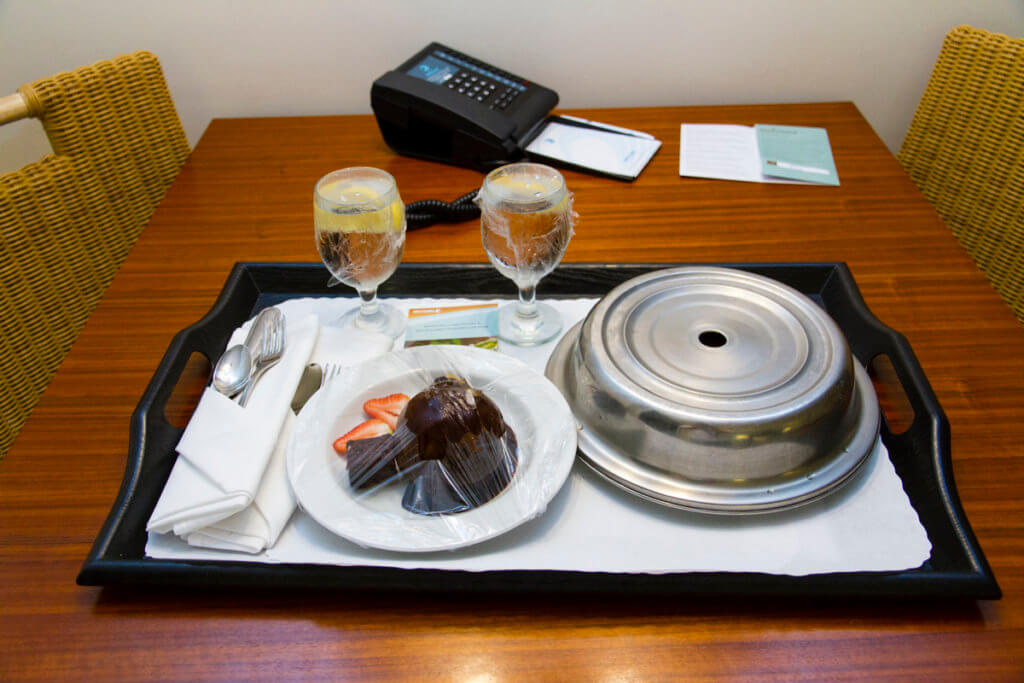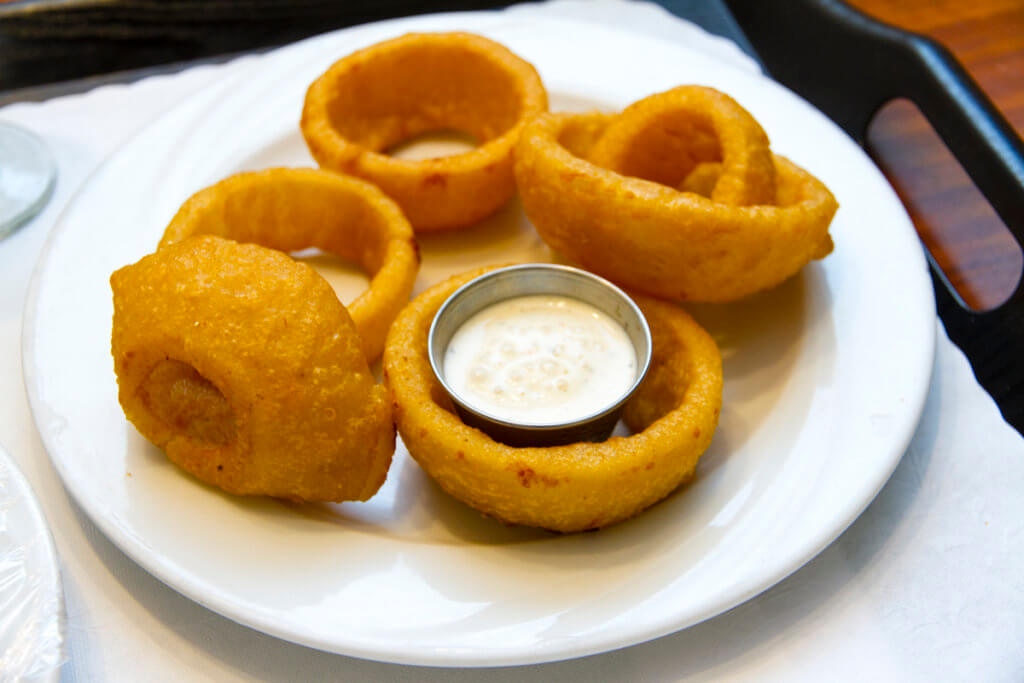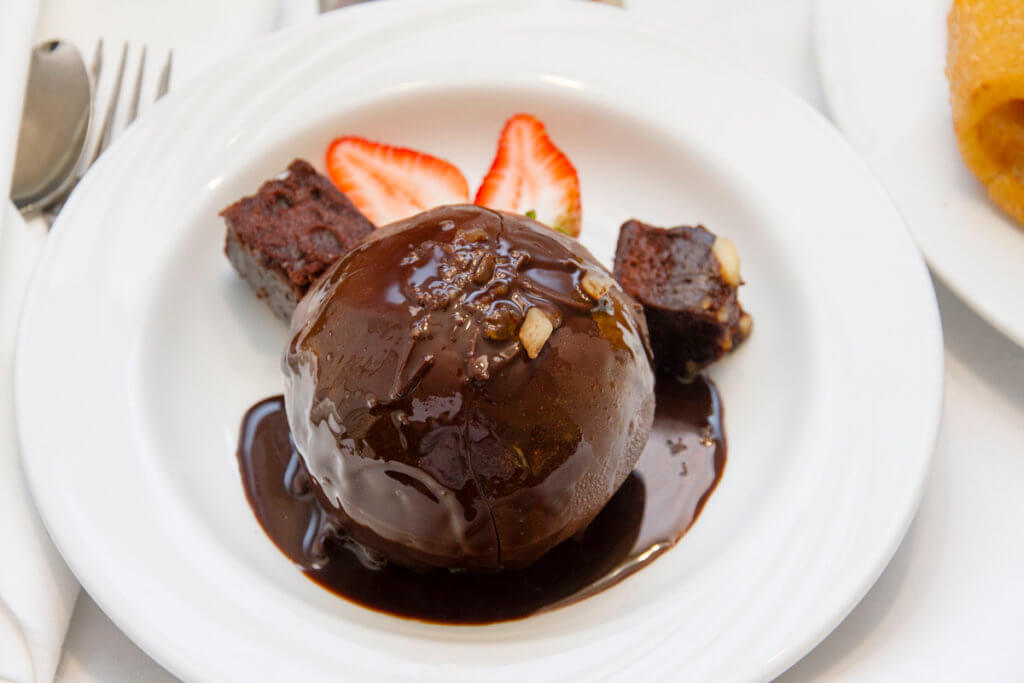 We ordered some onion rings and a "Kula Bomb."  Total tab for all of this?  $42.  That's inclusive of the $5 delivery charge, tax, 18% gratuity, and a small additional gratuity.  The Bomb was unreal sweet, and the chocolate sauce tasted vaguely like Hershey's chocolate syrup.  The onion rings were pretty good, though.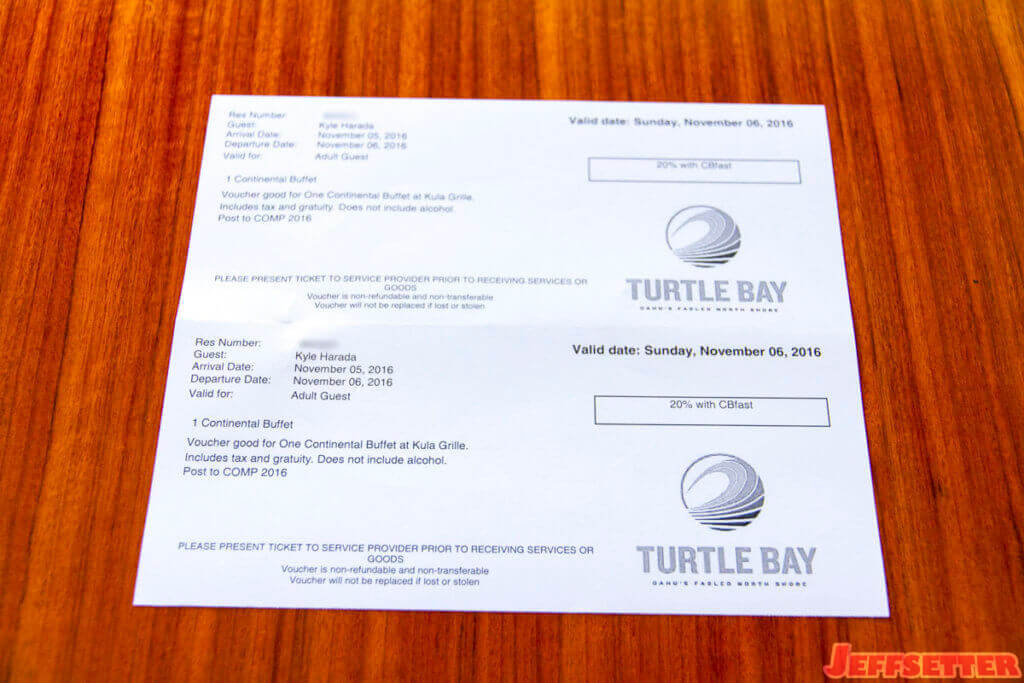 And remember the free breakfast we got as part of our rate?  Here's the certificates for the breakfast.  They include tax and gratuity, but we ended up not using them.  We weren't hungry and got up late, so we decided to get brunch off-property in Haleiwa.  More on that later…
So how was our stay?  It was ok.  The service at the property was, for the most part, great.  Our room was in proper working order and was visually clean; no rust or soap scum in the bathroom.  Unfortunately, both our headboard and chair (the one with the ottoman) smelled really musty.  As far as activities go, though, we really didn't do anything.  The weather during our stay was kind of crummy, and most of the activities on-property are fairly expensive.  And with no national affiliation, there isn't an incentive to stay at Turtle Bay over, say, Ko Olina for me.
I get it, though, a lot of people love to stay at the Turtle Bay Resort.  The area is really beautiful and peaceful.  If you have money to burn, there's even quite a few things to do, too.  But if you don't have much money to spare, there isn't a lot to do on-property.  And being in an isolated location, you'll have to drive off-property for any kind of other dining and activity options.  Because of its isolation, lack of affiliation, expense, etc. Turtle Bay isn't exactly for me.  This is especially true at normal prices, which are over $300/night for a standard view room without free breakfast.