As you'll recall from my post yesterday, the Marriott Choice Benefit is something I've been looking forward to.  But, it turns out, the Marriott Suite Night Award certificates are kind of a joke.
Ok, so I should have known better going in.  Former SPG members say using the Swee Night Awards (SNA) under Starwood were a bit hit or miss.  And with Marriott being Marriott, we should expect the certificates to be even more challenging to use.  So surprise, surprise, the certificates are quite tricky to use, at least in my experience.
My Scenario
As you all know, I don't travel as much as I'd like to.  I only get off island two, maybe three times per year.  And later this year I'm headed to Northern California for a wedding and for Mrs. Island Miler's birthday.  It's a milestone year for her, so I want to make this year something a bit more special.  So, right now, I have nights secured at the Courtyard Merced (for the wedding), the Los Alcobas Napa Valley, and have nights booked at the JW Marriott Union Square, the San Francisco Marriott Union Square, and the Ritz-Carlton.  I'm deciding between the last three and am also considering the Westin St. Francis.  Plus, towards the end of the year, we have a staycation planned at the Waikiki Beach Marriott.
But, anyway, can you guess which of the properties I can use my SNAs at?  Or how about I tell you which ones I can't use my SNAs at; the Los Alcobas, the JW Marriott, and San Francisco Marriott, and the Ritz.  Of course, the Ritz brand is excluded under the terms and conditions, so whatever, but the other ones?  Seriously?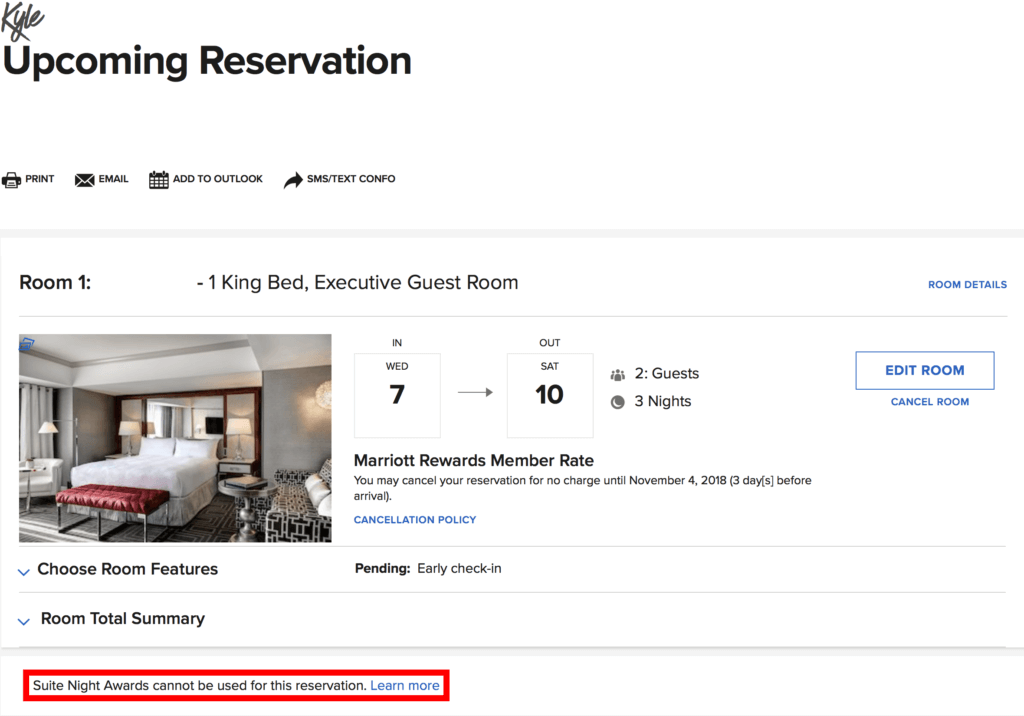 And, to add insult to injury, the San Francisco Marriott is offering me a $99/night upgrade to a Junior Suite!  So, obviously, the property can offer me something.  But no.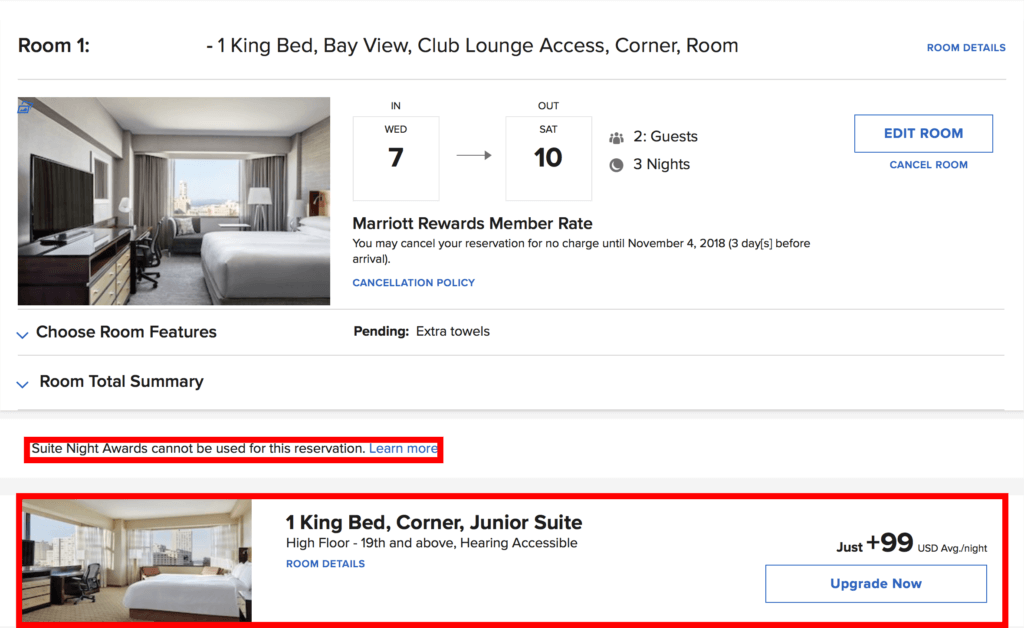 Choice Benefit Terms & Conditions
The situation above is to be expected of Marriott, though.  Elite upgrades were already few and far in-between, and why should it be any different with the Choice Benefit; especially if you read the program terms and conditions.

I know it's hard to read, but section xii of the SNA terms and conditions state that "Suite Night Awards" are not redeemable at select Participating Properties."  Worse yet, you need to call to figure out if an individual property is participating or not!  Or, of course, you could see if any of your existing reservations qualify.  That's right, aside from calling in, you can only see if a property is participating by completing a reservation.
But, anyway, since both the JW Marriott Union Square and Los Alcobas aren't allowing the use of SNAs during my dates, I wanted to see if they still have suites for sale.  And guess what?  They do.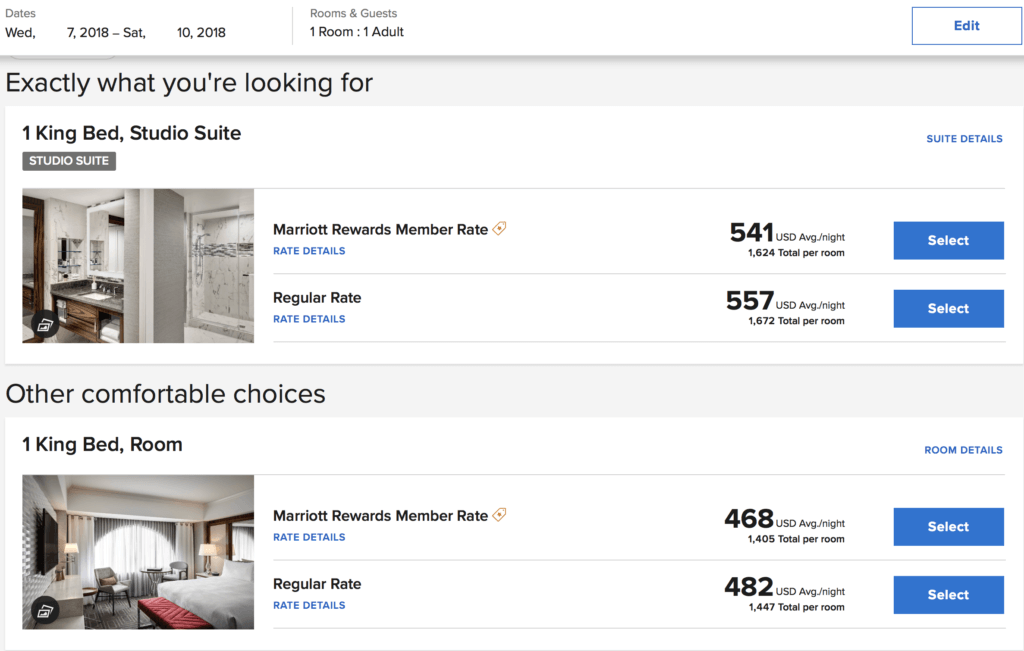 Which Reservations Are Working
So far, just two of my reservations are allowing me to make an SNA request: the Merced Courtyard and the Waikiki Beach Marriott.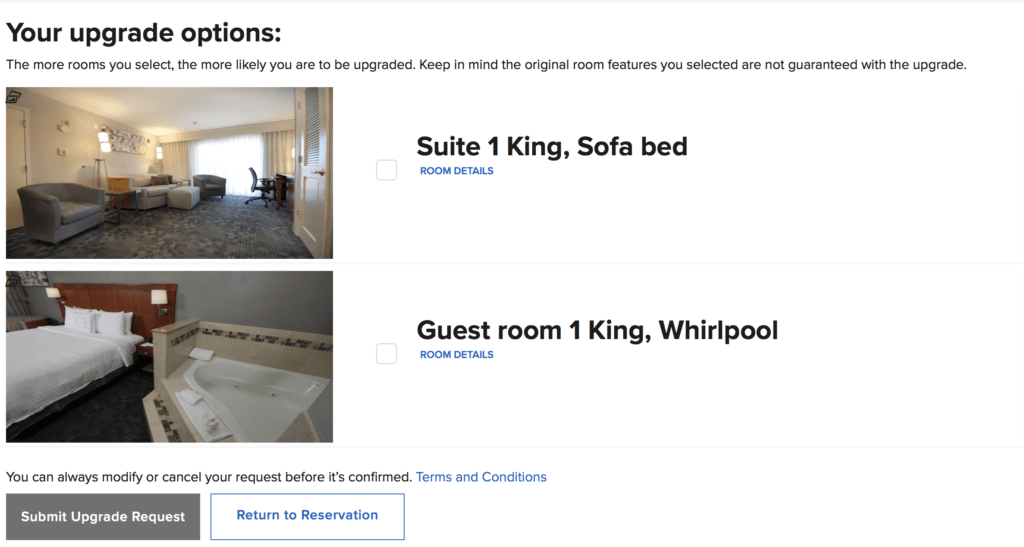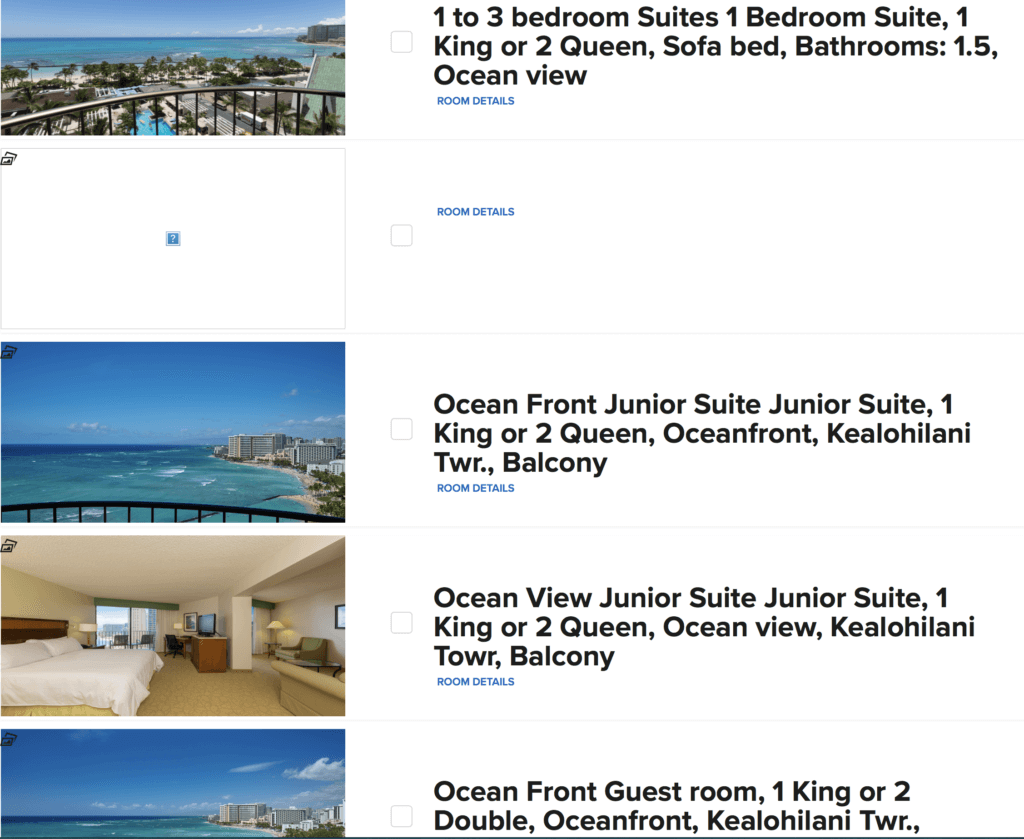 Using the SNA at the Courtyard would be a total waste, but the Waikiki Beach Marriott would is a possibility.  There are some good room categories available, after all.  But, even then, the certificate won't confirm until up to five days prior to check-in, though it may not happen until the day before at 2 pm.  And, of course, the property doesn't have to honor the SNA at all.  They are, after all, "subject to availability."
Marriott Suite Night Award Certificates are Kind of a Joke, Final Thoughts
Now, there's a remote chance that the lack of availability is due to a system glitch.  When I try to modify my Los Alcobas reservation online, it does give me the option to begin an upgrade request.  However, when I try to initiate the upgrade request, it asks me to login, and of course, I can't login via the Starwood page, as I already merged my accounts.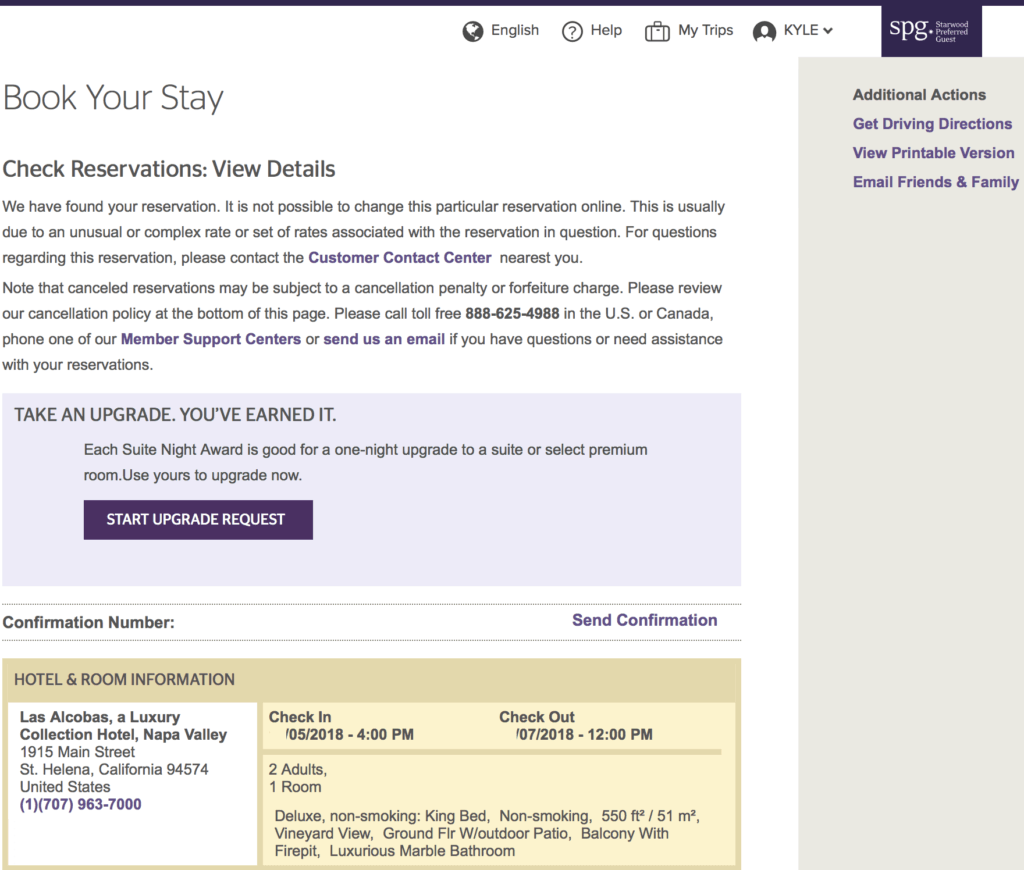 Of course, I'm not holding my breath.  I fully expect Marriott's Choice Benefit SNAs to be difficult to use.  But, should things change, I'll be sure to update!  However, for the time being, maybe don't choose this option.  The five Elite Night credits might be more useful, or if you're a Platinum Premier, take the Free Night.  Just know that the Free Night Certificate is limited to a 40,000 point award, which is lame.