Unfortunately, Portland doesn't have a Silvercar branch, so I decided to rent with Alamo. And, despite the plethora of negative reviews, I really enjoyed my Mazda CX-5 rental at Alamo PDX.
Most of my car rentals lately have been through Silvercar by Audi. After all, I love the value they provide, along with their excellent cars. But, they don't have locations everywhere I travel. So, when I end up in a city without a Silvercar location, I usually default back to Alamo. Why? Because they offer the same cars as National, but at much lower prices.
I'm not gonna lie – I was apprehensive about going into this rental. This particular location has quite a few negative reviews. Plus, my last Alamo rental was, um, disappointing, to say the least. But, my desire to not spend too much, an excellent member rate, and generally good experience with the brand lead me to book with them anyway.
Alamo PDX Arrival
The biggest difference between Alamo and National at Portland International is their locations. National is in the rental complex directly attached to the terminal building. Alamo, on the other hand, is about a 10-minute shuttle ride away. But, that didn't bug me too much since this is usually the case with Silvercar anyway.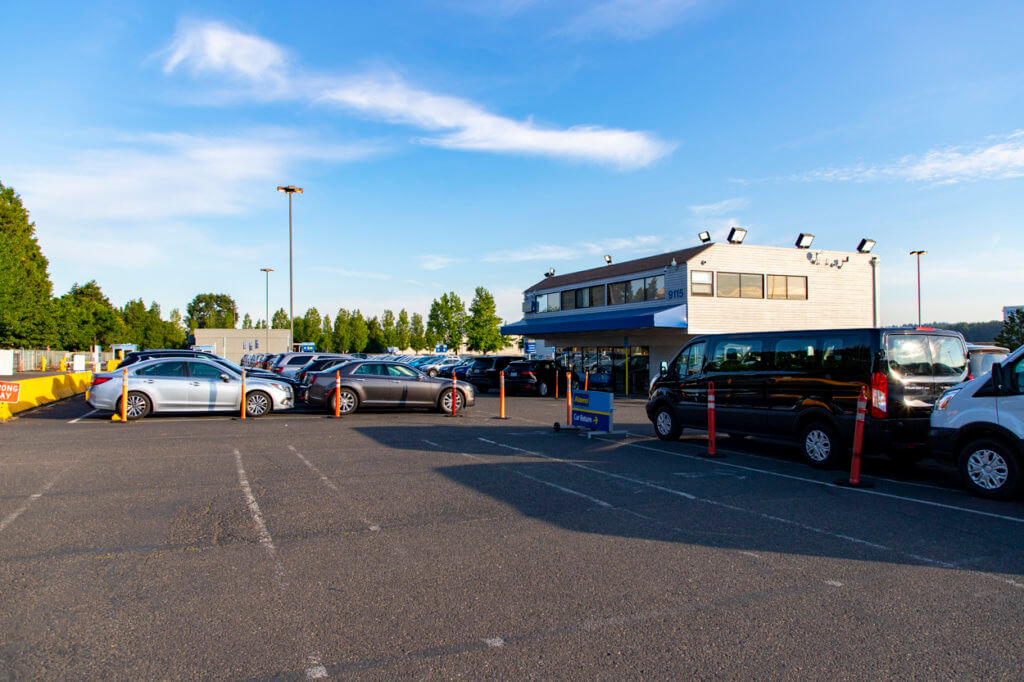 Our shuttle arrived after a brief wait, and the driver was a total gem. Heck, both drivers we encountered during our time in Portland were. They were incredibly friendly and helpful. The same is true of this location's customer service agents too. This was the exact opposite of what I read about in reviews. And, in true Alamo fashion, once we were checked in, they told us which row to proceed to and informed us that we could choose any vehicle in it.
I really wanted to give the 2020 Toyota RAV4 I spied on our way in a shot, but the guy ahead of me took it. So, I settled on the Mazda CX-5.
Mazda CX-5
My first time ever driving a Mazda was a Mazda 3 I had on Maui back in 2014. It was a great car for its segment, but Mazda has come A LONG way since then. In fact, I was utterly impressed with the 2020 CX-5 I had for this rental.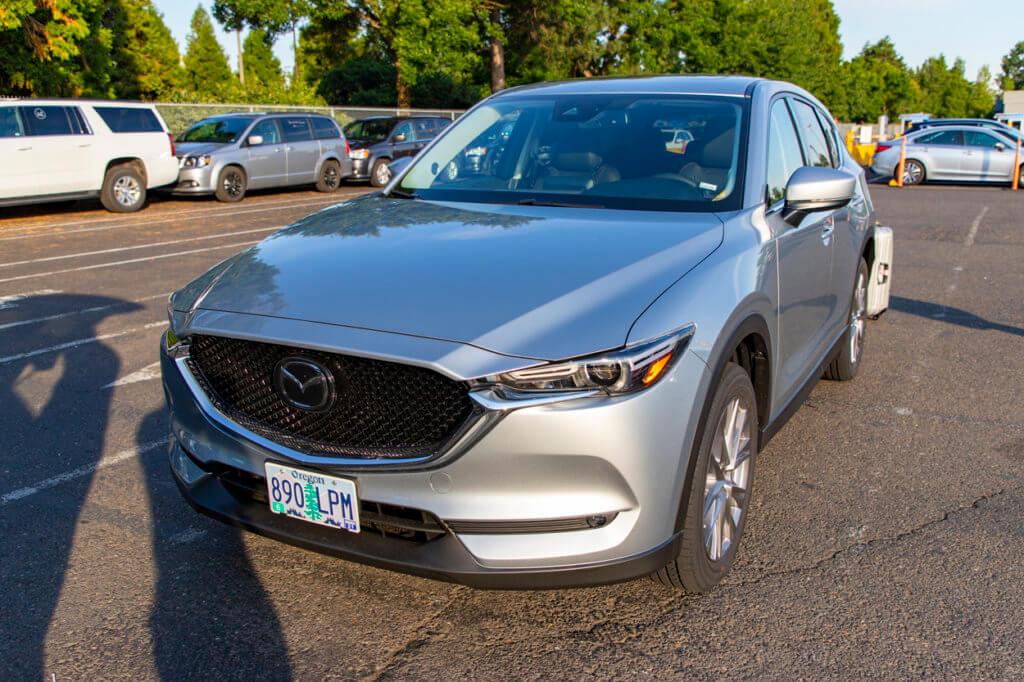 Our particular CX-5 had just 10 miles on the odometer, which probably helped the experience a little. What's more, this is a higher-trim, all-wheel-drive variant of the mid-size SUV. I think our car was a Grand Touring trim, meaning it has Mazda's 2.5l 4-cylinder Skyactive G motor producing 187 hp and 186 ft/lbs of torque. The vehicle also includes a leather interior with heated seats, a 10-speaker Bose sound system, Apple CarPlay, automatic dual-zone climate control, adaptive LED headlights, dynamic cruise control, blind-spot monitoring, a powered moonroof, and a touchscreen infotainment system.
While the material quality and fit and finish wasn't quite as good as the Audi Q5 I had in Seattle, it was damn close. What's more, the seats were a bit more comfortable and the leather on the steering wheel felt just as nice. I also appreciated the inclusion of a separate passenger volume control knob as Audio does.
As far as performance goes, the CX-5 feels peppy enough. I wish it had a little more pep, which the turbo version would, but acceleration was entirely adequate. The car also handles very nicely, maintaining its composure even if I decided to push it a little. I do also love Mazda's decision to stick with a regular geared transmission, though it did shift a little rough on occasion during slower speeds. But, this is something the Q5 did too.
Return
Much like our arrival, returning the car was effortless – heck, it was almost a pleasure. Everyone we encountered was very friendly and customer-oriented. The process was also really quick. Upon pulling up, we probably spent about five minutes total waiting and going through the return inspection. Then, we were off onto the shuttle where we waited another five minutes before heading out to allow a few more people to board.
Mazda CX-5 Rental at Alamo PDX, Final Thoughts
Was my very positive rental experience at Alamo PDX a fluke? It's possible. But, I'd like to think that despite difficulties in the past, they've changes for the better overall. And, man, I must say, I'm now a fan of the Mazda CX-5. No, I won't be trading in my beloved Scion FR-S anytime soon. But, if I ever decided to buy a mid-size SUV, the Mazda CX-5 is definitely in my top three.
Long Weekend in Portland
Mazda CX-5 Rental at Alamo PDX