Last week news broke that a certain casino operator is raised its resort fees. And the amount by which they're raising them has me asking MGM increased resort fees by how much?!
Resort Fees Suck
I HATE resort fees with a passion. The only purpose they serve is to dupe unsuspecting travelers by making them think they're getting a better deal than they are and to make hotels more money. Plus, the benefits they give you as part of the fee are generally useless and are often benefits Elite members should receive free anyway. And, even then, the amenities included in resort fees keeps shrinking, while the fees themselves keep increasing.
MGM Resort Fee Increase
As reported by Gary Leff, MGM increased its resort fee on August 1 by $6. This increase impacts the MGM Grand, Aria, Bellagio, and Vdara, going from $39 to $45 per night. When you include applicable taxes, the resort fee at these properties is now a whopping $51.02 per night. That's quite a bit higher than the astronomical fee I paid at the Andaz Maui last time I stayed, which was $40 per night plus another $40 for parking (but the resort fee is $48/night now!!!).
It's worth noting that MGM is merely matching the resort fees already in place at Las Vegas Sands properties the Wynn Las Vegas, The Venetian and The Palazzo. That doesn't make it justifiable, though.
How This Looks in Practice
Take a look at rates for Aria in early November.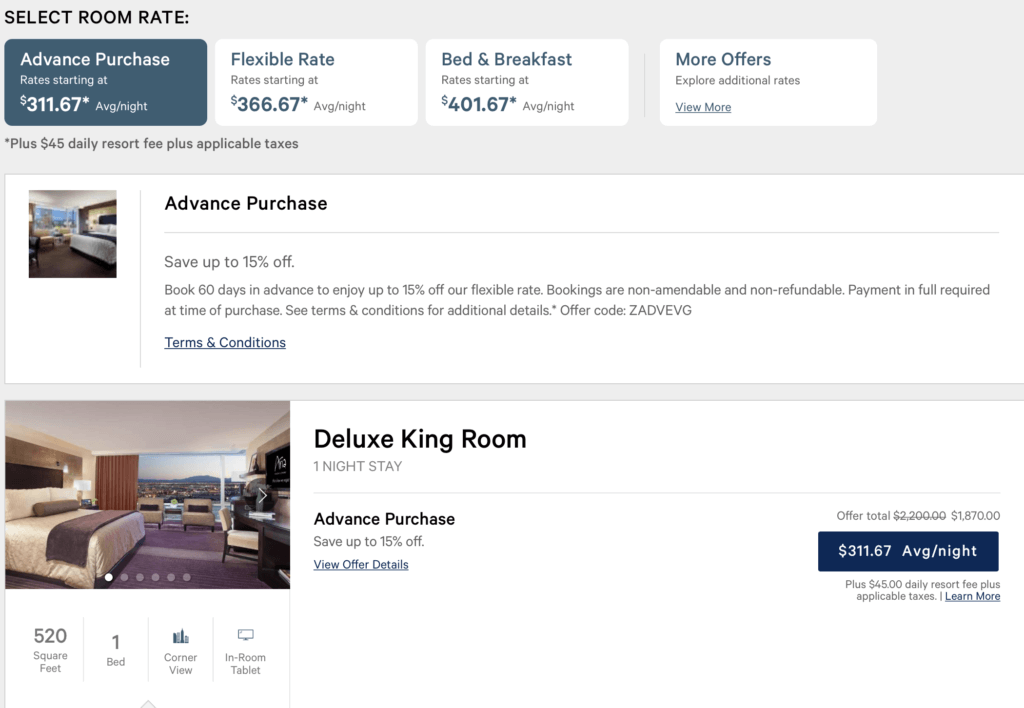 $312 per night advance purchase, $367 per night flex rate is already pretty steep, in my opinion. Then, add on $45 per night to that AND all applicable taxes, and you're looking at $467 per night at the advance purchase rate!! That's a $100 per night increase over the quoted rate!! WTF!!!!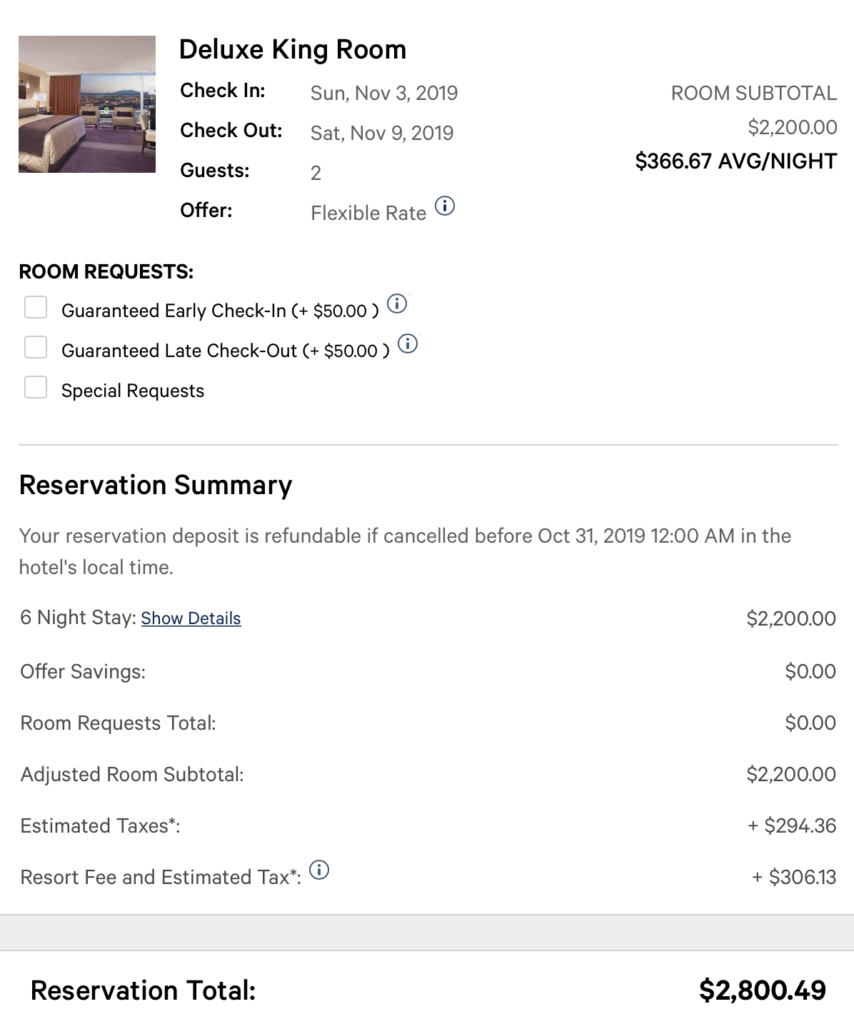 So, over the course of a week long stay, you're paying over $300 in fees and their associated taxes. And, of course, resort fees aren't optional, even if you don't use any of their benefits.
MGM Increased Resort Fees by How Much, Final Thoughts
Think there's nothing you can do about resort fees? There is! You can choose to stay at a property that doesn't charge them, though most of them kind of suck:
Desert Rose Resort
Wyndham Grand Desert Resort
Four Queens
Americas Best Value Inn
Howard Johnson Tropicana
Lucky Club
Travelodge Center Strip and Las Vegas Airport
WorldMark Las Vegas Blvd and Tropicana
Red Roof Inn
Hampton Inn & Suites Las Vegas South
Holiday Inn Club Vacations At Desert Club Resort
Best Western McCarran Inn and Henderson
Hyatt Place Las Vegas
Staybridge Suites Las Vegas
Of the above, I'd probably stay at the Hyatt Place, though that's still not ideal. You can also get the resort fee waived when staying at Caesars properties as a Caesars Rewards Diamond Member. Of course, you could always boycott Vegas too.
Me, I don't really go to Vegas except for work. In fact, next time I'll be there is for a conference at the Aria, and the conference rate isn't subject to the resort fee.