I've always been interested in timelapse photography, but don't really have the patience to do it on my own. So, I decided to give the Arsenal Smart Camera Assistant a try. And, it works – sort of.
Background
The Arsenal Smart Camera Assistant is a module that plugs into compatible DSLRs from Canon, Nikon, and Sony. And, as its name suggests, its purpose is to use AI to help you compose the perfect photos. Not something I necessarily wanted it for, but it also serves as a timelapse controller too for a low cost of $150 at the time.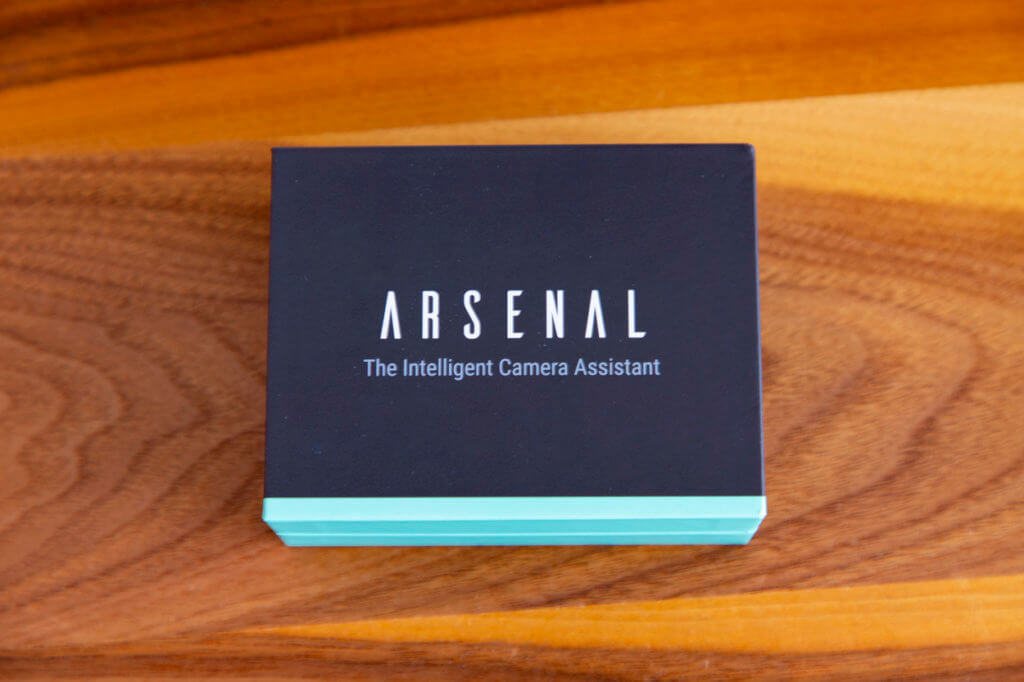 As is typically with these kinds of tech startups, the Arsenal Smart Camera Assistant actually got funded via Kickstarter, which I know has its issues, but I've been lucky with the items I've backed. For me, though, I only learned about the device after the Kickstarter campaign and, as such, preordered it when it became available in January 2019.
It was also supposed to ship in January 2019, which ended up not happening. Instead, it shipped in mid-February and arrived in my mailbox in mid-March. What's more, when I received my unit, I discovered that, despite being for sale to the general public, the software wasn't yet complete. A major component that was missing was, of course, their "Holy Grail" timelapse mode.
Holy Grail Timelapse
Now, about the Holy Grail timelapse mode. It's so named because its a feature that promises to automatically conduct exposure ramping for a smooth timelapse video under changing lighting conditions. That's an incredibly challenging thing to do, since cameras are, generally, unable to meter consistently in changing lighting conditions. So, I can appreciate the challenge that faces them. And, for what it's worth, after conversing with the team a bit, they gave me access to the beta firmware to enable the unfinished Holy Grail mode.
So, with that all said, here's my experience with Arsenal so far.
Meet the Arsenal Smart Camera Assistant
The Arsenal Smart Camera Assistant is a fairly compact unit about the size of a credit card and is about an inch tall. It's made out of plastic and features two micro USB ports, an indicator LED on the rear, and a hot shoe mount. Unfortunately, it isn't water-resistant, but you can charge it with a standard battery pack to keep the thing working beyond its 4-ish-hour life. Also, the hot shoe mount is quite flimsy and loose. Tilt your camera, and it'll come flying out. Luckily, the USB cord attaching it to your camera usually keeps the thing from crashing to the floor.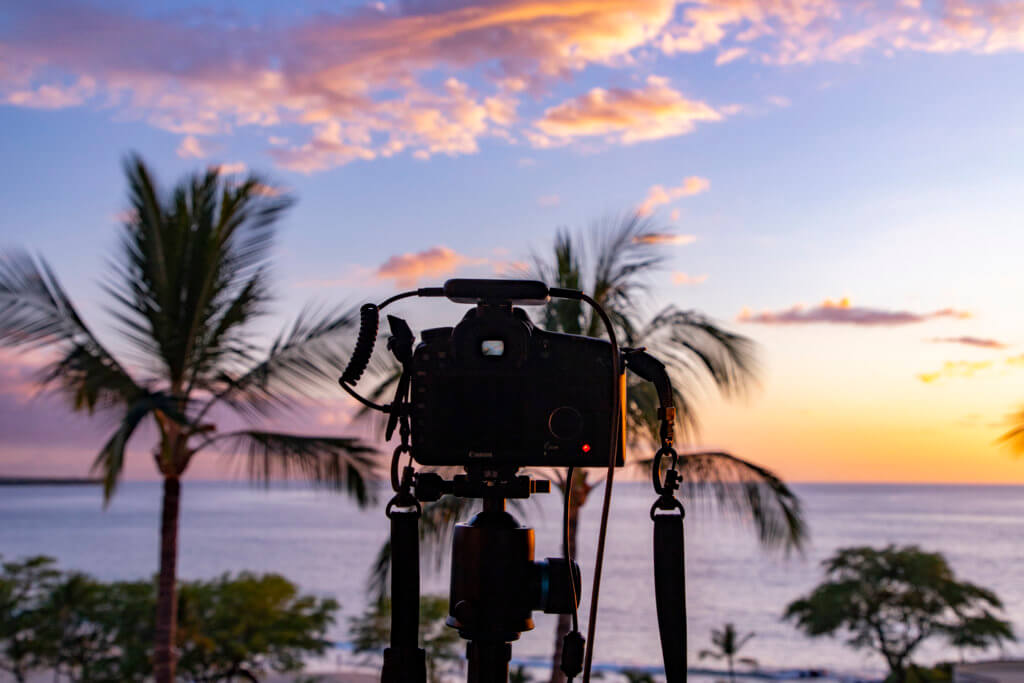 Since the unit itself is devoid of any buttons except for the power button, everything happens via your smartphone. Pairing requires you to join a WiFi network generated by your Arsenal, which usually happens quickly. However, I have had pairing issues, which took my unit offline for almost a month. Unfortunately, this also means that you can have your phone of WiFi either when using the device.
Using Arsenal
Again, I really only bought this thing to give timelapse photography a try, so all of my experience revolves around that. And, so far, unfortunately, it's been a bit underwhelming. That doesn't surprise me, though, given that this thing is still in beta. Here's a couple of examples from my stay at the Westin Hapuna Beach Resort this past August.
As you can see, in the first video, it handles exposure ramping really well. But, in the second video, it nearly turns night into day at one point and just goes all over the place. Further, the videos themselves are really choppy. Yes, it could be that my editing (using Final Cut Pro) isn't so good, but the phone preview was just as rough. And, I do wish they'd let you save and share the phone preview for those that want to immediately publish something.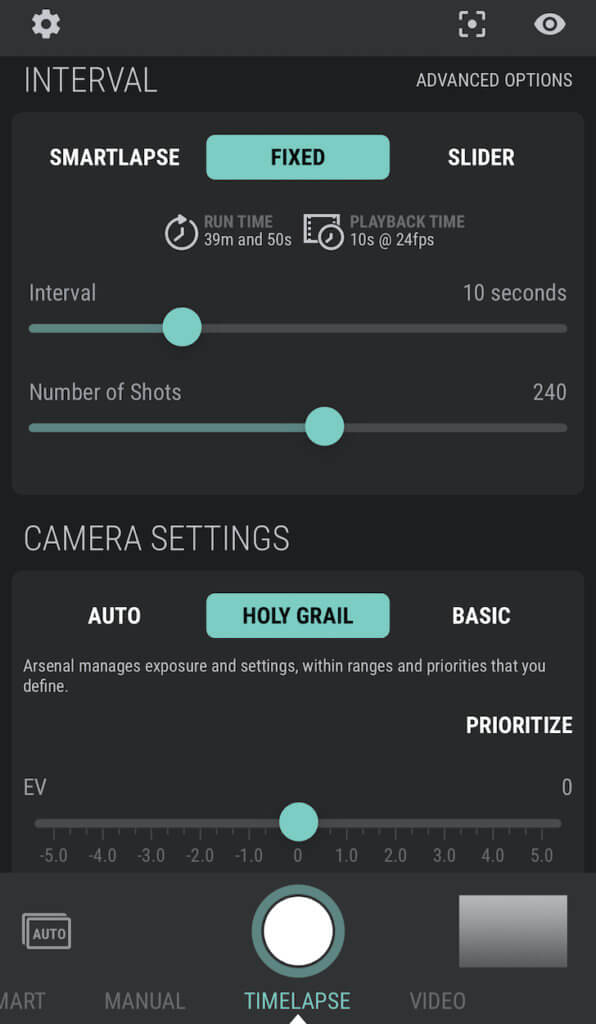 The user interface, though, is attractively designed and easy to understand. Adjustment options for Holy Grail mode could use a little more guidance, but it's fine. I do wish that things were a little bit more automated under this mode, though, to further takeout the guesswork. After all, that's what you'd want with an AI assistant, right?
Arsenal Smart Camera Assistant, Final Thoughts
For me, the verdict is still out on the Arsenal Smart Camera Assistant. At the moment, the thing really can't do what I purchased it to do. And after over a year of ownership, that's a bit disconcerting. So, I'm hoping that it will eventually live up to all of its promises. If not, it'll have been a waste of $150 for me.
Like this review? Check out my latest review of Breakthrough Photography's x4 CPL!