For our second and final dinner on the Big Island, I chose to make reservations at Meridia at the Westin Hapuna Beach Resort, which is the hotel's signature restaurant.
Why Meridia at the Westin Hapuna Beach Resort?
Honestly, though we ended up going to Big Island Bees, Mrs. Barry's Cookies, and KTA, I wasn't planning on leaving the resort at all that day. So, making dinner reservations on-property was the logical thing to do. But, beyond that, their menu sounds good and we had a coupon for a free drink in our room.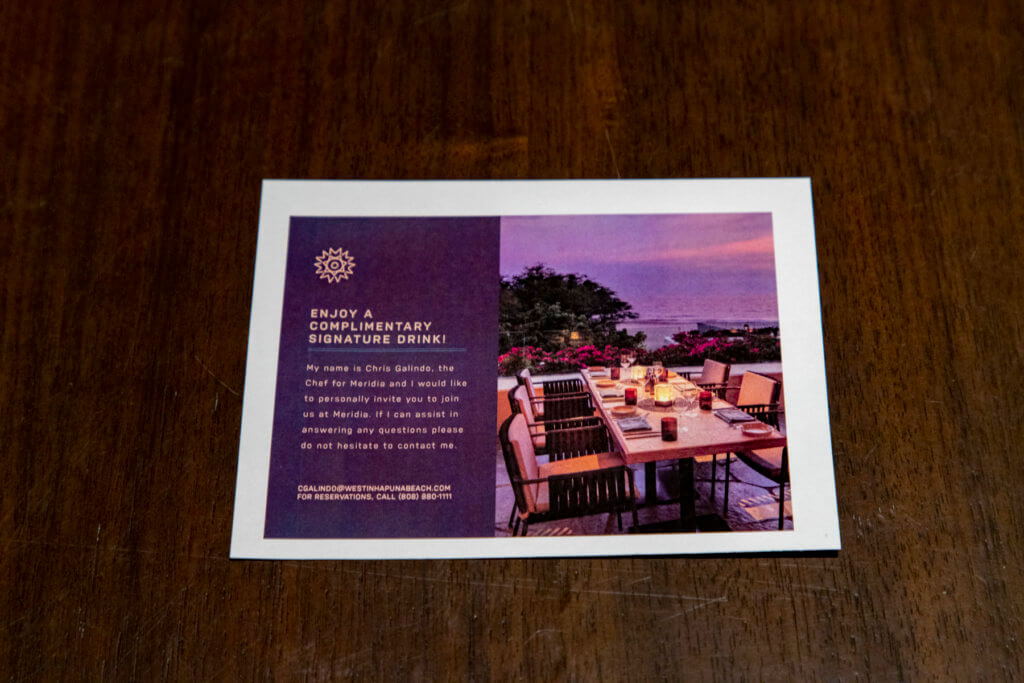 Location
You can find Meridia in the circular building detached from the main resort building near the pool.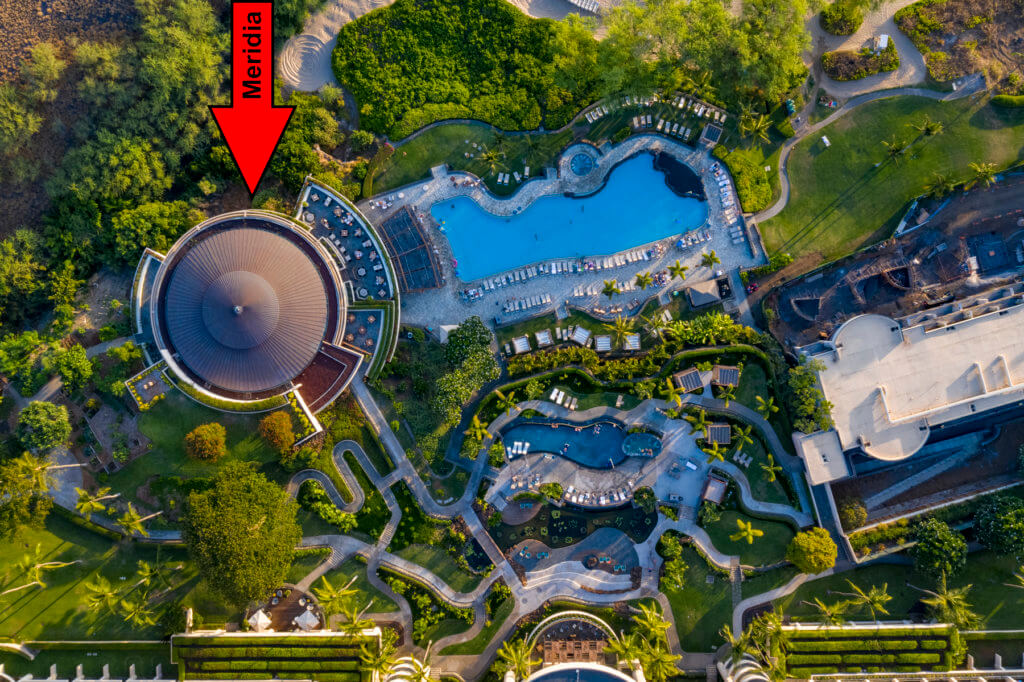 On the one hand, this makes getting to Meridia kind of a pain. But, it also means the restaurant has some pretty great views. And, I guess, having to burn off your dinner after isn't so bad, right?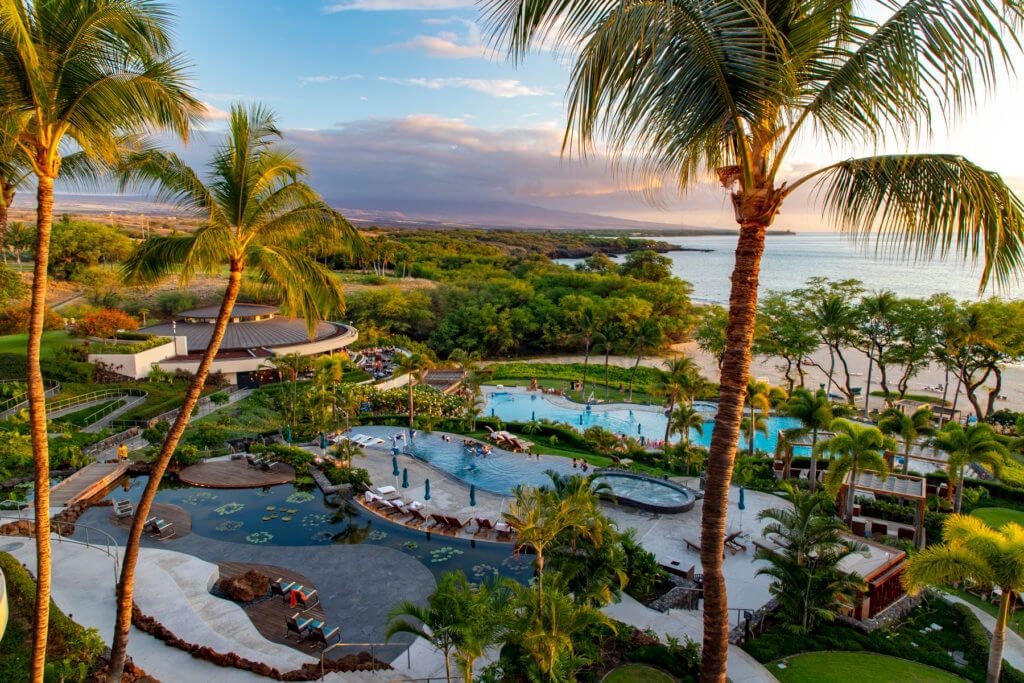 Ambiance
All of the seats at Meridia are outdoors, which I'm not exactly a fan of. Sure, rain isn't a huge concern in Kona, but it made the restaurant uncomfortably warm. However, being open-air does mean that noise more easily disperses.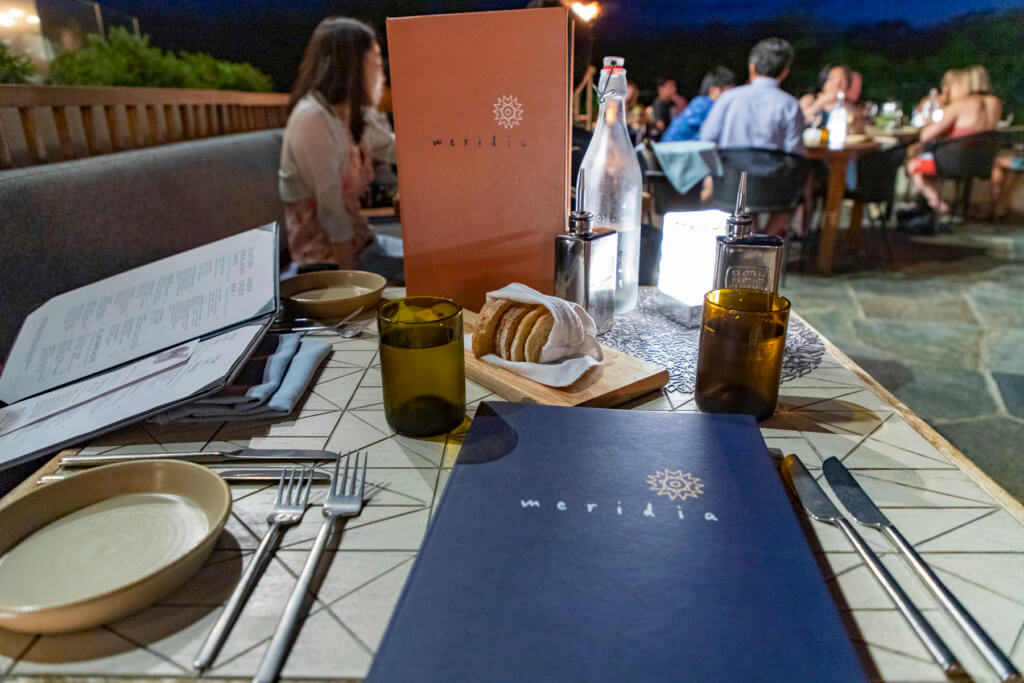 As far as service goes, the service at Meridia was almost as good as Merriman's. The staff was attentive and friendly, and they even gave us a signed anniversary menu.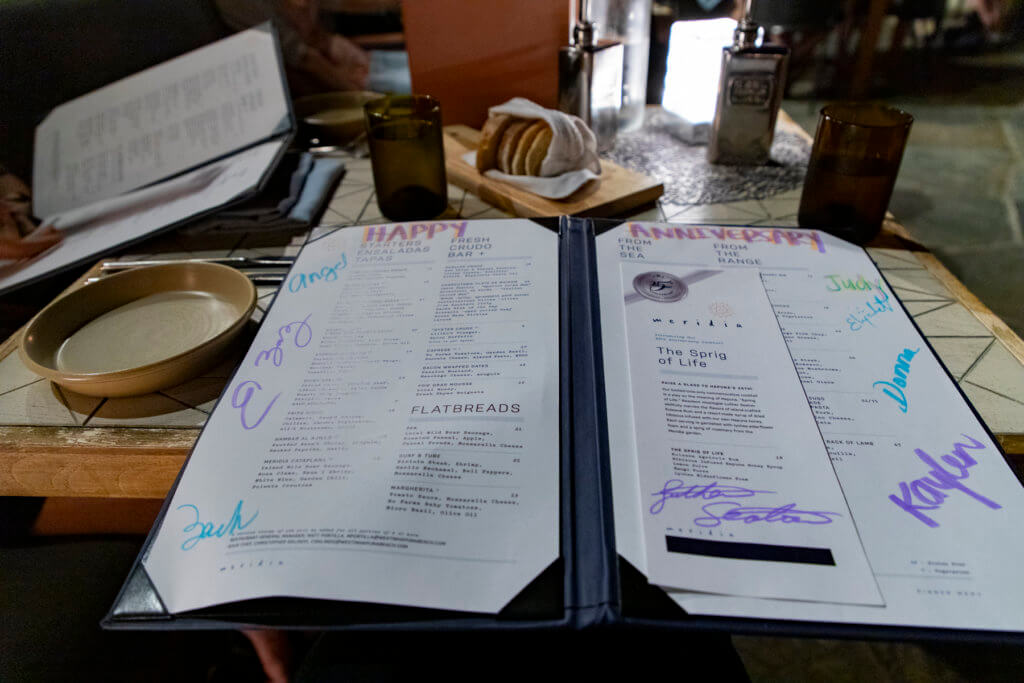 Drinks
To kick-off the night, both Mrs. Island Miler and I ordered drinks. Mrs. Island Miler got this super refreshing lemonade. I can't remember exactly what's in it, but I think there were rosemary and a few other ingredients.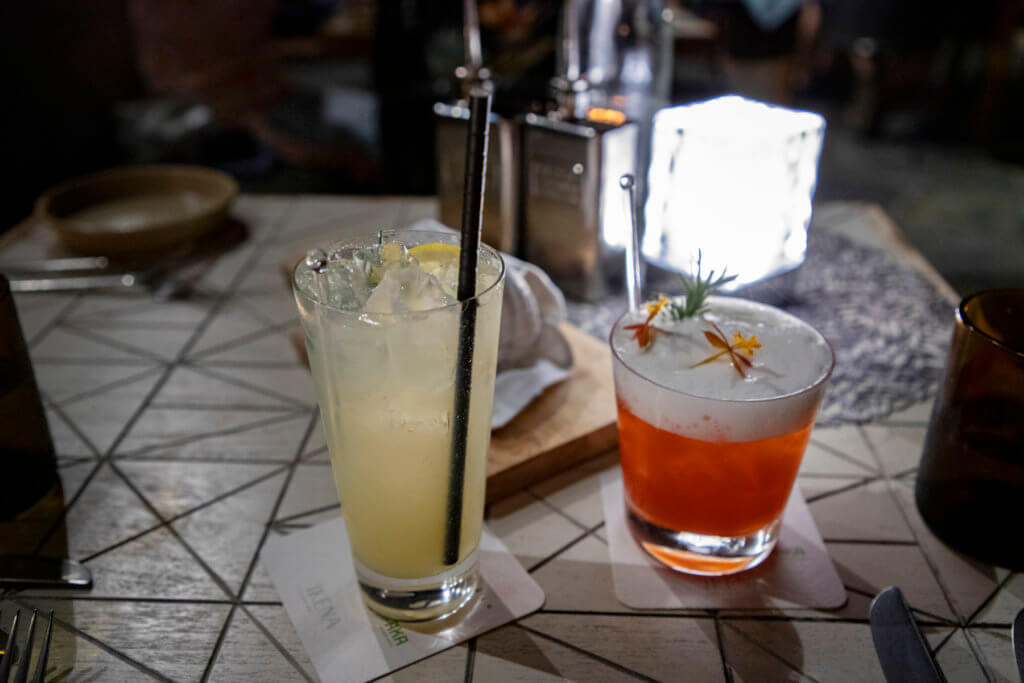 Me? I ordered the Westin Hapuna's 25th-anniversary cocktail, The SPring of Life (the pink-ish drink). It combines Kuleana Agricole Rum, Hibiscus Infused Hapuna Honey Syrup, Lemon Juice, Mango Puree, and a Lychee Wildflower Foam. It was a nice, refreshing drink, which was perfect for that hot, humid night.
Starters
While we were still perusing the menu, a breadboard landed at our table. There were a few different types in there, but for the life of me, I can't remember what they were. Of course, there were also bottles of olive oil and balsamic vinegar on our table too.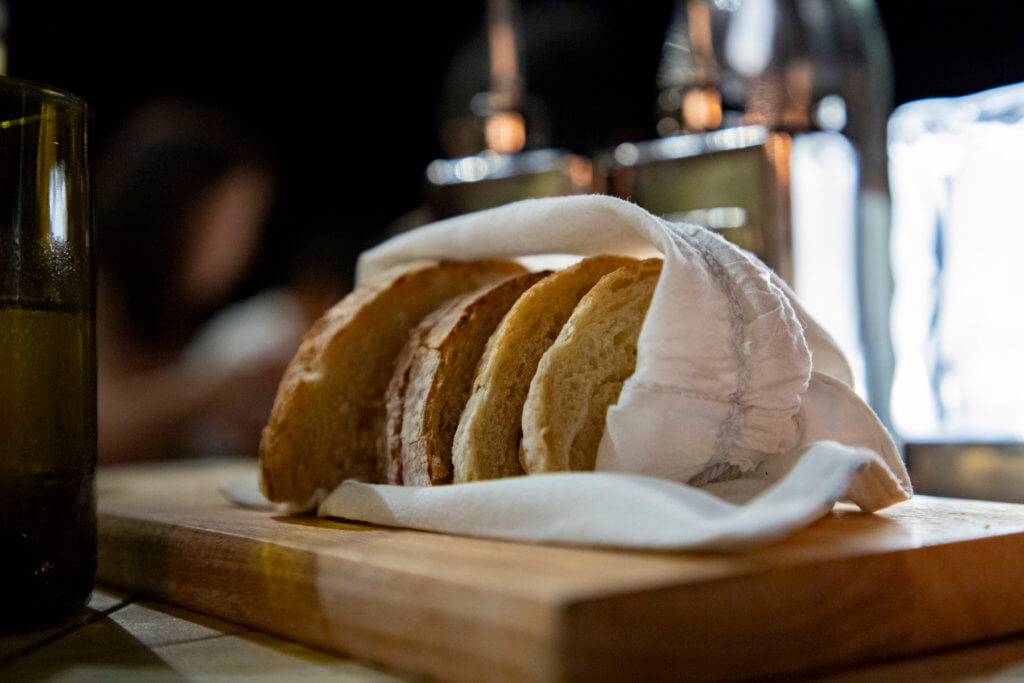 Keeping in-theme with our prior night's dinner, we started with a raw seafood dish and a salad once again. On this night, though, we went with Oyster Crudo ($4/each, which utilized Discovery Bay Oysters served with a lilikoi vinegar and spicy soffrito. And, really, what can I say other than the oysters were fresh and not at all overpowered by the accompaniments?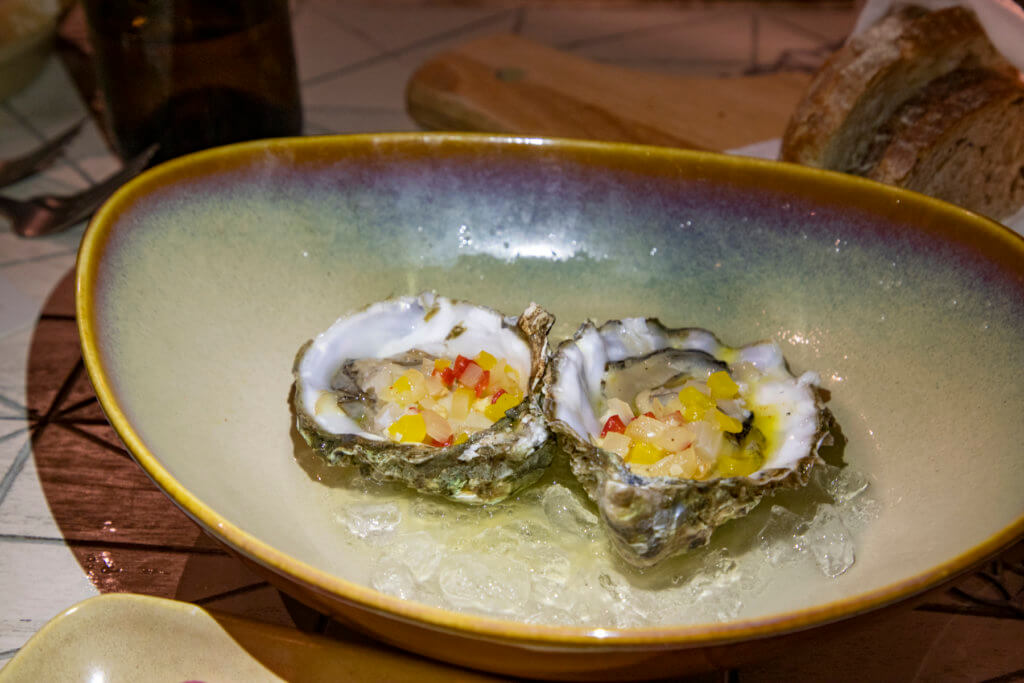 For our salad, we chose the Roasted Beet & Heirloom Tomato Salad ($18). The tasty and refreshing salad combined sweet blackberries with sweet roasted beets, contrasted by tangy goat cheese and the umami of those meaty, juicy, heirloom tomatoes. In my opinion, this salad was better than the Vine Ripened Tomato Salad we had the night before at Merriman's.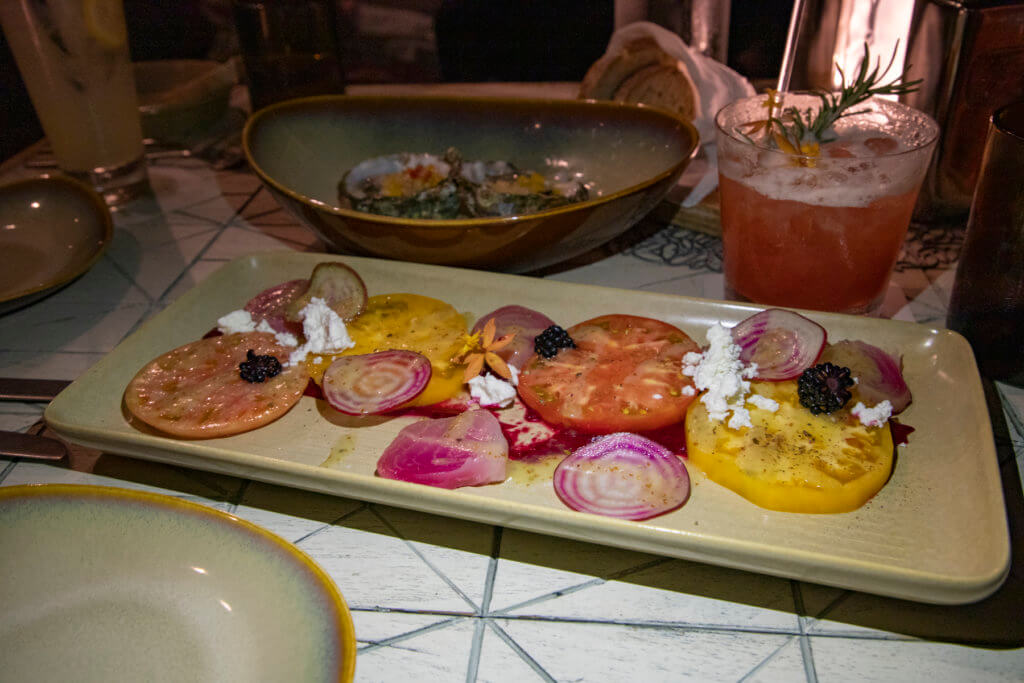 Mains
The special of the night at Meridia was a Seared Mahi served on a bed of Lobster Pesto Pasta. And, if you've been following this blog for the past few years, I don't need to tell you that that's exactly what Mrs. Island Miler ordered. She has a knack for (rightfully) ordering specials. This time was no different, with her Seared Mahi. The fish was perfectly seasoned, and the crust on the outside was fantastic, all while maintaining a moist, flakey interior. The pasta was great too with actual chunks of lobster throughout.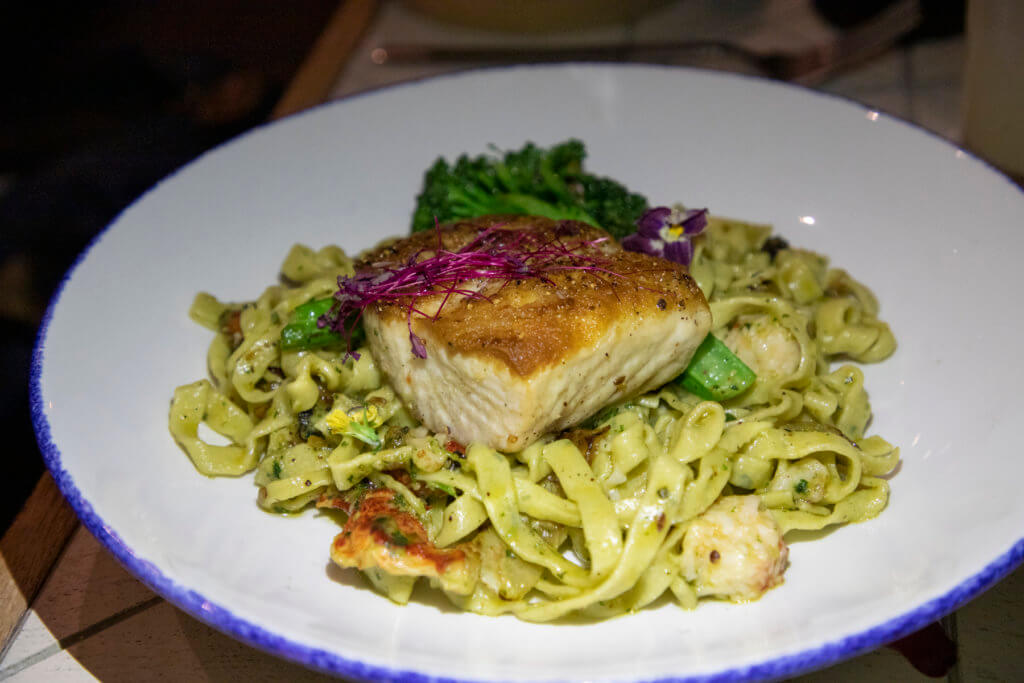 Me? Since I ordered lobster the previous night, I went the completely opposite direction and ordered the Grilled Baby Rack of Lamb ($47) on this night. And, much like Mrs. Island Miler's fish, the lamb was perfectly cooked and seasoned. My somewhat small, perfectly medium-rare chops came with a wonderfully earthy garden ratatouille and a toasty, somewhat herbal (basil and mint oil) fregola.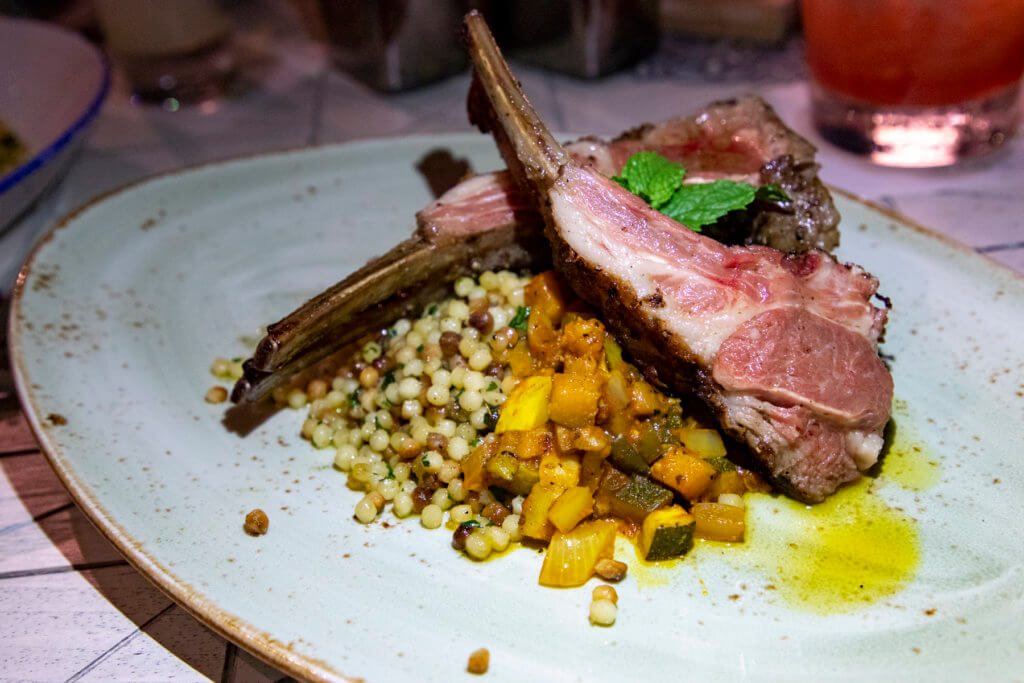 Dessert
Unlike the previous night, we made sure we left enough room to try some of Meridia's desserts. And, since it was our anniversary, our waiter told us that we could pick any one item we wanted off the dessert menu. Understanding that we'd have to pay for a second one, we ordered two anyway.
So, for our first Goat Cheesecake ($12). Sounds weird, right? But, this dish worked very well. The smooth, not gamey, crustless cheesecake came topped with a fruit gelee and was served with a tuille, crushed pistachios, and sliced grapes. An interesting presentation to be sure, but it was a nice, light, refreshing dessert.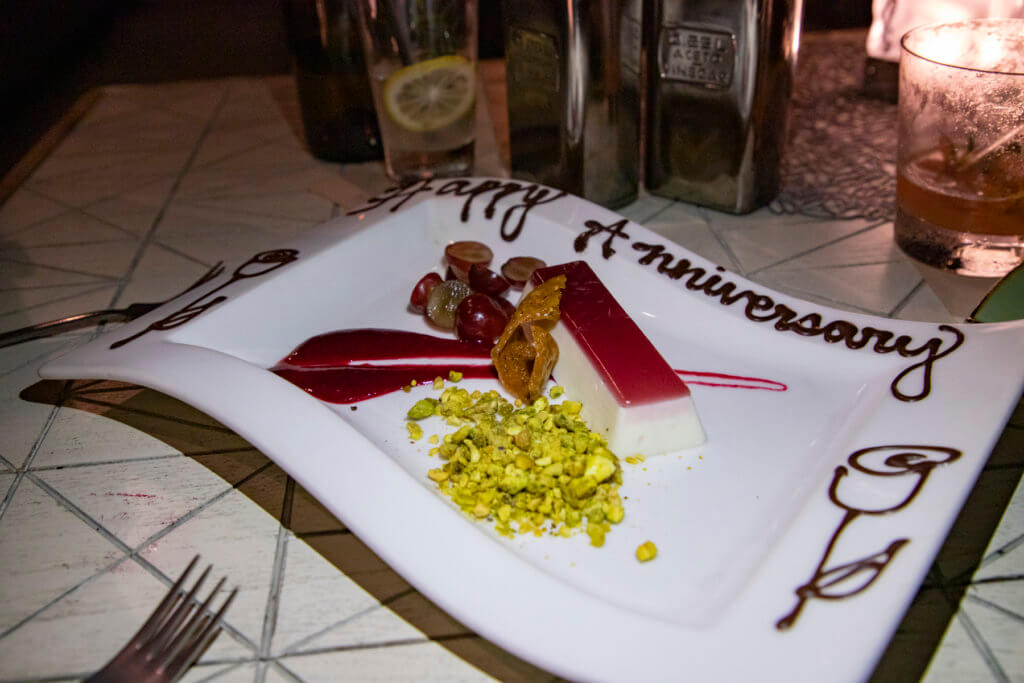 Our second dessert was a bit heavier, the Churros with rich Kona Chocolate Sauce. The mini churros aren't your typical churros. They're lighter than average, which isn't my favorite style of churros, as I prefer the chewy kind. But that Kona Chocolate Sauce is a chocolate lovers dream! It's really dark and intense without being bitter. Plus it allows the natural flavors of the chocolate to shine through, even a bit of fruitiness ($10).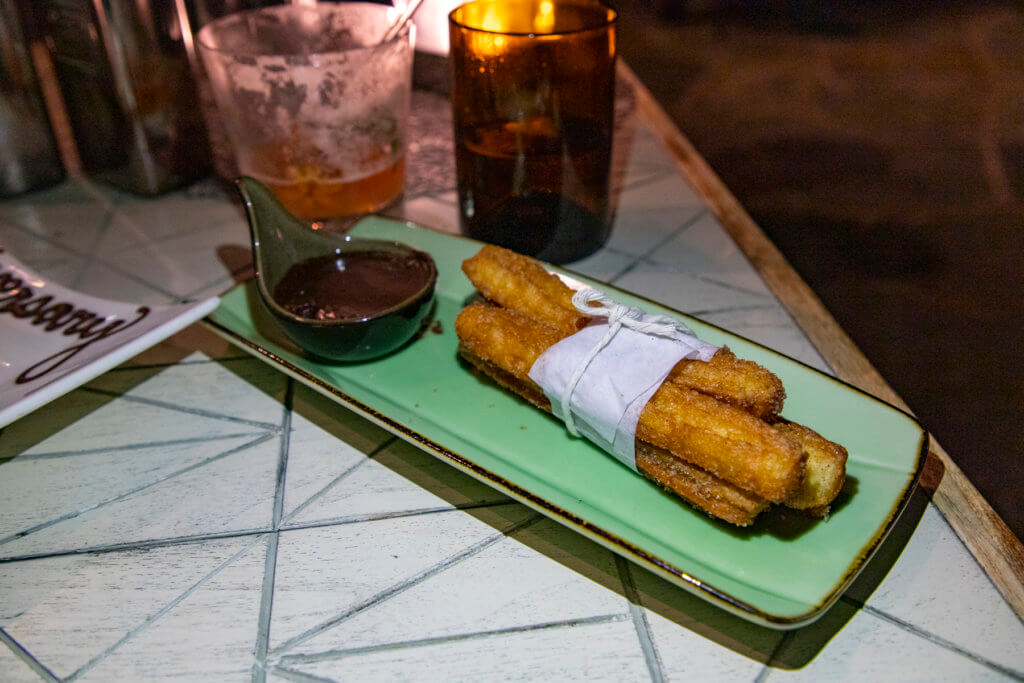 Meridia at the Westin Hapuna Beach Resort, Final Thoughts
Honestly, being a hotel restaurant, I went into Meridia with pretty low expectations. However, the restaurant surprised me in a good way. This was, without a doubt, the better of the two dinners we had on the Big Island. Yeah, Merriman's had slightly better service, but the food was definitely better at Meridia. What's more, the value was better too. I mean, yeah, I did get a free drink, and they did comp the more expensive of our two desserts, but still. Even wafter adding those two items back in, both dinners cost generally the same, though we ordered much more at Meridia.
Big Island LUV
Meridia at the Westin Hapuna Beach Resort