Yesterday I got an e-mail from Citi and another from Silvercar.  The Citi one was negative, as it discussed Citi slashing AAdvantage benefits.  The other, though, was positive, discussing Silvercar Pick Up and Delivery services.
Silvercar Pick Up + Delivery
Silvercar by Audi is upping their game.  Now, at select city location, you'll be able to request to have your Silvercar rental delivered to you and picked up when you're done.  Of course, geographic restrictions and fees apply as follows: 
San Francisco – Union Square: $50 delivery and pick up fee for areas ranging from Sea Cliff, Presidio, and North Beach to Parkmerced, Bernal Heights, and Dogpatch.
New York – Manhattan: $75 fee Monday -Thursday, $100 fee Friday – Sunday, with service areas including basically all of lower Manhattan up to the Upper West Side and Yorkville
New York – Brooklyn and Queens: $75 fee Monday – Thursday, $100 Friday – Sunday, with a service area including Park Slope to Brooklyn Heights and Williamsburg to Ditmars Steinway, including Long Island and Astoria, but not Sunnyside, Woodside, etc.
Specific locations offering Pick Up & Delivery include NYC Brooklyn Downtown, NYC Brooklyn Williamsburg, NYC Columbus Circle, NYC Manhattan W 42nd, and San Francisco Union Square.
The new feature is already available at the above locations.  So, now, when you make a reservation, a delivery request window will pop up.  If you do make a request, you'll need to enter your delivery location (and pick up location if it differs from the delivery one).  Your total, however, won't update until you receive your final bill.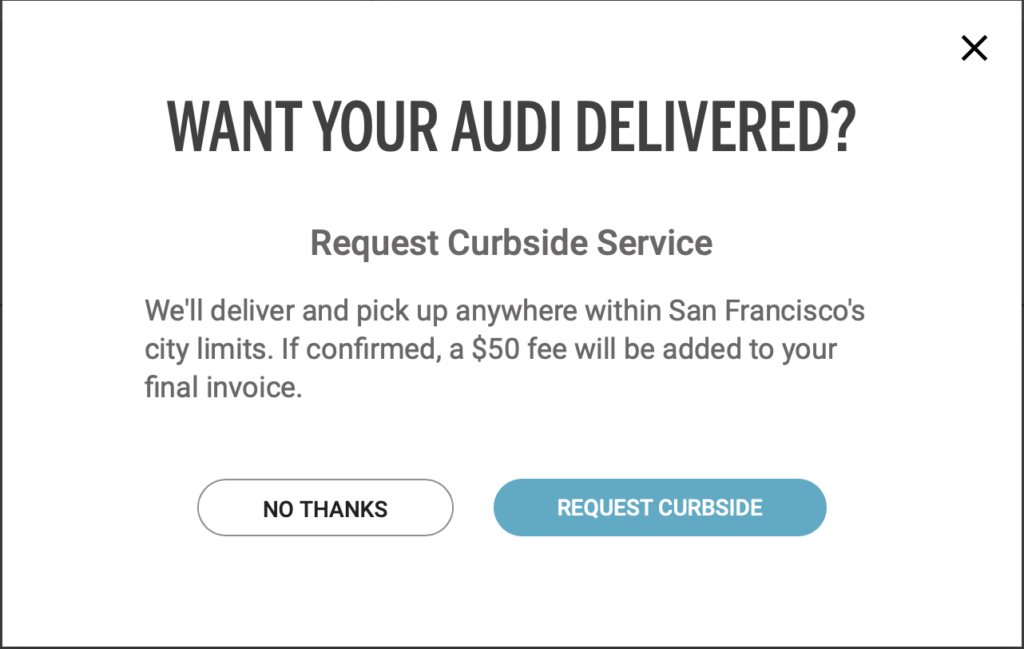 New Silvercar Location Coming Soon
In addition to the new Pick Up and Delivery service, Silvercar also teased a new location on their Instagram yesterday.  Where is the 26th Silvercar location going to be?  Boston, Massachusettes by the looks of it.  
Citi Slashing AAdvantage Benefits
The Citi AAdvantage cards have gone through a number of changes over the year.  Some are good changes, such as mileage earning bonus categories, while some are questionable or downright negative.  Unfortunately, the latest change is a negative one and erodes the card's value even more.  
That change is the discontinuation of the 10% Redeemed AAdvantage Miles Back program.  If you didn't already know about this program, it's basically what it sounds like.  Every year, you get AAdvantage miles credited to your account amounting to 10% of the net miles you redeemed that year.  It is one of the best benefits of the Citi AAdvantage family of cards.  But come May 1, 2019, we'll no longer be able to do that.  So if you have the Citi AAdvantage card and are going to book an award ticket this year, do so before April 30th to take advantage of this benefit one last time.
Citi does say, however, that they're improving one of their benefits too.  So, beginning May 1, 2019, the American Airlines flight discount benefit is increasing to $125.  Yippie?  As you'll recall, this benefit only applies to cardholders that spend $20,000 or more during their cardmembership year.  Yeah, no… I'm not going to spend $20,000 to get a measly $125 discount on a crappy American flight.  
Citi Slashing AAdvantage Benefits + Silvercar Pick Up, Final Thoughts
I like Silvercar's new delivery and pick up options.  It's not a service I'd see myself using much, though, especially in New York.  It would've come in handy for me in San Francisco, however, since I didn't need my car on my last day their back in November.  Plus, the rate I was paying for parking was more expensive than the pickup fee! 
Citi slashing the benefits of its AAdvantage card, on the other hand,  isn't surprising, but it is disappointing.  Especially since Barclays still issues competing AAdvantage cards.  But, hey, whatever.  I'm not even going to understand why they're doing this.  It just gives me more reason to cancel my Citi AAdvantage Platinum Mastercard.