Every great city needs great bars, and, in recent years, Honolulu's bar scene has seen massive growth.  The best bar in Honolulu, though, has to be Bar Leather Apron.
Earlier this year the James Beard Award semi-finalist list came out, and on it was Honolulu's Bar Leather Apron.  And, this inclusion on the list was much deserved, in my opinion.  It's been much lauded since it opened and has long been a place I wanted to try.  In fact, I've wanted to try them, and even more since checking them at the Hawaii Food & Wine Festival last year.  Unfortunately, Bar Leather Apron (and the rest of the Hawaii semi-finalists) didn't make it onto the finals list.  But, on a more upbeat note, I recently got to give the bar a try… Finally.
Location
Bar Lether Apron is tucked away on a mezzanine level of the Topa Financial Center.  Blink and you could miss the place when walking by.  And, as you may guess, Bar Leather Apron is a tiny space, which means reservations are a must.  To make your reservations visit their website.
Size aside, Bar Leather Apron is a very refined, comfortable space with finishes that match the quality of its drinks.  Service is top-notch too.  The entire staff is incredibly friendly and knowledgeable, but are in no way stuffy.
Drinks
The main attraction at Bar Leather Apron is, as you'd imagine, the drinks.  And as you may have guessed, this isn't your average bar.  The menu is highly curated and includes signature cocktails, standard cocktails, farm to glass cocktails, highballs, beer, wine, and an extensive list of whiskeys (primarily from Japan).  Everything in the drinks, and I mean everything, is made in-house.  The wine and beer lists are highly-curated, so don't expect much in the way of a selection, but expect everything to be high-quality.
For our first visit, I wanted something light and refreshing, so I ordered off the Farm to Glass menu.  And because I like gin, I decided to give the Maris Garden a try.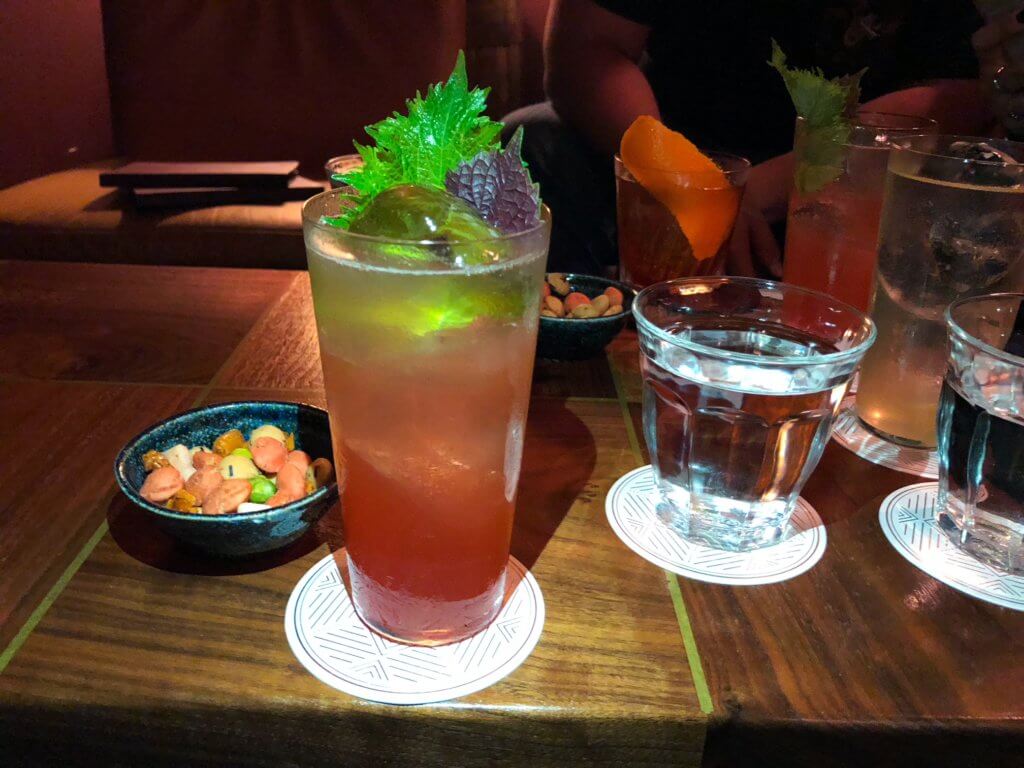 Yes, it ended up being a froufrou drink, but I don't care.  It was DELICIOUS.  And, the Maris Garden is composed of Fords Gin, fresh watermelon juice, fresh cucumber juice, yuzu, celery bitters, and soda.  All produce in this drink, by the way, came from the farm Mari's Garden in Central Oahu.
Other drinks I got to try were the Yuzu Mule (AO Vodka, yuzu, lime, ginger beer, bitters) and the Yuzu Highball (Suntory Toki Whiskey, yuzu, honey, soda).  The Yuzu Mule was my favorite of these two, being perfectly balanced and tasty.  The Yuzu Highball was good too; it's just that the Mule was that good.
Food
Bar Leather Apron doesn't have a kitchen, but they manage to offer a small food menu.  And, as you might imagine, the menu is on the smaller side.  So guess what?  Our group of five decided to order the whole menu.  On that night this included a cheddar & salami plate, nametake mushroom bruschetta, smoked salmon spread, and fire-roasted eggplant dip.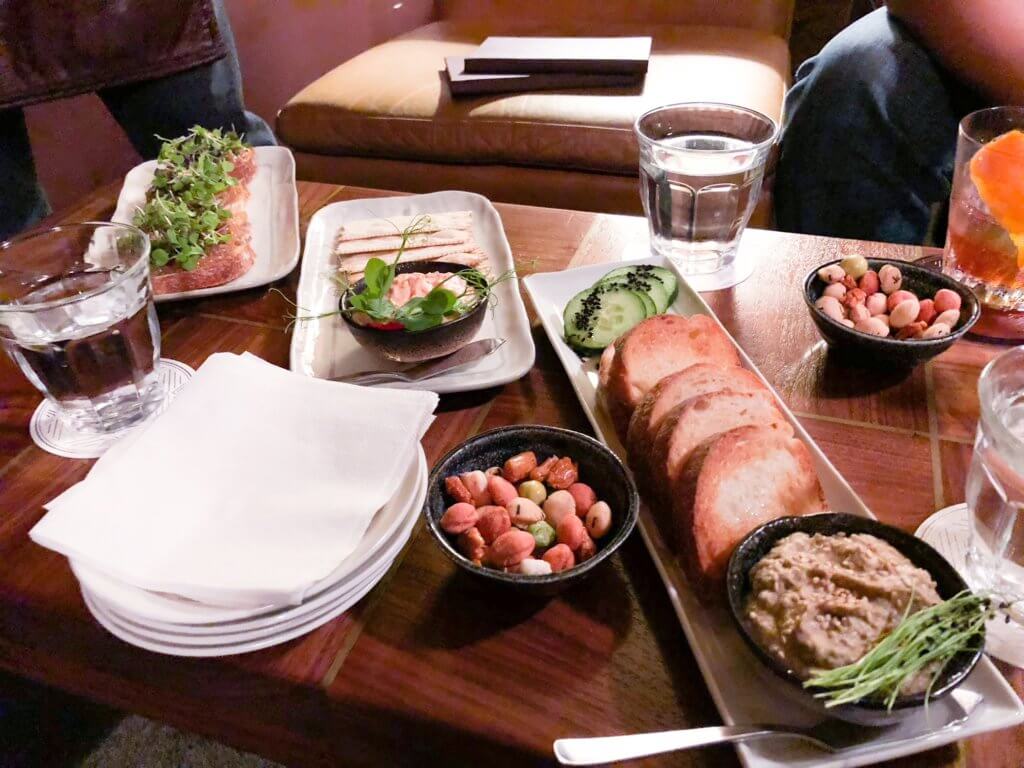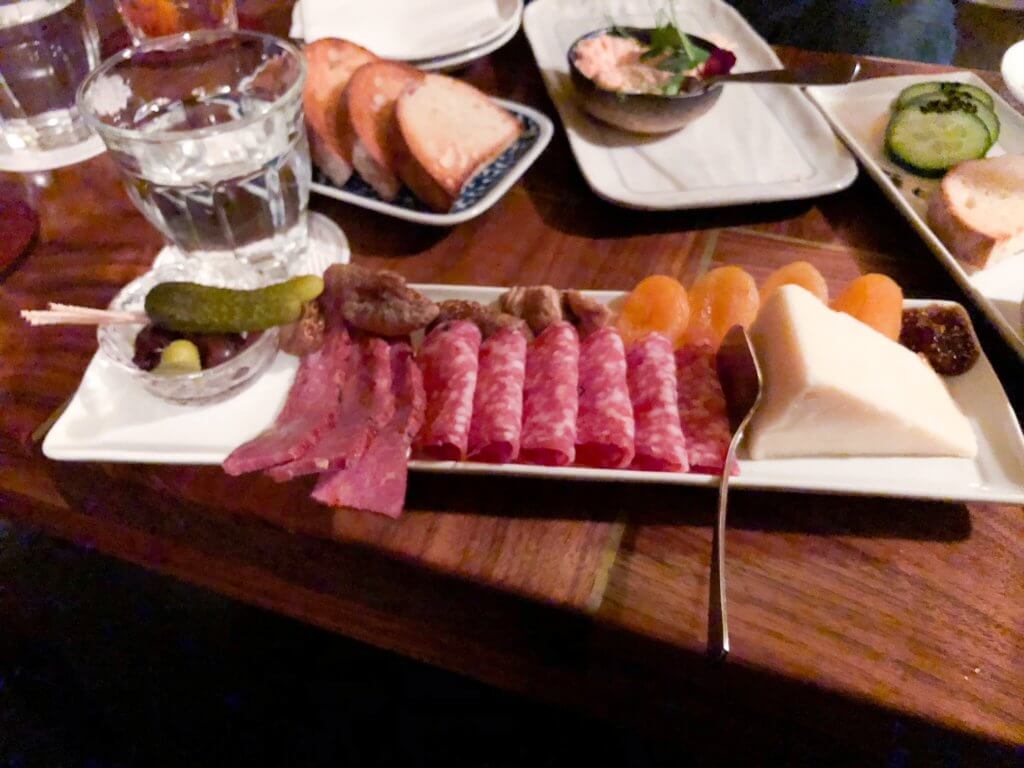 Sorry for the crappy photos, I only had my iPhone with me.  All items were tasty, though the smoked salmon spread was creamier than I was expecting.  Of the items, the nametake (preserved enoki mushroom) bruschetta was my favorite.  All food items at the moment are supplied by Livestock Tavern/Bar Chin Chin.
I should also note that a small ramekin of iso peanuts are complimentary with your drinks.
Bar Leather Apron, Final Thoughts
Admittedly, I'm not much of a drinker, but I do appreciate an excellent cocktail.  And Bar Leather Apron has some of the best cocktails I've ever had.  What's more, there so much pride and love in each glass, it's hard not to love a place like this.  There's much more I want to try here too, so I'll definitely be back.  And if you're in Honolulu and can snag a reservation, I highly encourage you to give the place a try.  Just a warning, drinks aren't cheap, with cocktails ranging in price from $12 to $20 each, but it's worth it.  Oh, and if you can't secure a reservation, a limited number of walk-ins are available on most nights, but you might have to wait a bit.