Note this offer has expired and is no longer available. 
If you didn't already know, Barclays has a new card: the Barclays Arrival Premier World Elite Mastercard.  And, unfortunately, this card is shaping up to be the biggest new card letdown of 2018.
The blogosphere has been abuzz regarding the release of a new credit card from Barclays.  And the reason for all the noise was the high hopes for the card.  Afterall, we knew the card would earn Barclays miles at an accelerated rate.  Plus, Barclays has desireable co-branded relationships with desirable airlines.  So it was hoped that a new premium card from Barclays would add transfer partners, such as Hawaiian Airlines, American Airlines, and JetBlue.  But now that the card application has officially launched, all those hopes and dreams have been dashed to pieces.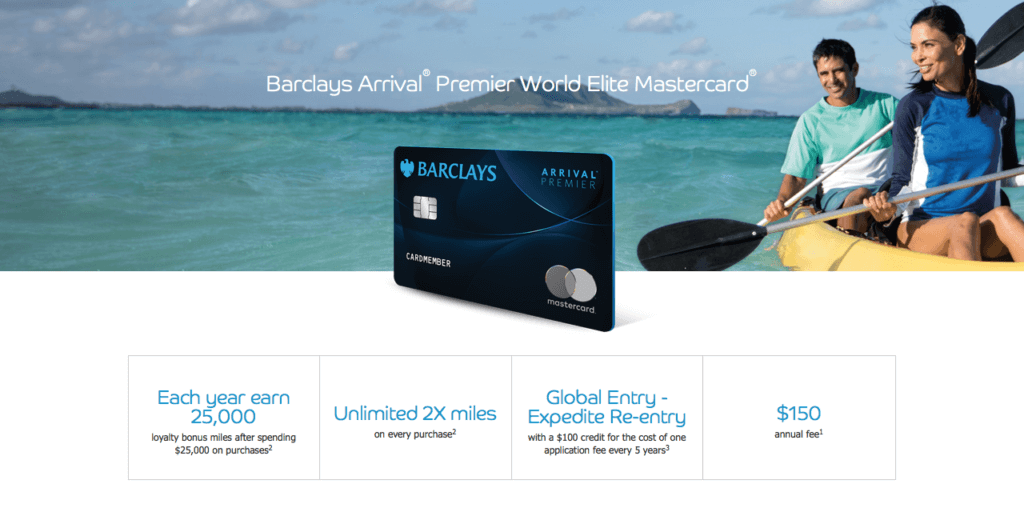 Barclays Arrival Premier Rewards
This new card is Barclays' premium card offering.  Weighing in at $150 per year, the annual fee is the highest from the issuer.  However, the annual fee sort of splits the difference between other cards like the Chase Sapphire Preferred and Reserve, or even the Citi Premier and Prestige.  But, this is where the comparison to other premium cards ends.  We now know the Barclays Arrival Premier World Elite Mastercard earns two miles per dollar spent.  You can also earn up to 25,000 bonus miles for spending up to $25,000 per year.  That gives you an effective earning rate of three miles per dollar for hitting $15,000 or $25,000 in spend annually.  And while that sounds like a decent earning rate, let's take a look at the redemption side of the card.
At its most basic redemption level, cardholders may redeem miles for cash at a rate of one percent.  That means if you have 50,000 points, you can redeem it for $500 cash, statement credits, or gift cards.  But, the Barclays Arrival Premier card has mileage transfer partners too.  Currently, cardholders may transfer miles to the following airlines:
Aeromexico
Air France/KLM Flying Blue
China Eastern
Etihad
Eva Air
Japan Airlines
Jet Airways
Malaysia Airlines
Qantas
That's a small list of participating airlines, but what's worse is the wonky transfer rates.  Most of the above airlines have a 1.4:1 transfer rate, though Japan Airlines' transfer rate is even worse at 1.7:1.  And, unfortunately, miles cannot be transferred between the Arrival Premier and the Arrival/Arrival Plus cards.
Barclays Arrival Premier Benefits
Aside from earning miles, the card does come with a few other benefits:
$100 Global Entry statement credit every 5 years
No foreign transaction fee
Mastercard Airport Experience by Lounge Key (similar to PriorityPass, but you have to pay $27 per visit)
That's not a lot of benefits, nor are any of these benefits at all competitive.  I wouldn't use the Lounge Key benefit and I have another card that has the Global Entry statement credit so…
Barclays Arrival Premier Value
Value can be a highly subjective thing, but there's no arguing that the value simply isn't there with this card.  As a cashback card, you earn 2% cashback on all your purchases.  Plain and simple.  If you can commit to spending $15,000 or $25,000 per year, and no more or less than those two thresholds, it turns into a 3% cashback card.  At the maximum, this means you'd earn 75,000 points in a year, which equates to $750 cash.  However, if you want to transfer your miles to an airline, the value changes substantially.
If you maximize your earnings and obtain 75,000 miles in a calendar year, you'll receive 53,571 miles for all transfer partners except JAL.  With JAL, you'll receive 44,117 Mileage Bank miles.  Those numbers further break down to 2.14 miles per dollar spent in airline miles or 1.76 miles per dollar spent for JAL miles.
But say you only manage to spend $10,000 in a year.  That'll yield you just 20,000 miles, which can be redeemed for $200 in cash.  Or you could turn those miles into 14,287 airline miles, or 11,764 JAL miles.  This further breaks down to 1.42 miles per dollar spent in airline miles or 1.17 miles per dollar for JAL miles!  Yikes!
Barclays Arrival Premier, Final Thoughts
Clearly, the Barclays Arrival Premier World Elite Mastercard is not a card that provides cardholders with good value.  Your $150 annual fee gets you virtually zero benefits and hilariously bad rewards.  I mean, sure, 2% cashback sounds great, but you could easily get that with no annual fee with a Citi Double Cash.
If you're trying to get miles, though, the better and cheaper option is to get the Chase Sapphire Preferred and its Freedom companions.  This way, for a $99 annual fee, you'll be able to transfer Chase Ultimate Rewards points at a 1:1 ratio to:
Air Lingus AerClub
British Airways Executive Club
Air France/KLM Flying Blue
Korean Air SkyPass
Singapore Airlines KrisFlyer
Southwest Airlines Rapid Rewards
United MileagePlus
Virgin Atlantic Flying Club
Iberia Plus
And the Sapphire Preferred earns 2x points on all travel and dining spend.  Pair that with the Freedom Unlimited's 1.5x points on everything and the Freedom's 5x points quarterly bonus, and you've got yourself the points earning trifecta.  So with Chase, you'll earn a MINIMUM of 1.5 miles per dollar all the way up to 5 miles per dollar.  And, don't forget, with transfer partner Korean Air SkyPass, you can get a roundtrip ticket between Hawaii and the U.S. mainland for just 25,000 miles.
But why not just step up to the Sapphire Reserve instead?  Afterall, its net annual fee is just $150 on an average year and just $50 during years you renew Global Entry.  And that's not counting all the other discounts and benefits you get with the card.  Plus 3x points on all travel and dining purchases.
Given all of this, I wonder who Barclays is trying to target with this card?